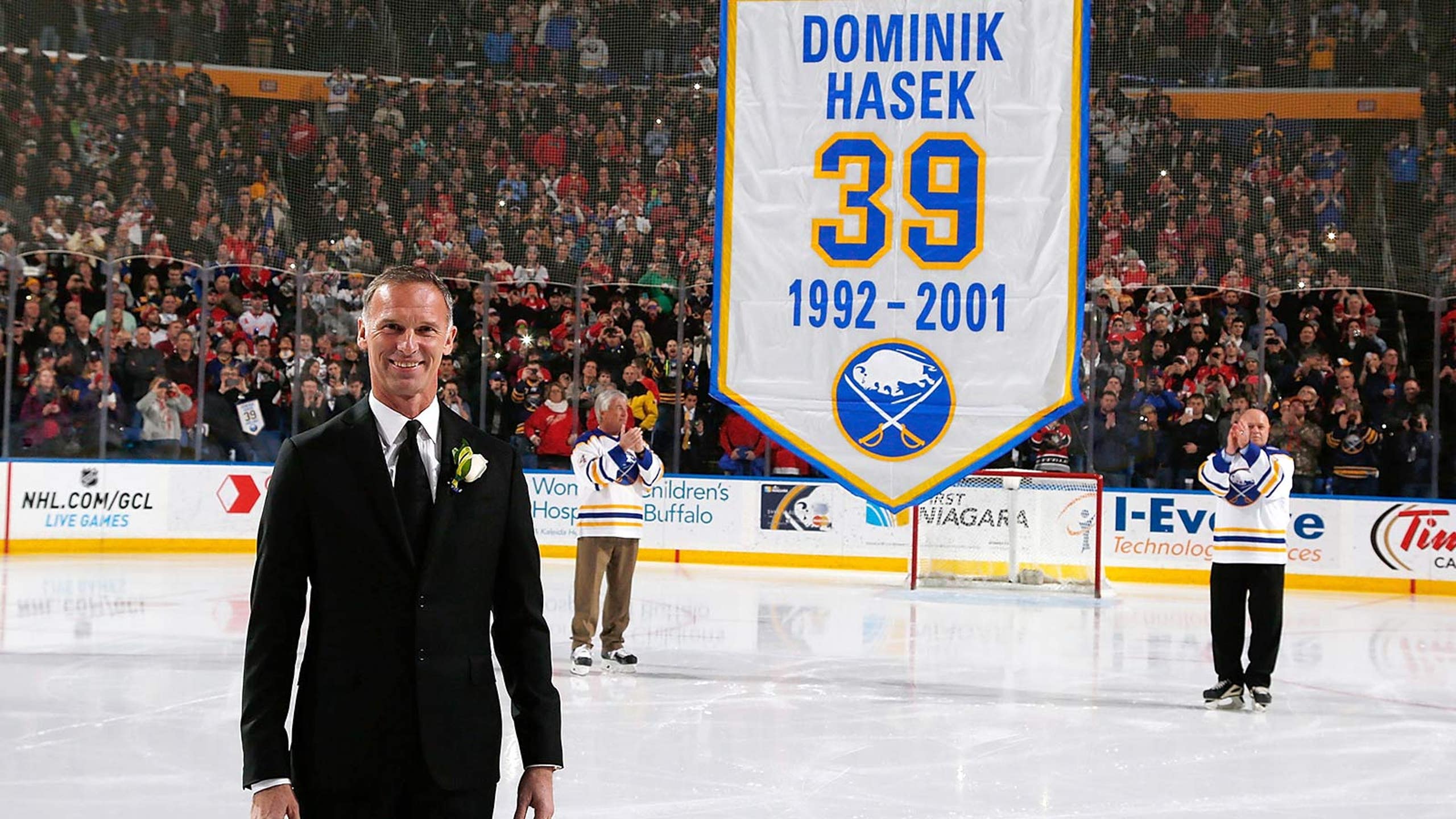 Sabres raise Hasek's name, No. 39 to rafters before game vs. Wings
BY foxsports • January 13, 2015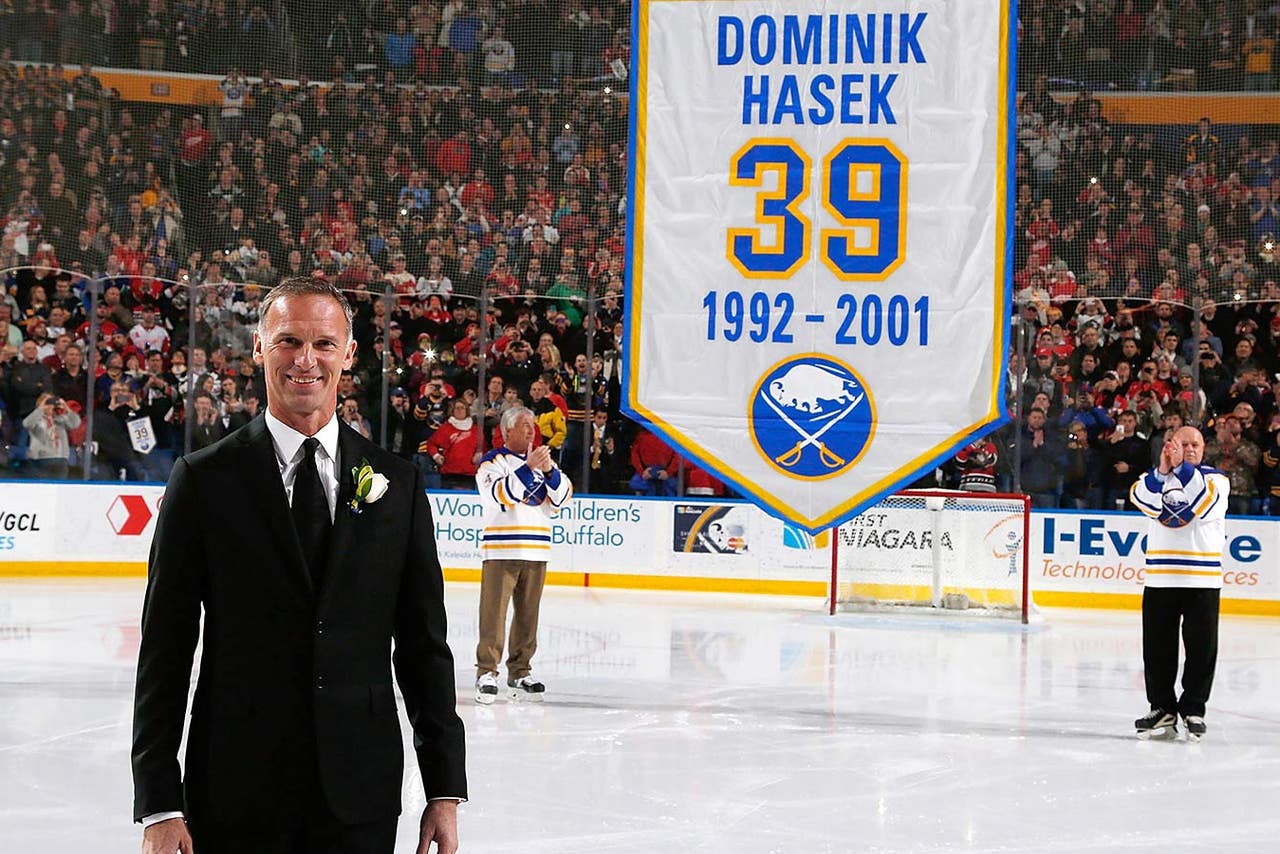 Dominik Hasek has come to realize how much easier it was turning aside pucks than it is accepting honors.
Hasek, after all, never had to give any speeches patrolling the crease during a 16-season NHL career.
"To play hockey was much easier," Hasek said Tuesday. "Any time I'm standing in front of so many people, not as a hockey player, but as a person, it's definitely much more difficult."
The player nicknamed "The Dominator" is quickly getting accustomed to public speaking three years into his retirement.
After having his No. 9 retired in his Czech Republic hometown of Pardubice last year, followed by a Hockey Hall of Fame induction in November, Hasek is back in Buffalo to take part in his latest honor.
The Sabres are paying tribute to their star goalie by retiring his No. 39 in a banner-raising ceremony before their home game against the Detroit Red Wings.
Hasek played for both teams, and won Stanley Cups with Detroit in 2002 and 2008.
Buffalo, however, holds a special spot in his heart. It was during a nine-season stint with the Sabres where Hasek established his reputation as one of the NHL's best, and revolutionized the art of goaltending with an unorthodox flopping style.
"It's a great feeling to be back in Buffalo where I spent the best time of my hockey career," Hasek said, before the ceremony. "I cannot be more thankful for what this city, this organization has done for me. I was trying to do the best on the ice. And now they feel like my jersey should be retired. I very much appreciate it."
One of Hasek's fondest memories occurred in 1998, after leading the Czech Republic to win the gold medal at the Nagano Winter Games. Returning to Buffalo, Hasek was amazed at being greeted at the airport by thousands of cheering Sabres fans.
"It was something that I will never forget," he said. "And that's why I feel like a big part of Buffalo."
Hasek forced his trade to Detroit in July 2001 because he wanted a shot to win a championship at a time the Sabres were entering a rebuilding stage.
Hasek began his career in Chicago, before being traded to Buffalo in August 1992. He also spent the 2005-06 season with Ottawa. After winning his second Stanley Cup with the Red Wings, Hasek spent two seasons playing professionally in Europe before formally announcing his retirement in 2012.
He was a two-time NHL MVP, six-time Vezina Trophy-winner and six-time all-star. Statistically, Hasek ranks first on the NHL career list with a 92.2 save percentage, is sixth with 81 shutouts, seventh with a 2.2 goals-against average and 12th with 389 wins.
"He was one of the greatest players to ever play the game," Red Wings coach Mike Babcock said, who coached Hasek in Detroit. "He gave Buffalo an opportunity to win every night. He was an absolutely star, and did it his own way."
Hasek's competitive intensity set him apart. And that included practice, where Hasek hated giving up a goal.
"He never wanted to be scored on. It didn't matter if it was the pre-game skate or practice and obviously not in a game," Red Wings forward and former teammate Henrik Zetterberg said. "For me, as a younger player coming in to see the battle he put in practice helped me to go even harder."
Hasek's influence particularly resonated back home, where he inspired numerous Czech Republic youngsters to play goal. That includes Buffalo's Michal Neuvirth and Detroit's Petr Mrazek, who are scheduled to start on Tuesday night.
"He was my idol. I always wanted to be like him," Neuvirth said.
Hasek never envisioned the dominant stamp he would eventually place on the game.
"It was unclear. I wasn't confident," Hasek said, recalling his arrival in Buffalo. "It took me a few years. But after a while, you feel more confident."
He then paused, and broke into a smile.
"What can I say?" Hasek added. "What a great nine years I spent in Buffalo."
---
---