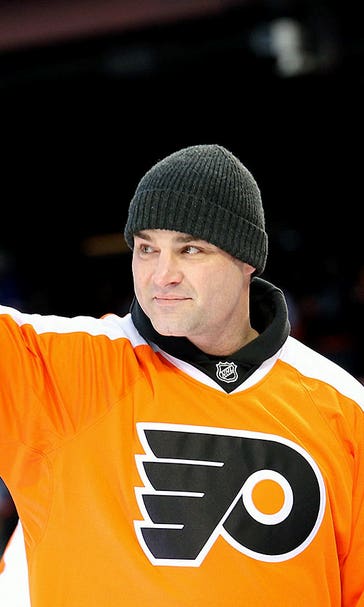 Reconciled with Flyers, Eric Lindros set to join team's Hall of Fame
BY foxsports • November 19, 2014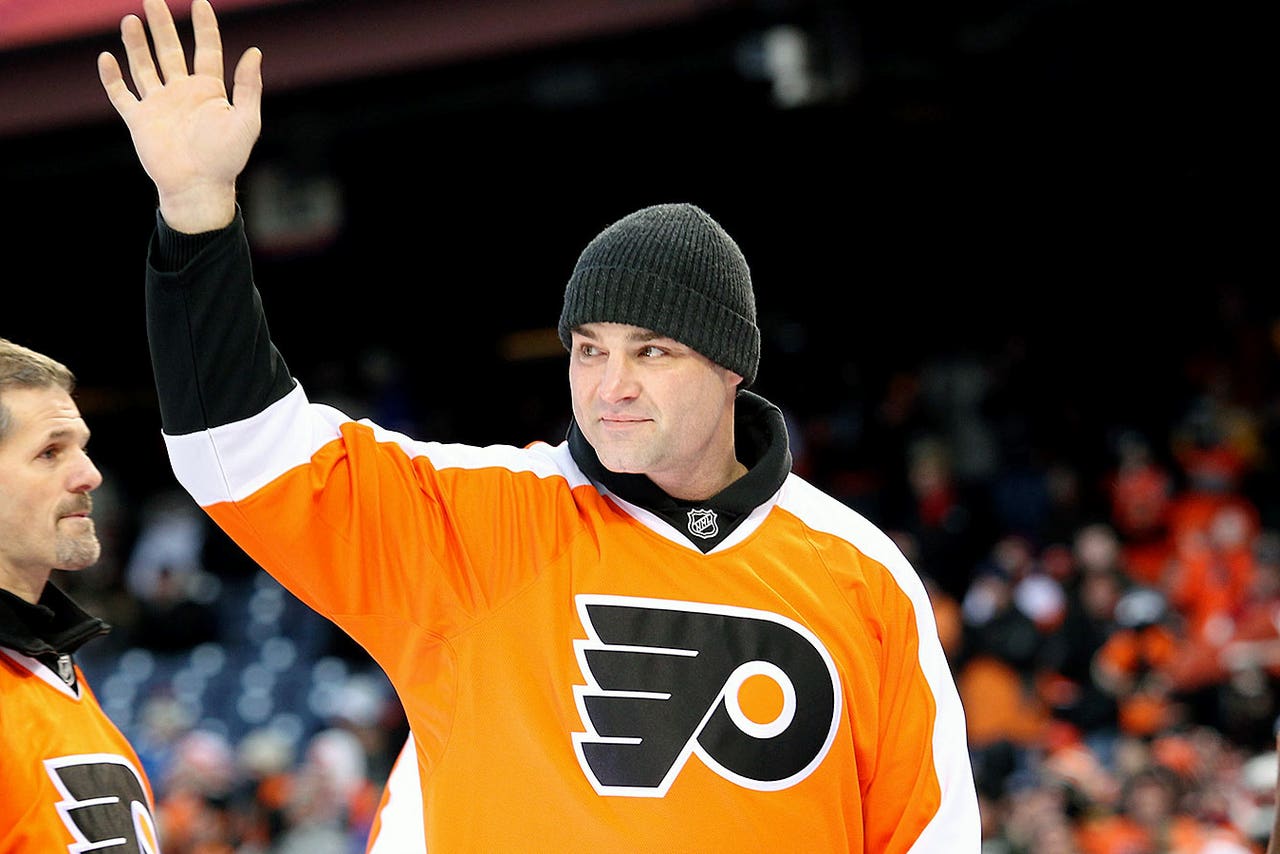 Eric Lindros pointed his stick toward nearly 49,000 roaring fans, took a walk toward the infield ice and found his place in orange and black with the rest of the former Philadelphia Flyers greats.
Lindros needed a Winter Classic to thaw his icy relationship with the Flyers.
Once the former Flyers captain and the franchise reconciled before that 2011 alumni game, each side promised that Lindros would be back in the fold and become an appreciated -- and no longer ignored -- part of team history.
Lindros returns Thursday night to the Wells Fargo Center when he is inducted into the Flyers Hall of Fame. Lindros has some company for the big night: Legion of Doom linemate John LeClair is set for induction with him before the Flyers host Minnesota.
"We were both deeply honored to get the call," Lindros said. "Then we started talking more about it and decided to do it together, which we thought was appropriate. So here we are and we are looking forward to that night."
Lindros seemed like a surefire Hall of Fame inductee in the 1990s when he was scoring 40 goals, winning league MVP honors and took the Flyers to the 1997 Stanley Cup finals.
But a fallout with the franchise over the handling of Lindros' multiple concussions forced the team to trade him. The organization then did little to recognize his achievements for most of the next decade.
"I don't care if I talk to Eric for the rest of my life -- it won't kill me," Flyers general manager Bobby Clarke, a Hall of Famer center, said in the months leading up the 2001 trade to New York.
Those bitter days are over. Lindros and Clarke have made peace -- Clarke has even stumped for Lindros to make the hockey Hall of Fame.
Knowing one of the greats had to be included on a star-studded roster, former general manager Paul Holmgren reached out to Lindros to ask about playing in the Winter Classic alumni game at Citizens Bank Park.
The crowd went wild as Lindros made a triumphant return to the city in his familiar No. 88 jersey.
Lindros, a six-time NHL All-Star, wanted to move on from the ugly end of his tenure.
"So much of what occurred was so long ago," he said. "We're looking at 14 almost 15 years now. It was a real honor to be invited back to that outdoor game and I had a great time at it. It was what it was and it is what it is."
Lindros, LeClair and Mikael Renberg formed the "Legion of Doom" line that carried the Flyers to the Eastern Conference final in 1995 and the Stanley Cup final in 1997. The line combined for 225 goals and 490 points over two seasons.
Lindros was "The Big E," 6-foot-4 and 245 pounds of scoring force at center whom the Flyers deemed worth six players, two first-round draft picks and $15 million to acquire in a blockbuster trade with the Quebec Nordiques in 1992. He played 486 games for the Flyers over eight seasons, ranking fifth on the club's career scoring list with 290 goals and 369 assists for 659 points. His career points-per-game average of 1.36 ranks first in franchise history.
Lindros' career was shortened by a series of concussions. He was named this year honorary chairman of See The Line, a concussion symposium out of London, Ontario.
"I do feel fortunate to be in the health that I'm in. I feel strong, I feel good," the 41-year-old Lindros said.
LeClair and Tim Kerr are the only Flyers to ever score 50 or more goals in three or more consecutive seasons.
"Eric has been such a big part of my career and to have him right there next to me with everything is quite immense," LeClair said. "With what he's done to get me to this point, to have him standing next to me is going to be a big thrill."
The line helped the Flyers become contenders again after some bleak seasons in the early 1990s, though the Flyers are still trying to win their first Stanley Cup since 1975.
"There were many years that I thought we had a team that was more capable of winning the Stanley Cup," Lindros said. "I think the city deserved it with the teams we had."
The Flyers also will induct former captain Eric Desjardins into the Hall of Fame on Feb. 19 against Buffalo.
Lindros, LeClair and the fans will come together one more time for a rare reason to celebrate in yet another mediocre season. The team will wear 10/88 patches to honor LeClair and Lindros.
"They get it, they want their teams to do well and I'm sure that Thursday night will be an example of that," Lindros said. "I'm just proud to be back in that rink."
---
---