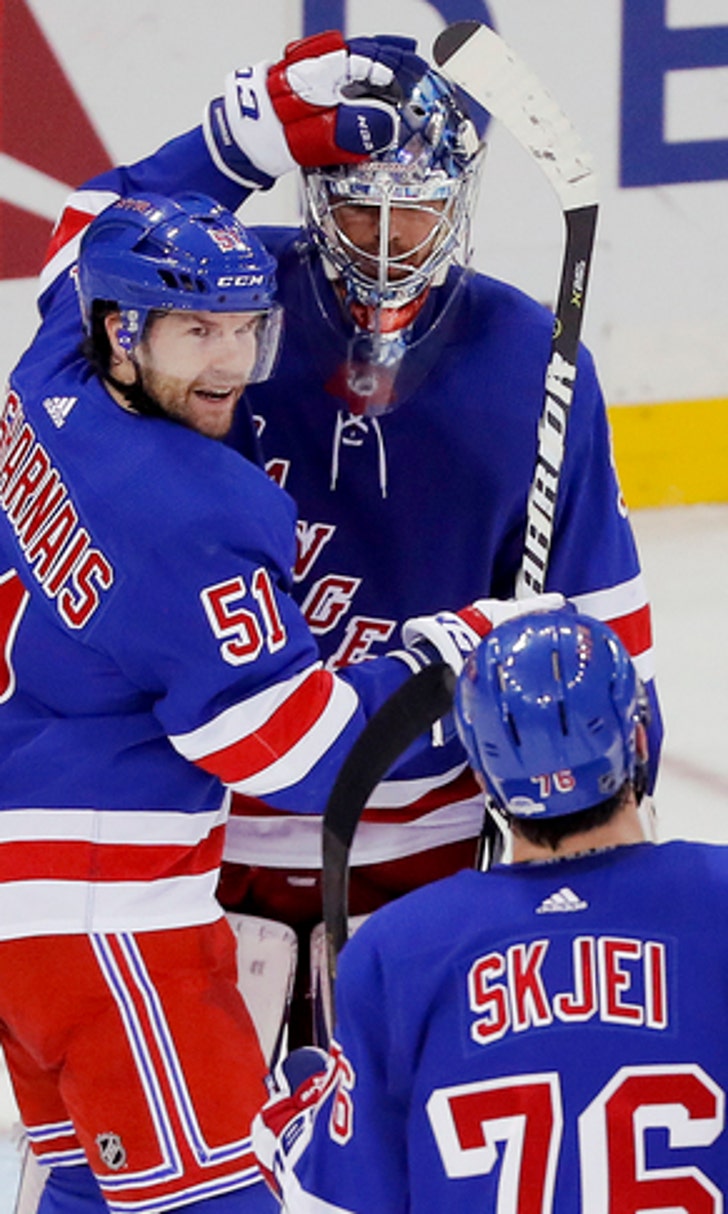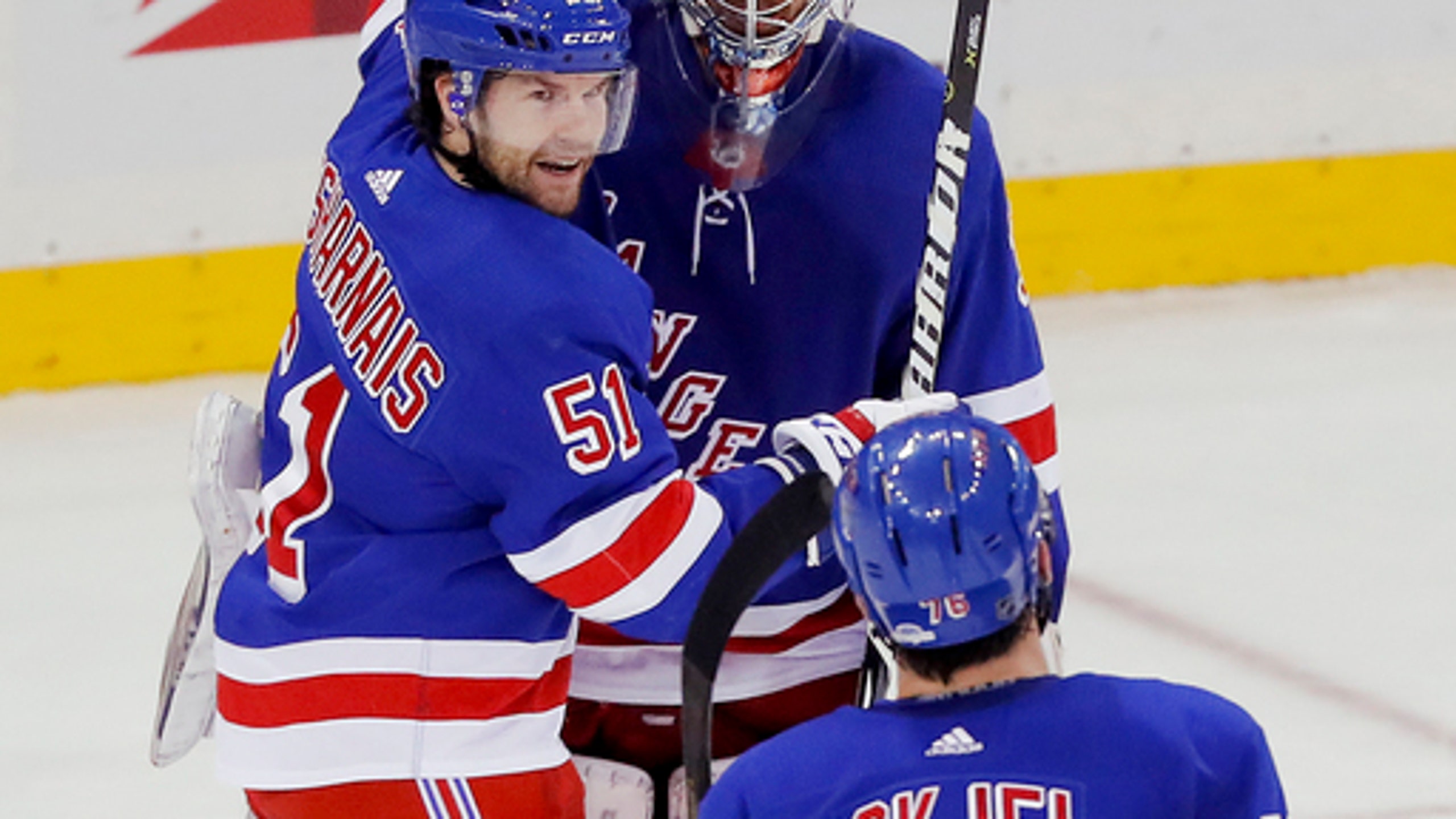 Rangers rout Flyers behind Nash's 2 goals (Jan 16, 2018)
BY AP • January 16, 2018
NEW YORK (AP) Henrik Lundqvist and Brady Skjei sat inside the Rangers' dressing room after shellacking the Flyers, and surprisingly enough, their conversation was all about defense.
Even after Rick Nash scored twice in New York's 5-1 win over Philadelphia, the Rangers were most pleased by what happened in their own end.
''We both said that was our best collective defensive game in a long time, and we end up scoring five goals,'' Skjei said.
Jordan Weal put Philadelphia up 1-0 before Nash, J.T. Miller, Paul Carey and Michael Grabner combined to make it 5-1 by the end of the second period. Nash had the first and last goal for the Rangers.
''That's a testament to us playing good structurally,'' Skjei said. ''Good team defense first leads to good looks offensively. It was a good game all around.''
New York snapped a three-game skid and improved to 23-17-5. Lundqvist made 25 saves for his 20th win of the season and 425th career victory. Lundqvist became the first goaltender in league history to win at least 20 games in each of his first 13 seasons.
Philadelphia dropped to 20-16-8 with its first loss in four games. Brian Elliott gave up five goals on 21 shots before being replaced by Michal Neuvirth in the third period. Neuvirth stopped eight shots.
''We weren't competitive enough,'' Flyers forward Wayne Simmonds said.
Entering their first meeting of the season, New York and Philadelphia were on significantly different trajectories. The Flyers had won four straight by an aggregate 21-11 margin, while the Rangers had scored two or fewer goals in eight of their last 10 games.
Coupled with the Islanders' 4-1 loss to New Jersey, the Rangers passed Pittsburgh and the Islanders for the first wild card in the Eastern Conference. The Rangers have a game in hand on the Islanders. Pittsburgh, which was off, now holds the second wild card.
Philadelphia took a 1-0 lead 2:06 into the game after Weal, positioned between Lundqvist, the right post and Kevin Shattenkirk, deftly redirected Radko Gudas' drive.
Nash tied it 4:24 later with his 10th of the season and his first since Dec. 15. Pavel Buchnevich set up Nash for the breakaway goal with a stretch pass between Gudas and Brandon Manning, and New York's veteran right wing snapped a shot past Elliott.
''It's what I'm supposed to do,'' Nash said.
New York's sputtering power play came through 16:50 into the period when Miller tipped Ryan McDonagh's slap shot past Elliott. New York entered 3 for 31 on the man advantage dating to Dec. 19, but finished 1 for 2 against the Flyers.
The Rangers ended the opening period on Carey's short-handed semi-breakaway with 9.4 seconds remaining. The goal was Carey's sixth of the season.
Grabner increased the lead to 4-1 with an unassisted goal at 10:48 of the second after stripping Jakub Voracek at the Philadelphia blueline. Nash's second of the game with 2:32 left in the period pushed the lead to 5-1.
NOTES: This was the latest date in an 82-game season that New York and Philadelphia opened the regular season series. ... The longtime rivals will meet three more times this season: Feb. 18 in New York, March 22 in Philadelphia and April 7 in Philadelphia. ... After being called up from AHL Hartford on Monday, Peter Holland dressed and began the game centering New York's third line between Grabner and Jesper Fast. The Rangers acquired Holland in a trade with the Canadiens on Nov. 30, 2017, which sent Adam Cracknell to Montreal. ... Holland dressed in place of C Kevin Hayes, who missed his second straight game with a leg contusion. ... During the second intermission, New York announced D Marc Staal would not return due to a lower body injury.
UP NEXT
Flyers: Host Toronto on Thursday night.
Rangers: Host Buffalo on Thursday night.
---
For more AP NHL coverage: https://apnews.com/tag/NHLhockey
---
---