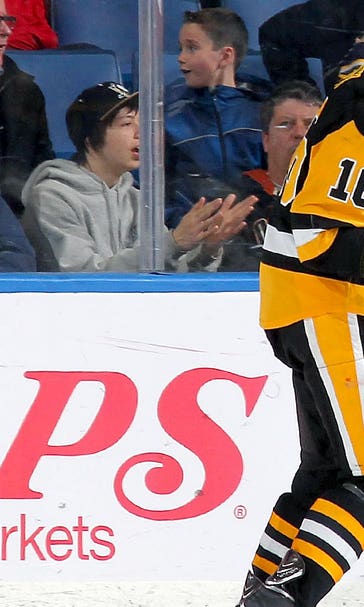 Penguins clinch playoff berth with win over Sabres as Sutter scores 2
April 11, 2015

Brandon Sutter scored twice and Marc-Andre Fleury made 28 saves in the Pittsburgh Penguins' playoff-clinching 2-0 win over the last-place Buffalo Sabres on Saturday, the final day of the NHL regular season
The Penguins snapped a 0-4-1 skid to secure the Eastern Conference's remaining wild-card spot, and eliminate the Boston Bruins in the process. Pittsburgh extended its playoff string to nine consecutive seasons — the NHL's second-longest streak behind the Detroit Red Wings' 24 — and avoided a near monumental late-season collapse.
The Penguins (43-27-12), who will face the New York Rangers in the first round, limped into the playoffs by going 4-9-2 over their final 15 games.
The Sabres (23-51-8) matched a franchise-low for losses for the second straight season. They were also shut out for the 14th time this year — four more than Buffalo's previous single-season record.
Fleury, named the Penguins' season MVP, earned his league-leading 10th shutout of the season. That's double his career best, and three more than the single-season team record set by Tom Barrasso in 1997-98.
His best stop came with 1:17 left, when Fleury got across to his right in time to stop Tyler Ennis' one-timer.
Sutter opened the scoring with 5:37 left in second period. Accepting Blake Comeau's pass along the end boards to the right of the net, Sutter didn't miss a step in cutting to the front, a step ahead of defenseman Rasmus Ristolainen. Leaning hard on his backhand, Sutter then got a hard shot off that beat goalie Anders Lindback inside the left post.
The goal drew a loud cheer from a large contingent of Penguins fans.
Sutter the sealed it 8:26 into the third period with his 21st of the season, to match a single-season best. Following a turnover at the Sabres blue line, Penguins center Daniel Winnik gloved down Patrick Hornqvist's pass in the right circle. Winnik then slid a pass through the middle, which Sutter swept into the open side while avoiding a last-gasp poke check by Buffalo captain Brian Gionta.
Penguins captain Sidney Crosby is back in the playoffs, though he failed to earn a point forthe first time in 16 career games at Buffalo. He also had a 19-game point streak snapped against the Sabres dating to Dec. 29, 2007.
The Penguins came out flying but had nothing to show for it through the first 34 minutes.
Crosby fell after nearly splitting two defensemen on his way to the net in the opening minute. Pittsburgh got the first four shots on net, including a great chance by David Perron. Circling the net, Perron came out the left side and turned to get a shot off, which Lindback barely got a piece of before flopping down on the puck during a scramble in front.
Evgeni Malkin snapped a hard riser with under 3 minutes left in the first, which Lindback stopped with his blocker. The puck fluttered high into the air, and chased down by Lindback, who caught it to get a whistle.
With Sabres already having clinched last place with a 4-2 loss at Columbus on Friday, many Buffalo fans were finally able to support their home team
That wasn't always the case this season, when a number openly rooted for the Sabres to lose in order to finish last and be guaranteed one of the top two picks in the draft, and a guaranteed shot at landing either Erie Otters center Connor McDavid or Boston University's Jack Eichel, this year's Hobey Baker winner. The NHL's draft lottery to determine who picks first will be held April 18.
During a pre-game fan appreciation ceremony, Sabres president Ted Black thanked fans for "sticking with us" through what's been a challenging year. "There's been a lot asked of you to go through the process we're going through," Black added, before prompting a "Let's go Buffalo," chant.
Sabres coach Ted Nolan's future is uncertain. Though Nolan has two seasons left on the contract he signed a year ago, the Sabres' record and a poor working relationship with general manager Tim Murray could lead to an offseason change.
General manager Tim Murray has maintained that he along with everyone else will be evaluated by owner Terry Pegula once the season ends.
NOTES: The Sabres entered with 153 goals, three more than they managed last season when Buffalo set an NHL post-expansion era low. ... With 84 points, Crosby entered the day tied atop the NHL race with New York Islanders forward John Tavares. Dallas Jamie Benn is third with 83. Tavares has the tie-break edge because his 37 goals are ahead of Crosby (28) and Benn (32). ... Ennis was named the Sabres MVP after leading the team with 20 goals and 46 points.
---
---