National Hockey League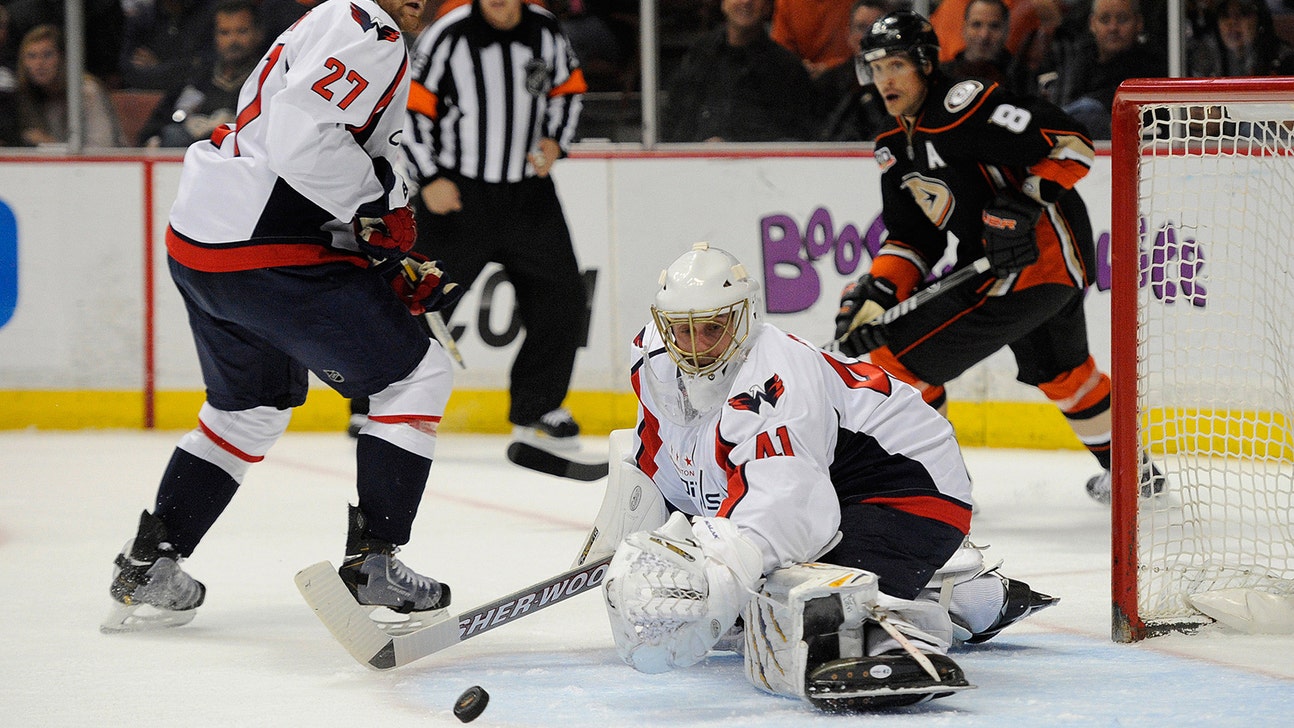 National Hockey League
Ovechkin, Halak lead Capitals to narrow win over Ducks
Published
Mar. 19, 2014 12:58 a.m. ET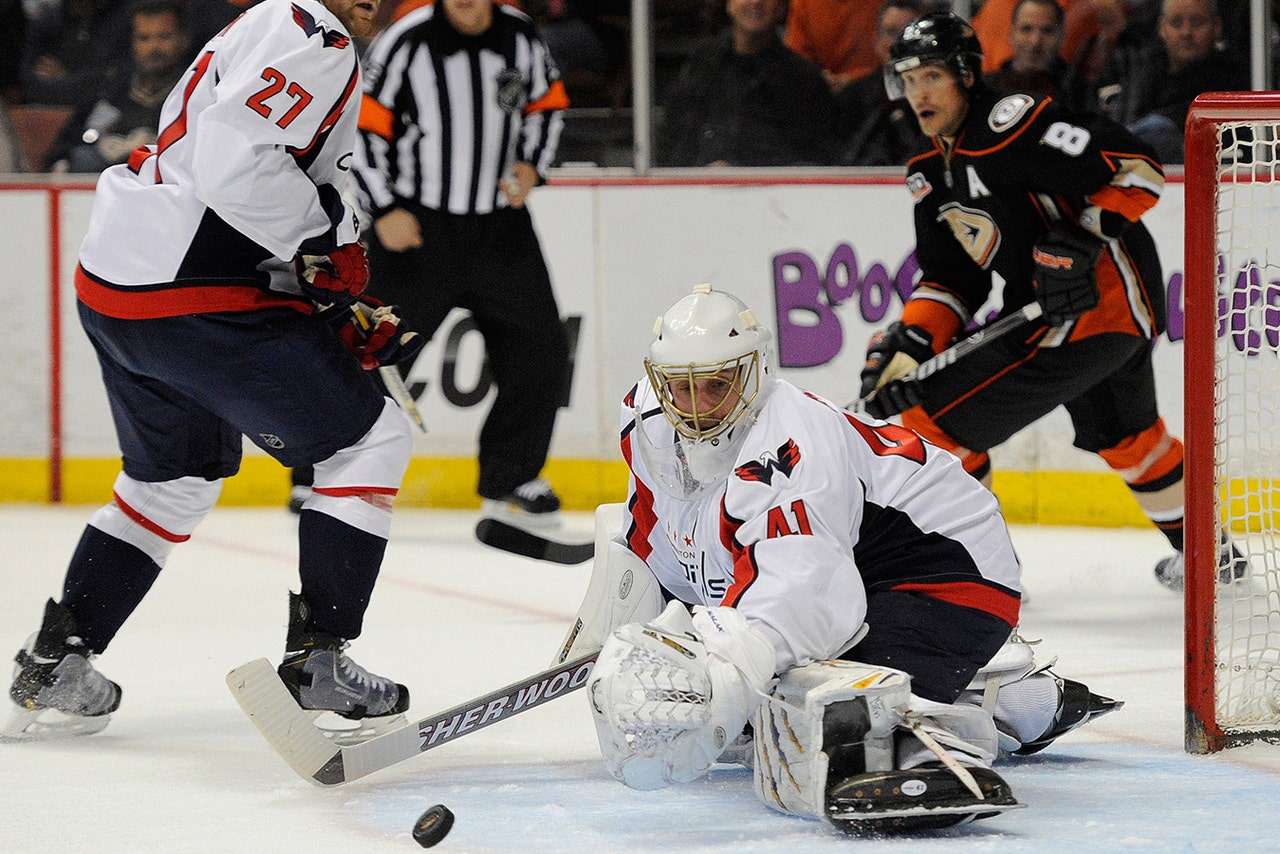 With the Anaheim Ducks bearing down on him all night, Jaroslav Halak couldn't relax for even a moment in front of the Washington Capitals' net until the horn sounded on another victory.
None of the Caps can afford to take many more breathers if they hope to make it back to the postseason.
Alex Ovechkin scored the tiebreaking goal early in the third period, and the Capitals kept up their playoff push with a 3-2 victory Tuesday night.
Joel Ward and Troy Brouwer also scored for the Capitals, who have won three straight to pull into an eighth-place tie with Columbus for the final playoff spot in the Eastern Conference. They barely held off the Ducks, who threw 45 shots at Halak and pressed right up to the final seconds.
"We can't worry about anything else that's going to happen except for our games," said Halak, who made 43 saves in his sixth consecutive start. "Right now, two points are all huge, any way we can get them."
The Caps haven't trailed during their winning streak. But even after Ovechkin scored his 46th goal early in a power play, they were in a nail-biter against Anaheim.
"That was a huge game," Ovechkin said. "We prepared for it, and we were ready for it. We played one of the best teams in the league."
Ovechkin's goal was just the second in seven games for last season's NHL MVP, but the Capitals need every goal and victory possible on their three-game California road trip. The Blue Jackets and Detroit, one point back in ninth place, both have two games in hand on Washington.
Ben Lovejoy and Mathieu Perreault scored for the Ducks, who have lost four straight home games while falling out of first place in the overall NHL standings.
Anaheim is still near the top of the Western Conference playoff race, but San Jose has caught the Ducks atop the Pacific Division standings. The teams meet Thursday at the Shark Tank.
Jonas Hiller stopped 27 shots, but the Ducks have lost to the Capitals in each of their last four visits to Honda Center.
"I think we had a lot of looks and were shooting the puck, but we weren't getting to any loose pucks," Anaheim coach Bruce Boudreau said. "You can make a million and one excuses, but we're just not getting the job done."
Washington hadn't visited Honda Center since Feb. 16, 2011, nine months before the Capitals fired Boudreau, who was hired by Anaheim two days later.
"This was a big one for Bruce, and we all knew it," Lovejoy said. "I think we came out with a lot of passion. When we're skating and playing tough hockey, we get our forecheck going, and we had that going tonight. We just weren't able to put more than two in the net."
Ward got his 21st goal on a fat rebound just 2:11 in, scoring in his third consecutive game. Lovejoy tied it 59 seconds later on an unobstructed slap shot set up by a terrible Washington line change.
Brouwer scored on a power play in the final seconds of the first period for the Caps, getting his third goal in two games off another rebound.
Anaheim generated nothing from a two-man advantage for 1:51 early in the second period, adding to the power-play woes of an otherwise powerful offensive club. The Ducks entered the game in a 2-for-42 slump in their previous 13 games, and they went scoreless in their first four chances against Washington.
"At the end, it came down to the fact that our special teams weren't special," Lovejoy said.
Perreault, the former Capitals center, put a wrist shot past Halak, who was thoroughly screened by Patrick Maroon, to tie it right after a power play expired early in the third period.
But just 1:12 later, Nicklas Backstrom won a faceoff and John Carlson got the puck to Ovechkin, who put a typically vicious one-timer past Hiller.
Stephane Robidas played more than 13 minutes in his debut for the Ducks, who acquired the veteran defenseman from Dallas two weeks ago for the playoff push. Robidas filled in for Cam Fowler, who missed his second straight game with a lower-body injury.
"It wasn't my best, but the first one is out of the way now," Robidas said.
NOTES: Dustin Penner returned to Honda Center for the first time since Anaheim traded him to Washington on March 4. Penner had 13 goals and 19 assists in 49 games this season in his second stint with the Ducks, but was a frequent healthy scratch. ... Halak was in Anaheim with the Blues on Feb. 28 when he was traded to Buffalo, forcing him to leave Honda Center early while St. Louis faced the Ducks with a locker room attendant as their backup goalie. ... Boudreau won his first game against his former team when the Ducks beat the Capitals 3-2 on Dec. 23.
---
---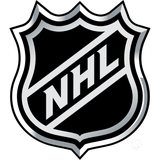 Get more from National Hockey League
Follow your favorites to get information about games, news and more
---