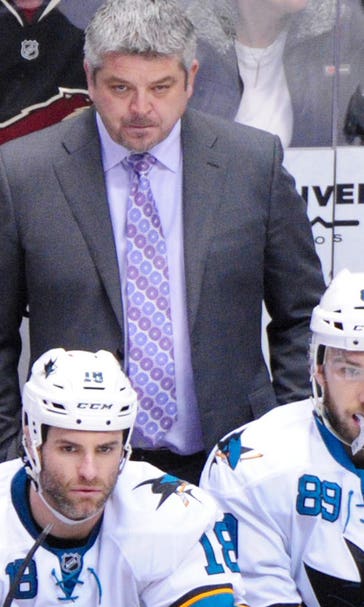 No decision yet on status of Sharks coach Todd McLellan
April 15, 2015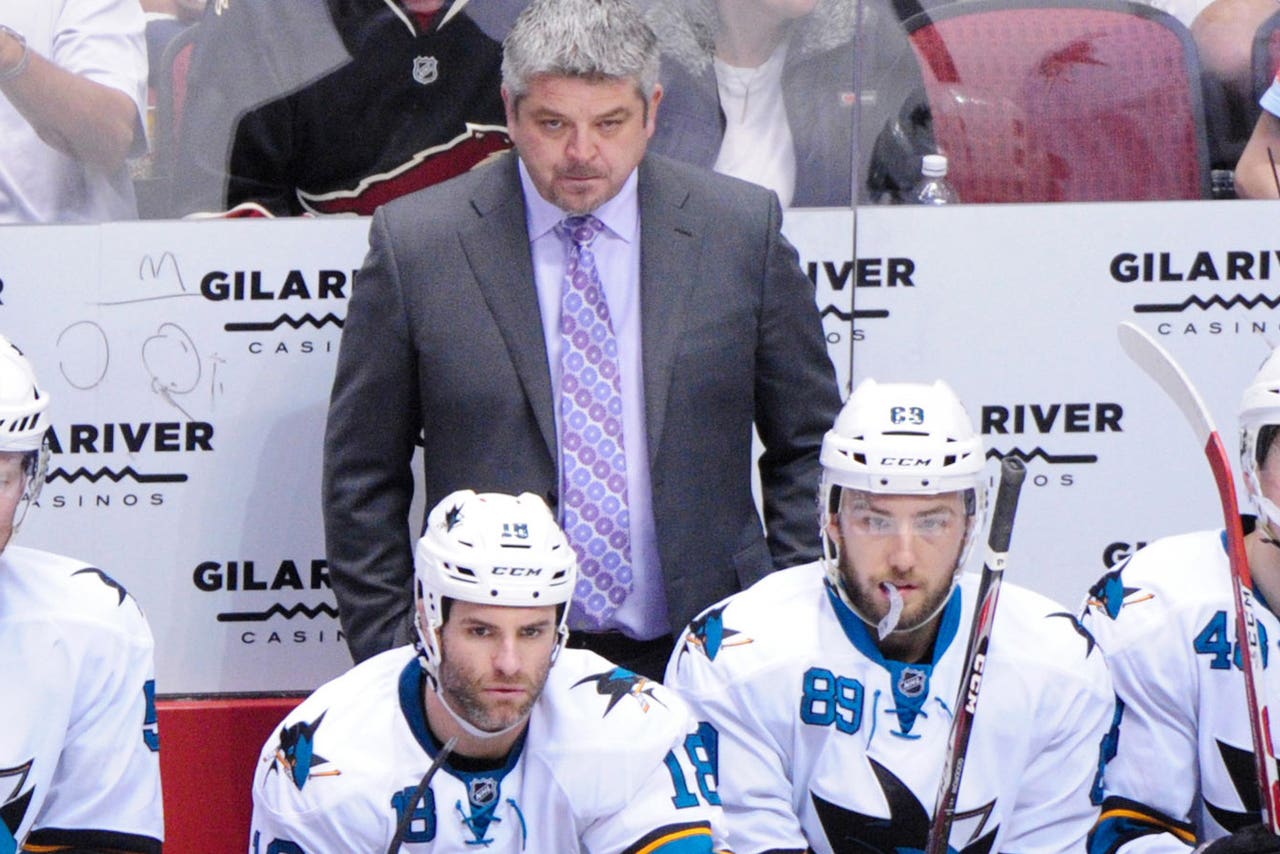 The locker clean up, exit interviews and goodbyes began a lot sooner than usual for the San Jose Sharks after they missed the playoffs for the first time since 2003.
Answers about the status of coach Todd McLellan will still have to wait.
The Sharks held their annual clean out day on Wednesday with players undergoing physicals, management and coaches starting to meet with players and the organization undergoing the review process after a disappointing season.
But McLellan said he has not decided yet whether he wants to come back for the final year of his contract and the organization hasn't decided whether to bring him back either.
McLellan said he needs to talk more with his family, as well as members of the organization, before that final decision can be made. McLellan said he expects his future to be resolved by the time he leaves April 24 to coach Team Canada in the upcoming World Championship.
''There's a lot that goes into a review,'' McLellan said. ''Organizationally too. We've got a lot of decisions that have to be made. You've got ownership involvement, you've got managerial decisions that have to be made. There's a lot that goes into it.''
General manager Doug Wilson said he will be reviewed by owner Hasso Plattner and then he will evaluate McLellan and the coaching staff to figure out why the Sharks fell 22 points in the standings and finished 12th in the 14-team Western Conference.
Wilson said he expected the team to take a step backward this season after putting more focus on young players in response to blowing a 3-0 series lead to Los Angeles in the first round last year. But missing the playoffs was not part of the plan.
''I take full responsibility for the commitment to the transition program we went through this year,'' Wilson said. ''That was my plan, that was my decision. When you go through that type of transition plan there's often some pain and the pain is sitting here not going to playoffs.''
Whether McLellan remains part of that transition remains an open question. McLellan is the winningest coach in franchise history and he led San Jose to back-to-back trips to the conference finals in 2010 and `11. But he has won just one playoff series the past four seasons.
Despite the recent struggles, McLellan still has strong support among many of his players. But star center Joe Thornton did not strongly back his coach when asked if a change was needed.
''I have no idea,'' Thornton said. ''Todd has to talk to his family. Maybe he should talk to this family as well in here. We'll see what happens.''
Thornton was stripped of his captaincy last summer in response to the playoff collapse against Los Angeles and had a public spat with Wilson in March after the GM said that Thornton has the tendency to lash out at people in stressful situations.
Thornton responded by telling Wilson to ''shut his mouth'' and ''stop lying.'' The two later said they resolved their issues and said Wednesday there was no lingering effects.
Thornton said the playoff loss and offseason talk had no impact on his play and said it shouldn't have played any role in the team's lack of success this season.
''If it did we don't want them here,'' Thornton said. ''We want tough individuals that can handle adversity. If it did, we don't want you here.''
But the culture problems that Wilson publicized last offseason are still there with center Logan Couture saying Wednesday that the culture is ''not great.''
Whatever happens with McLellan, there will be changes in San Jose. Goalie Antti Niemi, defensemen Matt Irwin and Scott Hannan, and forward John Scott all can be unrestricted free agents.
San Jose also has plenty of salary cap room to acquire an established player, as well as a top 10 draft pick.
''It will be another interesting summer, I'm sure,'' Couture said. ''We wanted to change after last year, and come back and have a good year and we didn't do that.''
---
---