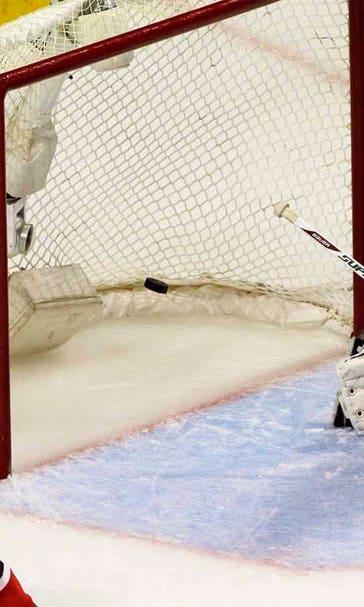 NHL takeaways: Patrick Kane electrifies crowd, Blackhawks
May 3, 2014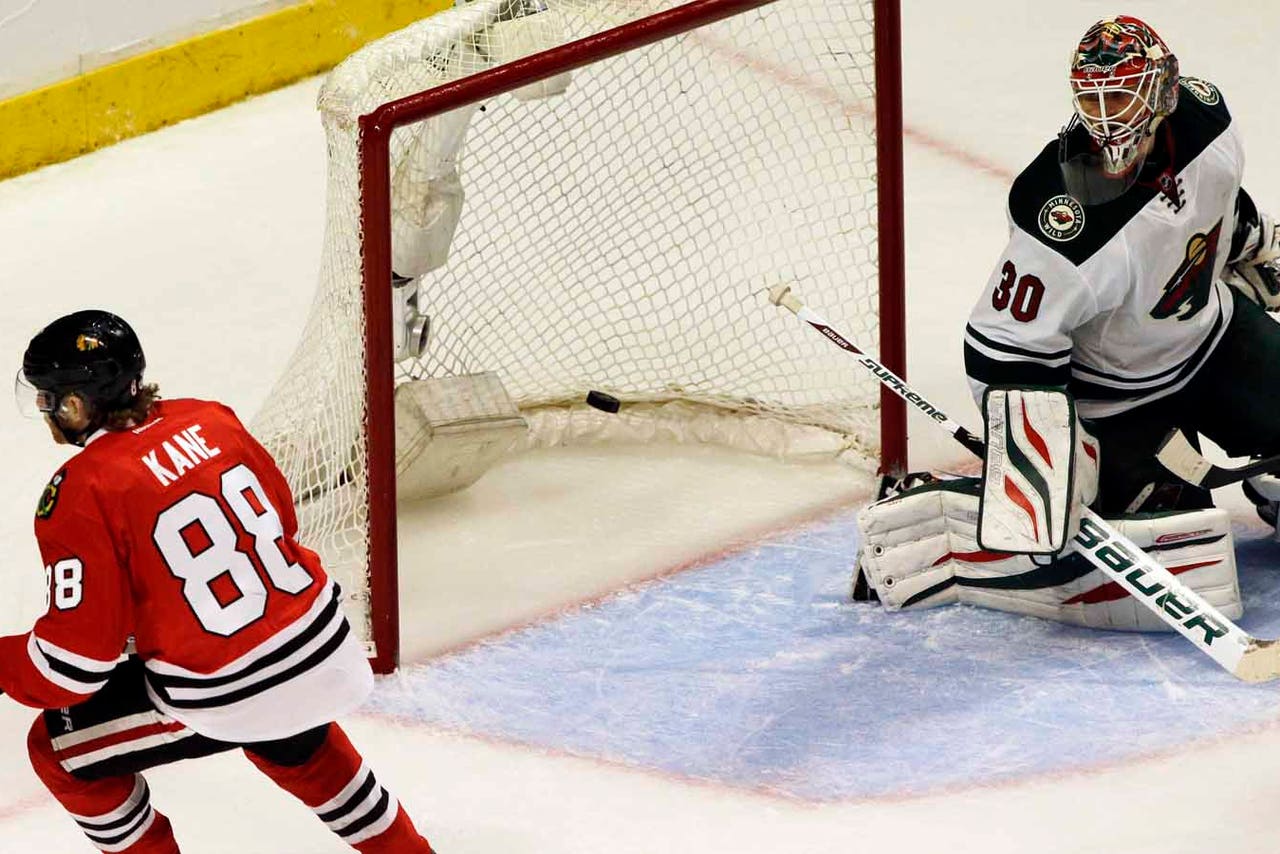 The road teams had it rolling again on Friday. The New York Rangers jumped out to an early lead then beat Pittsburgh in overtime, handing both road teams (Montreal was the other) wins in the Game 1s of the Eastern Conference semifinals.
Minnesota thought it might continue the trend in Game 1 of its Western Conference semifinal when it rallied from a two-goal deficit in the third period at Chicago. Then Patrick Kane happened. And that is never a good thing for opponents.
GAME OF THE DAY: New York Rangers 3, Pittsburgh 2 (OT). The Rangers are 0-4 all-time in the playoffs against the Penguins, but they got a good head start on ending that streak with a big road win in Game 1. New York center Derick Brassard picked a good time for his first goal of the postseason -- at 3:06 of overtime.
PLAY OF THE DAY: Patrick Kane's filthy, game-winning goal. Minnesota had just rallied from a two-goal deficit to tie the game early in the third period. The Blackhawks were reeling, already down a forward due to an injury to Andrew Shaw. Then Kane did what he does: He changed the game with a play few players would even attempt. As he crossed the blue line cutting left to right, he feigned as if he were going to pass, getting defenseman Jonas Brodin to bite for a moment. As soon as Brodin did, Kane pulled the puck to his backhand, went around Brodin and roofed a backhander over goalie Ilya Bryzgalov's shoulder to electrify the United Center crowd. Kane yelled, "Showtime!" after his score.
THREE STARS
1. RW Patrick Kane, Chicago: Two goals, one the game-winner on the aforementioned dirty move, the other the game-clincher off a sweet dish from left wing Patrick Sharp. That'll do, Patrick. That'll do.
2. LW Benoit Pouliot, New York: Pouliot continued his strong postseason with the opening goal of the game and an assist on Derick Brassard's game-winner early in overtime. Pouliot has six points in eight playoff games.
3. G Corey Crawford, Chicago: The Blackhawks did a good job of keeping Minnesota on the perimeter with its shots, and the Wild rarely had a good net presence. But Crawford was tested on at least a dozen chances. He stopped 30 of 32 shots.
RECAPS
NEW YORK RANGERS 3, PITTSBURGH 2 (OT)
Series: New York leads 1-0.
Key stat: Penguins center Sidney Crosby was a minus-3 with no points, extending his playoff goal-less drought to 12 games. Is he healthy?
Key player: D Dan Girardi, New York. Girardi has a difficult assignment playing against the Penguins' top skill line. He was at his best on Friday, recording two assists, three hits and four blocked shots.
What we learned: The Rangers haven't scored on their last 25 power play opportunities. At some point, that will come back to bite them, but not on this day. New York had the jump early, and that helped the Rangers grab a 2-0 lead on goals from Benoit Pouliot and Brad Richards before the Penguins got their legs. Again, all bets are off if Crosby isn't healthy, and he certainly wasn't moving like the Crosby everyone knows. But Pittsburgh carried the play and dominated possession after the first period on Friday, and that normally translates into wins. The wild card, of course is goaltending, where New York has a distinct advantage. Marc-Andre Fleury did not play badly for the Penguins, but he could have stopped Pouliot's goal, which glanced off his shoulder, and he didn't exactly steal goals. Henrik Lundqvist did, stopping 34 of 36 Pittsburgh shots and getting some help from hit posts by Olli Maata and Joe Vitale. The game had it share of controversy, but two blown calls canceled each other out. Officials blew a play dead for offside just as Pittsburgh's Chris Kunitz was about to take an open slapper. The Rangers scored off the ensuing faceoff, enraging the Consol Energy Center crowd. But James Neal's tying goal should have been disallowed live because he interfered with Lundqvist's glove. It was not, and that sort of play is not reviewable.
Next game: Sunday at Pittsburgh, 7:30 p.m.
CHICAGO 5, MINNESOTA 2
Series: Chicago leads 1-0.
Key stat: When Minnesota rallied from a two-goal deficit to tie the game in the third period, it marked the 19th time in this postseason that a team had come back from a two-goal deficit. The most dangerous lead in hockey, indeed.
Key player: RW Marian Hossa, Chicago. Hossa won't get much consideration for the Selke Trophy as the league's best defensive forward, because hockey writers tend to focus on centers for this award. But Hossa is as good as it gets in his own zone. He never gives up on plays, he can catch virtually anyone from behind and he has an uncanny ability to lift opponent's sticks at the opportune moment to break up scoring chances. Oh yeah, he had a goal and two assists on Friday as well.
What we learned: If Minnesota doesn't corral the Chicago power play, this will be a short series. Chicago struggled against St. Louis with just three goals in 20 chances, but the Hawks got two on Friday to offset a strong effort from the Wild. Minnesota allowed just three power-play goals in its seven-game series against Colorado. Minnesota outshot Chicago, 32-22, but it took a fluke goal off the skate of Blackhawks defenseman Johnny Oduya early in the third period for the Wild to get on the board. Chicago definitely did not have its A-game after a four-day layoff, but Chicago has proven over the past two seasons that it gets stronger as series progress. The Hawks may have suffered a major blow when forward Andrew Shaw left the game in the first period after a big hit from Minnesota defenseman Clayton Stoner, who was throwing his weight around Friday and also got credit for the Wild's first goal after it bounced around the Chicago crease. Shaw appeared to be favoring his right leg as he left the game for good with what was naturally reported as a lower body injury. The Hawks have some depth and could reinsert benched wing Kris Versteeg, who has been in coach Joel Quenneville's doghouse, but Shaw brings an edge that's hard to replace, especially in a Chicago forward group that is predicated on skill and speed. Then again, if Minnesota has to keep trotting out goalie Ilya Bryzgalov (0-6-2 in the United Center with a save percentage south of .870), well ... hurry back, Darcy Kuemper, hurry back.
Next game: Sunday at Chicago, 3 p.m., EST
Final thought: Are we heading for a repeat of last year's final four? Yes, we're aware that Boston and Pittsburgh both lost their first games at home, but the way both teams dominated the majority of their games leads us to believe they will answer those losses. Chicago took Minnesota's best shot and still won to force Minnesota to beat the defending champs in four of the next six games. That leaves L.A. and Anaheim, and we're not betting against the Kings after that historic rally put them on a California roll. Of course, we could be wrong.
Follow Craig Morgan on Twitter
---
---