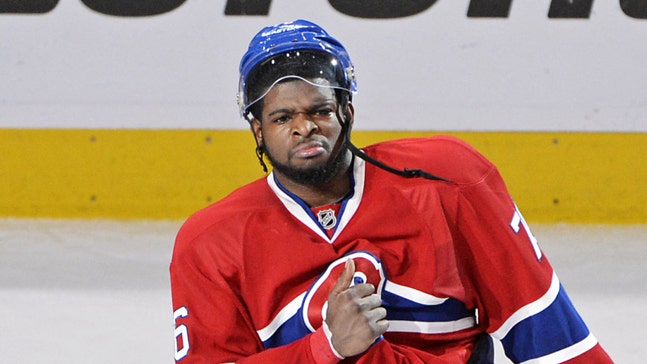 NHL takeaways: Move over, Aaron Boone — Boston has a new villain
Published
May. 7, 2014 2:43 a.m. ET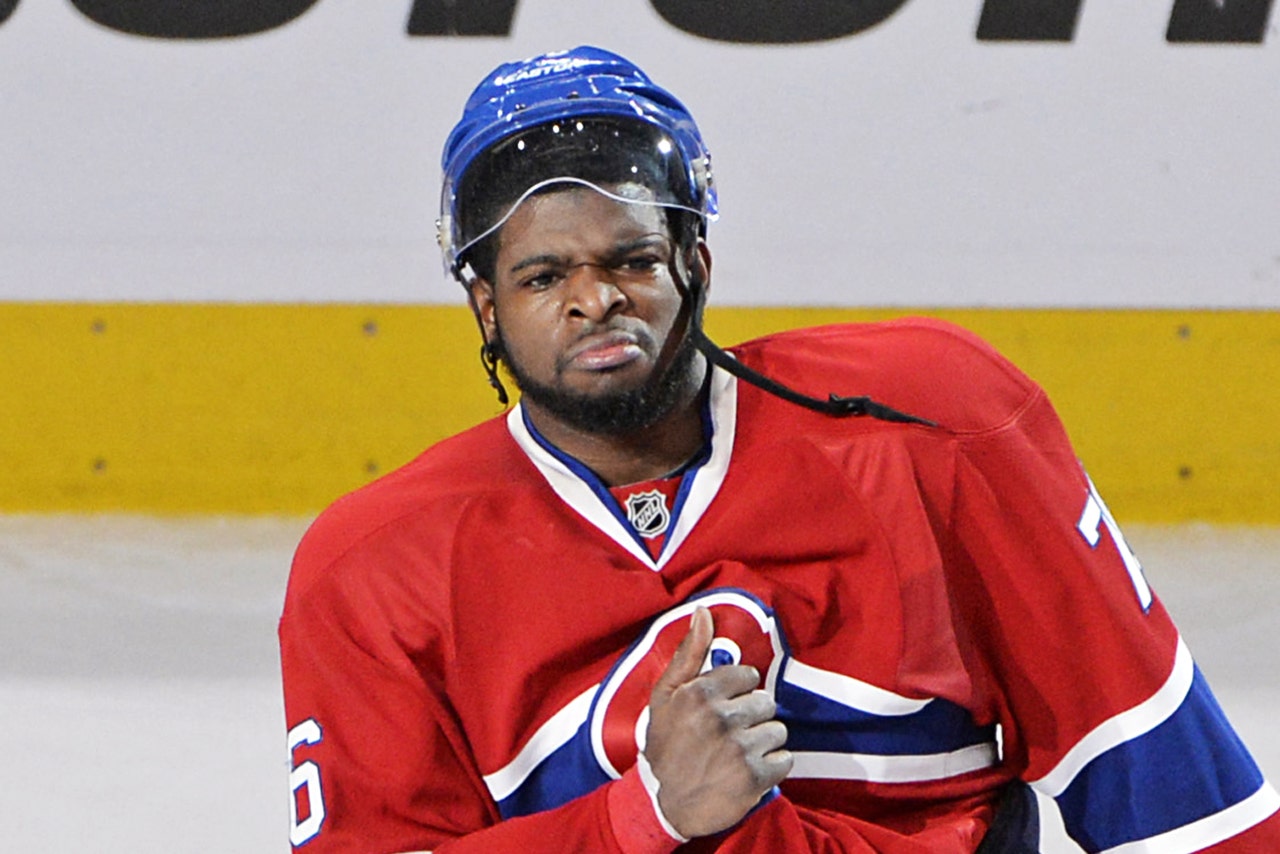 Late in the third period of Montreal's 4-2 win over the Boston Bruins on Tuesday, the Bell Centre big screen showed a montage of P.K. Subban highlights to the tune of The Heavy's "How You Like Me Now?"
Boston's enemy has a face.
The Bruins have thrown double teams at Subban. They've thrown heavy hits at him. Ignorant fans have thrown racial slurs his way — and even the more educated fans have accused him of dirty, obnoxious and gutless play, forgetting their own players who evoke the same descriptions from other fans bases (we're looking at you, Milan Lucic).
It hasn't mattered. Subban has owned the Bruins through three games, recording six points and celebrating like a mad man after every one of his three goals. Subban's play has the Canadiens up 2-1 in the series, and thinking the once unthinkable — an upset of the heavily favored Bruins.
Meanwhile in St. Paul, a third-period explosion kept the Minnesota Wild's hopes alive against the defending Stanley Cup champion Chicago Blackhawks, but was this a fait accompli given the Blackhawks' recent playoff history?
GAME OF THE DAY: Montreal 4, Boston 2. The Bruins made most of the Bell Centre's sellout crowd nervous when forward Jarome Iginla redirected defenseman Andrej Meszaros's shot into the net with 2:16 remaining to slice what had once been a three-goal Montreal lead to one. But Lars Eller's empty-net goal reminded the Bruins of the perils of playing catch-up hockey too often.
PLAY OF THE DAY: Tic tac toe. The Canadiens took control early when Subban collected a puck along the half wall and absorbed a hit from Lucic to make a one-touch pass back to Thomas Vanek at the point. Vanek faked a slapshot to freeze goalie Tuukka Rask, then sent a pass across the ice to Tomas Plekanec at the left side of the crease. Plekanec, who had gotten away from the check of Iginla, buried his third goal of the playoffs for a 1-0 Habs lead little more than halfway through the first period.
THREE STARS:
1. P.K. Subban, D, Montreal: A goal and an assist for Montreal's blossoming, 24-year-old blue-liner who already owns one Norris Trophy.
2. Mikael Granlund, C, Minnesota: He scored a pair of goals, the first on a nifty move to his backhand in the slot.
3. Ilya Bryzgalov, G, Minnesota: Bryzgalov stopped 19 Chicago shots to post his first playoff shutout since May 7, 2006 vs. Colorado while a member of the Anaheim Ducks. It was his fourth shutout in just 18 games since joining the Wild.
RECAPS
Montreal 4, Boston 2
Series: Montreal leads, 2-1
Key stat: Per the Elias Sports Bureau, Subban is the third Canadiens defenseman to post three straight multi-point playoff games (JC Tremblay in 1971; Larry Robinson in 1978 & '87).
Key player: Alexei Emelin, D, Montreal: Emelin was a defensive force, dishing out a game-high seven hits and blocking five Boston shots in 21:02 of ice time.
What we learned: The Canadiens aren't fretting over that Game 2 collapse in Boston. The Bruins had momentum coming to Montreal after a four-goal third period in Sunday's win, but a rousing pregame show, Ginette Reno's Kate Smith-esque performance of "O Canada," and Subban made sure the Bell Centre crowd went home happy — and not riotous. Reno is 3-0 at Molson Center and the Habs are 6-1 in the postseason, the lone blemish that third-period implosion in Saturday's Game 2. Montreal did a masterful job of taking away the middle of the ice. Despite a late goal from Jarome Iginla that raised the specter of another Boston rally, Montreal didn't give the Bruins a lot of good looks at goalie Carey Price. Subban and Dale Weise had a pair of breakaway goals against an uncharacteristically sloppy Boston defense and Montreal got surprisingly good mileage out of defenseman Douglas Murray, who made his first appearance in the lineup in place of Francis Bouillon. Boston is 0 for 6 on the power play in this series and it has fallen into at least a two-goal deficit in every game.
Next game: Game 4: Thursday at Montreal, 7:30 p.m. EST
Minnesota 4, Chicago 0
Series: Chicago leads, 2-1
Key stat: Chicago has lost the first road game in each of its past nine playoff series, dating to the 2010 Stanley Cup Final; yet the Blackhawks are 6-2 in their previous eight series.
Key player: Zack Parise, LW, Minnesota. Parise had a goal and an assist. The goal was his first of the series and snapped a 0-for-24 power play drought for the Wild in their past two playoff series with Chicago.
What we learned: Chicago needs earlier road wake-up calls. The Blackhawks just don't seem to fully engage until they feel it is necessary, and that will be the case in Game 4 after Chicago came out flat offensively and fell apart defensively in the third period in Game 3 when the Wild scored four goals. The Blackhawks inserted wing Brandon Bollig and defenseman Sheldon Brookbank into the lineup for wing Jeremy Morin and struggling defenseman Nick Leddy. Neither had any issues, but neither made an impact — it was the stars who cornered the market on mistakes. Patrick Kane, Patrick Sharp and Brent Seabrook were all minus-2 while Jonathan Toews and Duncan Keith were a minus-1. Expect a better showing from the Hawks after they were shut out for the first time in this postseason. For Minnesota, Game 3 was a sigh of relief because Parise and Mikael Granlund finally produced after lackluster efforts in Games 1 and 2. Minnesota isn't out of the woods by any stretch; the Blackhawks were in the same situation with the Wild last season and won Game 4, 3-0 in St. Paul, to take a 3-1 series lead (they won the series the next game). The Wild insist they are a much better team than last season. Friday's game will be the chance to prove it.
Next game: Game 4: Friday at Minnesota, 9:30 p.m. ET
Final thought: The NHL's playoff history is littered with players who gutted out significant injuries to chase the Stanley Cup. Chicago defenseman Niklas Hjalmarsson added an unusual chapter to that lore when he played Game 3 in Minnesota without the ability to speak. The Hawks' shutdown defenseman took a puck to the throat in Game 2 and has not been medically cleared to speak. It could take up to two weeks before he receives that clearance, which creates communication problems on the ice, but Hjalmarsson still logged 17:12 of ice time on Tuesday, and he blocked four more shots to raise his NHL postseason-leading total to 34.
Follow Craig Morgan on Twitter
---
---