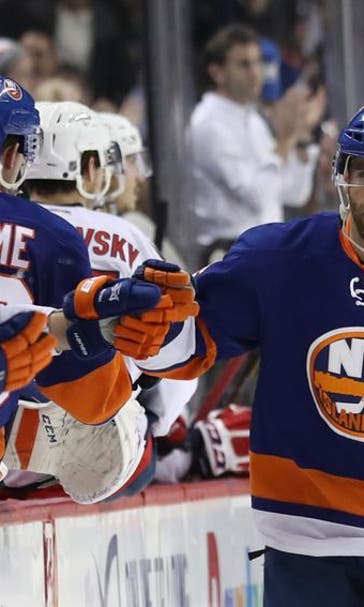 New York Islanders Three Stars From 4-2 Caps Win
December 28, 2016

Fansided, Michel Anderson/FanSided via Eyes On Isles
Dec 27, 2016; Brooklyn, NY, USA; New York Islanders left wing Andrew Ladd (16) reacts after scoring during the third period against the Washington Capitals at Barclays Center. The Islanders won 4-3. Mandatory Credit: Anthony Gruppuso-USA TODAY Sports
The New York Islanders are on a roll after a 4-2 win over the Washington Capitals. Another two points are in the bag, and the Isles are on a small winning streak of their own thanks to these three players.
Last night's win by the New York Islanders over the Washington Capitals put the Isles out of the Eastern Conference basement (by a single point) and two points closer to a wild card spot.
The dream still sounds wild, but that's the goal, make the playoffs. And these little streaks the Isles build are paramount to that effort. So long as there aren't five-game
slides between them undoing all of their hard work.
The three Metropolitan Division seeds are 18 (Columbus), 17 (Pittsburgh), and 15 (Rangers) away from the Isles. It's unrealistic to believe the Isles can catch any of these team. But at ten points, the Capitals and the Flyers are close enough to catch with a good second half to the season.
In order for that to happen the Isles are going to need strong performances night in and night out. And maybe Anders Lee to be the absolute beast he's been since November 23. Scoring 12 goals and 3 assists in the process.
Dec 27, 2016; Brooklyn, NY, USA; New York Islanders right wing Cal Clutterbuck (15) celebrates his goal with teammates during the first period against the Washington Capitals at Barclays Center. Mandatory Credit: Anthony Gruppuso-USA TODAY Sports
Cal Clutterbuck
New York Islanders
To be brutally honest that 1 goal is a bit generous for Cal. All the work belongs to Nikolai Kulemin for driving down the wing, attracting a second defender, shaking off two defenders, and then getting a backhanded shot on net that fortuitously bounced to the wide open Cal Clutterbuck.
But if Clutterbuck hadn't gone to the net he wouldn't be in position to score the tap-in goal, so, good job Cal.
His third star is less about that goal and more about how he's back to in a comfortable role where the team can get the best out of him.
Moved up from the fourth line, and down from top line duties at the start of the season, Clutterbuck is nestled next to Strome and Kulemin. A pairing I admittedly didn't like when it was first put together by Jack.
Not sure how I feel about a Kulemin Strome and Clutterbuck line…#Isles

— Eyes on Isles (@eyesonislesFS) December 28, 2016
But in the last two weeks, the three have a combined for a respectable 12 points. Strome with five (3G, 2A), Kulemin with four (1G, 3A), and Clutterbuck with three (1G, 2A).
Clutterbuck is starting to flourish offensively with this third line pairing. And that's exactly what the Islanders need from Cal. A solid 12-14 minutes of hard-nosed hockey and timely tertiary scoring.
Dec 27, 2016; Brooklyn, NY, USA; New York Islanders center Alan Quine (10) turns the puck away from Washington Capitals center Jay Beagle (83) during the first period at Barclays Center. Mandatory Credit: Anthony Gruppuso-USA TODAY Sports
Alan Quine
New York Islanders
Alan Quine has been excellent over the last few weeks, and in last night's game against the Capitals, there was no exception. Quine finished the night with two assists and a nice +2 rating and helped the Isles walk out with a 100% efficiency on the penalty kill.
Which has been something of a rarity lately. Over the last two weeks, the Isles have managed a 70% efficiency on the penalty kill. Aggregate that over the season and that's good enough for dead last in the league. Keep in mind that the Isles ranked 4th by season end in 2015-16 for PK%. That's a mighty drop.
Just as an aside, the Islanders are currently ranked 20th in PK% with 79.8%.
https://www.sportingcharts.com/nhl/stats/team-penalty-kill-percentage/2016/
Back to Quine. I know some of you will say that +/- is a flawed stat. It doesn't account for everything and can be somewhat misleading. But with nearly three minutes (2:57) of shorthanded ice-time against the likes of Alex Ovechkin, Marcus Johansson, Evgeny Kuznetsov, and friends, you almost expect the Capitals to get one on the man-advantage.
Heck, they had four opportunities to do so last night but Quine and the other Isles penalty killers (Tavares had 4:11 of shorthanded ice-time by-the-way) were able to negate that offensive firepower.
That's why he gets a second star. Quine completed his defensive duties perfectly well and was even able to create some offense of his own. That's everything a team can hope for, that players throughout the lineup produce.
Dec 27, 2016; Brooklyn, NY, USA; New York Islanders left wing Andrew Ladd (16) reacts after scoring a goal during the second period against the Washington Capitals at Barclays Center. Mandatory Credit: Anthony Gruppuso-USA TODAY Sports
Andrew Ladd
New York Islanders
Andrew Ladd is finally scoring in the bunches we were told he does. Two in last night's game and another two within the last two weeks brings his total on the season to seven!
It also boosts his shooting percentage to 12.5% on the season. A number Andrew Ladd is more accustomed to over the course of his career (he's averaged 12.35% not including this season).
It feels good, doesn't it? If this continues, maybe, just maybe Ladd will be able to play close to what he's being paid. Because let's be honest, in a cap world, that's generally all that matters when you alone account for roughly 7% of the team's cap commitment.
Ladd still has a long way to go to win the hearts and minds of the Islanders faithful. He continues to take questionable penalties for someone in a leadership position. He's invisible for frequent period of games. And just generally seems like a net detriment to the team when he's on the ice.
But with two goals on the night. It certainly makes up for a single bad penalty, for which the Isles were able to kill anyways. And starts to show what he's capable of.
Both goals were right-place-right-time types. The first was right on the open side after a nifty cross-ice pass from Thomas Hickey. The second came after Ladd ghosted his defender to stand alone at the post to redirect a slap-pass from Alan Quine. Right-place-right-time.
The Isles now head out west for a mini road trip before they get their collectively bargained by-week. First is a stop in Minnesota to take on the ten-wins-in-a-row Minnesota Wild, then to Winnipeg for a rip-roaring New Years Eve celebration in Manitoba's capital city. Then 2017 starts with a back-to-back against Colorado followed by Arizona.
More from Eyes On Isles
This article originally appeared on
---
---