National Hockey League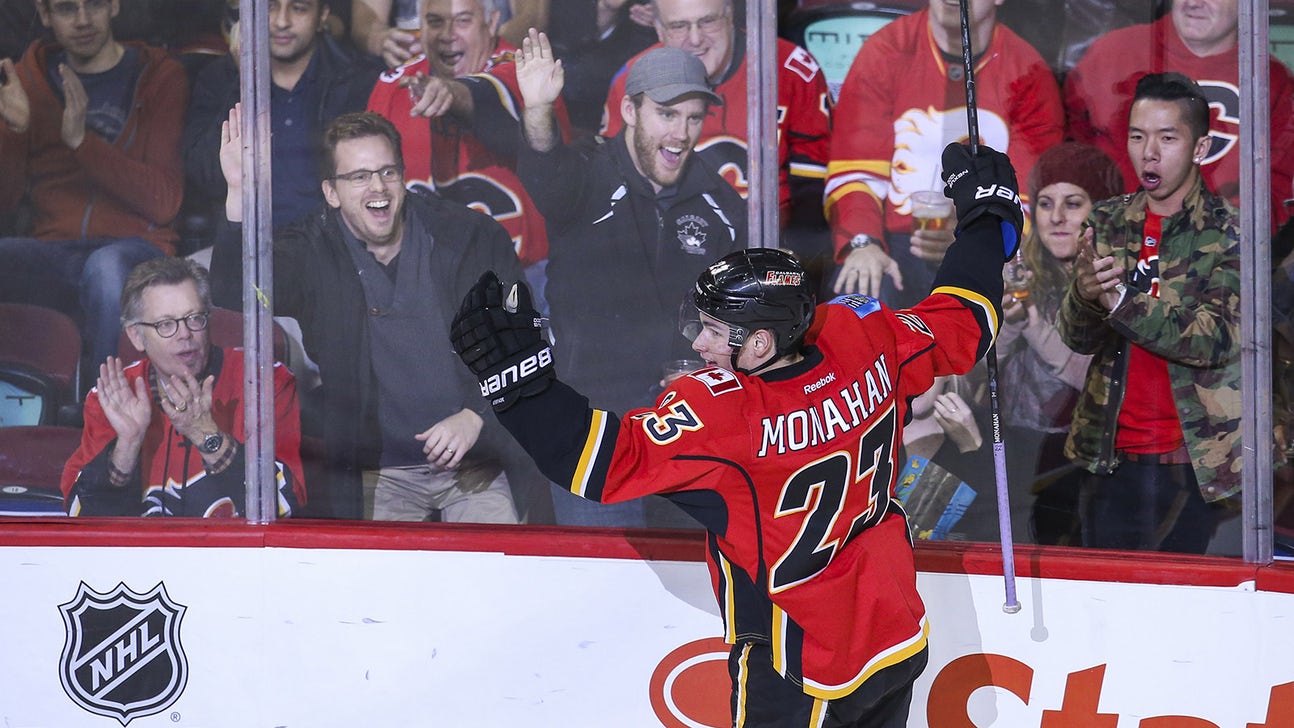 National Hockey League
Monahan (2 goals), Hiller (16 saves) help Flames blank Hurricanes
Published
Oct. 24, 2014 12:17 a.m. ET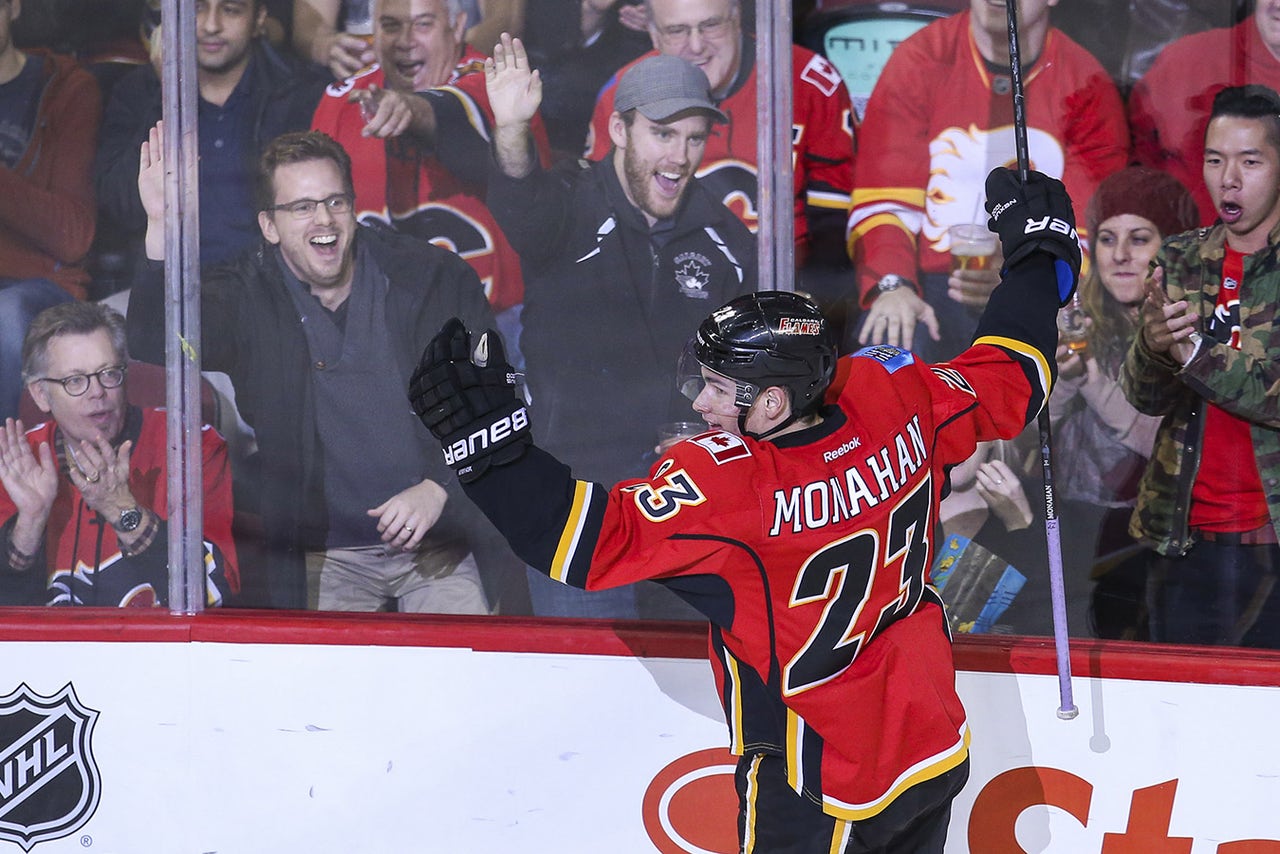 Sean Monahan burst onto the scene as a rookie last season with the Calgary Flames, scoring six goals in his first eight games.
Through eight games this season, Monahan had just two assists and no goals, despite the fact he was second on the team with 20 shots.
Monahan's drought ended in a big way when he scored his first two goals of the season to lead Calgary to a 5-0 win over the Carolina Hurricanes on Thursday night.
"Obviously it's been quite a few games," said Monahan, named the game's first star. "I want to contribute, to help get wins, and I think that was a big relief for me tonight."
Linemate Joe Colborne helped set up both of Monahan's goals.
"Sooner or later, a guy with that skill is going to break out," said Colborne, who leads the Flames with eight points -- all assists -- through nine games. "I was just happy I was able to be a part of it.
"All the boys on the ice and on the bench were happy for him. Right now, If I was a fantasy hockey player, I'd have him in the lineup for the next little while. He's going to get hot."
Jiri Hudler, the third member of the line, also had two assists for the Flames (5-3-1). Calgary coach Bob Hartley put the trio together for the first time this season, and the move paid off.
"That's the line that I saw last year," Hartley said. "That's the kind of performance that they were giving us, and certainly that's the kind of performance that we need from them."
Jonas Hiller stopped all 16 shots he faced for his third straight win and first shutout of the season.
"We spent most of the time in their zone so it was definitely not as tiring as other games I've played this year," said Hiller, who has stopped 99 of 101 shots in his past three games. "You could see out there that everybody was willing to compete and to sacrifice, even blocking shots until the end.
"Even in the third when we were up 5-0, guys were still working hard and then blocking shots. That's obviously a nice feeling."
Matt Stajan and Lance Bouma also scored their first goals of the season for the Flames, who bounced back from a 2-1 overtime loss at home to Tampa Bay on Tuesday.
Dennis Wideman also scored for Calgary, and Kris Russell had two assists.
Although the Hurricanes (0-4-2) have yet to win this season, this is the first time they have been blown out. Three of their other losses were by one goal, and the other two were by two goals, including a 3-1 road loss to Winnipeg on Tuesday.
"It got away from us," Carolina coach Bill Peters said. "We got scored on the first shift of the second (period). I don't know what it was, but we didn't respond properly there. Too many freebies. Too many easy goals. Too much room. Too much time and space. It's not the way we've played, so it's disappointing."
Playing in just his third game of the season, Carolina's Cam Ward made 19 saves.
The line of Stajan, Byron and Curtis Glencross helped set the stage for Calgary in the first period when the Flames outshot the Hurricanes 10-4.
Shortly after ringing a shot off the post, Byron saw Glencross charging toward the Carolina net and fired a slap pass his way. Glencross redirected the puck on net, but Ward slid across the crease to make the stop.
Ward also turned aside a pair of point shots off the stick of defenseman Kris Russell during a Calgary power play before stopping a shot from the slot by Brandon Bollig.
At the other end, Hiller made a great glove grab to deny Jeff Skinner's breakaway attempt.
Wideman opened the scoring when he blasted a point shot past Ward, who was screened by Glencross, at 18:18 of the first.
Stajan then one-timed a pass from Byron past Ward just 32 seconds into the second period.
Monahan put the Flames up 3-0 at 4:14 of the second when he took was a back-door pass from Hudler for an easy tap-in goal.
"When he has the puck, you've got to expect to get it back," Monahan said. "I was ready for it. I thought it would be coming, and it was right on my tape."
Monahan netted his second of the game at 3:23 of the third when he settled a bouncing puck in the slot before backhanding a shot past Ward.
Less than two minutes later, Bouma drove hard to the net and tapped a pass from Josh Jooris into the net to make it 5-0.
NOTES: The Flames paid tribute to the tragic events in Ottawa and Quebec by having everyone observe a moment of silence before the national anthem. ... Since sitting out Calgary's 5-2 road win over Edmonton as a healthy scratch, Wideman has scored four goals and added one assist in seven games. Wideman has scored four goals in his past five games, and all of the goals have been the first of the game for the Flames. ... Hudler's assist on Monahan's goal in the second period was the 300th point of his NHL career in his 534th game. He added another assist on Monahan's second goal.
---
---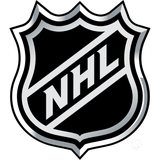 Get more from National Hockey League
Follow your favorites to get information about games, news and more
---