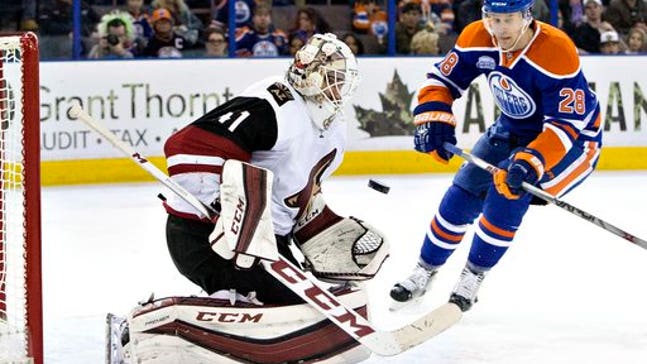 Mike Smith makes 44 saves in return, Coyotes blank Oilers
Published
Mar. 13, 2016 1:42 a.m. ET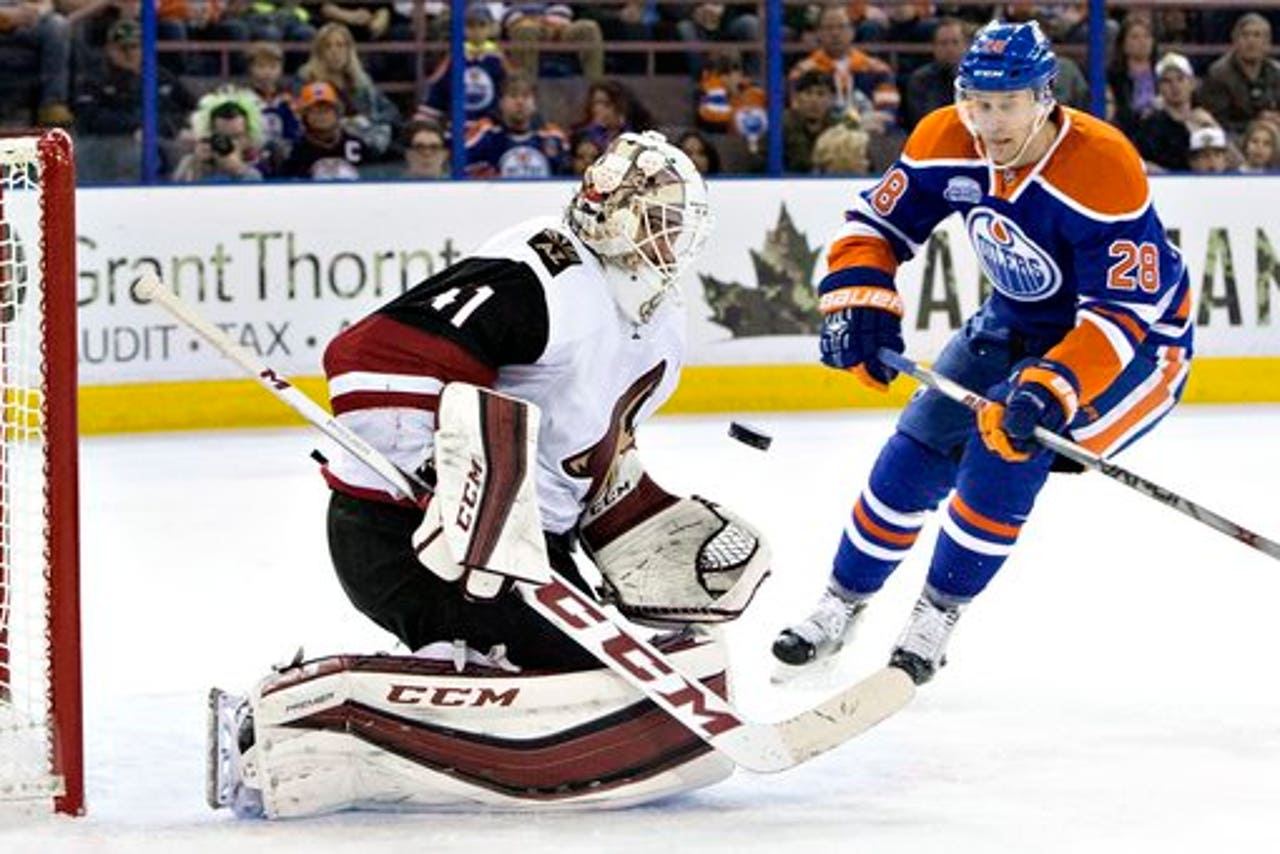 EDMONTON, Alberta — Mike Smith didn't look like a guy that has missed half a season.
Smith made 44 saves in his return from a 40-game injury absence and Antoine Vermette had two goals and an assist to help the Arizona Coyotes beat the Edmonton Oilers 4-0 on Saturday night.
It was the 29th shutout of Smith's career and his second this season. He returned after having surgery to repair a core muscle injury.
"It was nice to get back out there obviously," Smith said. "I haven't played in a long time and I couldn't draw it up much better than that. I owe a lot of thanks to a lot of people."
Vermette said Smith's play was impressive.
"He was really good," he said. "All through the game he made some big saves and he played well with the puck also. We know what he is capable of and he's a big factor for us, so it was nice to see him back and hopefully he can keep going that way."
Viktor Tikhonov and Alex Tanguay also scored for the Coyotes, who have won two straight on the road on the heels of a franchise-record 10-game losing streak as the away team.
Cam Talbot stopped 25 shots for the Oilers, who have lost two of their last three.
"The smarter team won the game, hands down," Oilers coach Todd McLellan said. "We had 44 shots on net, but other than Taylor (Hall's) breakaway, I don't recall having one single outnumbered rush. On the other end, we gave up five or six clear-cut 2-on-1s.
"It's a formula for failure," he added. "It's been going on and has proven here over the years to be a formula for failure. We just proved it again tonight. It's kind of insanity isn't it? When you keep hitting you head against a wall and getting the same result."
Edmonton had the bulk of the early chances, but Arizona struck first with 7:30 to play in the opening period when Martin Hanzal sent a puck toward the net from the sideboards and Tikhonov deflected it past Talbot.
The Coyotes made it 2-0 7 minutes into the second period when Vermette elected to shoot on a 2-on-1, scoring his 13th.
Arizona added another goal midway through the middle frame when Tanguay skated into the slot and beat Talbot while the Coyotes were on a two-man advantage.
The Coyotes added to their lead midway through the third period. Vermette was allowed to get to his own rebound and record his second goal of the game.
NOTES: The Coyotes were 2-0-1 against the Oilers in their three previous meetings this season, with both wins coming in Arizona. ... Absent with injuries for the Coyotes were Oliver Ekman-Larsson (upper body), Anders Lindback (Achilles tendon surgery) and Joe Vitale (fractured orbital bone). Ekman-Larsson did, however, skate with the team on Saturday. ... Missing from the Oilers lineup were Oscar Klefbom (leg), Andrew Ference (hip), Brandon Davidson (knee), Benoit Pouliot (shoulder), Eric Gryba (knee), Adam Pardy (undisclosed) and Matt Hendricks (upper body). ... Edmonton center Ryan Nugent-Hopkins returned from a broken hand injury after missing 23 games. ... The Oilers play the second game of a five-game homestand on Monday against Nashville. The Coyotes are off until Thursday, when they return home to face the San Jose Sharks.
---
---