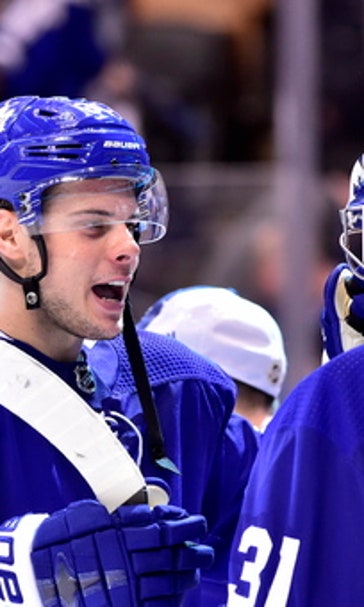 Matthews, Marleau lead Maple Leafs past Bruins 4-2 in Game 3
April 17, 2018
TORONTO (AP) Embarrassed and desperate after getting steamrolled by the Bruins through the first two games at Boston, the Toronto Maple Leafs had a point to prove.
His name sitting comfortably at the top of that list, Auston Matthews responded in a big way.
Matthews scored the go-ahead goal in the second period to lead the Maple Leafs picked in a 4-2 victory Monday night, cutting the Bruins' lead in their Eastern Conference first-round series to 2-1.
Toronto was reeling in the wake of 5-1 and 7-3 losses on the road, but got back to using its speed at home.
''I don't think any of us felt we played how we're capable,'' Matthews said. ''Tonight definitely was a statement game.''
Matthews was fiery after Saturday's blowout, responding to a question about how Boston's top line of David Pastrnak, Brad Marchand and Patrice Bergeron could have 20 points in two games compared to his trio's goose egg with an expletive: ''(It) happens.''
The raw emotion that comes with being a young star came out a different way in this one after he took a feed from William Nylander down low at 5:13 of the second and fired a shot short-side on Bruins goalie Tuukka Rask to send the Air Canada Centre crowd into a frenzy.
''It just feels like an earthquake in your feet when you score, especially in playoffs,'' Matthews said. ''It's definitely emotional.''
Toronto coach Mike Babcock said he hopes the goal takes a weight off the 20-year-old's shoulders.
''When you're my age, social media doesn't really affect your life,'' Babcock said. ''When you're his age it affects your life. You know what people are saying.''
Patrick Marleau had two goals, James van Riemsdyk also scored, and Mitch Marner and Morgan Rielly added two assists each for the Maple Leafs. Frederik Andersen stopped 40 shots.
Toronto will look to even the series here in Game 4 on Thursday night.
Adam McQuaid and Zdeno Chara scored, Sean Kuraly had two assists and Tuukka Rask had 26 saves for the Bruins.
''First couple games we had a couple bounces go our way, tonight we didn't,'' Marchand said. ''That's hockey.''
Pastrnak (four goals, five assists), Marchand (one goal, five assists) and Bergeron (five assists) had their way with Toronto through the first two games, but the Leafs held Boston's big line at bay thanks in large part to Marner, Marleau and Tomas Plekanec.
''We stuck to our game plan,'' Marner said. ''We got the puck in our hands quickly. We used our speed.''
The Bruins' power play -5 for 10 in the first two games - got its first opportunity early in the third only to see Pastrnak hit the post.
The Maple Leafs sealed it with 3:35 left when Marleau scored his second of the night on a 2-on-1 rush for his 70th career playoff goal.
''We were on it all game,'' Marleau said. ''We had our legs, we were playing the right way.''
Pulled after allowing three goals on five shots in the first period of Game 2, Andersen then robbed Pastrnak with a stellar diving stick save with Rask on the bench for an extra attacker with just over two minutes to go.
Trailing 1-0 after 20 minutes, Boston tied it at 3:06 of the second when McQuaid's shot from the point squeezed under Andersen's pad and dribbled in. The goal came moments after Andersen made a stellar glove save from his belly on David Krejci with Nash and Travis Dermott battling in the blue paint.
The Maple Leafs went back ahead 43 seconds later when Marner controlled a pass off the boards from Rielly before feeding Marleau in front.
The Bruins again responded when Chara ripped a shot off Andersen's mask and in from an impossible angle at 6:19.
Toronto's Kasperi Kapanen, who hit the post early his team's ugly 7-3 loss in Game 2, found iron again later in the period on a shot that beat Rask clean, but Matthews would make no mistake later in the period.
Boston was left fuming after center Riley Nash, who returned to the lineup after suffering an ear laceration on March 31, was ruled to have put the puck directly over the glass for a delay of game penalty with just over three minutes left in the first, even though replays suggested otherwise.
Toronto, which was 1 for 7 with the man advantage through the first two games, made the Bruins pay just 7 seconds later when van Riemsdyk scored his second goal of the series at 17:05 to give the Leafs their first lead of the series.
NOTES: Marleau's first goal moved him past Gordie Howe into 17th place on the NHL's all-time playoffs list. ... Johnsson left the game in the third period favoring his left leg after he collided with Marchand, and did not return. ... Toronto was again missing C Nazem Kadri for the second game of a three-game suspension for his hit on Tommy Wingels in Game 1, Tomas Plekanec was moved up from the fourth line to play between Marleau and Marner on the No. 2 unit. ... Maple Leafs forward Leo Komarov sat out with a lower-body injury suffered Saturday, allowing veteran Dominic Moore to move into Plekanec's old spot on the fourth line between Johnsson and Kapanen. ... Hyman returned to the top line with Matthews and Nylander.
---
---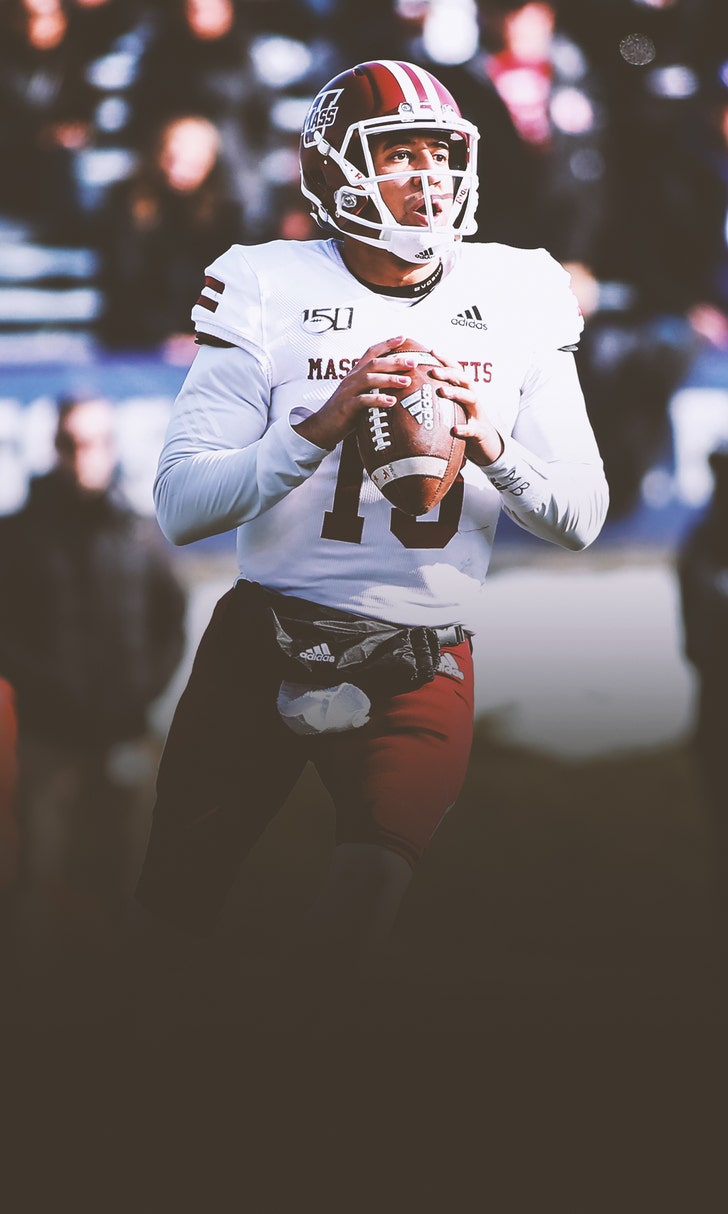 UMass Cancels Fall Football