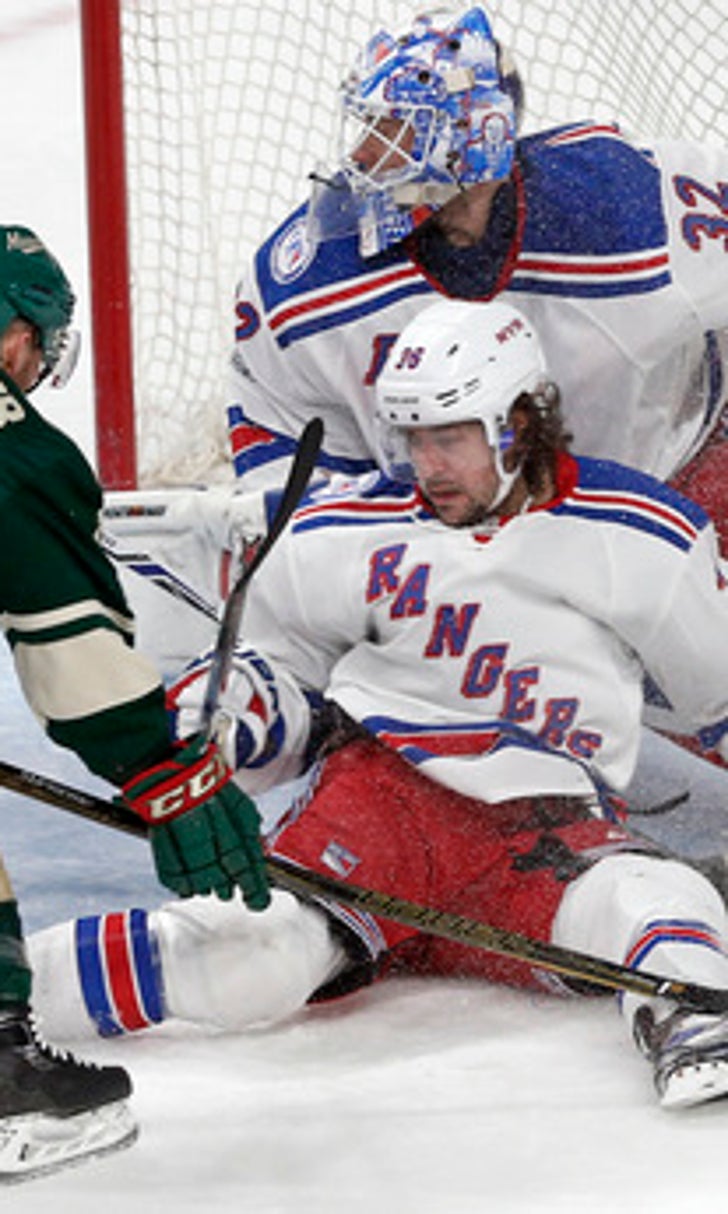 Lindberg, Raanta lead Rangers past Wild 3-2 (Mar 18, 2017)
BY AP • March 18, 2017
ST. PAUL, Minn. (AP) The New York Rangers are having trouble winning at home this season. They sure haven't had a problem leaving their troubles behind when they hit the road.
Oscar Lindberg had a goal and an assist, Antti Raanta made 25 saves and the Rangers held on to beat the Minnesota Wild 3-2 on Saturday night.
Brady Skjei and Jimmy Vesey also scored for the Rangers, who have lost six straight home games but are 7-1 in their last eight on the road. Their 26 road victories are the most in the NHL this season.
''People wonder why we don't win at home and why we win all the road games,'' Rangers left wing J.T. Miller said. ''We try to play every game the same. It's a constant theme. We definitely have more jump in our step on the road.''
Eric Staal and Matt Dumba scored for the Wild, who lost for the seventh time in their last nine games. Devan Dubnyk made 27 saves.
''It's about getting back to the simplicity of what we did early on in the season, which is when we had so much success,'' Minnesota coach Bruce Boudreau said. ''They have to get it in their head that what worked will work again. Once that happens, then I think we'll get back on the road to success.''
The Rangers flew to Minnesota overnight after losing to Florida in a shootout at Madison Square Garden on Friday night. And they seemed a bit jet-lagged when the game started, as the Wild dominated the first half of the first period. But after Staal scored with just over seven minutes left in the first, New York caught its breath and began keeping up with Minnesota's pace.
''They came out flying, for sure, and they just came off a road trip, so we expected that,'' Miller said. ''It took us a couple shifts, maybe, to match them. But we did, and from that point on I thought we did a good job of playing a smart game. We had a limited number of mistakes tonight. I thought we played a good 200-foot game.''
Skjei tied it with four minutes left in the first period when he beat Dubnyk with a blast from just above the right circle. Then, Lindberg put the Rangers on top 2-1 midway through the second. Miller chased a puck into the corner to Dubnyk's right and flicked a blind pass to the goalmouth, where Lindberg was waiting to bury it for his sixth goal.
Vesey made it 3-1 with 2:26 left in the second period when he corralled a rebound of a shot by Lindberg and tucked it behind Dubnyk for his 15th.
''This team, you just look at their lineup,'' Rangers coach Alain Vigneault said of the Wild. ''To get two points, you need solid effort from the whole group. We got that tonight.
''Our kids line (Lindberg, Vesey and Tanner Glass) was real good. They got us that big goal in the second period. We did what we had to do to get two points.''
The Wild recently completed a 1-4 road trip in which they scored just six goals in their four losses. Minnesota's lead over Chicago in the Central Division had been as large as nine points in February, but the Wild now sit in second place, five points behind the Blackhawks, who beat Toronto in overtime on Saturday.
NOTES: Staal will play in his 1,000th NHL game on Sunday, making him the 311th player to reach that milestone and the first from the 2003 draft class. ... Saturday's game was played in front of 19,337 fans, the largest crowd of the season at the Xcel Energy Center - for a Wild game, that is. The X had 21,485 fans for the recent semifinals of the Class AA Minnesota state high school hockey tournament. ... Raanta established a career high with his 23rd start of the season. He has started the last five games for New York in place of the injured Henrik Lundqvist. The Rangers announced on Twitter that Lundqvist skated for 40 minutes and faced live shots in New York on Saturday.
UP NEXT
Rangers: Face the Devils in New Jersey on Tuesday.
Wild: Travel to Winnipeg to play the Jets on Sunday.
---
---