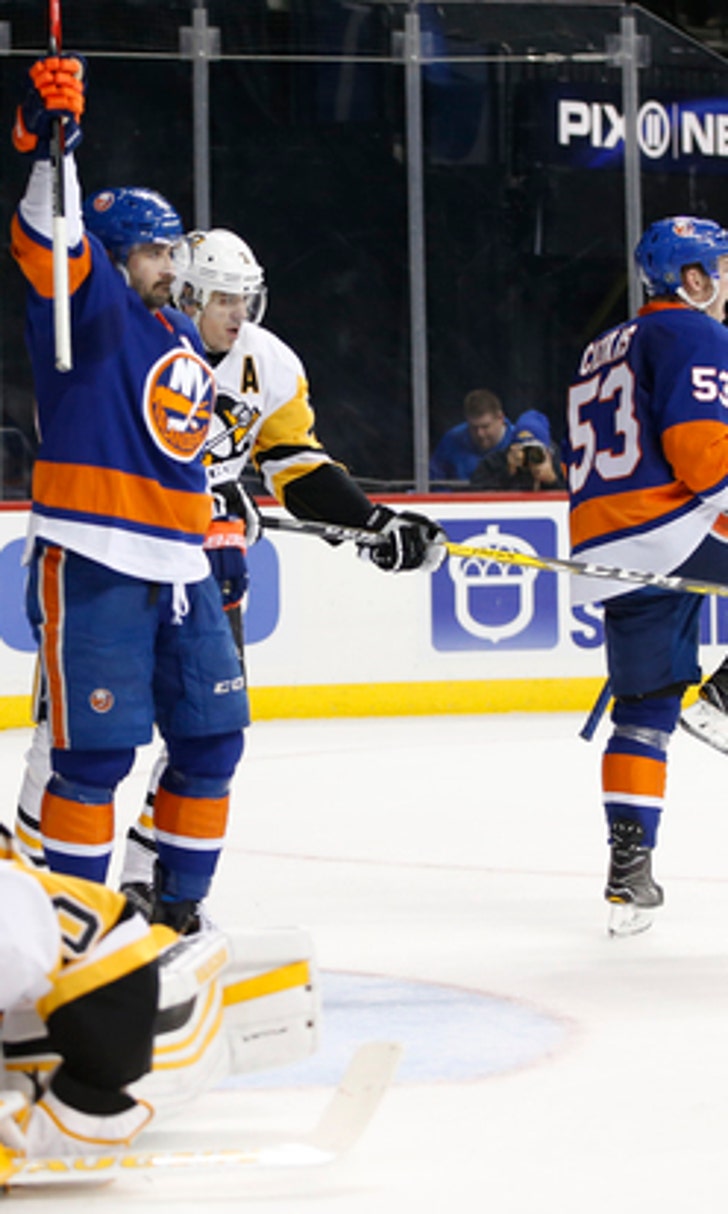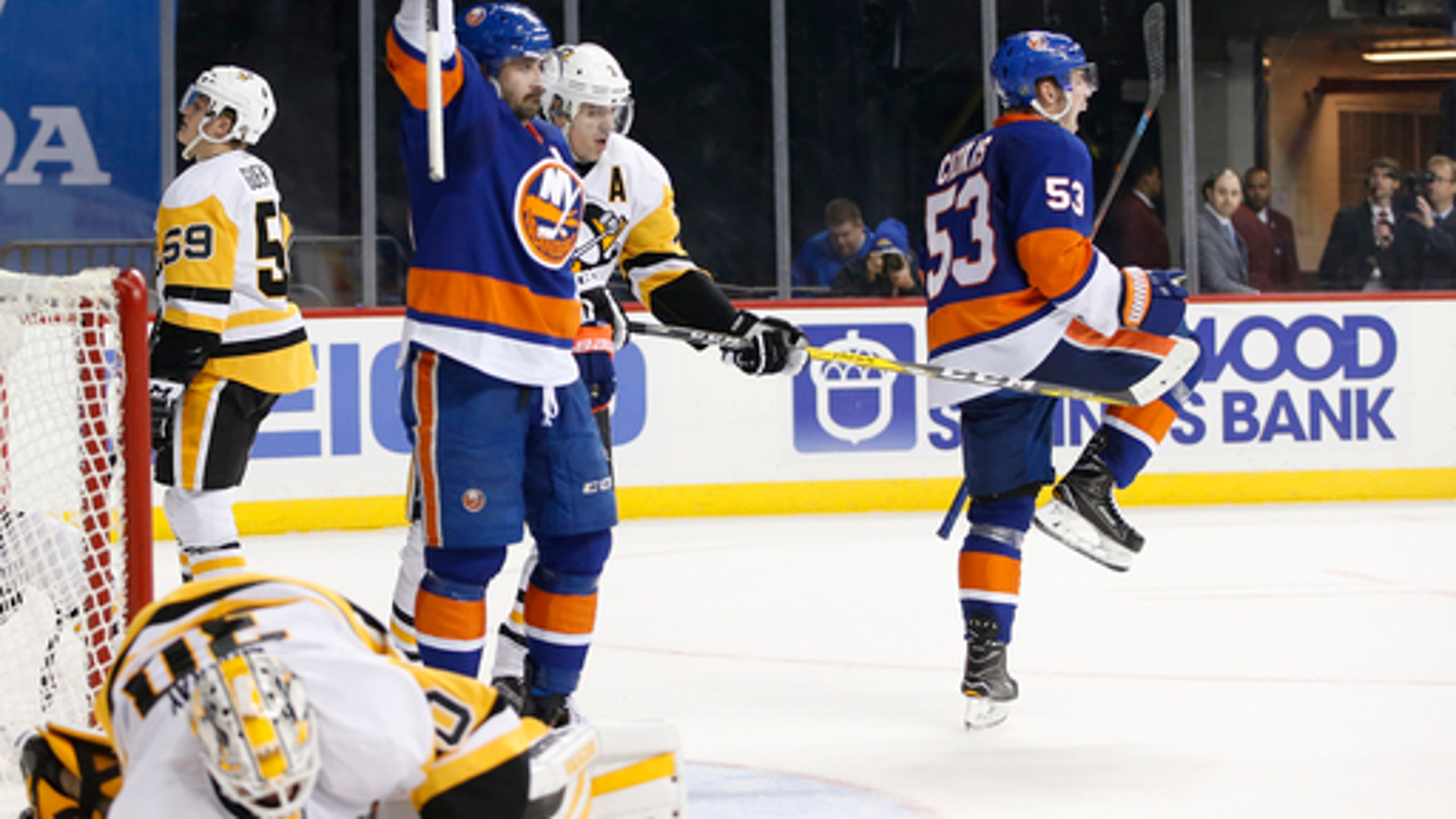 Lee scores with 27 seconds left, Islanders beat Penguins 5-3
BY foxsports • December 1, 2016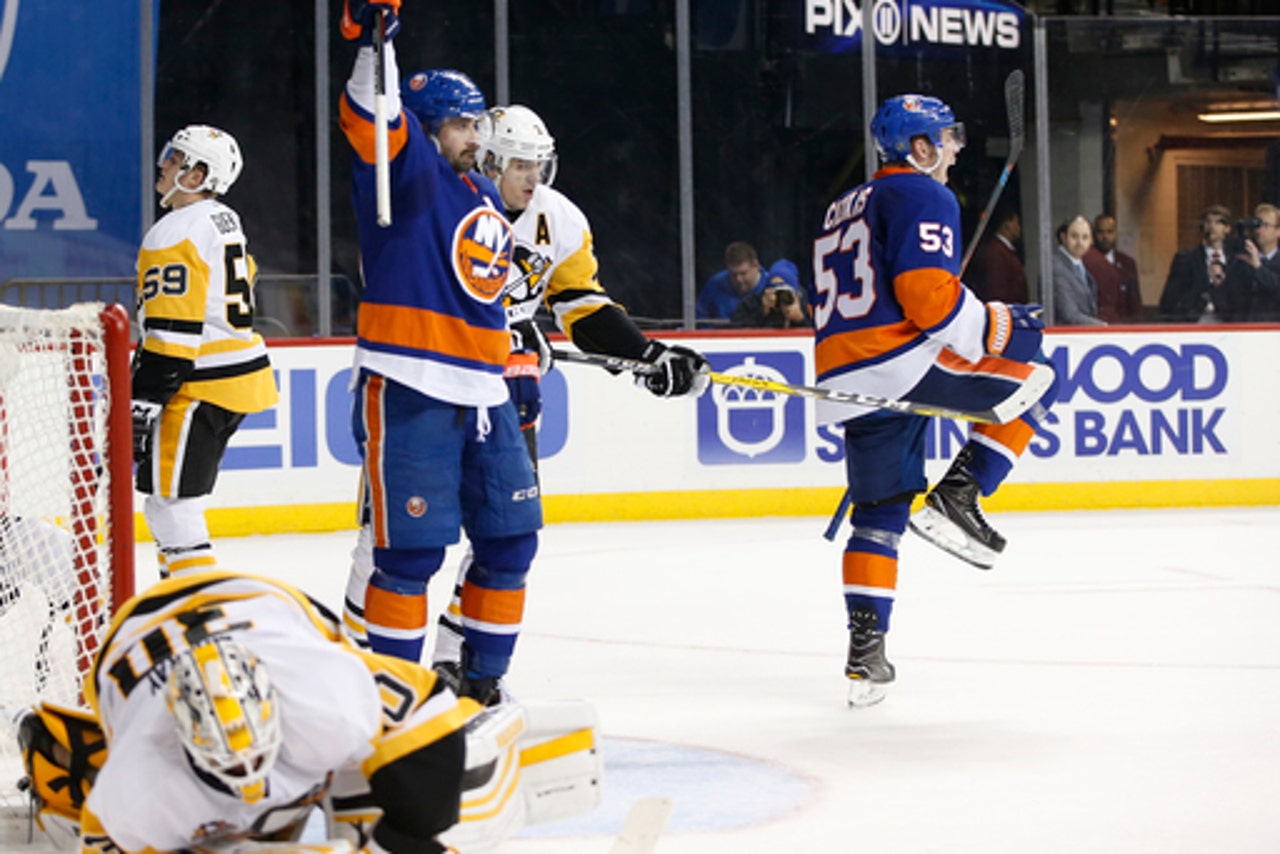 NEW YORK (AP) After losing twice on goals in the closing minutes during their recent road trip, the New York Islanders were relieved to get a late win after blowing a three-goal lead in the third period.
Anders Lee scored the tiebreaking goal with 27 seconds remaining to lift the Islanders to a 5-3 victory over the defending champion Pittsburgh Penguins on Wednesday night.
Thomas Hickey took a pass from Johnny Boychuk and fired a slap shot from the point that deflected off Lee's stick and past goalie Matt Murray.
''We had that puck luck,'' Lee said. ''We just have to grind it out. Tonight we were able to come through with a game-winning goal. Was a great shot and I was able to tip in. We've faced enough adversity for a season. Tonight we were able to find a way.''
Hickey called it ''relief more than elation,''' adding, ''It was nice to get something to go our way. ... It was a great pass by Johnny and a great tip by Anders.''
Then, with Murray pulled on the ensuing faceoff, Nikolay Kulemin scored into the empty net 3 seconds later to seal the win and give the Islanders consecutive victories for the second time this season.
Boychuk, Jason Chimera and Casey Cizikas also scored, and Thomas Greiss made 31 saves.
New York, which lost twice on goals in the final 3 minutes of regulation at Los Angeles and San Jose last week before beating Calgary at home in overtime on Monday, has won three of five.
Conor Sheary, Justin Schultz and Evgeni Malkin scored in the first 13:08 of the third period to tie the score for the Penguins. Murray finished with 25 saves.
''Sometimes you can try to work your way back but it doesn't always work out that way,'' Pittsburgh's Sidney Crosby said. ''We were able to tie it up and unfortunately not at least force overtime.''
The Islanders had not scored more than two goals in their last eight games - including a 3-2, 14-round shootout win at Anaheim on Nov. 22.
Trailing 3-0 after two periods, the Penguins came out aggressive in the third and quickly got on the scoreboard when Sheary knocked in a rebound past Greiss 32 seconds in.
Phil Kessel had a breakaway a minute later but was stoned by Greiss.
Schultz pulled the Penguins within one when he skated in across the left faceoff circle and fired a shot top shelf with 9:20 remaining. Malkin then tied it with a wrister past Greiss 2:28 later with his ninth of the season.
The Islanders made it 2-0 at 2:10 of the second on a goal credited to Chimera. Scott Mayfield fired a shot from the right slot and the puck bounced off several players before hitting Chimera's skate and off Murray and slowly trickling over the line before the goalie could stop it. It was Chimera's second of the season.
Pittsburgh was called for two penalties seconds apart about 8 minutes into the second. After being whistled for too many men, Matt Cullen was called for a delay of game faceoff violation for falling on the puck on the ensuing faceoff. The Islanders managed six shots on the two-man advantage, including a diving glove save by Murray on a shot by John Tavares from the right side.
''You knew that after the 2-minute 5-on-3 where we didn't score, it always comes back to haunt you a little bit,'' New York coach Jack Capuano said. ''Our guys battled right to the end and we found a way to win.''
Cizikas made it 3-0 with 2:39 left in the second with his third, tipping in the deflection of a shot by Andrew Ladd.
Boychuk got the Islanders on the scoreboard first, firing a slap shot from outside the right faceoff circle into the left side of the night on Murray's blocker side with 13 seconds left in the opening period. It was Boychuk's third of the season, and first since Oct. 23.
NOTES: Patric Hornqvist returned for the Penguins after missing six games due to a concussion. ... Pittsburgh was 0 for 3 on the power play and has not scored in 16 opportunities over the last five games. ... The Penguins won the first two meetings, 4-2 at home on Oct. 27 and 3-2 in OT here on Nov. 18. The teams' final matchup will be March 24 at Pittsburgh. ... Islanders F Ryan Strome returned to the lineup after being a healthy scratch the previous two games. ... D Adam Pelech was out after sustaining an upper body injury in Monday night's OT win over Calgary. Mayfield took his place and appeared in his second game of the season.
UP NEXT
Penguins: Host Dallas on Thursday night in the opener of a three-game homestand.
Islanders: At Washington on Thursday night before a three-game homestand.
---
Follow Vin Cherwoo at www.twitter.com/VinCherwooAP
---
---