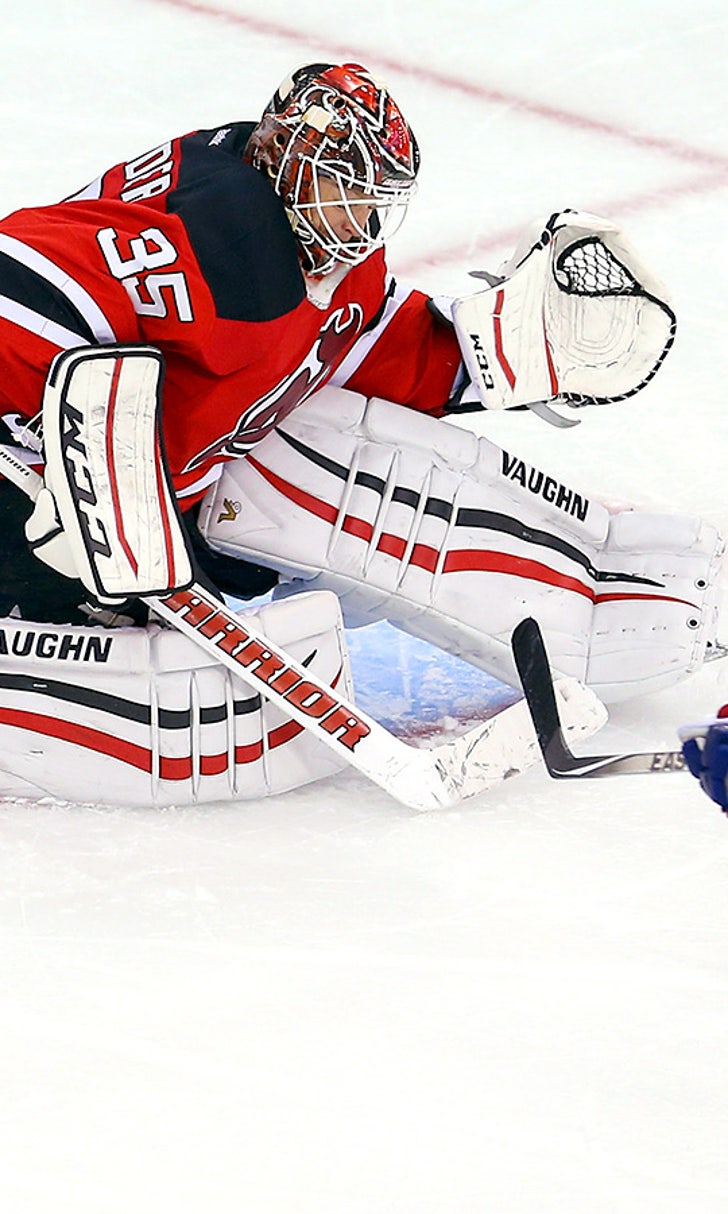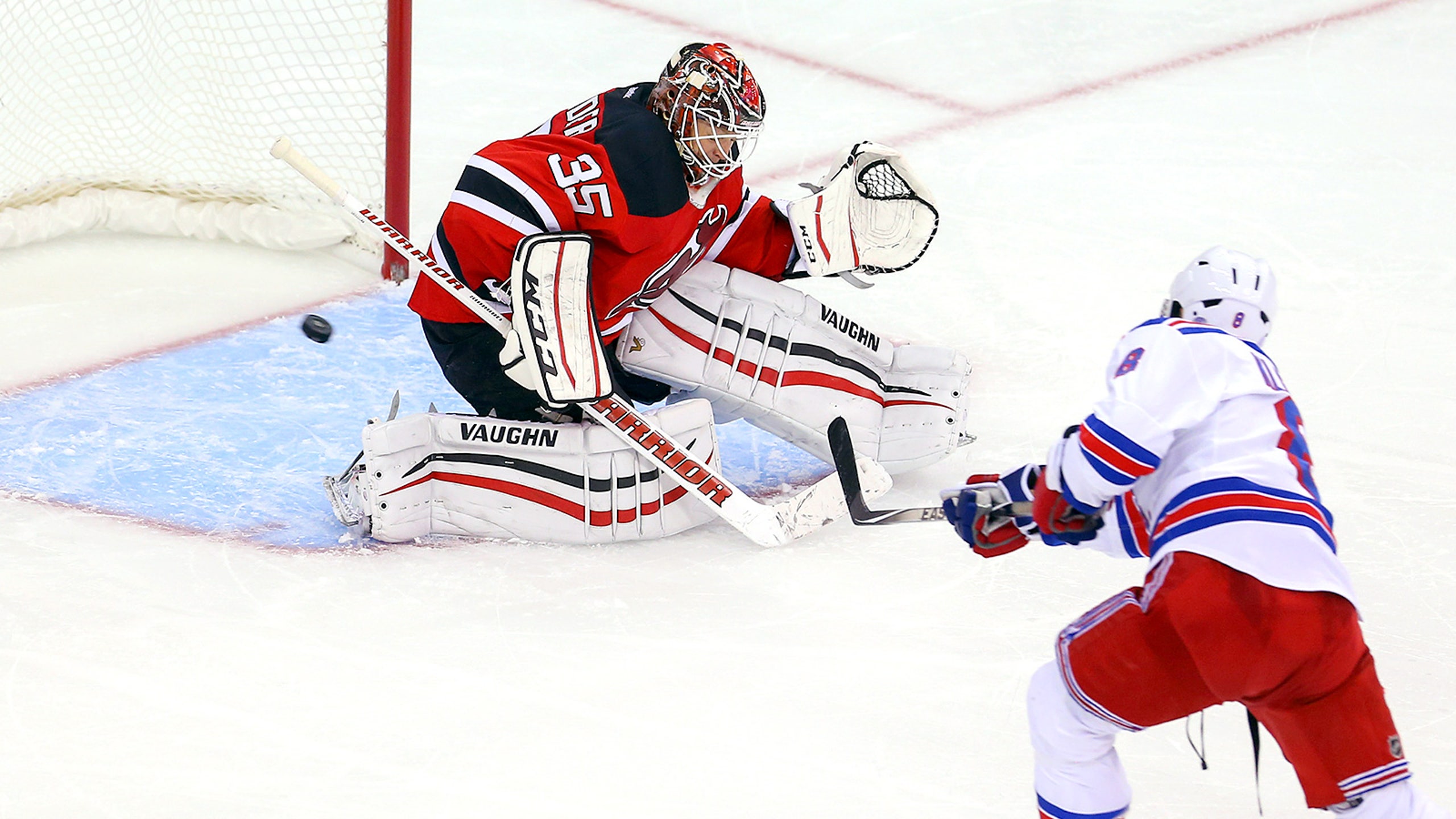 Klein's goal in overtime caps Rangers' comeback win over Devils
BY foxsports • October 21, 2014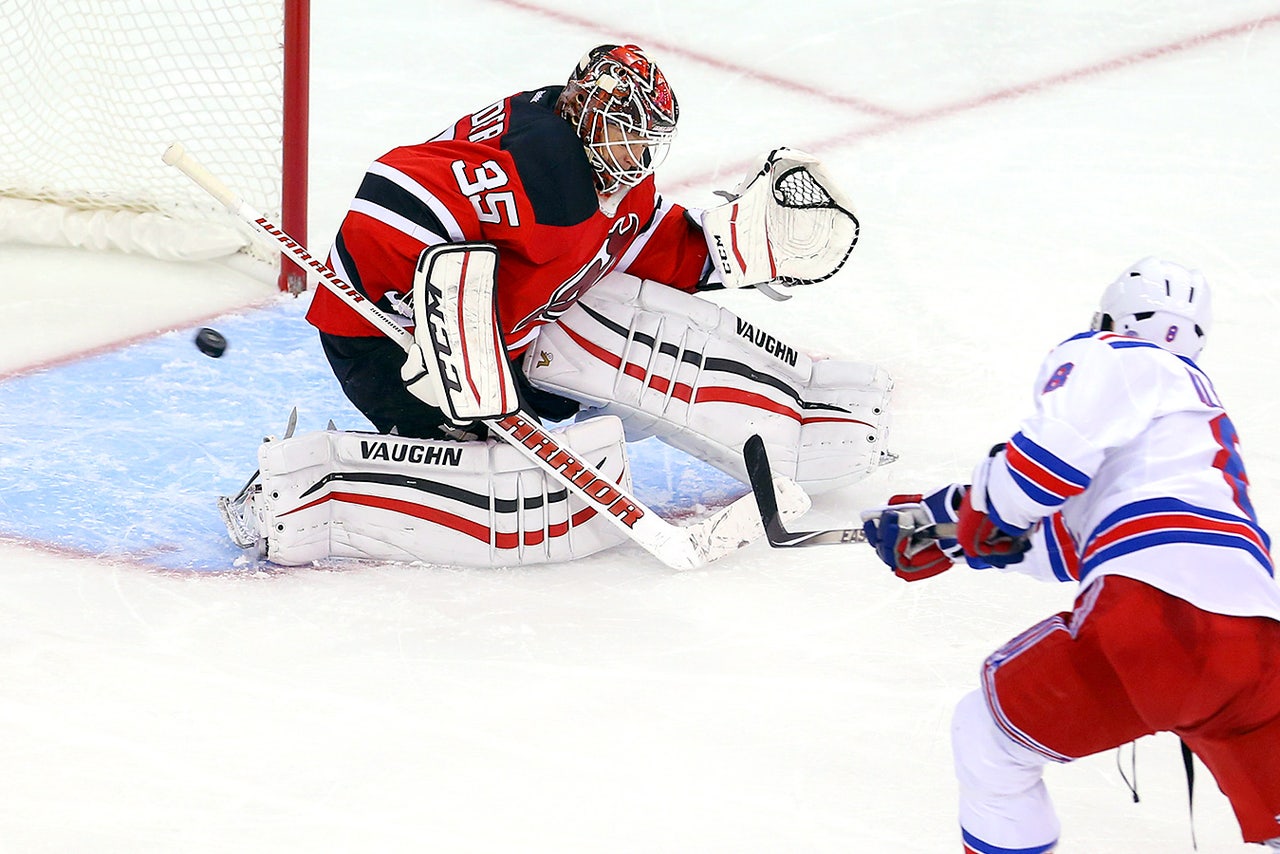 Kevin Kline and the New York Rangers refused to give up, even when they faced a two-goal deficit midway through the third period.
Persistence paid off with a 4-3 overtime victory over the New Jersey Devils on Tuesday night.
Klein scored 2:42 into overtime, and the Rangers extended their winning streak to three.
"We never got down," Klein said. "We knew we could come back. We kept pushing forward, scrapping for the puck."
The Rangers, who trailed 3-1, also got goals from Chris Kreider, Chris Mueller and Rick Nash, who netted his NHL-best eighth goal. He has scored in all but one of New York's seven games this season.
On the winner, Mueller and Kreider crisscrossed in the Devils zone before Kreider fed Klein for his first of the season.
Klein's goal was also the first scored this season by a Rangers defenseman.
"He made a great pass to me, and I was fortunate to score the goal," Klein said."
Henrik Lundqvist stopped 28 shots for the Rangers (4-3).
"I like the way we're playing," Lundqvist said. "We responded tonight in a big way."
The Devils (3-2-1) got power-play goals from Jaromir Jagr, Adam Henrique and Jon Merrill but it wasn't enough to prevent a third straight defeat. Cory Schneider made 21 saves.
Kreider and Jagr traded power-play goals in the opening period.
New Jersey started strong and pressed the attack during an early power play. Henrique, Mike Cammalleri and Patrik Elias had good scoring chances denied by Lundqvist.
With Jagr in the penalty box for hooking, Kreider buried the rebound of Ryan McDonagh's point shot at 7:34. It was the Rangers' first power-play goal of the season, ending an 0-for-17 drought through the first six games.
Kreider was then whistled for hooking, setting the stage for Jagr's goal at 13:40. Damien Brunner fired a shot that sailed wide right of the net, and bounced off the lively backboards right onto Jagr's stick. The 42-year-old former Rangers star knocked in his first goal of the season, the 706th of his career.
The Devils' power play clicked again in the second period when Henrique, playing in his 200th NHL game, made it 2-1.
Jagr set up Henrique, who beat Lundqvist to the short side from the left faceoff dot at 14:55.
The Devils' special teams play was excellent in the middle period as Elias came close to scoring on a short-handed breakaway.
Merrill added the Devils' third power-play goal with a blast from the right point 36 seconds into the third period.
New York scored the next two to erase its deficit.
"It's real good to scrounge your way back and win it in overtime against a good team," Rangers coach Alain Vigneault said. "We just stayed with it."
The Rangers got within 3-2 at 9:06 as Mueller one-timed a cross-ice pass from Derick Brassard.
Nash pulled the Rangers even with 5:28 remaining in regulation, backhanding the rebound of Kevin Hayes' shot past Schneider. Devils defenseman Marek Zidlicky set up the goal with a poor clearing attempt deep in his own zone.
"We made a bad decision with the puck, and the game is tied," Devils coach Pete DeBoer said. "A guy like Nash will make you pay for it. It was a hard-fought game but we lost."
The Devils did earn a point, but came away feeling they let one get away.
"We should have been able to close it out," Cammalleri said. "We did a lot of nice things, but we let the Rangers come back and grab it."
NOTES: Rangers D Dan Girardi, listed as day to day after sustaining a gash while blocking a shot during a win over San Jose on Sunday, was in the starting lineup. ... Devils D Adam Larsson made his season debut after being a healthy scratch the first five games. He replaced Eric Gelinas. The other New Jersey scratches were LW Tuomo Ruutu and C Jacob Josefson. ... Devils LW Martin Havlat returned after missing one game due to a facial laceration. ... The Rangers scratched LW Anthony Duclair and D Michael Kostka.
---
---