Los Angeles Kings
Los Angeles Kings
Kings look to continue winning ways against Blackhawks (Mar 02, 2018)
Published
Mar. 2, 2018 11:08 p.m. ET
LOS ANGELES -- The Los Angeles Kings are looking to conclude a productive week when they face the Chicago Blackhawks at Staples Center on Saturday afternoon.
The Kings (36-24-5) will capture their fourth win in six days with a victory over the Central Division cellar dwellers. After sweeping the Pacific Division-leading Vegas Golden Knights, Los Angeles spotted the Columbus Blue Jackets a 2-0 first period lead on Thursday night before rallying for a 5-2 victory for the sixth win in its last eight games.
With a win, Los Angeles will sweep the three-game season series. The Kings defeated the Blackhawks twice in Chicago this season by identical 3-1 scores on Dec. 3 and Feb. 19.
In a league where the normal path to victory is executed by scoring the first goal, the Kings have fared well when surrendering the first score. The Columbus win marked the 18th time Los Angeles has won when the opposition scored first, the most in the NHL this season.
Center Jeff Carter has played a pivotal role in the Kings current three-game winning streak. Since returning from an ankle tendon injury that sidelined him for 55 games, Carter has registered goals in all three wins and has solidified the second line since being reunited with wingers Tanner Pearson and Tyler Toffoli.
Pearson registered the decisive power play goal against Columbus while Carter's third period short-handed goal was pivotal in extending the lead to 4-2.
Kings coach John Stevens said Carter's impact to his team is not limited to his on-ice play as the lack of his presence since October was a missing ingredient in the locker room as well.
Stevens' plan initially was to limit his minutes by not pressing him into penalty-killing situations but as he has regained his pre-injury form, he has appeared on that unit.
"When Jeff first came back, we weren't going to use him killing penalties. We try and keep him out of those situations and manage his minutes," Stevens said. "We got a situation tonight where I think his minutes were in a good spot and we know he's a good penalty killer. He tracks the puck hard, and he's one of those players that he gets an opportunity in space, he can really take advantage of it. His presence as a player has been really good for us, but I think his presence in the room has also been a really welcome addition."
Goaltender Jonathan Quick made 30 saves in Thursday's win and is expected to be in net for Los Angeles and no lineup changes are expected on Saturday.
The Blackhawks (27-29-8) will try to bounce back from a 7-2 thrashing by the San Jose Sharks on Thursday night that commenced their three-game California road trip. After center Artem Anisimov scored the game first goal at 2:12 of the first period, the Sharks scored seven straight even-strength goals.
Goaltender J.F. Berube endured most of the barrage and was relieved by Anton Forsberg after two periods. Berube stopped 22 of 28 San Jose shots and was left defenseless throughout.
With virtually no chance to make the postseason, the Blackhawks are an unaccustomed spoiler role in the final weeks of the season. Despite one of their worst efforts of the season, coach Joel Quenneville says his team has not quit on season.
"It was tough, I don't think we did many things right defensively," said Quenneville. "We came off three or four good performances before this one. There were some encouraging signs when we won some home games but this one went the other way. There was no consistency to our game, we did not manage the puck well all night. We gave up too many high-quality chances."
Captain Jonathan Toews wants to see better effort from his teammates in the final days of the season and expects better against Los Angeles.
"The effort was there at times but as we have said lately, it was not consistent," said Toews. "Every line that goes over the boards has to be doing the same thing, we have to get on the same page. It is up to us to take responsibility and under the circumstances we have to find a way to be better, that is what we have to focus on. Everyone has to go out, do their job and play as hard as they can for 60 minutes."
Berube is likely to start in net for the Blackhawks against the team that originally drafted him in the fourth round of the 2009 Entry Draft. He won his lone appearance against Los Angeles on Jan. 21, 2017, recording a 4-2 victory while playing for the New York Islanders.
Defenseman Jan Rutta left Friday's practice early with a lower-body injury and is not expected to play against Los Angeles.
---
---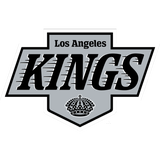 Get more from Los Angeles Kings
Follow your favorites to get information about games, news and more
---