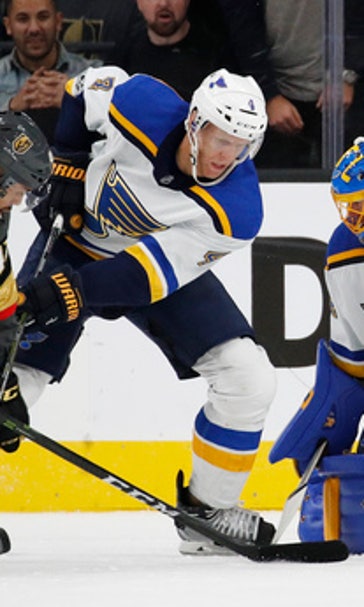 Karlsson lifts Golden Knights to 3-2 win over Blues in OT (Oct 21, 2017)
October 22, 2017

LAS VEGAS (AP) The Vegas Golden Knights' feel-good story keeps rolling along in record-setting fashion.
William Karlsson scored at 4:36 of overtime to lift Vegas to a 3-2 victory over the St. Louis Blues on Saturday night, becoming the first team in NHL history to win six of the first seven games in its inaugural season.
''We found a way to win and we got two points,'' Karlsson said. ''We didn't have a lot of puck, got outshot, (but) we played really solid defensively. And then we just score on the chances that we get. That's hockey, I guess.''
Reilly Smith and Colin Miller scored in the second period for the Golden Knights, while they also assisted on one another's goals.
Malcolm Subban stopped 37 shots before being helped to the dressing room by two trainers with 9:10 remaining in regulation after stretching out on a wide shot by Jaden Schwartz. Oscar Dansk stopped 10 of the 11 shots he faced, making key stops at the end of regulation and in overtime to earn the victory in his NHL debut.
''It sucks that Malcolm went down, he's been playing unreal,'' said Dansk, who was called up to backup Subban after starting goalie Marc-Andre Fleury was put on injured-reserve. ''That's awful that he went down and I'm hoping he can recover quickly. But I feel like it was good to get this time now. I wanted to play so badly because I wanted to see, more for myself, where I am. Obviously it's the best league in the world, so I just felt like I wanted to see where I was. So it was nice to get the opportunity tonight.''
The Golden Knights, who defeated Buffalo in overtime on Tuesday, improved to 3-0 in overtime games.
''We weren't too happy with the most part of the game, we were trailing most of the night and we weren't playing that well,'' Vegas coach Gerard Gallant said. ''St. Louis had a lot of opportunities and I thought Subban had an excellent night. He gave us a chance to battle back.''
While St. Louis outshot the Golden Knights, 49-22, Gallant said Vegas' special teams was the difference in the game. The Golden Knights were 4 for 4 on penalty kills, while they scored on two of their three power-play opportunities after coming into the game 2 for 26 in that situation.
''I thought they were quicker than us tonight and they got to more pucks than we did tonight,'' Gallant said. ''The shot total scares you a little bit. We played against a real good team tonight, we hung around and we found a way to win.''
Magnus Paajarvi and Alex Pietrangelo scored for St. Louis, and Jake Allen - fifth on the franchise wins list (94) - finished with 19 saves.
With 5:08 left in the third, Schwartz fed a wide-open Pietrangelo, who fired a slap shot past Dansk to tie the score 2-2.
The Blues thought they may have tied the game at 3:13 of the third when Vladimir Sobotka's chip shot went off Subban's body, and both he and the puck ended up in the net. But after an official review, there was not enough evidence to overturn the no-goal call.
''I knew when it came down to them calling no goal on the ice that, after watching it, I knew it wouldn't go our way,'' St. Louis coach Mike Yeo said. ''The call on the ice hurt. Obviously, disappointing to not get the two points, but definitely have to be pleased with the effort tonight. That game takes a different turn if we score on one of those power plays or if we kill one of those penalties. We had some opportunities that we could've cashed in on. If you play like that most nights, you're going to come away with a win. That team's got a good record for a reason.''
St. Louis opened the scoring at 7:09 of first when Oskar Sundqvist got stuffed on a wraparound but Paajarvi was on the spot to wedge the rebound under Subban's pads.
St. Louis, which played seven of its first nine game on the road, will finish October playing three of four at home.
NOTES: Since the 2014-15 season, the Blues are 41-15-7 against teams from the Pacific Division. ... The Blues are 44-6-1 during Schwartz's career, when he records at least two points in a game. The center had just one point versus the Golden Knights. ... Schwartz has at least a point in eight of the Blues' nine games this season, while he has scored four goals in the last three games. ... D Robert Bortuzzo played his 100th game with the Blues. ... St. Louis went into the game leading the NHL with 139 blocked shots on the season, but Vegas led the Blues in that department, 18-9. ... Since scoring at least one goal in Vegas' first four games, James Neal has not put one in the net the last two games. He has, however, recorded a point in five of the Golden Knights' first seven games. ...
UP NEXT
Blues: Host Calgary on Wednesday
Golden Knights: Host Chicago on Tuesday
---
---