Kane's late goal proves to be difference as Blackhawks down Wild
BY foxsports • December 16, 2014
The surging Chicago Blackhawks keep on finding ways to win.
Patrick Kane scored a tiebreaking power-play goal with 3:28 left, and the Blackhawks bounced back to beat the Minnesota Wild 5-3 on Tuesday night for their 13th win in 15 games.
Kane's centering attempt from behind the net -- intended for Patrick Sharp -- struck the skate of Minnesota defenseman Jonas Brodin and deflected into the net.
Jonathan Toews had a goal and two assists for the Blackhawks, who dominated in the second period and took a 3-1 lead. But Minnesota's Nino Niederreiter connected on a penalty shot, and Marco Scandella fired in a screened goal in the third period to tie it.
"The power play came up with a big timely goal," Blackhawks coach Joel Quenneville said. "I didn't mind overall what transpired tonight. Tough game."
Marian Hossa and Brent Seabrook also scored, and Ben Smith added an empty net goal for the Blackhawks, who won for the 10th time in 11 games. And they did it without top defenseman Duncan Keith, who was sidelined by an undisclosed illness.
"It's a good little run we're on here and we want to keep it going," Smith said. "Even when we're up two goals in the third and they storm back to tie, we found the way to get the job done."
Minnesota's Thomas Vanek scored in the first period as the Central Division rivals met for the first time since the Blackhawks defeated the Wild in the second round of last season's playoffs.
Antti Raanta made 26 saves as Blackhawks No. 1 goalie Corey Crawford sat out an eighth game because of a foot injury sustained when he left a concert two weeks ago.
Crawford is expected to return this weekend.
Niklas Backstrom made 34 saves. He finished the game despite coming down with a stomach ailment after the first period, coach Mike Yeo said.
What bothered Yeo most was the late "one-handed" hooking call on Erik Haula that led to Kane's power-play winner.
"The third period was great," Yeo said. "It's a tie game, and we've got five minutes left. As far as I'm concerned we have the momentum.
"We battled back, but that (penalty) was the difference in the game."
Keith missed his first game this season. David Rundblad took his spot in the lineup and was paired with Seabrook, Keith's usual partner, in the first period before Quenneville shuffled his pairings.
Niederreiter's team-leading 14th goal equaled his career high for a season, set last year in 81 games.
Vanek scored the only goal of the first with 7:01 left when he was left wide open in the slot.
The Blackhawks outshot the Wild 21-8 in the second period and took a 3-1 lead on goals by Seabrook, Hossa and Toews in a span of 8:11.
Seabrook tied it 1-1 at 8:10 when he moved in from the right point and ripped a high shot past Backstrom.
Hossa made it 2-1 with 7:41 left in the second.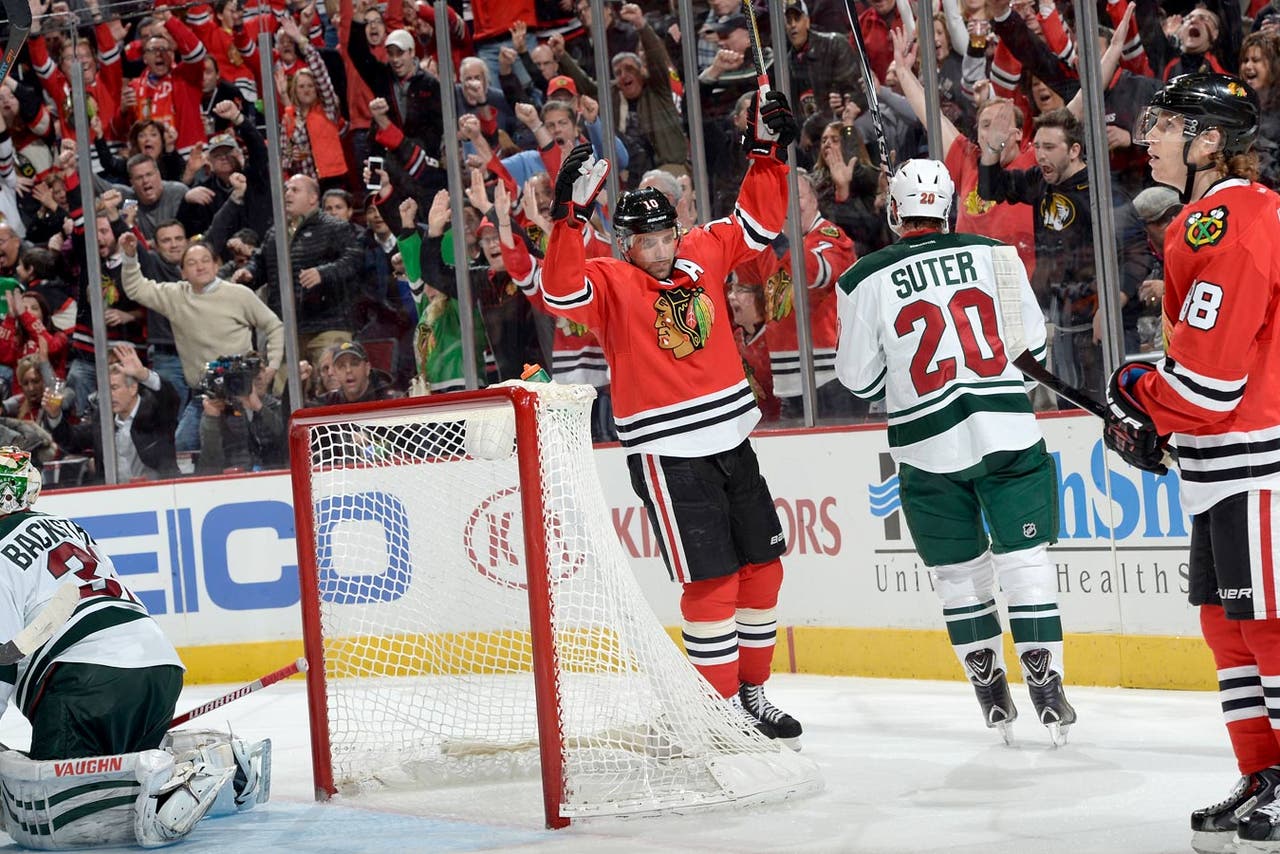 The Blackhawks' Patrick Sharp reacts after Patrick Kane (right) scored the game-winning goal in the third period against the Wild.
Toews started and finished the play that increased Chicago's lead to 3-1 just over four minutes later. He stole the puck from Christian Folin and whipped it back to Smith who was alone in front.
Smith took two point-blank shots, and the second slipped between the goalie's pads. Toews then tapped it in.
But the Wild stormed back in the third to tie it.
Niederreiter was awarded a penalty shot at 7:13 after he was hooked from behind by Hossa. Niederreiter faked and beat Raanta with a rising backhand shot.
Scandella tied it 3-3 with a screened shot from just inside the right point just under three minutes later.
Smith's empty-netter with 1:14 left sealed Chicago's win.
"Getting that power play was nice and we were able to bounce one in there," Seabrook said. "It was a lucky one, but we'll take it."
NOTES: Keith has six goals and 12 assists in 31 games. ... Rundblad sat out the previous five games as a healthy scratch. ... Scandella returned after serving a two-game suspension. Minnesota D Jared Spurgeon missed his second game due to an illness. ... Wild F Brett Sutter played his first game this season following his recall from AHL Iowa on Monday. He is the son of Los Angeles coach Darryl Sutter, who also coached and played for the Blackhawks.
---
---