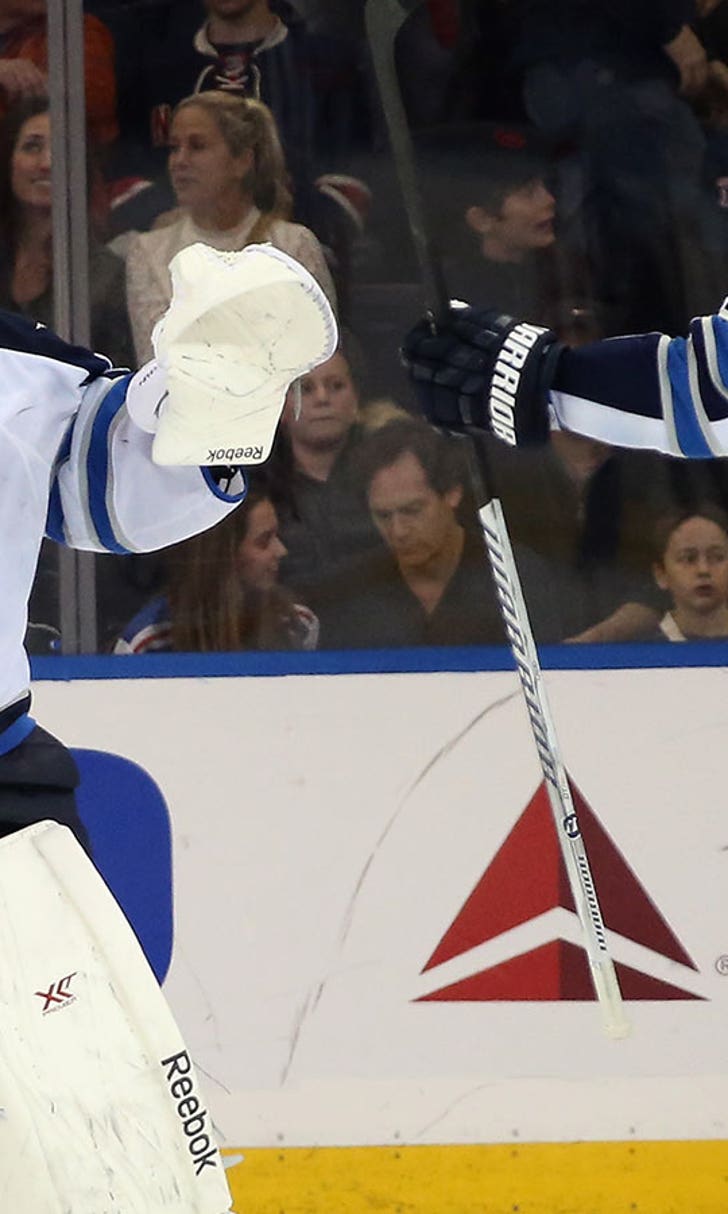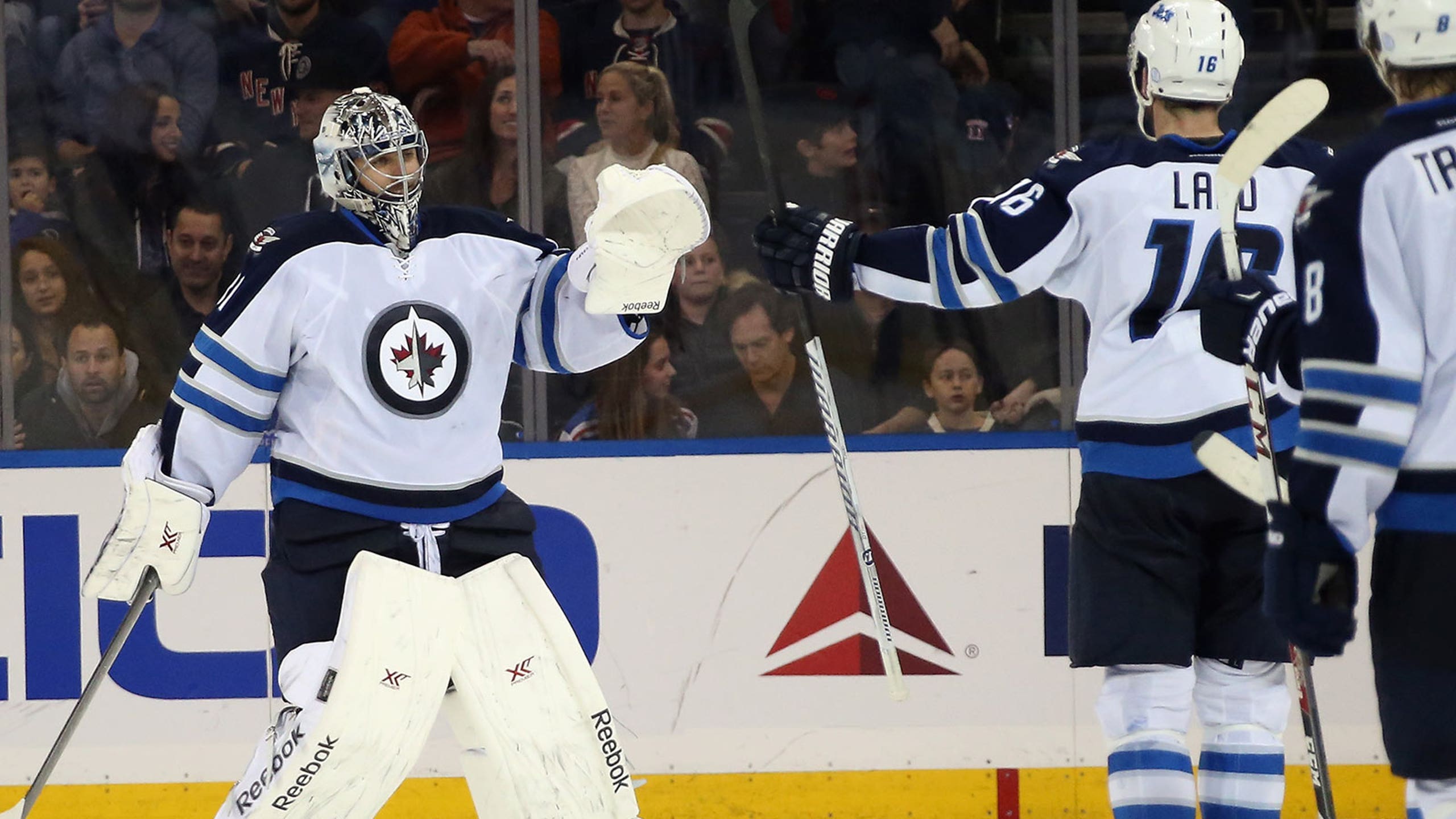 Kane, Wheeler score in shootout; Jets top Rangers
BY foxsports • November 1, 2014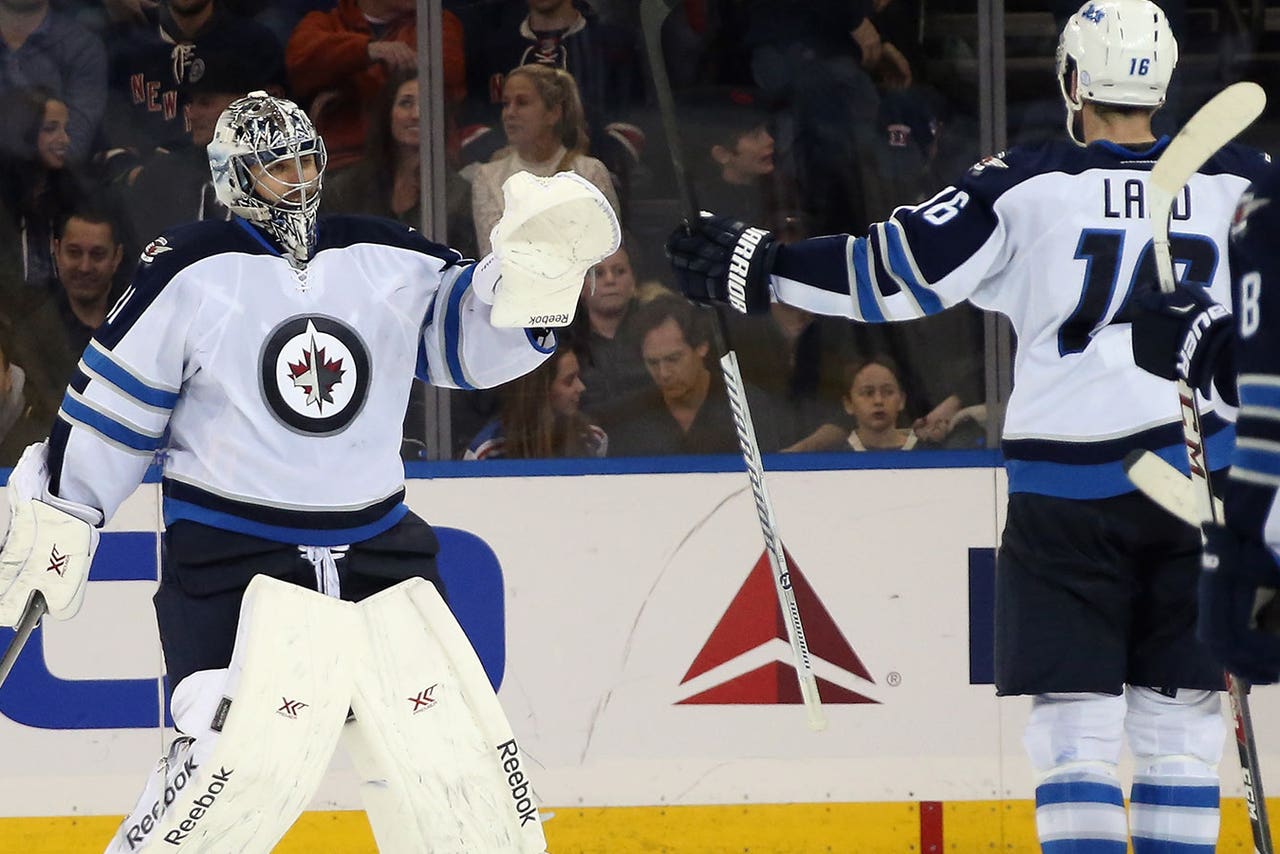 Down two defenseman most of the game, the New York Rangers still managed to earn a point against the Winnipeg Jets.
Thanks to excellent goaltending by Ondrej Pavelec, the Jets pulled out a 1-0 victory over the Rangers on shootout goals by Evander Kane and Blake Wheeler on Saturday night.
Pavelec made 36 saves in regulation and two in overtime, including a stop on Martin St. Louis' breakaway. He allowed a goal to Mats Zuccarello to start the shootout but denied the next three attempts.
The shutout was his first this season as the Jets improved to 5-5-1.
"Good for him," Jets coach Paul Maurice said. "Pav was our best player by far. He really earned this win for us."
The Rangers (5-4-1) were forced to play with only four defensemen for the final two periods and overtime after captain Ryan McDonagh and Kevin Klein were injured in the first period.
McDonagh sustained a separated shoulder on a hard check into the boards by Kane. Klein left with a bruised foot after he blocked a shot.
McDonagh was forced out when his left shoulder was rammed into the boards behind the New York net with just over eight minutes left in the first. McDonagh hurt the same shoulder last April against Vancouver, forcing him to miss the final five regular-season games.
McDonagh and Klein will be re-evaluated on Sunday.
The Rangers continued with only Dan Girardi, Marc Staal, Matt Hunwick and Mike Kostka on defense. Girardi played a career-high 34 minutes, 50 seconds, Staal skated for 29:33, Hunwick logged 27:58, and Kostka 21:56.
"It was a great opportunity for a couple of guys to get more minutes, and I thought they played outstanding," Lundqvist said. "We had so many good opportunities to win this one. We played with poise and we were smart."
The Rangers will host St. Louis on Monday in their next game, likely without new captain McDonagh.
"It's hard, and we are going to have to rally around him, not only as defensemen, as a team," Staal said. "You can't replace a guy like that."
New York was already missing John Moore, who served the first game of a five-game suspension, and fellow defenseman Dan Boyle, who broke a hand in the season opener.
Moore was suspended for five games after his hit to the head of Minnesota's Erik Haula on Monday.
Kostka hadn't played since Oct. 14 when he committed two turnovers that directly led to New York Islanders goals.
Rangers coach Alain Vigneault saw positives despite the loss.
"Our four defensemen logged tons of minutes. Our forwards did a great job of working their way back and giving help," Vigneault said. "We played one of our best games of the season."
The shutout was the second this season for New York's Henrik Lundqvist and 52nd of his NHL career. He made 25 saves, including a glove stop on a shot by Toby Enstrom with just under two minutes left in the third period.
"It's tough to lose in a shootout, but I thought we battled hard for most of the game," Staal said. "Hank was swallowing rebounds all night which makes our job a lot easier."
New York, which hadn't played since a furious comeback win over Minnesota on Monday, struggled again on the power play -- going 0 for 5.. The Rangers have only two man-advantage goals in 10 games this season.
The Jets played the third game of a four-game trip that ends Sunday at Chicago. They beat the Islanders and lost in a shootout to New Jersey since the Rangers' previous game.
"We always enjoy playing in New York," Kane said. "It was an ugly game for the most part, but Pav did a great job of getting us in it. I'm glad I was in position for the winner."
NOTES: Lundqvist passed Gump Worsley for second on the Rangers' career games played list among goalies with his 583rd. Mike Richter leads with 666. ... The Jets have the longest streak in the NHL without a hat trick. Their last three-goal game was by Eric Boulton on Dec. 18, 2010, when the franchise was the Atlanta Thrashers. ... The Rangers scratched forward Ryan Malone. Kevin Hayes returned to the lineup.
---
---