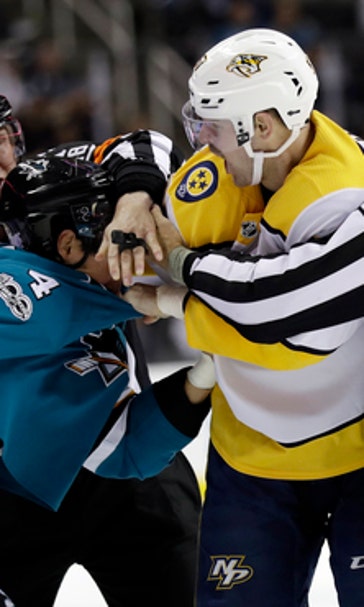 Jones makes 19 saves to lead Sharks past Predators 4-1 (Nov 01, 2017)
November 2, 2017

SAN JOSE, Calif. (AP) In a game that included 20 penalties and 52 penalty minutes, the San Jose Sharks found a way to win ugly.
Joonas Donskoi and Mikkel Boedker each had a goal and an assist to lead the Sharks past the Nashville Predators 4-1 on Wednesday night for their third straight victory.
''At times it was maybe a little sloppy, but they're a team that has good sticks, they get in on the forecheck,'' San Jose captain Joe Pavelski said. ''Guys just grinded it out, really. We were able to get a few goals in different situations. It was just a good, hard-fought win.''
Pavelski and Marc-Edouard Vlasic also scored and Martin Jones made 19 saves for the Sharks, who have won six of eight.
''It was a little sloppy but we found a way and an important two points,'' coach Peter DeBoer said. ''We had some great contributions. I think Joakim Ryan blocked nine shots. Some of those guys are really doing a good job for us.''
Roman Josi scored for the Predators, who lost their second straight after earning at least a point in six of their previous seven games. Pekka Rinne stopped 19 shots but fell to 11-7-4 against the Sharks.
''We're not turning pucks over. We're forechecking hard but we're just not working as a five-man unit,'' Josi said. ''Once again, we took way too many penalties. We scored a goal and then took two or three penalties and that kills our momentum.''
Donskoi scored an easy goal late in the first period thanks to the work of Boedker, who fired a pass to defenseman Tim Heed at the right side of the crease. Heed tapped a quick pass to Donskoi, who had an open net.
''He's playing with a lot of confidence. He's skating with the puck,'' DeBoer said. ''He looks like the Joonas Donskoi of two years ago, and that's what we need. I know he's healthy. He had a good summer, he worked hard and he was determined to have a bounce-back year this year. We need him.''
Pavelski redirected a shot from Brenden Dillon midway through the second period to make it 2-0.
Josi picked up the puck from a faceoff and weaved through a bit of traffic before finding the top corner of the net to bring Nashville to 2-1.
''We had opportunities to execute in the offensive zone and we didn't capitalize,'' Nashville coach Peter Laviolette said. ''Not a lot of opportunities for them, but the ones they did get they made the most of. We continue to shoot ourselves in the foot with the penalties.''
The Sharks scored a power-play goal less than four minutes later. Vlasic found the net after taking a pass from Kevin Labanc.
The Predators opened a four-game road trip over six days. The Sharks are in the midst of playing eight of nine at home.
Boedker scored a 4-on-4 goal late in the third period after Chris Tierney won a battle for the puck behind the net and found him open in front.
''You're playing Rinne. It's always hard to score on him,'' DeBoer said. ''I thought we were opportunistic. I didn't think we created a lot of chances. The ones we created we found a way to stick in the net. That's not going to happen every night, but the nights it does happen, we'll take it.''
NOTES: Sharks C Joe Thornton became the 20th NHL player to reach 1,400 career points when he assisted on Pavelski's goal. ... Donskoi scored his fourth goal in seven games. ... Heed has points in four of his last five games. ... Josi has six points in his last seven games. ... Predators C Calle Jarnkrok got his 50th career assist. ... Ryan got his first NHL assist on Boedker's goal.
UP NEXT
Predators: At the Anaheim Ducks on Friday.
Sharks: Host the Anaheim Ducks on Saturday.
--
More AP NHL coverage: https://apnews.com/tag/NHLhockey
---
---