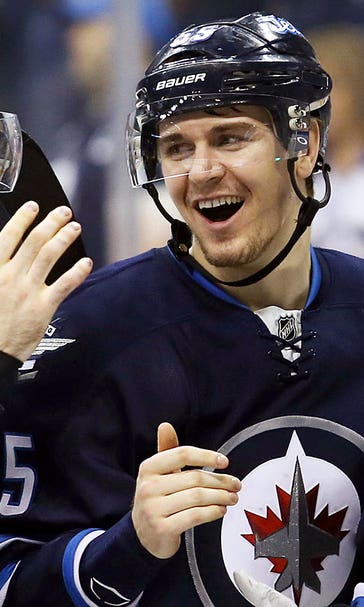 Jets rout Flames as both teams prepare for postseason
April 11, 2015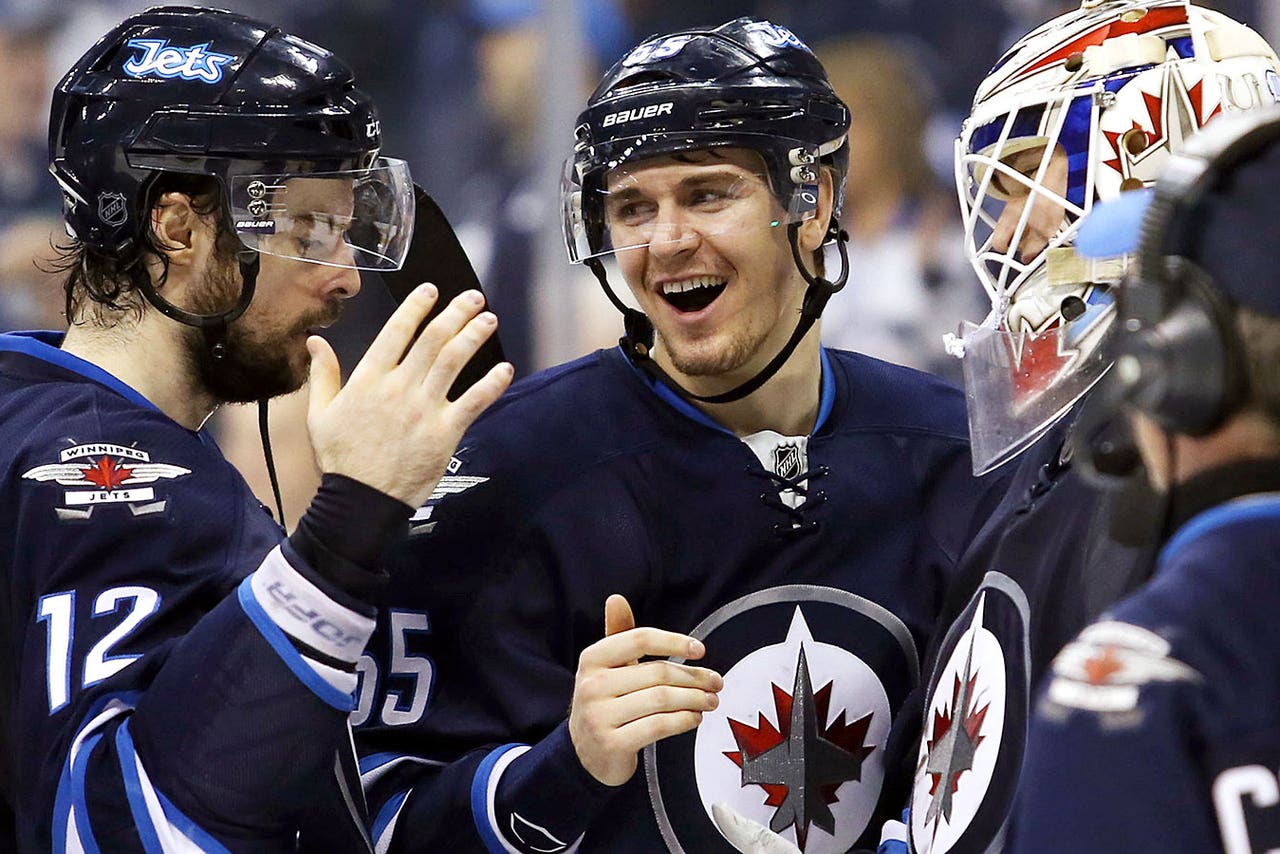 Mark Scheifele got a small taste of what playoff hockey will be like in Winnipeg.
And he can't wait to experience it.
The Winnipeg Jets defeated the Calgary Flames 5-1 Saturday to end the regular season with a franchise-record 99 points.
A standing ovation started when the playoff-bound Jets stepped onto the ice for the warmup, and fans rose to their feet again a minute before the final whistle.
In between there were plenty of chants of ''Go Jets Go'' and fans even did the wave.
''I think that's just a teaser,'' said Scheifele, who assisted on Winnipeg's second goal. ''I think they're going to be crazy.
''They've been with us all year and they've been unbelievable. I think playoffs will just hit that next level for sure.''
Players raised their sticks to salute the fans, who will watch NHL playoff action in Winnipeg for the first time since 1996.
The 99 points are two more than the Atlanta Thrashers notched in 2006-07 before their relocation to Winnipeg in 2011. The Jets (43-26-13) also tied the franchise record for wins.
Calgary (45-30-7) will play the Vancouver Canucks in the first round of the playoffs, with the Canucks having home-ice advantage.
The Jets' playoff opponent - either St. Louis or Anaheim - will be decided later Saturday.
Lee Stempniak had a goal and assist for Winnipeg. Drew Stafford, Michael Frolik, Adam Lowry and Matt Halischuk also scored.
Michael Ferland scored for Calgary, which had its three-game winning streak end.
Michael Hutchinson started in net for the Jets and stopped 24 shots. Winnipeg rested goalie Ondrej Pavelec after three straight shutouts.
Joni Ortio made 17 saves for the Flames in his sixth game this season and first since Jan. 21.
Both teams gave a number of key players the game off, including Andrew Ladd, Blake Wheeler, Bryan Little and defensemen Tyler Myers and Jacob Trouba for Winnipeg. Jets defenseman Dustin Byfuglien returned after a four-game suspension and fellow blue liner Toby Enstrom was back after missing three games with an injury.
Winnipeg coach Paul Maurice acknowledged it was hard to get pumped up for the season finale.
''I think for both teams it was difficult,'' Maurice said. ''Not a lot of physicality in the game. Bit of an exhibition in terms of over-handling the puck, bringing it back a bunch of times.''
He expects a big difference when the postseason begins.
''Oh, night and day. For everything. The intensity,'' he said. ''They had their mainstays out, so did we. But this one, we won't over-assess it. Probably won't watch it.''
Calgary sat Johnny Gaudreau, Sean Monahan, Jiri Hudler and defensemen T.J. Brodie and Dennis Wideman.
''We have many guys banged up,'' Flames coach Bob Hartley said. ''Some of our veteran guys have been carrying injuries for the last month, month and a half, but they kept going.
''Obviously now we can get those nagging injuries away from us and we should have a fresh lineup in Vancouver.''
Ferland got the Flames going 33 seconds into the first period when Hutchinson was caught out of the net.
Sam Bennett, playing in his first NHL game, brought the puck around the net on a wrap-around. It went into the air and Ferland batted it in for his second goal of the season.
''It was really exciting,'' Bennett said of his first point. ''Me and my linemates came out flying there. It definitely was really nice to get that out of the way.
''I have to compliment Ferland, who made an unbelievable play to help me get my first point.''
But Calgary's lead only lasted 15 seconds when Stafford sent a high shot at Ortio that hit his glove and went in.
Frolik notched his 19th goal of the season 47 seconds into the third period for the 2-1 lead.
Stempniak scored his 15th at 6:48, with Andrew Copp also getting his first assist in his first game. Rookie Lowry made it 4-1 just 58 seconds later when he created a turnover and scored his 11th of the season. Halischuk finished the third-period barrage with a goal at 18:59.
---
---