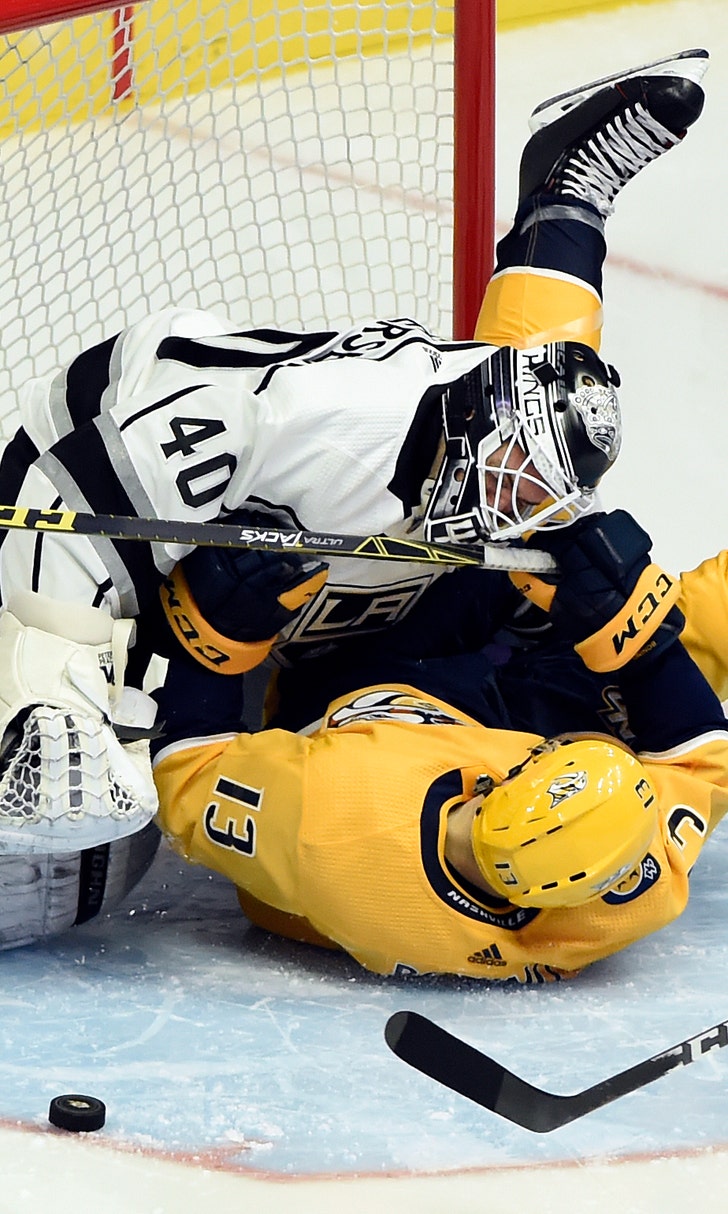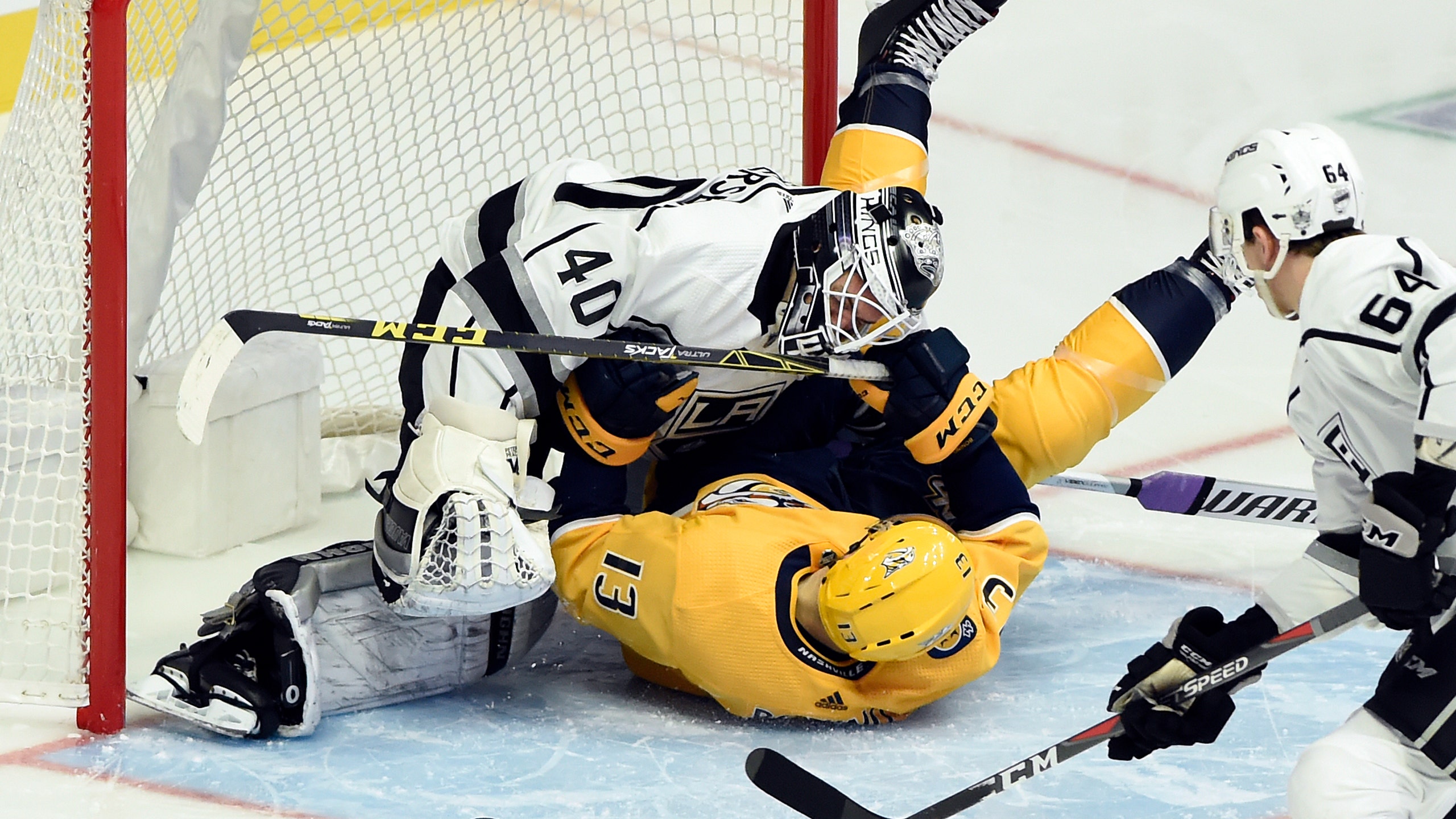 Jarnkrok's hat trick leads Predators over Kings 5-3
November 18, 2018
NASHVILLE, Tenn. (AP) — Calle Jarnkrok's three goals sent many Nashville Predators fans home with a serious case of hat head.
Jarnkrok recorded his first career hat trick to lead the Predators to a 5-3 victory over the Los Angeles Kings on Saturday night.
"That was a good night for him," Nashville coach Peter Laviolette said. "I thought he played terrific, forget about the goals, just the game in general. I thought he was really moving."
Kyle Turris and Nick Bonino also scored for Nashville, which snapped a three-game losing streak. Nashville defensemen Ryan Ellis and Roman Josi each had a pair of assists.
Anze Kopitar had a goal and an assist, and Nate Thompson and Alex Iafallo also scored for the Kings, who have lost four of five.
Jarnkrok scored at even strength, on the power play and short-handed, with the short-handed goal being the eventual game-winner at 11:54 of the third period.
Skating into the Kings zone on the left side, Jarnkrok fired a wrist shot over the glove of Los Angeles goaltender Cal Petersen, prompting the sellout Bridgestone Arena crowd to shower the ice with hats.
"I felt pretty hot, so I just tried to hit the net, basically, and it went in," Jarnkrok said.
Jarnkrok joins Scott Walker as the only players in Predators' history to score even strength, power play and short-handed goals in the same game.
"He's an important player in here, whether it's offensively or defensively," Ellis said. "You put him out on the power play, and he showed what he can do. He got us going when we needed it."
The teams battled to a scoreless tie through the first period and combined for five goals in a span of 6:57, beginning at 3:18 of the second.
Turris scored the game's first goal, a rare power-play effort for the Predators.
Standing at the top of the left faceoff circle, Turris received a touch pass from Ellis at the center of the blue line. Turris' one-timer through traffic beat Petersen high to the glove side.
"Again, it comes down to the specialty teams," Kings coach Willie Desjardins said. "It's something I do believe that we can be better in that. We'll get that part going."
Petersen made 38 saves in his second career start. He recorded his first career win in Friday night's shootout win in Chicago.
"I appreciate the opportunity to be able to play against high-end teams in hard buildings," Petersen said. "It is a little bit of a baptism by fire, I guess, and get it out of the way. When you play those games, you kind of realize that you can compete at that level and compete in that environment."
Nashville entered Saturday with the league's worst power play, clicking at just over 10 percent.
Thompson and Kopitar scored 19 seconds apart to take the lead.
Thompson's goal, his first of the season, came just five seconds after a penalty to Nashville forward Filip Forsberg expired. At the right of Nashville goaltender Pekka Rinne, he found the rebound of Tyler Toffoli's shot from the point.
On the next shift, Dustin Brown stepped in front of Kevin Fiala to intercept a pass. He then skated toward the Nashville goal and slid a pass to a Kopitar in the slot, and he beat Rinne low to the stick side.
Rinne finished with 25 saves.
Jarnkrok snapped a wrist shot from the high slot over Petersen's glove at 8:05, but Iafallo found a rebound of a Kopitar shot in the left circle 2:10 later and beat Rinne on the stick side.
Nashville tied it at 3 at 5:44 of the third on Jarnkrok's second of the night, another power-play goal.
Bonino concluded the scoring with an empty-net goal with just under a minute remaining.
NOTES: Kings D Dion Phaneuf played his 1,000th career game. He was taken ninth overall in the 2003 Entry Draft, which was held in Nashville. ... The Predators scored two power-play goals in a game for just the second time this season.
UP NEXT:
Kings: Visit St. Louis on Monday.
Predators: Host Tampa Bay on Monday.
---
---