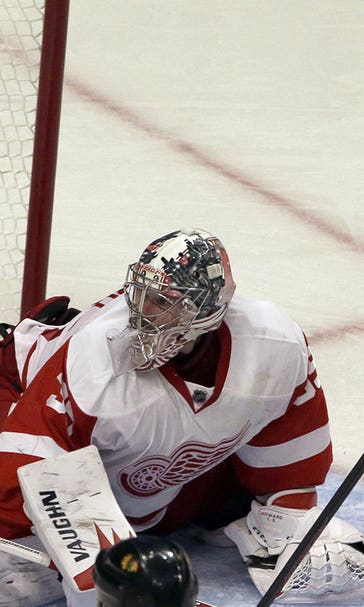 Hossa chips in as Blackhawks topple Red Wings
March 16, 2014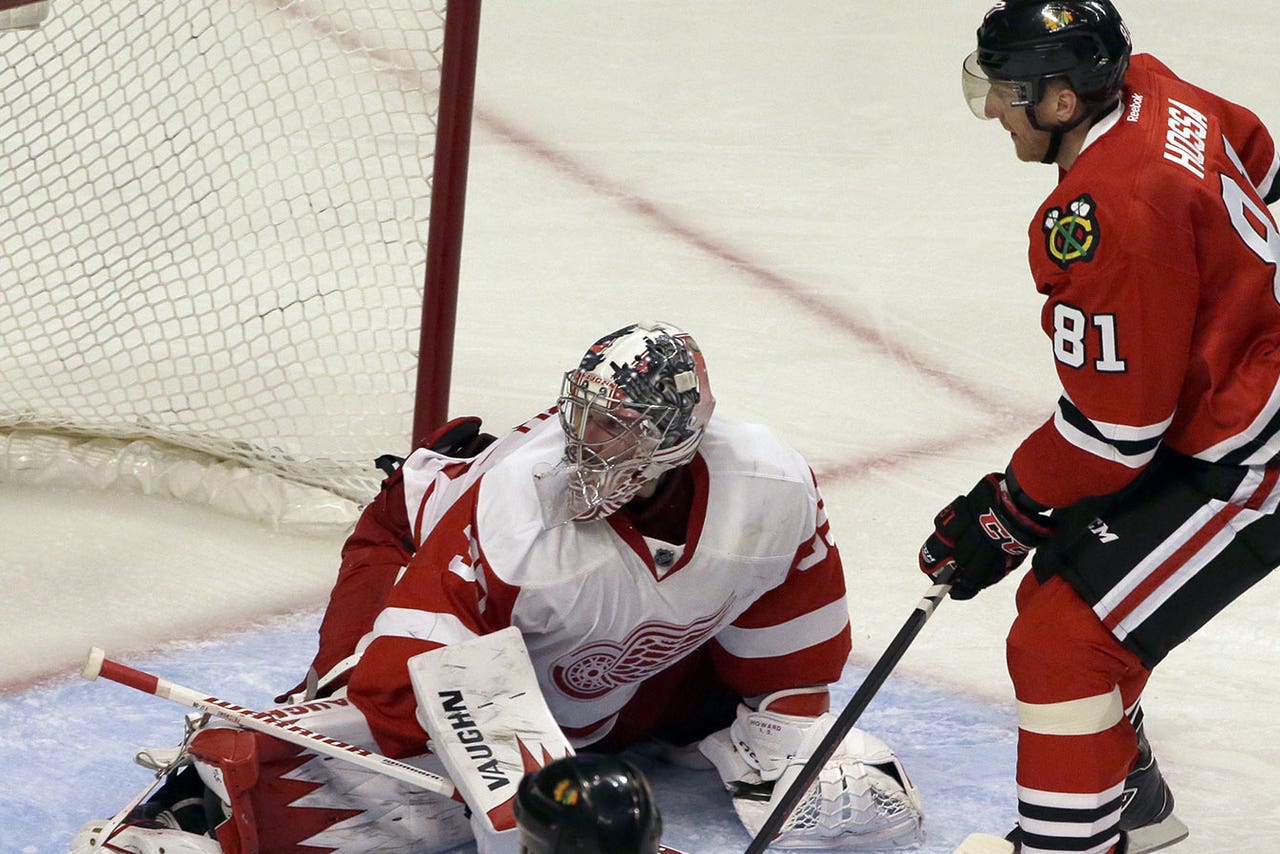 CHICAGO -- Marian Hossa skated as if he had been recharged during a five-game vacation -- not sidelined for five games with an upper-body injury.
The Blackhawks' 35-year-old forward celebrated his return to the lineup with plenty of energy -- resulting in a key goal and two assists -- and Chicago defeated the Detroit Red Wings 4-1 on Sunday night to snap a two-game losing streak.
''It's great to come back and try to help the team,'' Hossa said. ''It's five games, so I don't know how much fresher I'll be than the other guys. But there's some benefit, maybe.''
Hossa was back in action for the first time in two weeks. He was knocked out in the Blackhawks' 5-1 victory over Pittsburgh at Soldier Field on March 1.
On Sunday, Chicago lead 2-1 after 40 minutes, then Hossa put the game away with two big plays in the third period.
''He changes the look, the complexion of our line, of our team game,'' Blackhawks coach Joel Quenneville said. ''We seem to have the puck a lot more when he's out there.
''He made some nice finished plays and he definitely had some nice jump to his game, as well. It made a big difference having him back tonight.''
Hossa used his speed to give Chicago a 3-1 lead at 6:33 of the third. After taking a feed from Patrick Sharp, Hossa raced down the right wing, cut in around Detroit defenseman Brendan Smith and beat Jimmy Howard from close range.
''He was coming with so much speed, I thought he was going to try to drag me across (the crease),'' Howard said.
Hossa's set up Jonathan Toews' short-handed goal with 2:10 left that iced it.
After stealing the puck from Johan Franzen near Chicago's blue line, Hossa skated down the right wing. He pulled up and then fed Toews, who cut to the net and tucked in a shot.
Ben Smith had a goal and assist, and Nick Leddy also scored for defending Stanley Cup champion Chicago, which is struggling to keep up with the top contenders in the Western Conference. Despite the win, the Blackhawks are 11-8-7 in 2014 and remained fifth in the conference and third in the Central Division.
Gustav Nyquist scored for the injury-depleted Red Wings, who are desperate for wins as they try to get into the playoffs for the 23rd straight time.
Chicago's Corey Crawford made 19 saves and Detroit's Jimmy Howard had 26.
''We felt good going into the third, but obviously Hossa's goal really made it a two-goal game and makes it tough for us,'' Detroit Daniel Alfredsson said.
The banged-up Red Wings played without 10 injured players, including stars Pavel Datsyuk and Henrik Zetterberg. Forward Todd Bertuzzi joined the list Sunday, sitting out after suffering a lower-body injury Friday against Edmonton.
''Once the game got to 3-1, it's not as good a spot for our team,'' Detroit coach Mike Babcock said. ''We don't have enough goals in our lineup to play like that. We were set up (at 2-1) and we let it slip away.''
The Blackhawks faced Detroit for the second time since beating them in overtime in Game 7 of their second-round playoff series last year to complete a comeback from a 3-1 deficit. The Red Wings defeated Chicago 5-4 in a shootout on Jan. 22 at Joe Louis Arena.
The Blackhawks and Red Wings were division rivals for the past 31 years until Detroit moved from the Western to Eastern Conference this season. The Original Six teams were grouped together in the Central Division for the previous 19 seasons and in the Norris Division for 12 years before that.
The Blackhawks outshot the Red Wings 11-5 in the scoreless first, but neither team generated sustained pressure or many prime scoring chances.
The Blackhawks turned up the pressure early in the second and outshot Detroit 14-7 in the period.
Leddy's power-play goal, on Chicago's 19th shot, finally opened the scoring at 8:44 of the second.
Nyquist tied it at 1 with 4:50 left in the period with a power-play goal that deflected in off the skate of Blackhawks defenseman Brent Seabrook.
Smith put Chicago back in front 2-1 on a rebound with 14 seconds left in the period.
Hossa then helped Chicago put the game away in the third.
NOTES: Chicago F Brandon Saad didn't return for the third period after playing a total of 11 shifts. Quenneville said he had an upper-body injury and is day-to-day. . . . Detroit RW Jordin Tootoo, recalled from Grand Rapids of the AHL on Saturday, filled in for Bertuzzi. . . . Red Wings D Jakub Kindl was a healthy scratch. . . . Before the game, Quenneville hinted that C Teuvo Teravainen, one of the Blackhawks' top prospects, might join the team soon. Teravainen's team in Finland, Jokerit, was eliminated from the playoffs Sunday. That paves the way for the 19-year-old forward, drafted in the first round by Chicago in 2012 (18th overall), to sign an NHL contract.
---
---