National Hockey League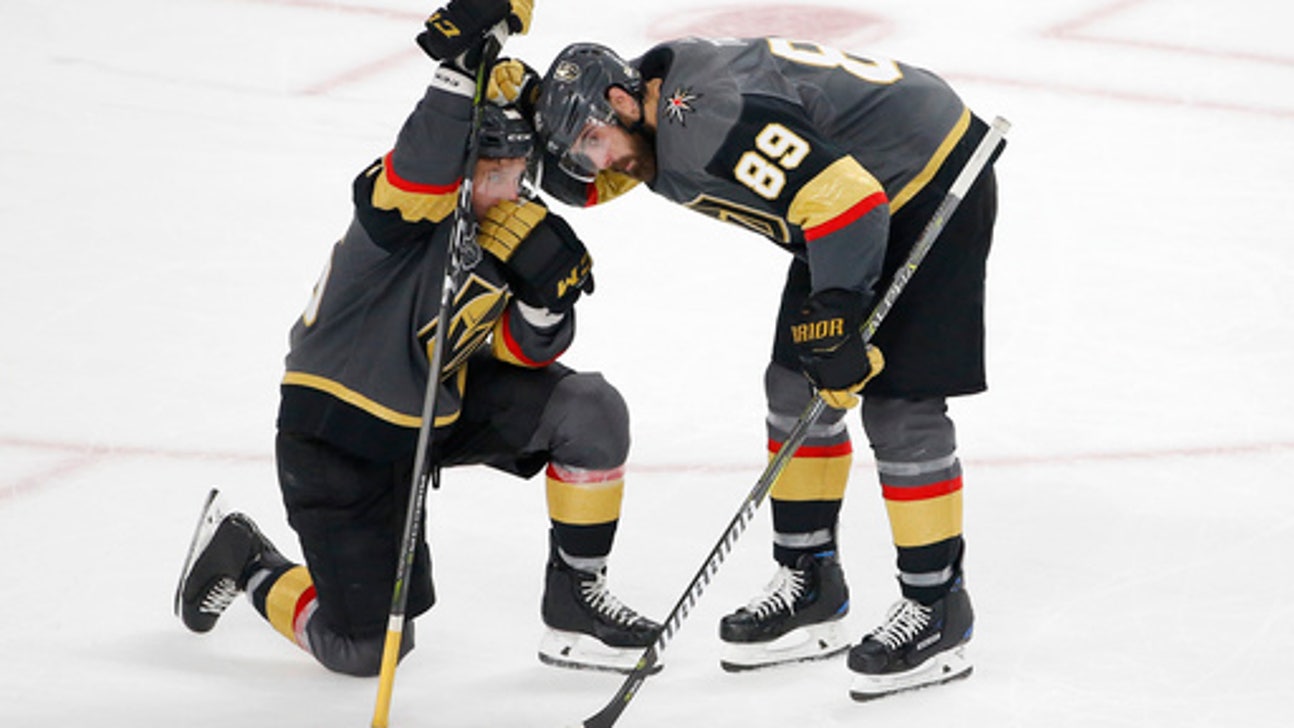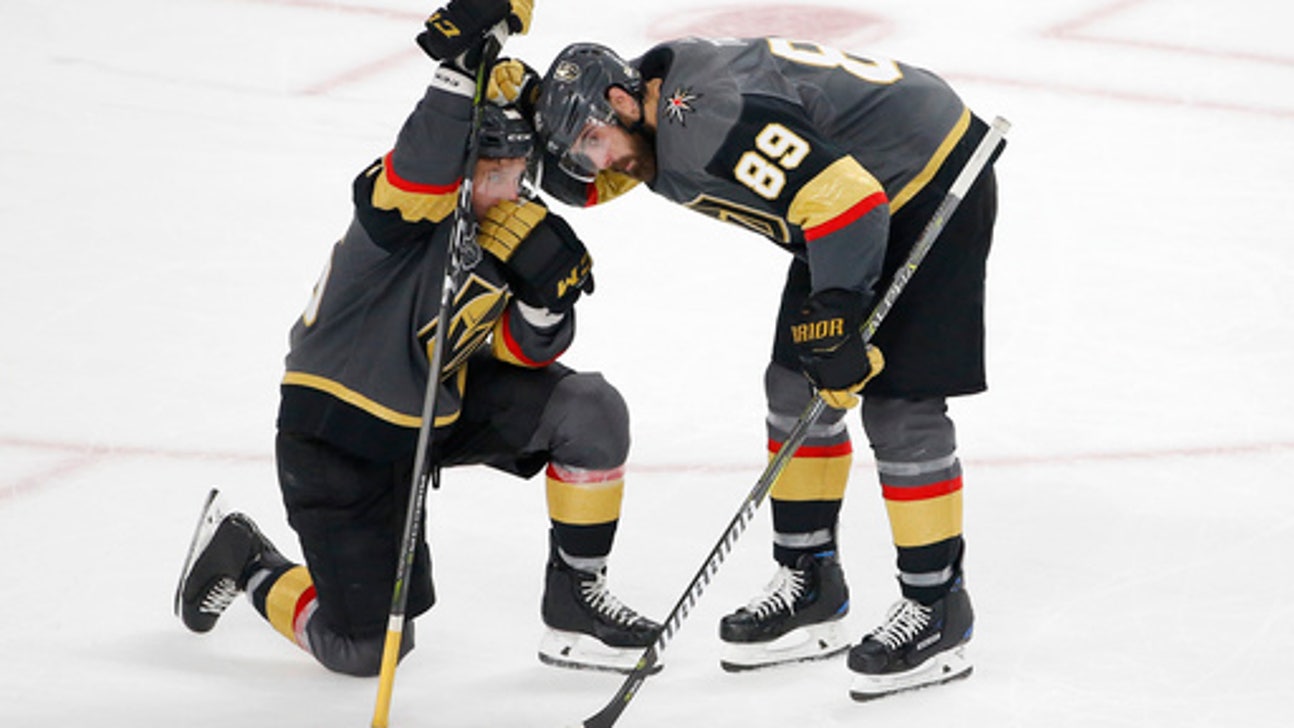 National Hockey League
Golden Knights' future bright after awesome inaugural year
Updated
Mar. 4, 2020 1:18 p.m. ET
LAS VEGAS (AP) While the Washington Capitals celebrated their first Stanley Cup title amid strewn sticks and gloves Thursday night, the T-Mobile Arena fans rose and gave one more stirring ovation to the bowed, kneeling figures in grey sweaters on the other end of the ice.
The Vegas Golden Knights didn't win the Stanley Cup Final in their inaugural season. Just being there was a stupendous feat - and their fans quickly reminded them that it will feel even sweeter when the immediate sting of losing subsides.
''You come to Las Vegas thinking you're going to play hockey,'' Knights forward Pierre-Edouard Bellemare said. ''Instead, you find a home.''
After playing a significant role in healing a city scarred by a mass shooting shortly before their regular-season opener, the Knights went farther and accomplished more than any expansion team in modern sports history. Vegas blew past the NHL expansion records for victories (51) and points (109) while winning the Pacific Division, and the upstarts then cut a swath through the Western Conference playoffs with 12 wins in 15 games.
About six months later than even their most optimistic new fans could have reasonably expected, the Golden Knights finally ran into an obstacle they couldn't surmount.
''When you're that close, it hurts. It hurts a lot,'' defenseman Luca Sbisa said Friday, emotion evident in his voice. ''Right now, I'm speechless. But we can be proud of what we did.''
When owner Bill Foley proposed a six-year timetable for the Knights' first Stanley Cup title, he was gently laughed off in the hockey world. Now that his team almost beat his projection by five years, general manager George McPhee is in charge of figuring out another daunting task.
What in the world will Vegas do for an encore?
Keeping the core of the NHL's 31st franchise intact will be challenging, but definitely possible. The Knights also must figure out what pieces to add to a franchise that's already looking like a desirable destination for veteran players who like warm weather and lots of winning.
The Knights' most prominent unrestricted free agents are Sbisa and forwards James Neal and David Perron. They have several key restricted free agents, including goal-scoring star William Karlsson and defenseman Shea Theodore.
Although they don't get another expansion draft, they've also got leftover assets from last summer to make moves for veteran players, both in free agency and in trades. McPhee has already begun work, but he said it's likely the Knights won't make major changes.
After all, they've got a pretty good thing going.
''Sometimes a great story, book or movie doesn't have a perfect ending,'' McPhee said. ''But it's still a great story.''
Here are more things to know about the Knights and their upcoming offseason:
LONG TERM: Although McPhee took his job with a stated goal to build a foundation, the Golden Knights' immediate success demonstrated that the future could be now. McPhee might not need to choose between the two courses of action, as he reiterated during his immediate comments Friday while the players packed up their lockers for the summer. McPhee should have the salary cap room and financial resources to make almost any personnel decision, and he also has a stockpile of two first-round picks and six second-round picks in the next three drafts.
FREE-AGENT FORWARDS: Neal has been a dependable NHL goal-scorer for a decade, and he scored 25 goals for the Knights while serving as a valuable veteran leader. McPhee seems eager to sign Neal, and Neal repeatedly said Friday that he wants to be back. A deal seems probable. The Knights face a tougher decision on Perron, who set a career high with 66 points in the regular season. He didn't score a goal between March 4 and Game 5 of the Stanley Cup Final, getting relegated to a depth line. Perron revealed Friday that in-season talks with the Knights didn't result in a new contract. ''I had a good year,'' Perron said. ''I deserve what I deserve, but I'm willing to work with them to make sure I stay here.''
PRECIOUS FLOWER: Despite a middling Final, goalie Marc-Andre Fleury was the backbone of Vegas' success with 29 wins and a .927 save percentage in the regular season before three solid postseason rounds. He's still a year away from unrestricted free agency, and if the three-time NHL champ gets his way, he'll finish his career in Nevada. ''A couple of years ago, I was told I was getting too old to play,'' Fleury said. ''I still love it. Vegas gave me an opportunity to continue doing what I love and I wouldn't want to go anywhere else.''
KARLSSON'S WORTH: Karlsson is one of McPhee's biggest assets going into the offseason, and also one of the GM's biggest challenges. The former Ducks and Blue Jackets prospect had never scored 10 goals in an NHL season before Columbus asked the Knights to pick him in the expansion draft. The Swede promptly scored 43 goals in Vegas and established himself as an elite talent. He made $1 million in the just-completed season, and he clearly deserves a fat raise. Given his unusual accomplishments and unclear market value, Karlsson also seems a possible candidate for another team to sign to an offer sheet, although that strategy is rarely used in the modern NHL.
NO PARADE: Despite their record-setting season, the Golden Knights say they won't participate in any postseason parade or celebration after falling short of the Cup. Clark County and the Las Vegas city government had discussed throwing a parade even if the Knights didn't win, but it would have been a potential source of embarrassment in traditional hockey circles.
---
AP freelance writer W.G. Ramirez in Las Vegas contributed to this report.
---
More AP hockey: www.apnews.com/tags/NHLhockey
---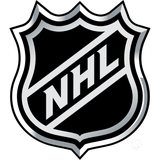 Get more from National Hockey League
Follow your favorites to get information about games, news and more
---