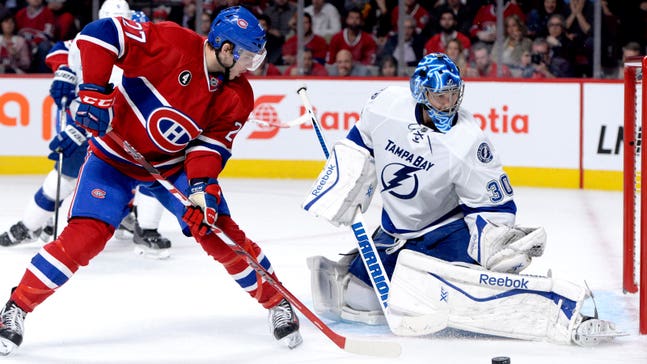 Galchenyuk sweating out scoring struggles in playoff pressure-cooker
Published
May. 4, 2015 11:28 a.m. ET

Plenty of Montreal players can take the blame for their team's struggles with the Canadiens facing a two-games-to-none deficit in a best-of-seven series against Tampa Bay. Alex Galchenyuk, Montreal's 21-year-old forward, is one of the more popular targets in the blame-game. 
Galchenyuk's production dropped off dramatically in the playoffs, as the 20-goal scorer in the regular season has just two points (one goal, one assist) through his eight playoff games this postseason. 
Galchenyuk earned three minor penalties in Game 1 of the series and was demoted to the fourth line as a result. He was a virtual non-factor in Game 2, and his 13:12 time on ice was his lowest total playing minutes of the postseason. 
Although Galchenyuk is just 21 years old, this is his third year playing in the postseason. In 2012-13, he totaled three points in five games (one goal, two assists), and he also posted three points in five playoff games (two goals, one assist) last season. 
Galchenyuk told the Canadiens' website his struggles this year could be down to luck.
"I know I need to go out there and try to help the team win as much as I can, but bounces don't go your way sometimes," Galchenyuk said to the Canadiens' website. "It's a team sport. We're all battling. These are really close games. We've all got to bring our game to the next level. That's what I'm trying to do."
(h/t Montreal Canadiens)
Photo by Eric Bolte-USA TODAY Sports
---
---