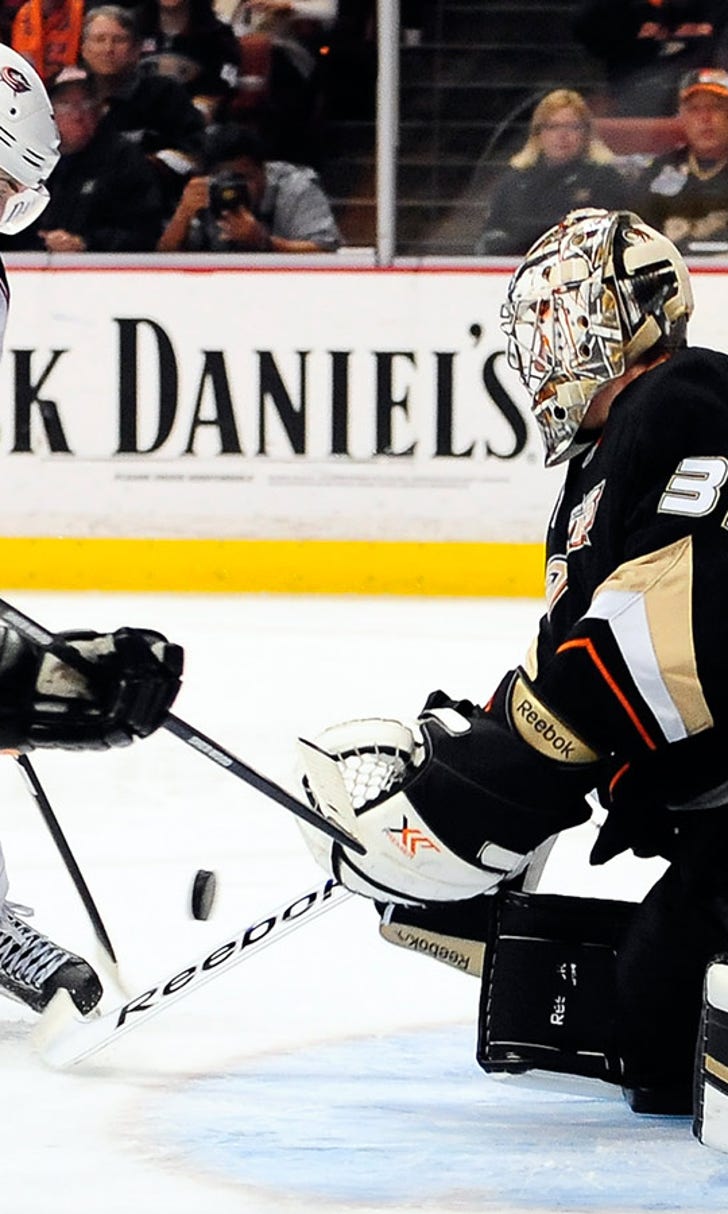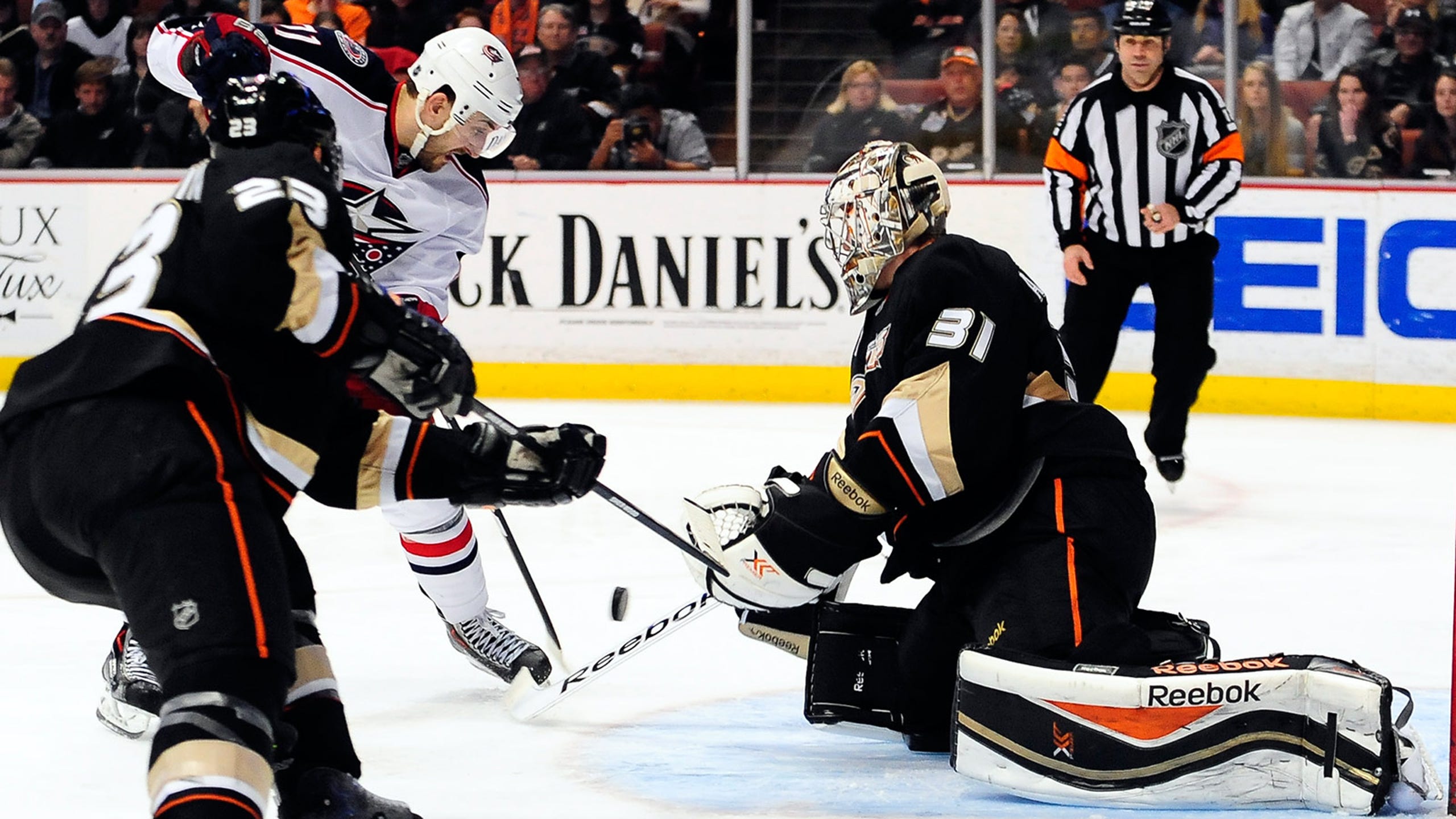 Foligno's two goals help Blue Jackets beat Ducks
BY foxsports • February 4, 2014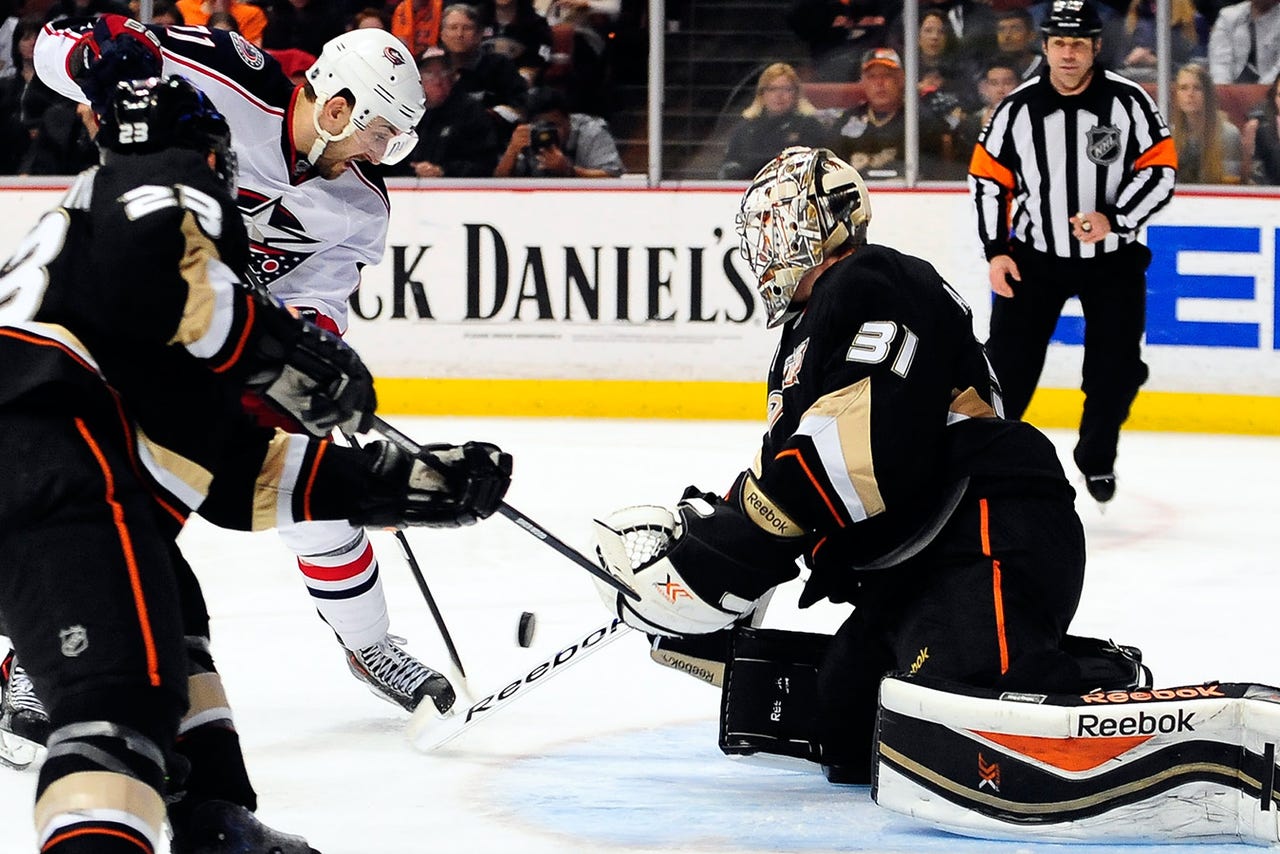 ANAHEIM, Calif. -- For a team that once appeared almost invincible at home -- and dominated the NHL for two full months -- the Anaheim Ducks suddenly have slipped into mediocrity.
By contrast, the Columbus Blue Jackets have become one of the league's hottest teams.
Sergei Bobrovsky made 34 saves, Nick Foligno scored twice in the third period and the inspired Blue Jackets also got goals from Ryan Johansen and R.J. Umberger in a 4-2 victory over the Ducks on Monday night.
''We are really playing to our identity right now,'' Umberger said. ''We are working hard. We are a gritty team. We let our forecheck do the work for us. We don't score too many pretty goals. We're just kind of a team that grinds it out. We got rewarded with some rebounds and some deflections tonight. And we get big saves from Bob when we need them.''
The Blue Jackets are 11-0-3 since Jan. 6, a stretch that began with a franchise-record, eight-game winning streak. Bobrovsky, last season's Vezina Trophy winner, is 10-2-0 with a 2.17 goals-against average in his past 12 starts after missing 14 games because of a groin strain.
''They're playing good hockey,'' Ducks captain Ryan Getzlaf said. ''I mean, if you watch the game tape, every time they touch the puck in their zone they chip it out and they go skate onto it. That was a solid road game they played. Right now we're playing teams that are fighting for that last playoff spot, and those are things we've got to notice and take into account.''
Getzlaf and Mathieu Perreault scored for Anaheim. Frederik Andersen stopped 29 shots.
The Ducks, who started 22-0-2 on home ice and enjoyed a comfortable lead atop the overall standings about two weeks ago, are 4-5-0 since Jan. 15 and have lost three of four on their five-game homestand. But they still lead Chicago by three points for the league's best total with two games left before the Olympic break.
''If we were a .500 hockey club, this would be the norm. But it's not,'' coach Bruce Boudreau said. ''It all boils down to will and want, and they wanted it a lot more than us. You could see it on the loose pucks. They were getting them and we weren't. And anytime there was a 1-on-1 confrontation, I didn't see us winning the battles. That's a pure indicator, to me, that we didn't have a sense of urgency.''
The Ducks host the defending Stanley Cup champion Blackhawks on Wednesday night, less than three weeks after Chicago ended Anaheim's phenomenal 18-1 surge with a 4-2 win at United Center.
''It's never good to see Chicago because they're a great team, but it's probably great that Chicago's coming in,'' Boudreau said. ''That's maybe what we need, because if we don't play up to our best level against a team like that, then we're going to get our butts kicked.''
Bobrovsky's best save came at 5:25 of the second period, when he flicked out his right leg at the last instant to thwart Andrew Cogliano at the end of a 2-on-1 rush with Corey Perry. The Ducks got on the board at 5:45 of the third when Perreault converted a centering pass from Patrick Maroon at the edge of the crease to trim Columbus' lead to 2-1.
''We haven't had a lot of emotion lately. We're just going through the motions,'' Perreault said. ''We've been winning so much that we kind of got into a lull right now. We have to find a way to get out of it.''
Foligno got that goal back with 11:12 remaining, popping the puck over Andersen's shoulder after the Ducks' goalie stopped Umberger's wide-angle shot from the right corner. The other assist went to Artem Anisimov.
Foligno added his 15th goal with 6:53 to play, converting a rebound with 17 seconds left on a 5-on-3 advantage after Saku Koivu and defenseman Hampus Lindholm were sent off simultaneously for high-sticking and cross-checking.
Johansen won all six faceoffs he took in the first period and opened the scoring at the 11:10 mark with his team-high 23rd goal, sending a one-timer between Perry's legs and over Andersen's glove from 25 feet out after Nathan Horton set him up in the left circle.
''It's frustrating, as far as the start of the game. We weren't ready to play,'' Getzlaf said. ''They came out and played hard and did their thing. Their goaltender played well early, and we just didn't respond. We kind of showed 5 minutes here and 5 minutes there, but we didn't play a complete game. We're not focused. We're not playing the way we can and doing the things we do well.''
Umberger made it 2-0 at 16:43 of the second with his 15th of the season, after Ducks defenseman Bryan Allen was sent off for tripping him. Former Anaheim defenseman James Wisniewski got the puck at the top of the left circle from Mark Letestu and took a slap shot that ricocheted into the net off Umberger's right skate.
NOTES: Andersen came in 7-0 with a 1.50 goals-against average at home. . . . Anaheim is 4 for 26 on the power play since scoring six times in 11 opportunities against Vancouver on Jan. 15. . . . D Sami Vatanen played his first game with the Ducks since Jan. 17. He spent the past 1-1/2 weeks with Norfolk of the AHL, but was recalled Monday when D Mark Fistric was placed on injured reserve with a lower-body injury.
---
---