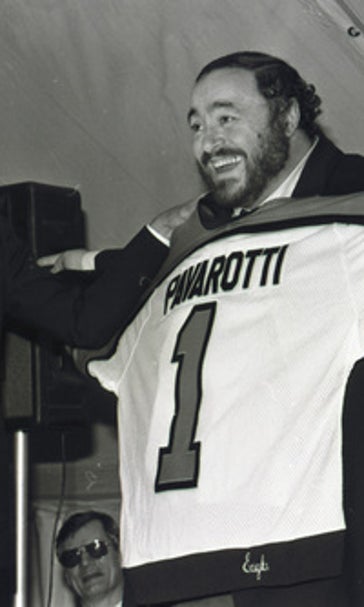 Flyers want to win in playoffs for late owner, Ed Snider
April 12, 2016

PHILADELPHIA (AP) The Philadelphia Flyers threw money at free agents with the same frivolity fans once threw ticker tape at Stanley Cup parades.
Jeremy Roenick. Chris Gratton. Peter Forsberg. Chris Pronger. Ilya Bryzgalov.
Ed Snider never stopped chasing the next big name to help the Flyers win their first Stanley Cup since consecutive titles in 1974 and 1975.
No expense spared. Win now was the orange-and-black way. The plan never worked.
Oh, the Flyers came close, losing in the Stanley Cup finals in 1976, 1980, 1985, 1987, 1997 and 2010.
But the Cup eluded the Flyers, always hoisted and sipped from in some other team's championship parade.
Snider, who died Monday at 83 of bladder cancer, often let his impatience at winning another championship for the team he founded get to him.
Under general manager Ron Hextall, Snider eased up a bit. He let Hextall make the unheard of decision to hire Dave Hakstol out of the college ranks to lead the Flyers. Snider seemed on board with Hextall's blueprint that focused on a core group of veterans and let top prospects develop in the system.
''He said to me, `You know what, we won the first Stanley Cup because I was patient, and I don't know what happened,''' Hextall said.
Snider still had the itch, though, for the Flyers to make a splash with a blockbuster deal at this season's trade deadline. With Snider ailing, he still called Hextall shortly before the final ticks of the deadline passed for an update and asked, ''Are we getting better?''
''I said, no,'' Hextall said, smiling. ''He was good. It was kind of like of his competitiveness (came out), it's what you love you about him. His passion, his competitiveness, everything came out an hour before the deadline. It's almost like he couldn't help himself.''
Hextall stood pat. Picked by most prognosticators to miss the postseason for the second straight year, the Flyers are gearing up for a run.
He kept what he had - mainly blueline rookie star Shayne Gostisbehere - and the Flyers suddenly have a promising future by molding this roster into winners instead of buying stars.
Philadelphia's patience was rewarded this season with a late-season hot streak (15-6-2 over final 23 games) that led to a surprising playoff berth.
The Flyers clinched a playoff spot Saturday and dedicated the playoff push to him.
''It's too bad it's been 40 years since the Cup. Hopefully we can get it done soon for him,'' forward Jake Voracek said. ''That playoff run could be very special and obviously will be dedicated to Mr. Snider.''
Game 3 Monday night at the Wells Fargo Center promises to be stuffed with emotion as the Flyers pay tribute to their late founder. The Flyers will wear commemorative patches on their sweaters and other highlights that will celebrate Snider's legacy are still being planned.
The Flyers will try and win one for Snider.
But is playing on emotion enough fuel to lead the Flyers past the Washington Captials, and beyond?
''I don't know if that's the right thing,'' Hextall said. ''I think the passion, the will, the want that our team showed in the last couple of months, that's reflected of what he expected. But you don't get motivated by something like this.''
Snider will still be in their thoughts, though. How could he not? He was the kind of owner who loved to pop in the locker room after a game for a bear hug or words of encouragement. He took slumping players out to lunch. He showered stars with fat contracts.
Wayne Simmonds said he never really knew the owners in his three seasons with the Los Angeles Kings. In Philadelphia, Simmonds and Snider bonded over community outreach programs and the Flyers forward sits on the board of directors of the Ed Snider Youth Hockey Foundation.
''Although we will be playing with heavy hearts, we know we will be doing everything we possibly can obviously to be successful in the playoffs because that's what Mr. Snider would want,'' Simmonds said. ''I know there's nothing else he wanted to see more than for the Flyers to win another Stanley Cup. That's definitely our goal. We're going to go out there and strive to bring the Cup back to Philly.''
Alex Ovechkin, Nicklas Backstrom and Evgeny Kuznetsov stand in their way in Washington.
All the emotion in the hockey usually isn't enough for the eighth seed to knock off the top team in the East.
''We know it's not going to be easy against a good team, but we know he'll be watching and he'll be cheering us on,'' Flyers captain Claude Giroux said.
---
---