Philadelphia Flyers
Philadelphia Flyers
Flyers hope to end freefall vs. road-weary Canucks (Jan 12, 2017)
Published
Jan. 12, 2017 1:09 a.m. ET

PHILADELPHIA -- In the history of the NHL no team has ever won 10 games in a row and missed the playoffs in the same season. The Flyers are hoping they're not the first.
After winning 10 games in a row from Nov. 27 through Dec. 14, the Flyers (21-16-6, 48 points) have gone 2-5-3 and are flirting with the possibility of making some pretty dubious history.
Heading into Thursday night's game against the road-weary Vancouver Canucks (20-19-4, 44 points), Flyers general manager Ron Hextall said he's not looking to make a trade to send a message to his players.
"I'm (only) going to make a trade to make us better," he said Wednesday. "...We're staying on course. I don't care if we win every game for the rest of the year or lose every game. We're staying on course. We set out a course two-and-a-half years ago and we're not deviating from what we planned."
With 19-year-old rookie Ivan Provorov and second-year blue liner Shayne Gostisbehere (20 games without a goal), the Flyers' inexperience on defense is starting to show. Defensive zone coverage has been a problem for the Flyers in recent weeks, as evidenced in Tuesday night's 4-1 loss in Buffalo, where the Sabres scored three second-period goals, including one within the final 10 seconds.
Goaltender Steve Mason, who went 8-0 during the 10-game win streak, has lost seven straight games, allowing 20 goals in that span. He has not won a game since Dec. 21, not a good sign for a goalie who will become an unrestricted free agent after this season.
The Flyers have also managed just 18 goals in their last 11 games and coach Dave Hakstol tried changing line combinations at Wednesday's practice, promoting rookie Travis Konecny to top-line right wing with center Claude Giroux and left winger Michael Raffl.
"We're not going to start mixing and matching all over the place," Hakstol said, "but at the same time we haven't had a whole lot of success, wins and losses wise, over the last 10 games."
The Canucks, meanwhile, are looking to end a two-game losing streak. After winning a season-high six straight games from Dec. 28 through Jan. 6, the Canucks have lost back-to-back games to the Flames and Predators, including a 2-1 overtime defeat in Nashville on Tuesday night.
That game ended with the Canucks surrendered a 2-on-none shorthanded goal in overtime after a shot by Canucks defenseman Troy Stecher was blocked.
"The way it ended is disappointing," Henrik Sedin told the Vancouver Province. "When you get a four-on-three in overtime, we should score. They were blocking everything. We need a little bit more poise.
"It's obviously disappointing, a chance to get two points and we couldn't do it," Stecher said. "We executed what we wanted to do (on the power play) but I just couldn't get my shot through to the net."
Despite having Daniel and Henrik Sedin, the Canucks' power play ranks 27th in the NHL. It failed to score in nearly 5 minutes of power-play time against the Predators.
The Canucks are also struggling away from Rogers Arena with an NHL-worst 5-13-2 road record. They have scored the fewest first-period goals in the league and have scored first in just 14 of 42 games.
"We're still sitting back a little bit too much (early in the game)," Henrik Sedin said. "We're not getting five guys in on the forecheck, so it's tough to keep pucks in when you're not getting everyone involved. We need to put more pressure on the other team. But it's easy to talk about, tough to do. If you're a little hesitant, the other team is going to come the other way, and that's been a problem for us."
The Canucks are hoping the return of defenseman Chris Tanev will help propel them in the second half of the season. They are 12-5-2 this season when Tanev is healthy and 8-14-1 when he is out of the lineup.
---
---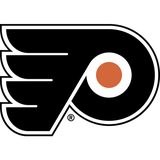 Get more from Philadelphia Flyers
Follow your favorites to get information about games, news and more
---