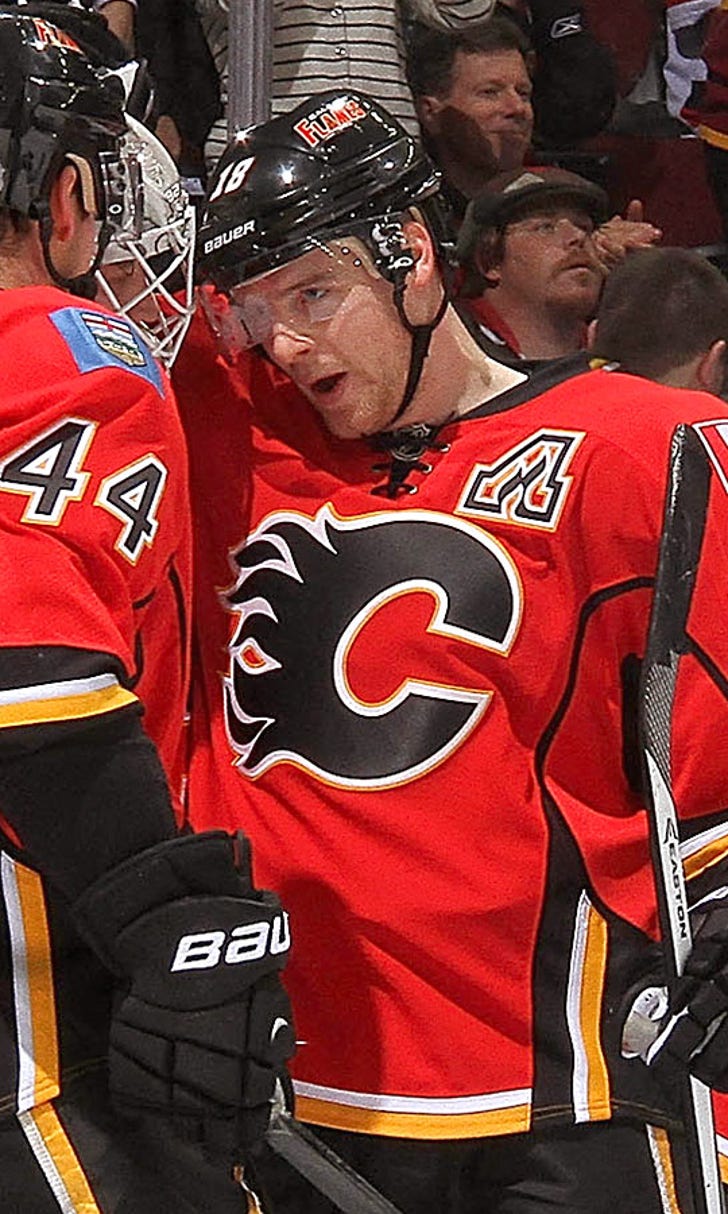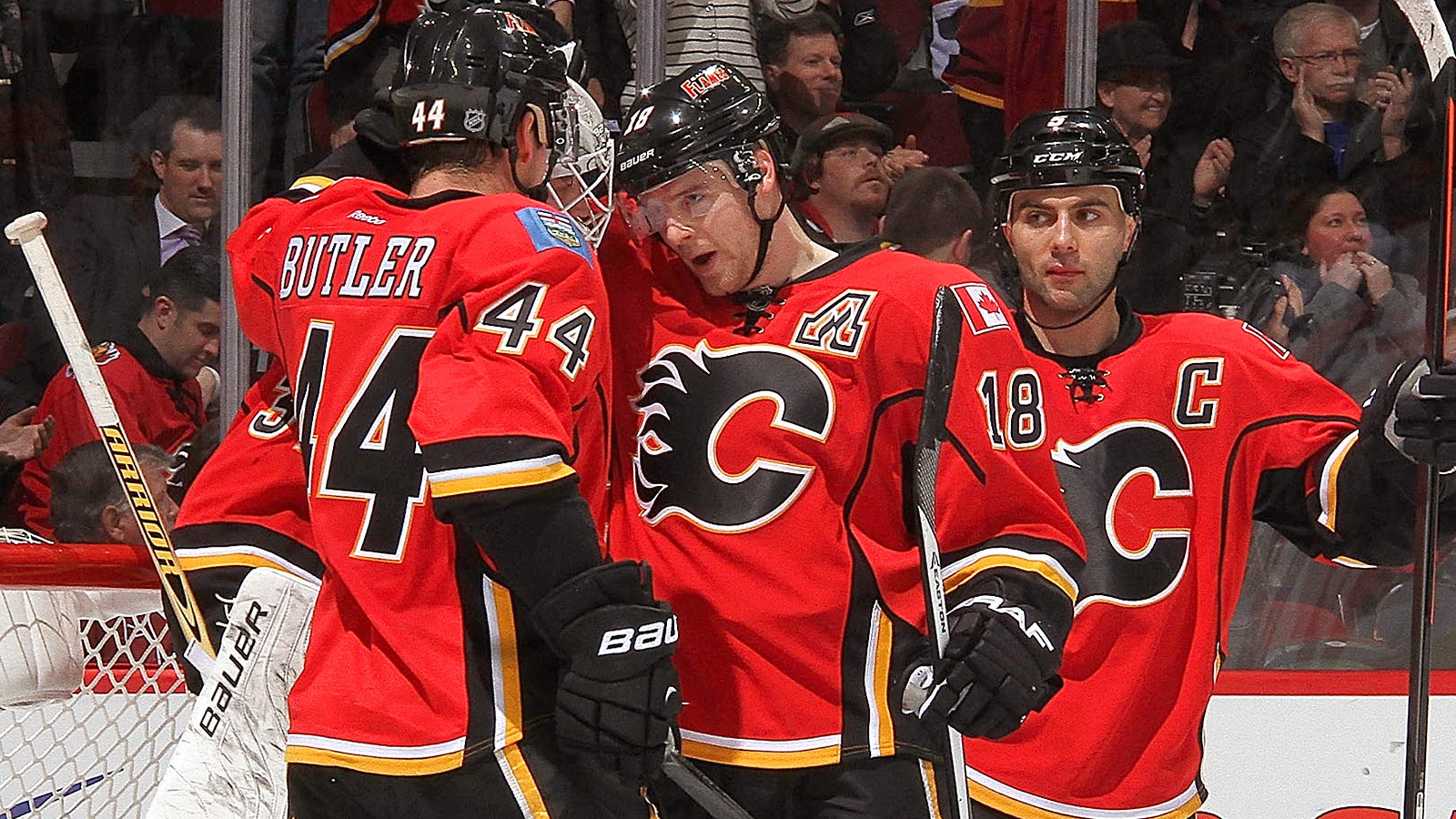 Flames beat Coyotes to snap seven-game home losing streak
BY foxsports • January 23, 2014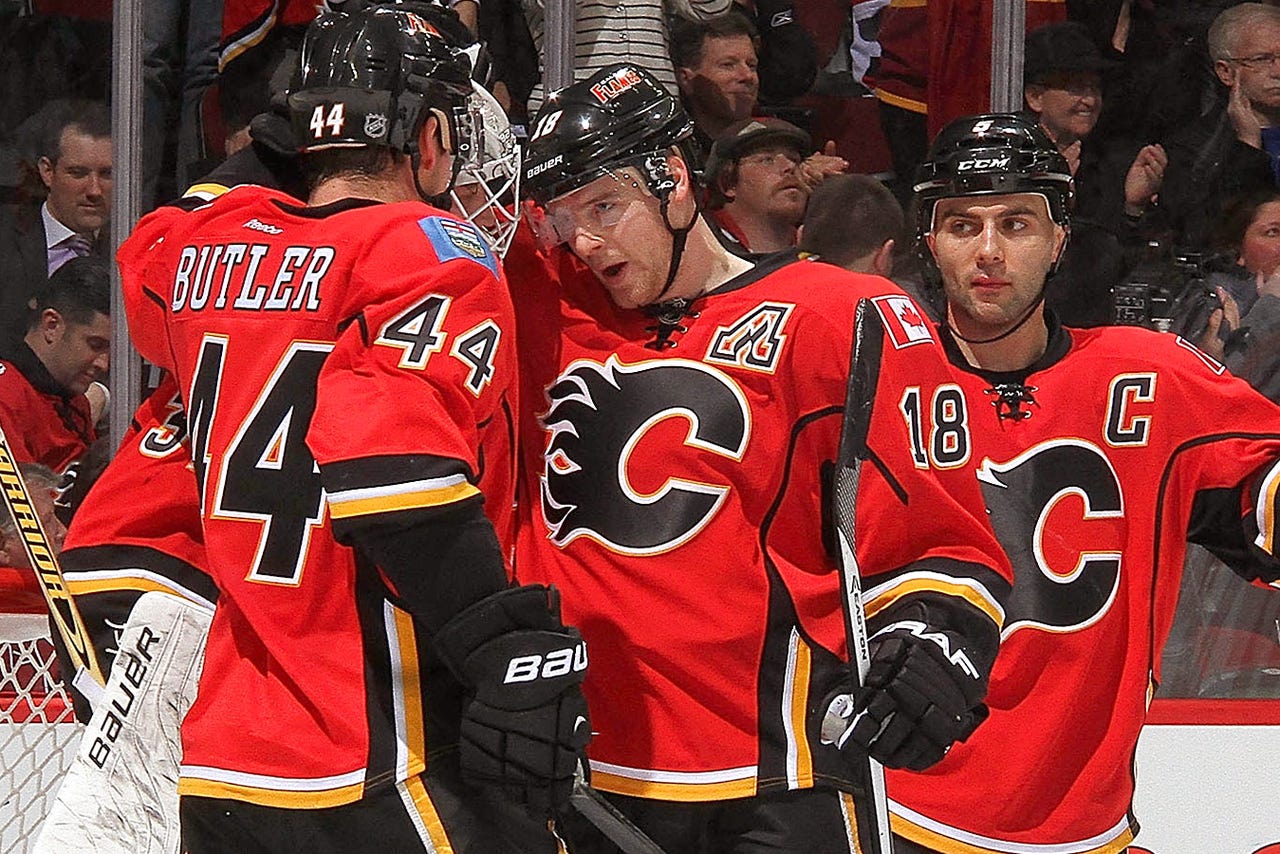 CALGARY, Alberta (AP)
Sean Monahan got the Calgary Flames off to good start and they finally ended weeks of frustration at home.
Monahan scored his team-leading 14th goal of the season and Matt Stajan got the game-winner as the Flames beat the Phoenix Coyotes 3-2 Wednesday night to snap their team-record seven-game home losing streak.
''We have great fans so we want to play hard for them and win games for them,'' Monahan said. ''Together as a group, we know we can be better than we were and that's what we're working towards.''
Monahan opened the scoring at 11:44 of the first period, marking the first time in nine home games Calgary scored first. The Flames hadn't held a lead in a home game since Dec. 12, the day former general manager Jay Feaster was fired.
''It was nice to get one early and we started to build off that,'' the 19-year-old Monahan said after moving past Mike Cammalleri and Jiri Hudler for the team lead in goals. ''It was a big moment in the game for us and that helped us carry momentum throughout the game.''
Lance Bouma also scored for Calgary, which scored more than two goals for the second time in 14 games since Christmas and had been outscored 22-4 during its home skid.
''We can take a lot defensively from this game, especially with their D that are so active,'' Stajan said. ''We have four more games here at home and we want to make sure we keep at it.''
Karri Ramo finished with 30 saves for the Flames.
Antoine Vermette and Shane Doan scored for Phoenix, which has lost eight of its last 11. The Coyotes remained four points behind Minnesota for the second wild card spot in the Western Conference.
''It's challenging but the guys that have been around long enough in this league know that you're going to hit those stretches in a season,'' Vermette said. ''It's how you manage to get out of it.''
Stajan's score with just under 4 minutes remaining in the second put the Flames up 3-1. Stajan, fresh off signing a four-year contract extension two days ago, slapped a 40-footer past Phoenix goalie Mike Smith.
Phoenix got back to within one when Doan snapped a shot past Ramo at 6:50 of the third period. Despite a couple dangerous chances in the waning seconds after pulling Smith for an extra attacker, the Coyotes could not tie it.
''We've faced some tough times. But the last few home games, we've been playing really good too, especially against Pittsburgh we played really good and we haven't got the reward,'' Ramo said. ''We deserved to win today.''
Monahan's goal was set up by TJ Galiardi's hustle. After winning a race to the puck deep in the Coyotes' zone, Galiardi promptly zipped the puck in front where Monahan tapped it in behind Smith.
''A pretty incredible play,'' Monahan said. ''He showed his speed to get to the puck and win that race. It was an unbelievable pass to get it over and lucky enough, I finished it.''
Monahan, the sixth overall pick from last June's NHL draft, is third in rookie goals behind Colorado's Nathan MacKinnon (17) and San Jose's Tomas Hertl (15).
Ramo was especially sharp in the opening 20 minutes when Phoenix outshot the Flames 11-6 but trailed 1-0.
Bouma made it 2-0 at 8:48 of the second period on a perfectly executed fast break. Curling out from behind his own net, TJ Brodie threaded a long pass to Bouma at the Phoenix blue-line. In behind the Coyotes' defense, Bouma darted in and snapped a perfect shot into the top corner.
Vermette cut the lead to 2-1 on a short-handed goal less than 5 minutes later, beating Ramo on a one-timer just inside the goal post.
''We've been down lately in a lot of games and we've got to be better,'' Doan said. ''If you look at our record, we've been average if that and we've got a lot better team than an average team.''
Smith finished with 23 saves.
NOTES: Flames LW Mike Cammalleri (concussion) missed his sixth game. Also out for Calgary was LW Paul Byron (foot). ... Missing for Phoenix was C Martin Hanzal (lower body), who missed his second game and D David Schlemko (upper body). Both are day-to-day. ... Calgary's only two regulation wins in the last 21 home games have come against the Coyotes. They also beat Phoenix 4-1 on Dec. 4. ... After 48 games without one, the Coyotes scored a short-handed goal for the second consecutive game.
---
---