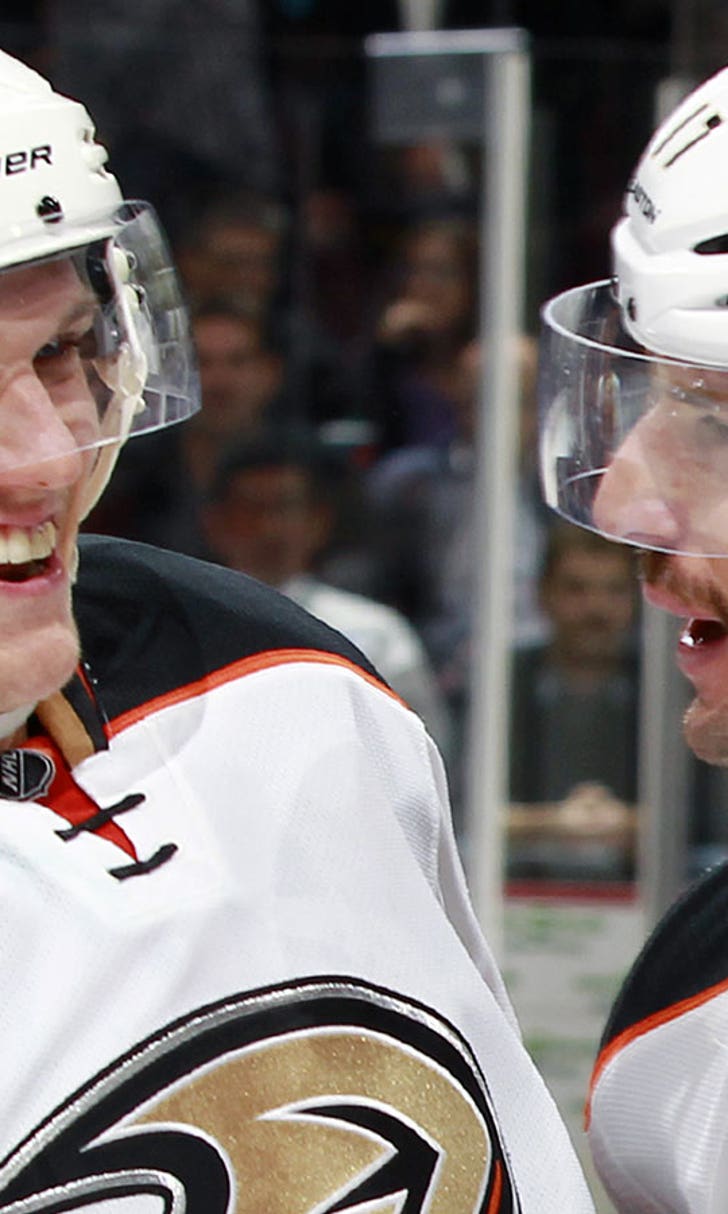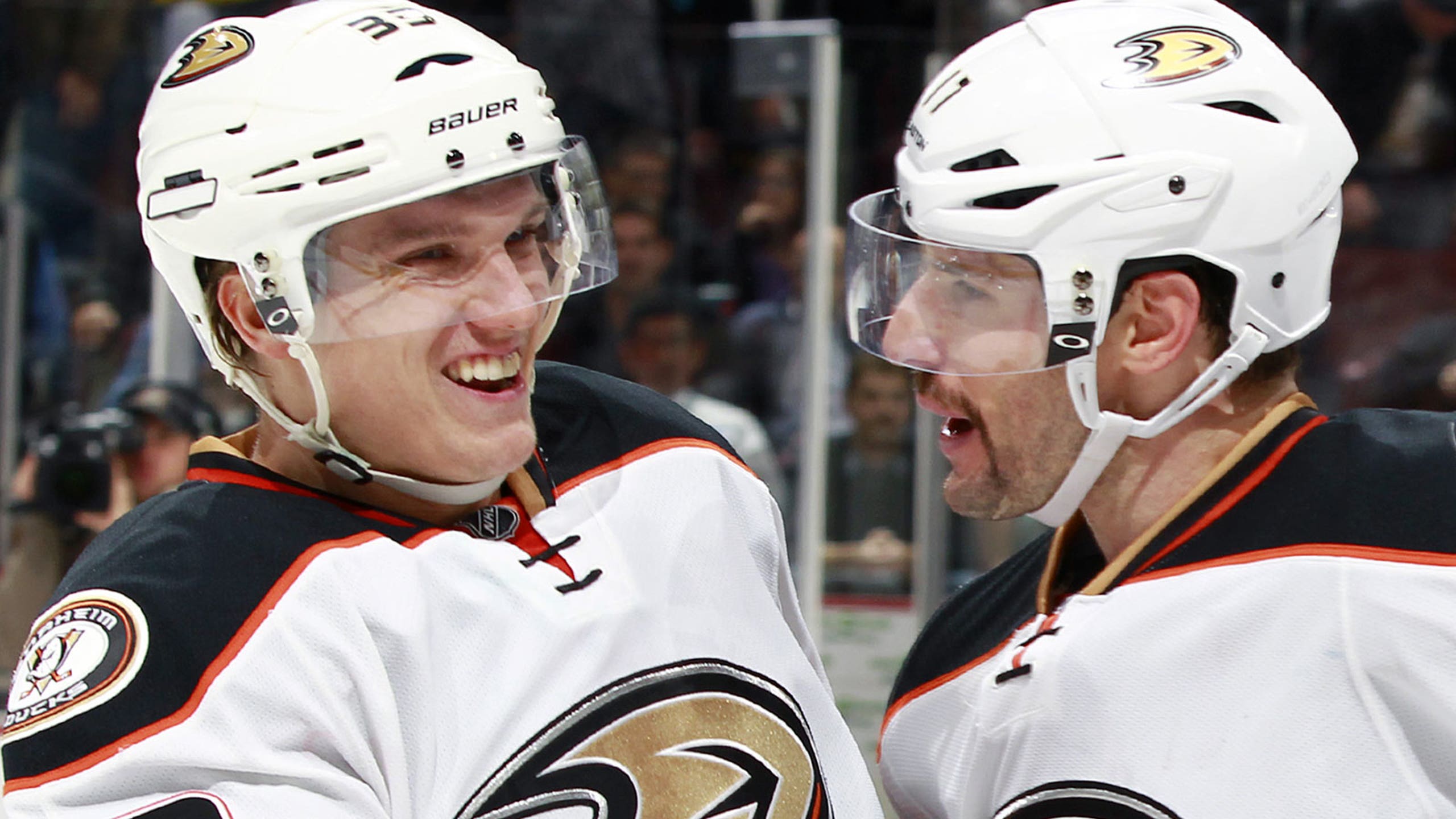 Ducks go to shootout to come away with win over Canucks
BY foxsports • November 21, 2014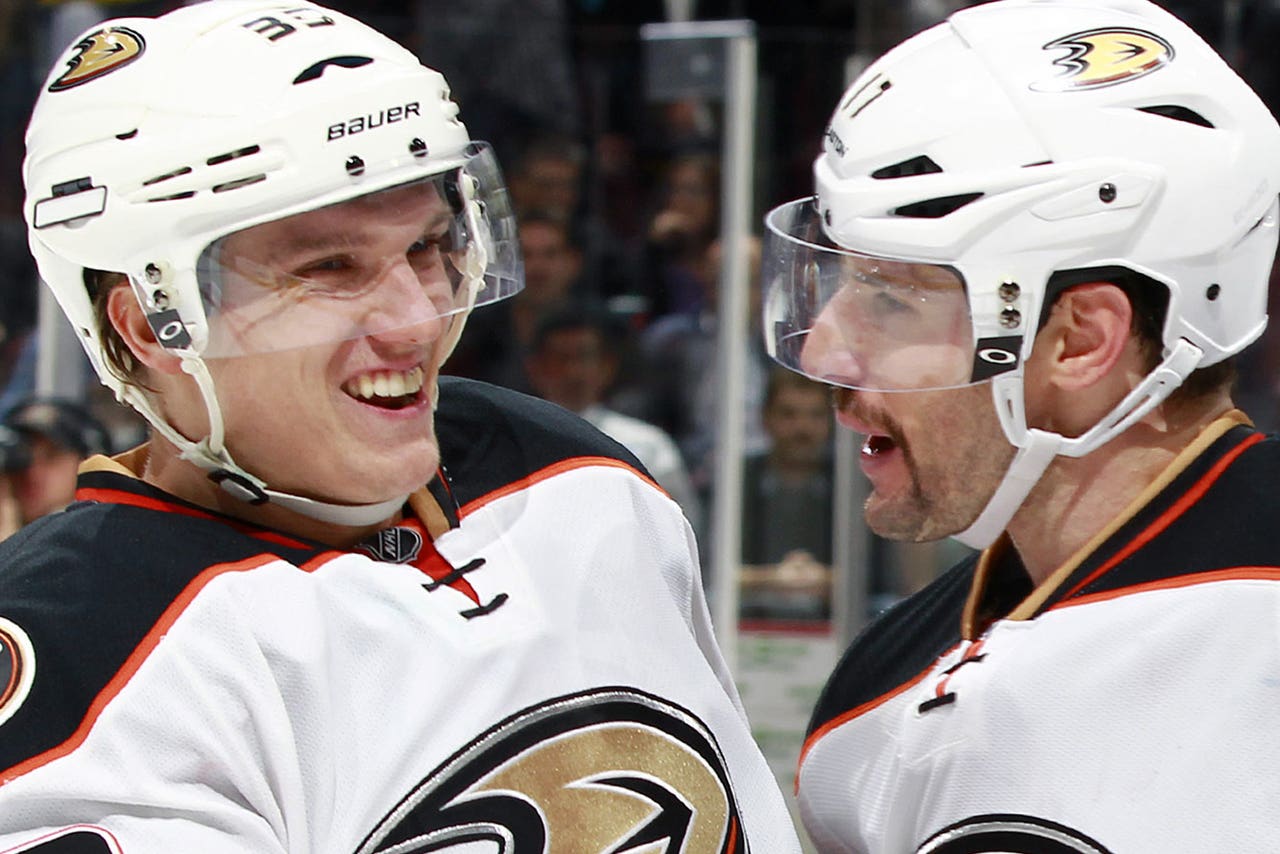 Bo Horvat had a night to remember. Ryan Kesler had one to forget upon his return to Vancouver.
It all ended well for Kesler, however, as he and the Anaheim Ducks edged his former Canucks teammates in a 4-3 shootout victory on Thursday night.
The loss, which prevented the Canucks from overtaking the Western Conference-leading Ducks, made the rookie Horvat's first NHL goal and point a bit bittersweet.
"You definitely want to win when you score your first NHL goal or you get your first point," he said. "But I thought we battled hard."
Corey Perry scored the shootout winner for the Ducks, who squandered an early two-goal lead and then rallied to force overtime.
Perry's goal on Anaheim's first shootout attempt was the only one the Ducks needed. They got another from Jakob Silfverberg after Vancouver's Radim Vrbata and Nick Bonino failed to score.
Kesler received little love in his first game in Vancouver since being traded to the Ducks in the summer. Fans showed no reaction at the start of the game when he was shown on the scoreboard with the caption "Welcome back Ryan."
He was booed in the second period, overtime and the shootout.
"Let's just say I'm glad it's over with," he said. "Get back to the sunshine and enjoy it. Get back home."
Kesler called his return to Vancouver, after giving his "heart and soul" to the Canucks for 10 seasons, a "weird" experience.
"Seeing old teammates and seeing old friends, just coming back to this city was emotionally draining," he said.
Horvat and Canucks fans also had an emotional night as the Ducks (12-4-5) earned their first win in five games. The Canucks lost for the second time in three games.
Anaheim avenged a Nov. 9 home shootout loss to Vancouver.
"It wasn't perfect, but we found a way to win," Perry said. "That's what we have been trying to do."
Andrew Cogliano, Ryan Getzlaf, and Matt Beleskey had goals for Anaheim, which led 2-0 after the first period but trailed 3-2 after the second.
Jannik Hansen and Vrbata scored the Canucks' other goals in regulation -- 30 seconds apart in the second period.
The Canucks (13-6-1) lost their first one-goal game this season, becoming the last in the NHL to do so.
"I thought we had a good first period," said coach Willie Desjardins, who was pleased with his club's effort in the second of back-to-back games. "They scored on their first shift, so it's hard to say where we were at on that. But I thought the rest of the first period we played pretty well.
"They made a great play for their second goal."
The Canucks outshot the Ducks 28-26, but Anaheim held a 5-1 edge in overtime.
The Ducks were blanked on three power plays. They didn't register a shot on their second or third opportunities.
Vancouver had only one power play, as a result of a cross-checking penalty to Kesler at the end of the first period.
The Canucks got off to a rough start as a wide-open Cogliano tucked in a loose puck after it caromed off skates, 37 seconds into the game.
On the Ducks' second shot, Lack was forced to stop Getzlaf's one-timer and watched as the Canucks made a series of defensive lapses.
Then, with the game barely a minute and a half old, the Canucks lost defenseman Dan Hamhuis to a leg injury after he clipped skates with teammate Daniel Sedin.
Desjardins said he expects Hamhuis to be out for "a little bit."
Getzlaf put the Ducks ahead 2-0 at 13:10 of the first when he roofed a backhand following a give-and-go with Patrick Maroon.
Kesler scuffled with Derek Dorsett and Horvat at the end of the first.
The two Canucks then teamed up at 3:08 of the second, making it 2-1. Horvat scored on a one-timer from the slot off Dorsett's backhand pass.
"It was awesome," the 19-year-old Horvat said. "It's definitely something I'll never forget. (Dorsett) and (Zack Kassian) made a great play to get (the puck) over to me.
"I blacked out a little but after that, but I was definitely happy."
Vancouver turned its deficit into a 3-2 advantage midway through the second as Hansen, on a slap shot, and Vrbata, with a backhand deke, scored.
Beleskey made it 3-3 at 11:52 of the third when he jammed in his own rebound.
NOTES: Canucks forward Alex Burrows missed the game due to an undisclosed injury. ... Earlier Thursday, the Ducks traded defenseman Bryan Allen, a former Canucks player, to Montreal for forward Rene Bourque. The Canucks also made a trade, completing a swap of centers as minor-leaguer Kellan Lain went to Edmonton for Will Acton.
---
---