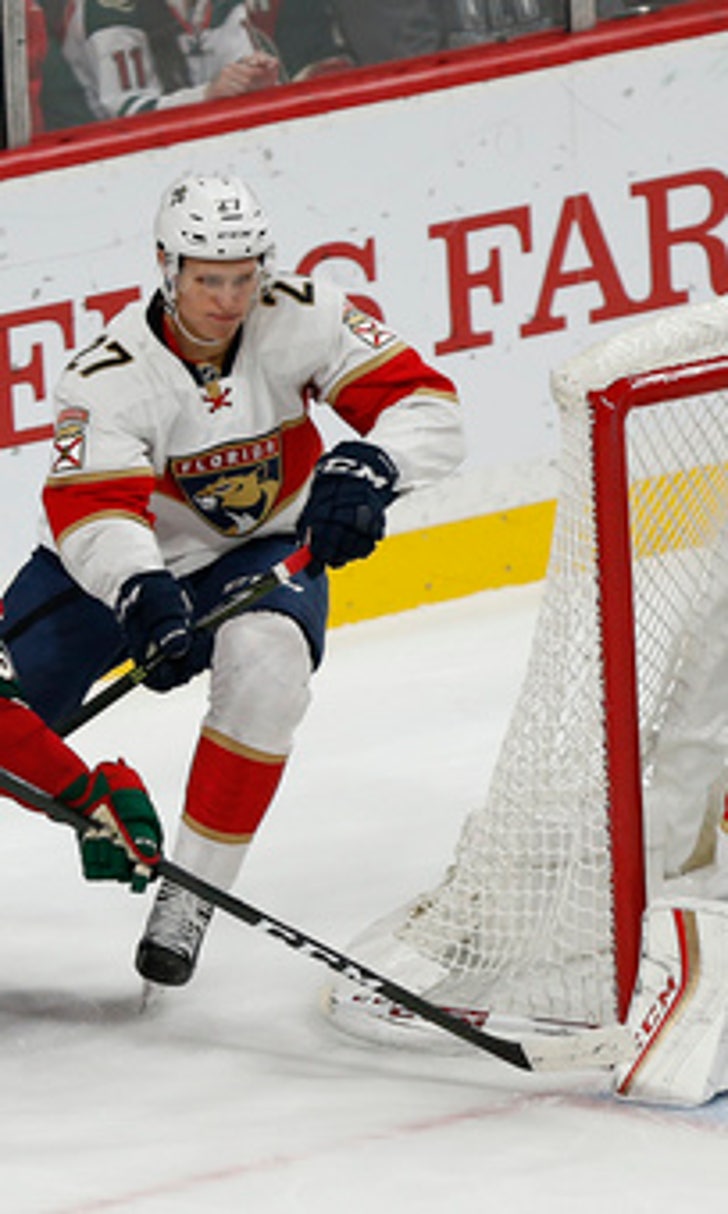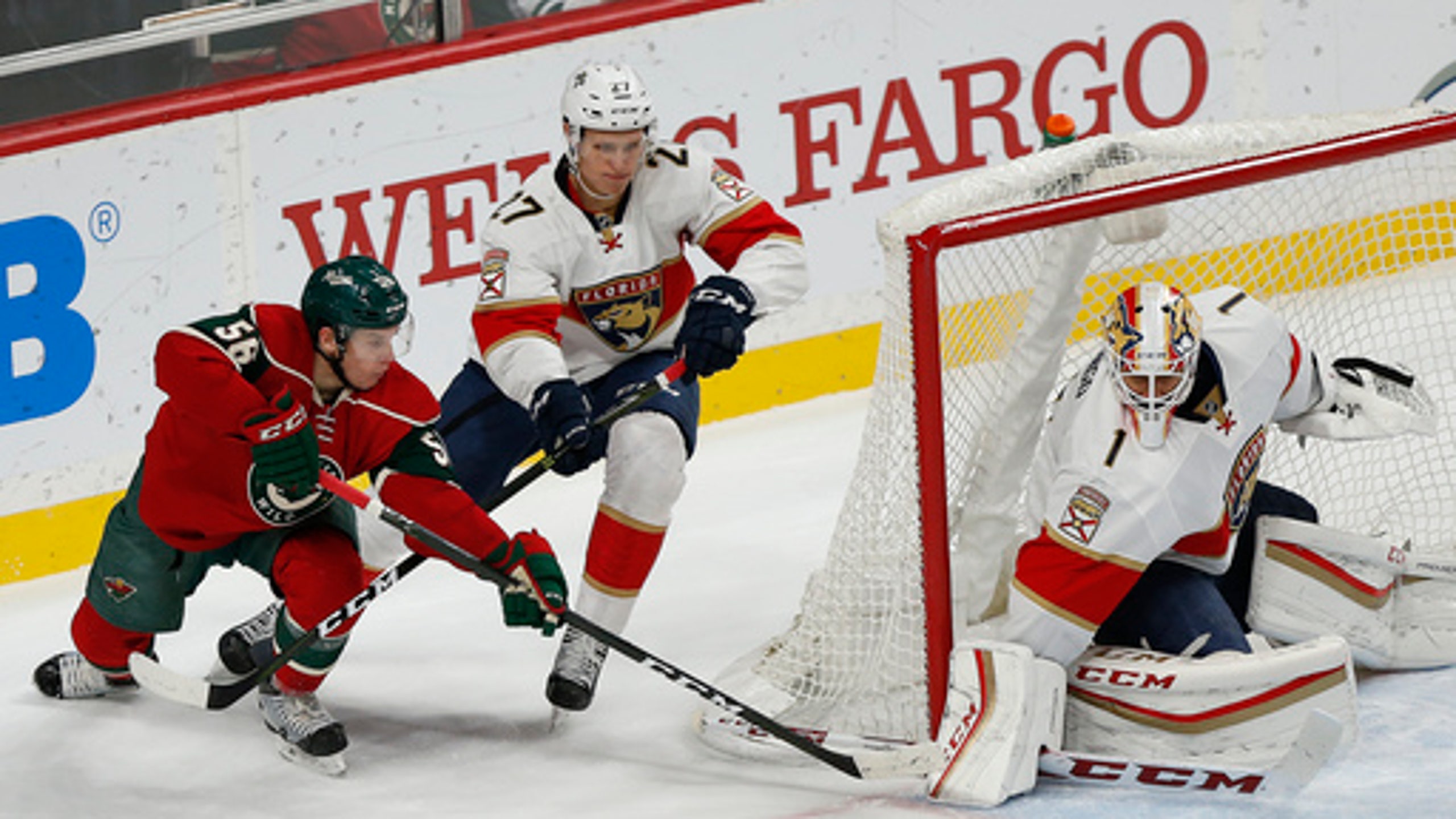 Dubnyk, 5 goal scorers push Wild over Panthers 5-1 (Dec 13, 2016)
BY AP • December 14, 2016
ST. PAUL, Minn. (AP) After six straight one-goal games and a seventh which was tight before an empty-net goal, the Minnesota Wild got the chance to breathe easier at the end of a game.
Devan Dubnyk made 29 saves and five players scored a goal each as Minnesota won its fifth straight game, 5-1 over the Florida Panthers on Tuesday night.
Zach Parise, Erik Haula, Eric Staal, Mikko Koivu and Jason Zucker scored for the Wild, who have points in 10 of their last 11 games. Zucker added an assist, and Jason Pominville and Jonas Brodin each had two assists for Minnesota, which has seen 18 of its 28 games this season decided by one goal.
''Nice to not have one come down to the wire with someone pulling their goalie and a one-goal game,'' Parise said. ''You hope that we can have more of those. We know that's not always easy, but that's what we're trying to do.''
Florida goaltender Roberto Luongo's regrettable history in Minnesota continued as he stopped 12 of 17 shots before being pulled midway through the third period. Luongo is 0-7 and has been pulled in four of his last seven games at the Xcel Energy Center.
James Reimer stopped all five shots he faced in relief of Luongo. Dylan McIlrath scored his first goal of the season for the Panthers, who have one win in their past six games.
''It's a bad loss,'' Florida interim coach Tom Rowe said. ''Guys have got to understand that if you're going to play in the National Hockey League you've got to show up every single day, can't show up when you feel like it.''
Dubynk is 7-0-2 in his last nine games and leads the league in goals-against average and save percentage. Since making his Wild debut on Jan. 15, 2015, Dubnyk leads all NHL goaltenders in shutouts, save percentage and goals against-average while placing second in wins in that span.
The Panthers thought they had pulled within a goal midway through the second period when Kyle Rau scored off Dubnyk's skate. A video review showed Derek McKenzie was offside and the goal was waved off.
Florida was also 0 for 5 on the power play.
''Obviously you learn from every game, but this was a tough one,'' Panthers center Nick Bjugstad said. ''We knew they play a tight style and they capitalize on chance. I think we had more shots but that doesn't mean anything when you give up odd-man rushes and they capitalize on them.''
Staal scored his seventh goal 67 seconds after the reviewed goal to make it 3-0. Pominville passed to a streaking Staal for a breakaway. Luongo got his blocker on the initial shot, but Staal followed by batting the puck out of the air.
Parise opened the scoring in the first period with his first goal in eight games. He has five on the season and three in 11 games since returning from injury.
''We need to keep climbing,'' Dubnyk said. ''It's exciting to be in this spot with games at hand, as well, and again those games don't matter unless we win them, but it's still a good situation to be in and winning is fun so you just got to keep doing it.''
NOTES: Luongo is 3-12-1 all-time at the Xcel Energy Center. He entered with a goals-against average of 3.21 and .884 save percentage in Minnesota. ... Wild D Christian Folin returned to the lineup after missing seven games with a sprained MCL in his left knee. ... Florida D Keith Yandle played in his 581st consecutive game, surpassing Johnny Wilson for sole possession of the ninth-longest streak in NHL history. ... Minnesota F Kurtis Gabriel had to retreat to the locker room following a first-period fight with McIlrath. Gabriel's jersey ripped nearly the length of his back, splitting the numbers. It was Gabriel's fourth fight in six games since being recalled from the AHL.
UP NEXT
Panthers: The second game of their three-game trip is Thursday in Winnipeg.
Wild: They are at Nashville on Thursday.
---
---