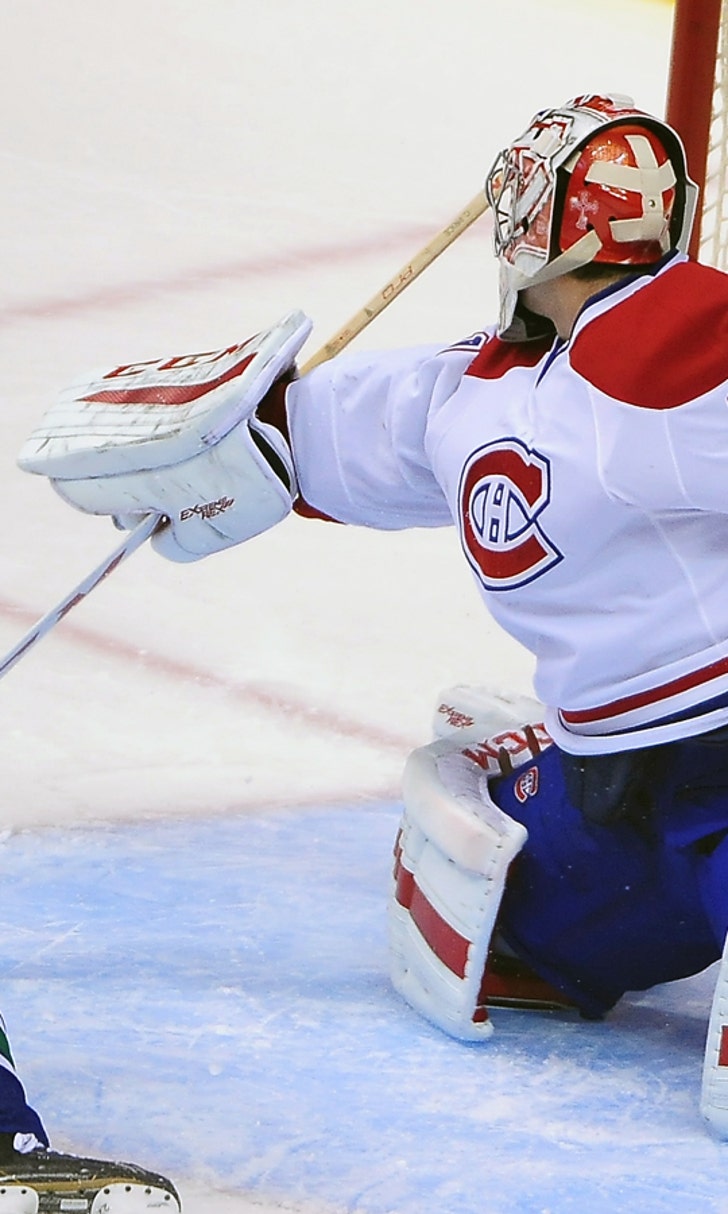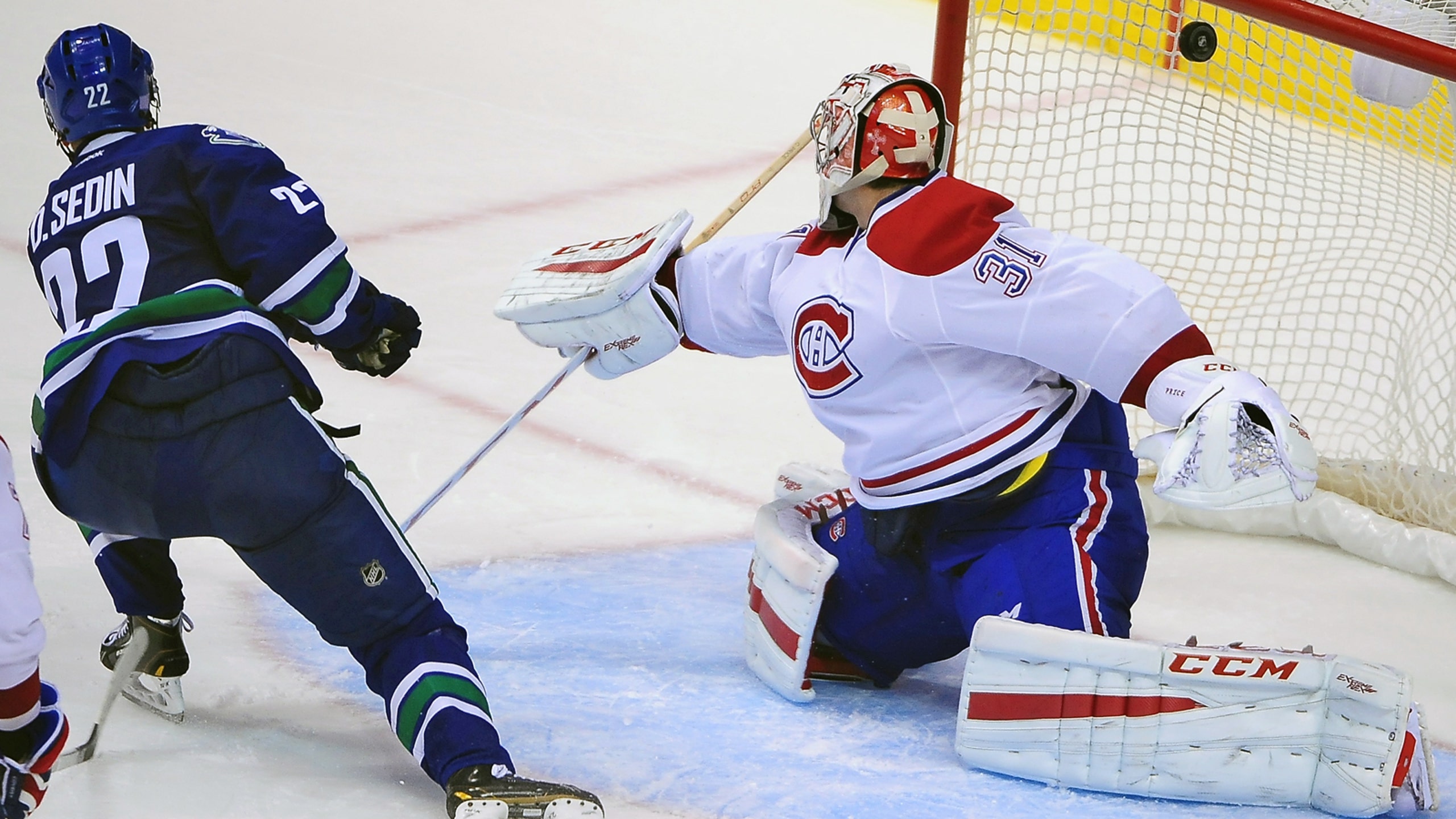 Daniel Sedin scores in OT to give Canucks win over Canadiens
BY foxsports • October 31, 2014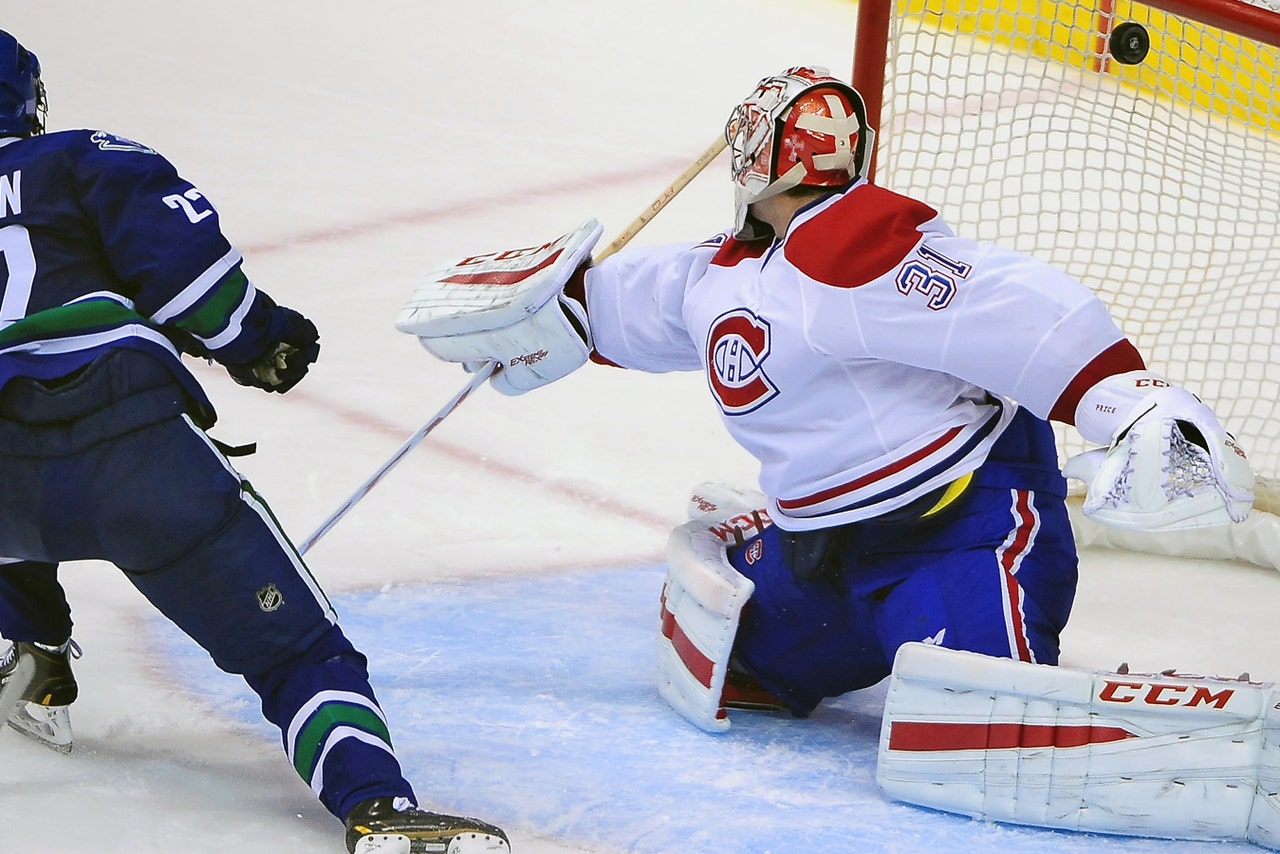 Daniel and Henrik Sedin weren't in top form until it mattered most.
Daniel took a delicate feed from twin brother Henrik off the rush and roofed a shot past Montreal goalie Carey Price on the power play at 2:45 of overtime to give the Vancouver Canucks a 3-2 victory over the Canadiens on Thursday night.
Daniel Sedin's third goal of the season came after the Canucks squandered a 2-0 lead in the third period. The twins were both on the ice together when Max Pacioretty's tied it with 2:33 left in regulation.
"Our line can play better," Henrik Sedin said. "We really should have won this game after 60 minutes."
The winning goal was scored 1:55 into an interference penalty assessed to defenseman Tom Gilbert. Daniel Sedin swooped in and ended the entertaining, fast-paced affair.
"When their game's not a good game, it's still not a bad game," Canucks coach Willie Desjardins said of the Sedins. "Maybe it wasn't quite to their standards, but it was a pretty good game."
Daniel Sedin was satisfied with the result, too.
"You should not give up a 2-0 lead at home, (but) it happens," he said. "We stuck with our game plan and it paid off."
Nick Bonino and Brad Richardson scored for Vancouver (7-3). Ryan Miller made 23 saves.
Alex Galchenyuk also had a goal for Montreal (8-2-1), and Price stopped 27 shots.
"I like the way we competed," Canadiens coach Michel Therrien said. "We never gave up, and gave ourselves a chance to win this hockey game with the comeback."
Richardson gave Vancouver a 2-0 lead 2:17 into the third period off the rush, ripping a shot over Price's glove. It came a few minutes after teammate Alexandre Burrows hit the post.
Montreal cut the deficit to 2-1 at 12:11 when Galchenyuk tipped in his fourth goal of the season off a shot from P.K. Subban.
The Canucks argued that Miller had been interfered with by Brendan Gallagher in the crease, but the goal stood.
Montreal tied it late when former Canucks forward Dale Weise made a nice pass to Pacioretty, who scored from the slot for his fourth of his season.
"I thought we played a pretty good third period for quite a bit of it," Desjardins said. "That's the way the game goes sometimes. Montreal is a good team. They're creative and they put lots of pressure on your defense."
After a scoreless first, the Canucks grabbed the lead at 8:29 of the second.
Montreal defenseman Alexie Emelin made a pass up the middle that was intercepted by Bonino to create a 2-on-1 the other way with Derek Dorsett. Burrows drilled an off-balance Emelin with a high check after he released the puck, appearing to make contact with his head.
There was no penalty called, and as Emelin lay on the ice, Bonino fed Dorsett, who returned it to Bonino for his fourth goal.
Emelin left for the rest of the period but returned in the third.
"I was trying to finish my check, and my intent was not to hurt him," said Burrows, who said he didn't think the hit was late. "Obviously, you never want to hurt someone, and I'm glad he came back.
"I'm not going to speculate on what people are going to say. My intent was not to hurt him."
Therrien wasn't too forgiving after the game.
"We all saw the hit to the head on Emelin, and instead of having a power play of five minutes, the puck is in your own net," he said. "That was a dirty hit to the head."
NOTES: Vancouver will visit Edmonton on Saturday before hosting Nashville on Sunday. ... Montreal will welcome Calgary on Sunday. ... The Canadiens will host the Canucks on Dec. 9 in the only other meeting between the teams this season.
---
---