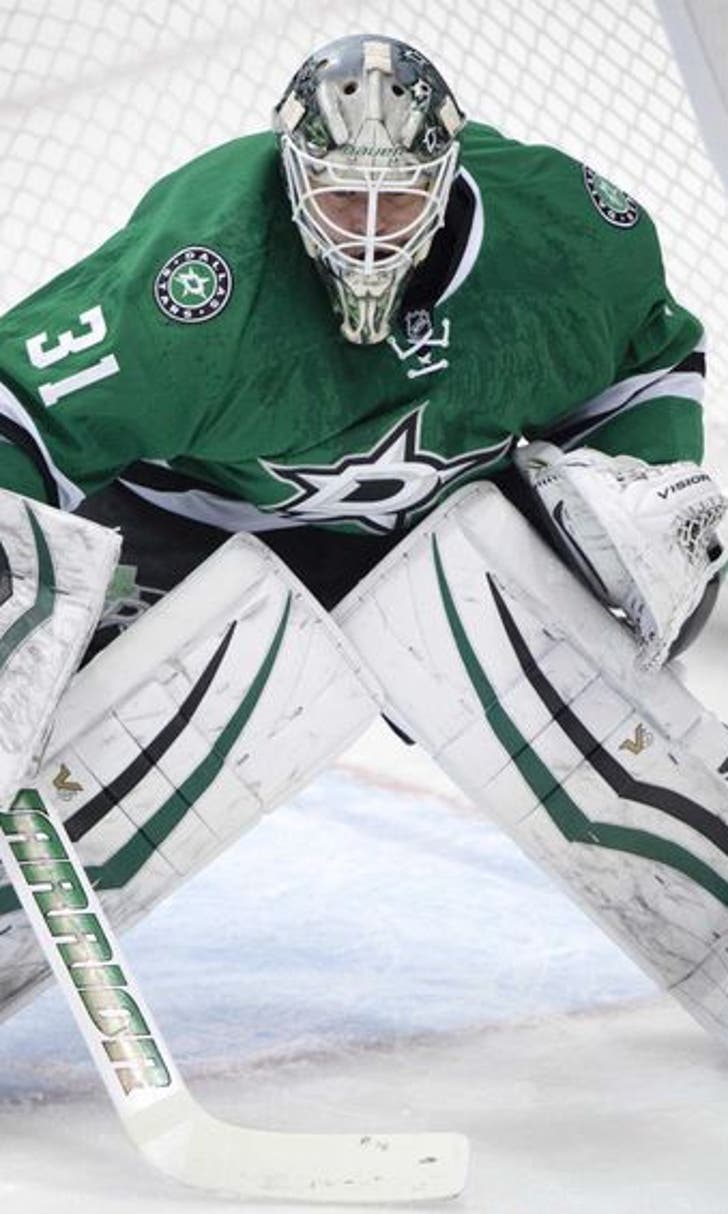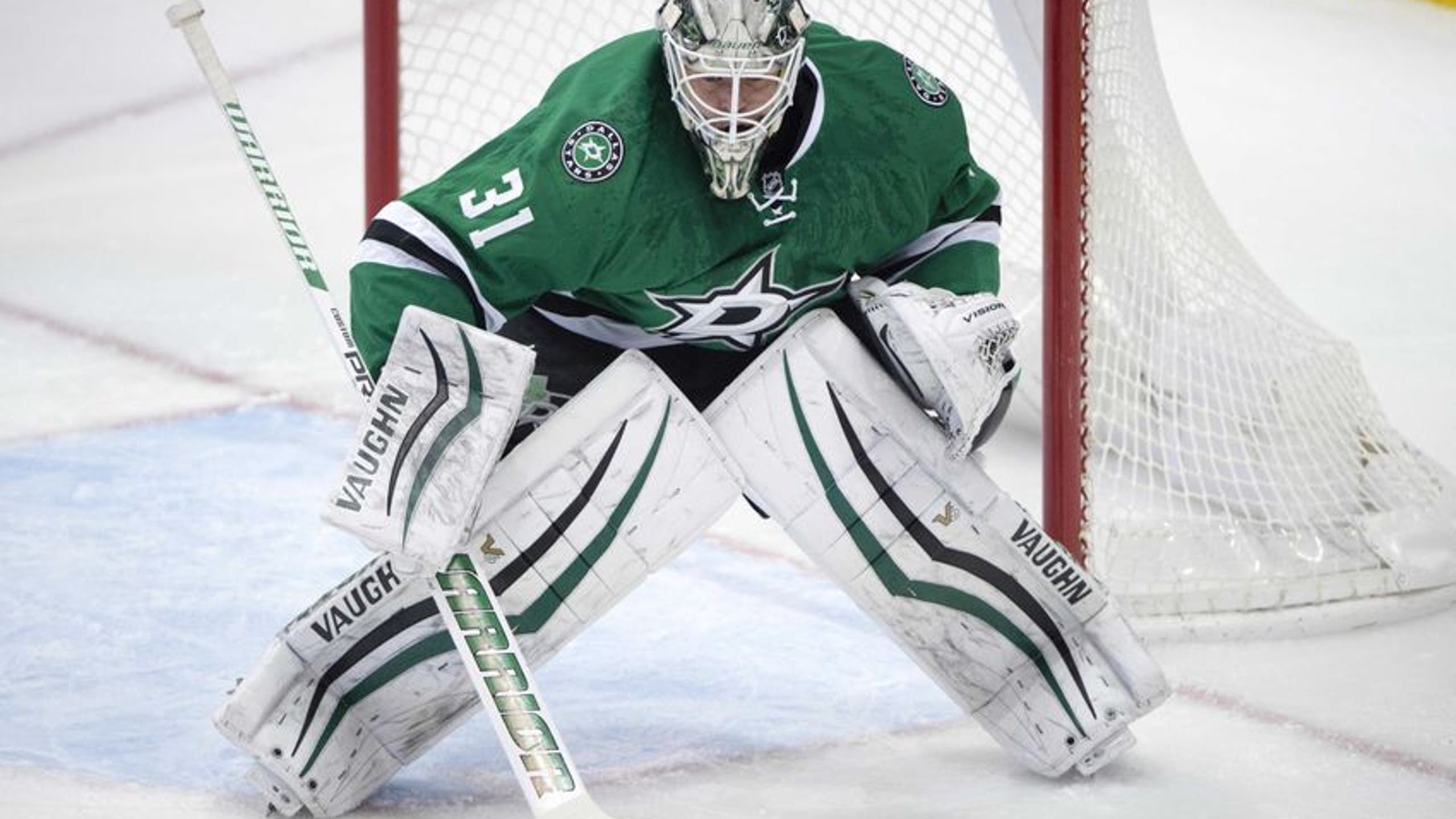 Dallas Stars Need To Turn Crease Over To Antti Niemi
BY Fansided and Josh Clark/FanSided via Blackout Dallas • December 14, 2016
The Dallas Stars' two-goalie tandem is showing significant upside this season. With the homestand still on full blast, the Stars need to give the reins to one goalie in particular.
72 inches wide by 48 inches tall. These are the dimensions of an NHL regulation-size net. That's also how much space an NHL goalie has to cover during a game. Six total feet across by four feet high.
That's a lot of space to keep up with considering the puck is only three inches in diameter.
Yet some NHL goalies seem to stop it with ease. And then there are others who don't. Last night's game between the Dallas Stars and Anaheim Ducks was a perfect example of this scenario.
Surely there are some goals that are not the goaltender's fault, but the fact of the matter is that the goaltender always has the last say. He's the ultimate Gandalf, deciding which shots pass and which ones don't (sometimes unwillingly).
In last night's contest, the Stars used every exposed inch of that goal frame and started their homestand off with a bang by mauling the Ducks 6-2.
stars
Blackout Dallas 7wDallas Stars Prepare To Host Emotional Hockey Fights Cancer Night
More headlines around FanSided:
12w - Dallas Stars Lose Radek Faksa To Injury In World Cup12w - Dallas Stars: World Cup Action In Full Swing13w - Dallas Stars Updates: Breaking Down Tyler Seguin's Injury13w - Dallas Stars Pull Tyler Seguin From World Cup Due To Injury13w - Dallas Stars Hopping On WCH Stat Sheet EarlyMore News at Blackout Dallas

6-2. Going into the game Dallas had only scored more than four goals in a game on three separate occasions throughout the 2016-17 season that had already been composed of 30 games. It was only their second time this season to score six goals.
This team has really seen a shift from last year when four and five goals were almost expected on a nightly basis. The Stars had a powerhouse offense consisting of Jamie Benn, Tyler Seguin, Jason Spezza, Patrick Sharp, and Ales Hemsky, along with some valuable bottom-six forwards, and were like a well-oiled machine when it came to scoring.
This year, not so much. Dallas has only averaged 2.60 goals per game. And while they have missed two key components of last year's offense in Sharp and Hemsky for the majority of the season, they still possess a very dangerous core. They finally showed it off yet again last night.
But their offensive struggles could very well be considered the one reason that the Stars are struggling to stay afloat in the standings race right now. Dallas is 12-13-6 on the year with 30 points and sits fifth in the Central Division. That's quite a fall from when they were first place in the league around this time last year.
Now they can't outscore their problems, so there is more reliance on a young and shaky defensive group and the goaltending tandem.
But let's go back to looking at the 6-2 final tally. When people look at that, their first thought is, "Wow, the Stars offense was on fire and really helped them put that game away in big fashion."
If you look a little closer though, your first thought would probably be, "Oh my word. Antti Niemi had himself a game yet again and is the one reason Dallas won that game."
Niemi stopped 34-36 shots last night from the Ducks and limited their high-flying offense to just two goals, both of which were caused by errors by the defense.
He stopped a breakaway from Corey Perry, a three-on-one opportunity, a few different top-grade chances from the slot, and helped kill off 2:24 of 5-on-3 penalty time for the Ducks. In other words, he was absolutely brilliant.
He did all of this after being benched for 12 days and five straight games in which his partner Kari Lehtonen bore the load. In other words, he was absolutely brilliant. But don't take my word for it. Listen to the Stars captain.
"He played an unbelievable game," Stars captain Jamie Benn said of Niemi after the game. "That breakaway at the end of the first, two five on threes, and a lot of big saves. He kept us in it until we found a way to take advantage, find opportunities, and put our opportunities away. He played a heck of a game and there was no surprise that he was the first star."
Niemi finished the night with a .944 save percentage. He also bumped up his home record to 6-1-1 on the year. While at the AAC this season, Niemi has a 1.99 GAA and a .938 save percentage.
With that being said, the Dallas Stars really need to give Niemi the crease, at least until Christmas. The Stars play four more big games at home between now and December 23rd, and Niemi has proven that he gives them their best chance at winning them.
The Stars have some stiff talent coming to town, including the New York Rangers on Thursday and Philadelphia Flyers on Saturday. The Rangers own the third best record in the league and the Flyers have won nine straight games. Talk about some Eastern Conference dominance.
Dallas proved last night that their effort isn't going to be perfect. It may not even be an A-minus level. They are going to make some mistakes and in some games it will take some time before they can produce. That being said, they will need a goalie that can make sure that the wind won't be taken out of their sails early. Niemi has proven that he can be that goalie.
If Niemi can be that guy, he will go a long way in helping quiet down the rest of the "tandem haters" that have been circling around since the beginning of the Stanley Cup Playoffs last year.
It's already been said a thousand times it seems, but the Stars' season could be hinged on this homestand. Are they ready to make the comeback? Tuesday night's performance says so. But that's just one game, and the homestand has a lot more in store over these next few days for Dallas. If Niemi can keep his streak rolling, the Stars could be back in the top three in the Central before we know it.
As Niemi said last season after the final game of 2015 (a 4-1 win over the Nashville Predators), "Yeah, it's always nice to win." Have truer words ever been spoken?
More from Blackout Dallas
This article originally appeared on
---
---