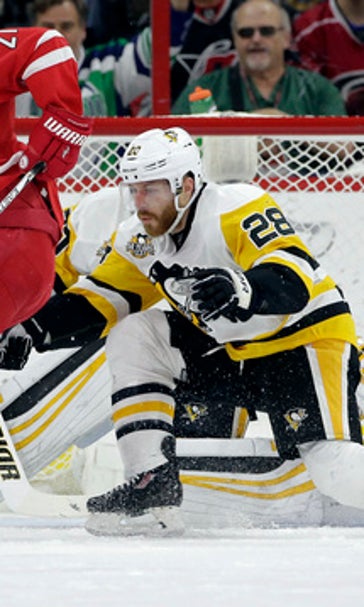 Crosby's power-play goal lifts Penguins past Canes 3-1 (Feb 21, 2017)
February 21, 2017

RALEIGH, N.C. (AP) Sidney Crosby and Evgeni Malkin spent more time in the penalty box than usual for the Pittsburgh Penguins.
They made up for it by scoring a couple of important goals.
Crosby got the go-ahead goal on a deflection in the second period, Malkin added an insurance goal in the third and the Penguins beat the Carolina Hurricanes 3-1 on Tuesday night.
''They're always able to get us a goal when we need it,'' winning goalie Matt Murray said.
Scott Wilson also scored to help the reigning Stanley Cup champions bounce back from their only regulation loss since the All-Star break. Pittsburgh moved three points behind East-leading Washington and is 7-1-3 since the break.
''Once we got going tonight, we dominated,'' Murray said.
Malkin was called for three penalties - including one immediately after he skated out of the box - and spent six minutes in there for the third time this season. Crosby had just his second two-penalty game of the season and first since November.
''We got into some penalty trouble and took a lot from our momentum and getting the start we wanted,'' Crosby said. ''It took us a while, but we finally got a lead.''
Jeff Skinner scored for the last-place Hurricanes, who have their second five-game losing streak in the past five weeks. They have been outscored 19-4 during the current slide.
''You stay with it - it's our job to stay with it,'' Skinner said. ''You go through ups and downs throughout the season. You go through stretches where ... everything seems to be bouncing your way. And then you go through stretches that are the opposite. We'll keep staying with it, keep trying to generate chances like that and things will hopefully pay off for us in the end.''
Murray made 29 saves for the Penguins while Cam Ward stopped 19 shots for Carolina.
The Penguins took advantage of 64 seconds of a 5-on-3 advantage late in the second with Sebastian Aho and Viktor Stalberg in the box. Phil Kessel skated in from the blue line and ripped a straightaway shot that clipped Crosby on its way past Ward to make it 2-1 with 3:39 left in the period.
Consider it a barometer goal: Pittsburgh is 25-0 when leading after two periods, while Carolina is 4-16 when trailing after 40 minutes.
''I think it's important that you know how to finish games and you know how to play with a lead,'' Penguins coach Mike Sullivan said. ''I think our team knows how to do that.''
Malkin added an insurance goal midway through the third to make it a two-goal game, while Murray stopped all six shots he faced in the final period.
The Penguins went up 1-0 just 2:15 in when Wilson, parked in front of Ward, deflected Patric Hornqvist's shot past the goalie. The Hurricanes tied it with 12 minutes left on a power play after Lee Stempniak snagged Matt Cullen's turnover in front of Murray to set up Skinner's goal - just his third since Jan. 13.
NOTES: Sullivan said D Trevor Daley suffered a lower-body injury and will be evaluated when the team returns to Pittsburgh. ''We're hopeful that Trevor, it won't be anything significant,'' Sullivan said. ... Skinner's goal was his 20th of the season - the fifth time the 24-year-old has reached that mark. ... The Hurricanes acquired Ulf Samuelsson's son Philip in a minor-league trade with Montreal. The elder Samuelsson - who in 1991 was traded from Hartford to Pittsburgh along with current Carolina GM Ron Francis, helping the Penguins win consecutive Stanley Cups - coaches Carolina's AHL affiliate in Charlotte. ... C Nick Bonino (illness) was scratched for Pittsburgh.
UP NEXT
Penguins: Return home to face cross-state rival Philadelphia on Saturday in an outdoor game at the Steelers' Heinz Field.
Hurricanes: Continue a five-game homestand by playing host to Ottawa on Friday night.
---
---