Washington Capitals
Washington Capitals
Capitals stand in way of Golden Knights' fairytale ending (May 27, 2018)
Published
May. 27, 2018 9:11 p.m. ET
LAS VEGAS -- Everyone knew that this would be a year of firsts for the expansion Vegas Golden Knights when they began play early last October.
Things like first goal (James Neal). First win (at Dallas, 2-1). First shutout (Oscar Dansk, 7-0, vs. Colorado). And, if things went really well, maybe even a first playoff win (1-0 vs. Los Angeles Kings).
But very few expected the team that openly calls itself "The Golden Misfits" to possibly earn the first Stanley Cup in team history.
But that's a very real possibility as the Western Conference champion Golden Knights begin the best-of-seven Stanley Cup Finals on Monday night against the Alex Ovechkin-led Eastern Conference champion Washington Capitals at T-Mobile Arena.
Can you imagine a victory parade on the famed Las Vegas Strip with the Stanley Cup as the featured participant?
"No, I try not to think about that," Neal, who lost in the 2017 Finals to the Pittsburgh Penguins as a member of the Nashville Predators, said. "I don't want to try and get too far ahead, you know. Definitely a dream for sure. Man, it would be crazy, huh."
Almost as crazy as people lining up at 6:30 in the morning to make sure they get a seat to watch a 35-minute practice at 11 a.m. as was the case on Saturday at City National Arena in the suburb of Summerlin, where the Golden Knights practice.
Or Celine Dion wearing a Marc-Andre Fleury jersey during one of her sold out shows at nearby Caesars Palace. Or the Statue of Liberty in front of the New York New York Hotel being draped in a huge Vegas Golden Knights jersey.
"It's crazy how much support we've gotten all season here," Fleury, who can become just the 11th goalie in NHL history to have his name engraved four times on the Stanley Cup, said. "Waiting in line to come into practice Having the wave and chants during practice? Never seen that before. It's been amazing."
Now the Golden Knights, who have had an eight-day break since knocking off Winnipeg in five games in the Western Conference final, are just four wins away from capping their storybook season in spectacular fashion.
"I don't like thinking too far ahead," Fleury said. "I just want to win. I don't care what happened before and stuff. We're so close. I want to win. I want to be a part of this team winning the Cup. That's all that matters."
They'll have to get by a Washington team also trying to make history by winning its first Stanley Cup and is a remarkable 8-2 on the road in the playoffs, including a 4-0 blanking of Tampa Bay in Game 7 of the Eastern finals on Wednesday. The record for road wins in a playoff is 10.
Getting to the Stanley Cup Finals took a tremendous burden off the back of star left wing Ovechkin who has scored 664 career goals, including 12 in this postseason. The 32-year-old, now in his 13th season, has an NHL-best 15 points (8 goals, 7 assists) on the road in the playoffs and was very emotional during postgame interviews after finally garnering his first berth in a Stanley Cup Final.
"We've never been in this position before," Ovechkin said. "All my career, I played for this team, and we never get the success like that. The town is going nuts."
More than 6,000 fans came to Kettler Capitals Iceplex in Arlington, Va., on Saturday for the team's final morning skate and to send the team off to Las Vegas, where the Golden Knights are a combined 35-11-2 this season. Some have joked part of the reason for the expansion team's home success was the so-called "Vegas Flu" that hit teams that may have felt a little listless after spending the previous night out on the town.
Ovechkin said that won't be a problem Monday night or for Game 2 on Wednesday night at T-Mobile Arena.
"We're going (to Vegas) to play hockey, not to pool party and play in a casino," he told NHL.com. "We're going there to play hockey and do our thing, and then we're going to have all the summer and whatever we want to do, we can to do it."
Vegas won both regular-season meetings between the two teams, 3-0 behind 26 saves by Fleury on Dec. 23 in Las Vegas, and 4-3 on an Alex Tuch goal with 5:12 remaining on Feb. 4 at Capital One Arena in D.C.
---
---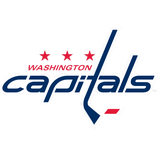 Get more from Washington Capitals
Follow your favorites to get information about games, news and more
---