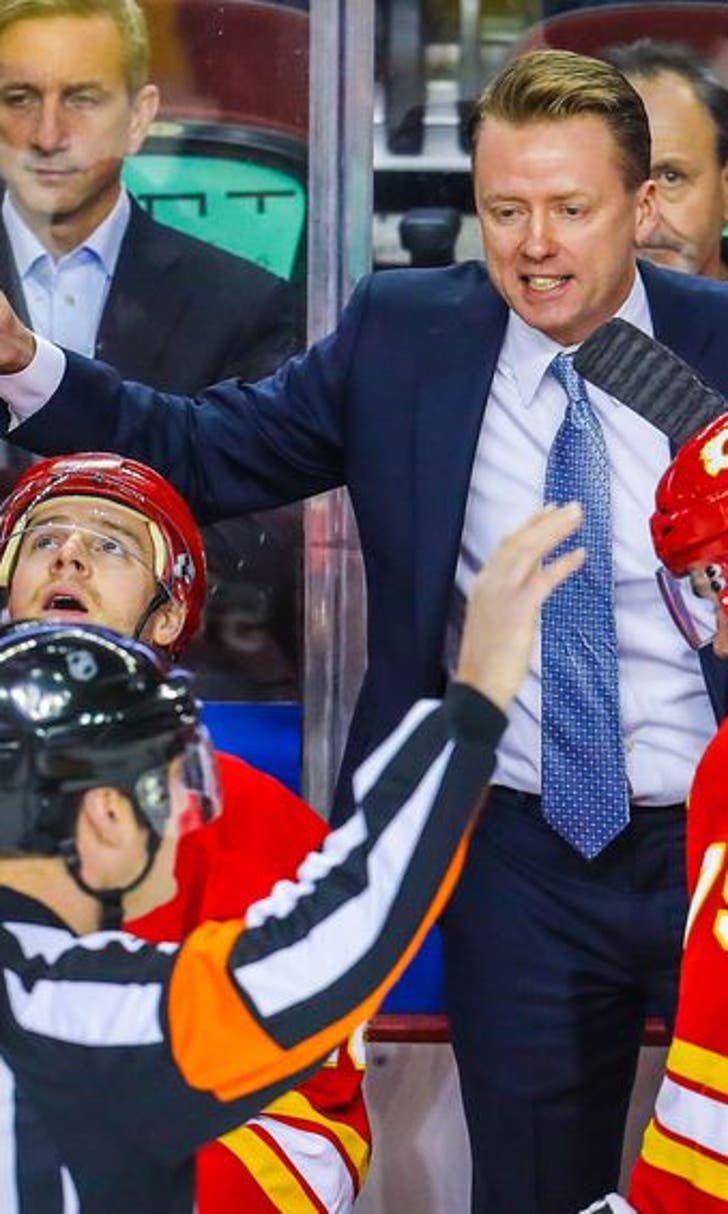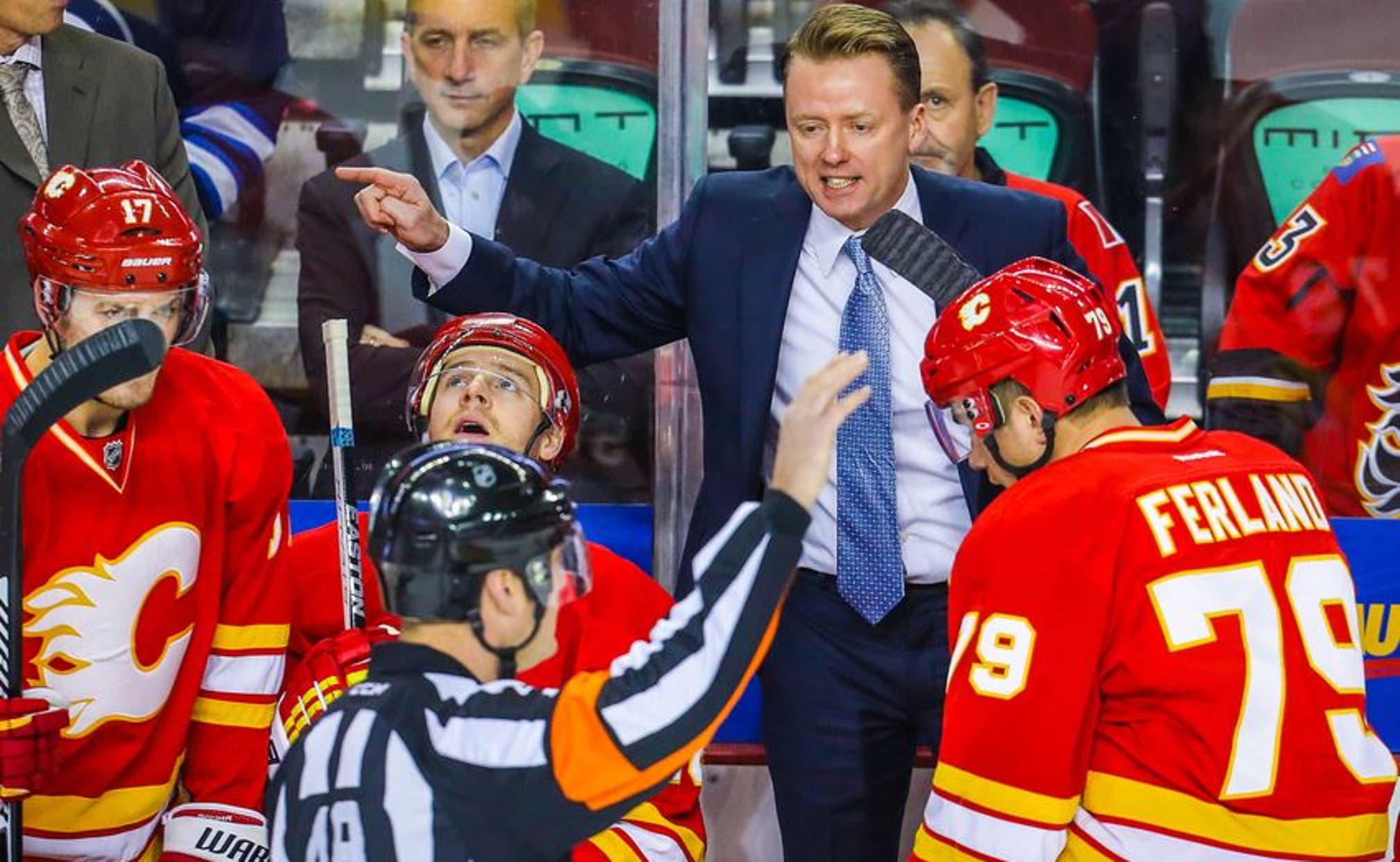 Calgary Flames: The Four Stages Of Glen Gulutzan
BY Fansided and Ramina Shlah/FanSided via Flame for Thought • December 21, 2016
The Calgary Flames season so far has been a bit of a roller coaster. So of course, we're bound to see some roller coaster of emotions in the fans. Especially when it comes to the coaching staff.
The Calgary Flames 2016-2017 season has been quite the whirlwind so far. After starting the season horribly, Flames fans were calling for head coach Glen Gulutzan's head. Even after just the first week. And after the first sixteen games when the Flames went 5-10-1, everybody wanted him gone immediately. It's not often that you see a mid-season coaching change, but many fans were hoping we would see it this year.
But then, the Flames got good. Like, really good. And ended up being first in the Pacific division for a day. And then fans were thinking, "Alright well, maybe he can stay for now…"
There have been many different thoughts about Gulutzan. So we broke it down into four different stages of emotions about Gulutzan amongst Flames fans.
Oct 14, 2016; Calgary, Alberta, CAN; Calgary Flames head coach Glen Gulutzan on his bench against Edmonton Oilers during the third period at Scotiabank Saddledome. Edmonton Oilers won 5-3. Mandatory Credit: Sergei Belski-USA TODAY Sports
First Stage: Can Gulutzan! Can Cameron! Can everyone!
The Calgary Flames lost their first three games and went 5-10-1 in their first sixteen games. Even after the second game, many people were calling for the head of Gulutzan. He was starting players who Flames fans couldn't figure out for the life of them why they even got signed in the first place (cough cough Nicklas Grossmann cough cough). He also kept making different lineup changes, like separating TJ Brodie and Mark Giordano.
Sometimes Flames fans were being completely fair to Gulutzan. Because then he finally paired up Gio and Brodie for a few games and it didn't work. It may have worked two seasons ago and it may have semi worked last season, but it definitely hasn't helped this season.
So then he split them up again. And Flames fans, again, were not happy. I'll admit, I was definitely part of that bunch. We weren't being completely fair to him. But he stuck with a system and it wasn't working. He put gio with Dougie Hamilton on that first defensive pairing and it didn't really do much.
Something else that made everyone scratch their heads was why he was hired in the first place. President of Flames hockey operations, Brian Burke, likes a hard-hitting style of play. Similar to that of former head coach, Bob Hartley. However, Gulutzan's style is a more fast-pace style.
Like I mentioned, the Flames had a horrible start to their season. And when they became the first team in the league to reach ten losses in regulation, something needed to change. And fans wanted it to be the coach.
Nov 15, 2016; Saint Paul, MN, USA; Calgary Flames head coach Glen Gulutzan looks on during the second period against the Minnesota Wild at Xcel Energy Center. The Flames defeated the Wild 1-0. Mandatory Credit: Brace Hemmelgarn-USA TODAY Sports
Second Stage: Alright he can stay for now…
Something Calgary Flames fans weren't good at was having patience. Don't worry, I'm included in this too. If we're doing down, we're all going down together. But at the same time, can you really blame the fans? In a competitive league that gets more rigorous every year, you don't have the time for patience. If you start your season off poorly, it's hard to get back up. Especially when you're a fifth into the season and you're one of the last teams in the league.
However, November wasn't horrible for the Flames. Especially the second half. They went 4-3-1 in their second half of their games that month and were tied for sixth in the league for points during that time frame. And his system that he decided to stick with started to actually work. He credited it a lot to the players too, saying how they were patient with him in his system and it turned out for the better.
And suddenly, Dougie Hamilton was being Dougie Hamilton again after being paired with Giordano and things were working. And as a Flames fan, I wasn't totally suffering every game.
Want your voice heard? Join the Flame for Thought team!
By the end of November, the Flames were just one point back from a playoff position. Given that they had played more games than other teams. But by the way they had been playing the last few weeks, there was potential for a playoff spot. They ended November on a high note, winning 3-0 against the Toronto Maple Leafs and Chad Johnson getting his third shutout in eight games.
And then December rolled around and suddenly I was happy again.
Dec 8, 2016; Glendale, AZ, USA; The Calgary Flames celebrate after defeating the Arizona Coyotes 2-1 ion overtime at Gila River Arena. Mandatory Credit: Matt Kartozian-USA TODAY Sports
Third Stage: Gulutzan For Jack Adams
December is always extremely kind to the Calgary Flames or extremely cruel. There is never an in-between. They never go like 6-4-1. No. It's either 9-2-1 or 3-7-1. And thankfully this season, it was looking to be more like the first one.
flames
Blades of Teal 11hSan Jose Sharks Outburst Extinguishes Calgary Flames
More headlines around FanSided:
21h - Calgary Flames Lose Some Streaks In Loss To San Jose Sharks1 d - Calgary Flames Now On An Eight-Game Powerplay Goal Streak2d - Calgary Flames Predictions and Preview of the Week December 19-254d - Calgary Flames Special Teams Are Starting To Fall Apart Again4d - Calgary Flames Can't Beat Red Hot Columbus Blue JacketsMore News at Flame for Thought

The Flames won their first game in December against the Minnesota Wild on December 2nd. And then they won against their enemies, the Anaheim Ducks in an insane 8-3 win. Where they scored five goals in six minutes. Thanks to the return of Johnny Gaudreau. They went perfect in December, going 5-0-0 in their first five games. The only team in the Western conference to do so. They also at that point were on a six-game win streak and a seven-game point streak. They managed to climb their way up to first in the Pacific division for about a day. Even some players who were struggling earlier (cough cough Johnny Gaudreau and Sean Monahan cough cough) were now on some point streaks of their own.
Suddenly, all the conversations around Gulutzan's name had completely turned around. Instead of "Can Gulutzan!" it was now "Gulutzan for coach of the year!" Pretty crazy turn of events, hey?
Like I mentioned earlier, he really credited the players a lot for being patient with him and sticking with his system. That's the way Gulutzan usually likes to coach. He picks a system and sticks with it and eventually, things will turn around. Let's just hope that works this season.
I mean personally, even if the Flames do end up making the playoffs, I still don't think we'll hear his name as a nominee for the Jack Adams award. The Flames have been very up and down all season. They've probably been one of the least consistent teams this season, and something that earns coaches a Jack Adams award, is consistency.
However, the Flames were on a roll in every way and fans were now ecstatic. For about a week…
Dec 20, 2016; San Jose, CA, USA; San Jose Sharks right wing Joonas Donskoi (27) celebrates scoring against the Calgary Flames in the second period at SAP Center at San Jose. Mandatory Credit: John Hefti-USA TODAY Sports
Fourth Stage: Can Gulutzan!
As a Calgary Flames fan, I should have known that a six-game win streak doesn't necessarily mean the Flames are now going to win a majority of their games. Rookie mistake on my part. But that six-game win streak came to an end with an ugly loss to the Tampa Bay Lightning. And that was followed by an ugly loss to the Columbus Blue Jackets. Now suddenly, the conversations were back to the first stage of Glen Gulutzan.
We have gone from Fire Glen Gulutzan' to Coach of the year Glen Gulutzan back to fire Glen Gulutzan in last 2 days. #Flamescycleoflife.

— RANDY WORKMAN (@THEFANBLOGGER) December 17, 2016
The Calgary Flames right now have lost three out of their last four. They may be in a playoff position, but they have more games on hand. And their points percentage definitely says otherwise. Even with their one win that came in that four-game stretch against the Arizona Coyotes, it wasn't necessarily the best of wins. The Flames played horrible in the first period and didn't even get a shot on goal until 12 minutes in.
They managed to win, thanks to their recent power-play success coming in handy. But even at one point, Gulutzan decided to challenge a goal for offside when it was very clearly onside. Leaving people on Twitter wondering what on earth he was doing.
So, like I mentioned, people are back to "Can Gulutzan!" I don't think we'll be seeing a mid-season coaching change, even if the Flames continue to lose. Based on Flames history, or any team history, lots of managements don't like doing mid-season coaching changes. Sometimes they have the ability to completely turn things around for the better, but sometimes, it just destroys the dynamic of the team.
Let's just hope that the Calgary Flames can go into the New Year being in a playoff position. Then we might be back to another stage of Glen Gulutzan.
More from Flame for Thought
This article originally appeared on
---
---