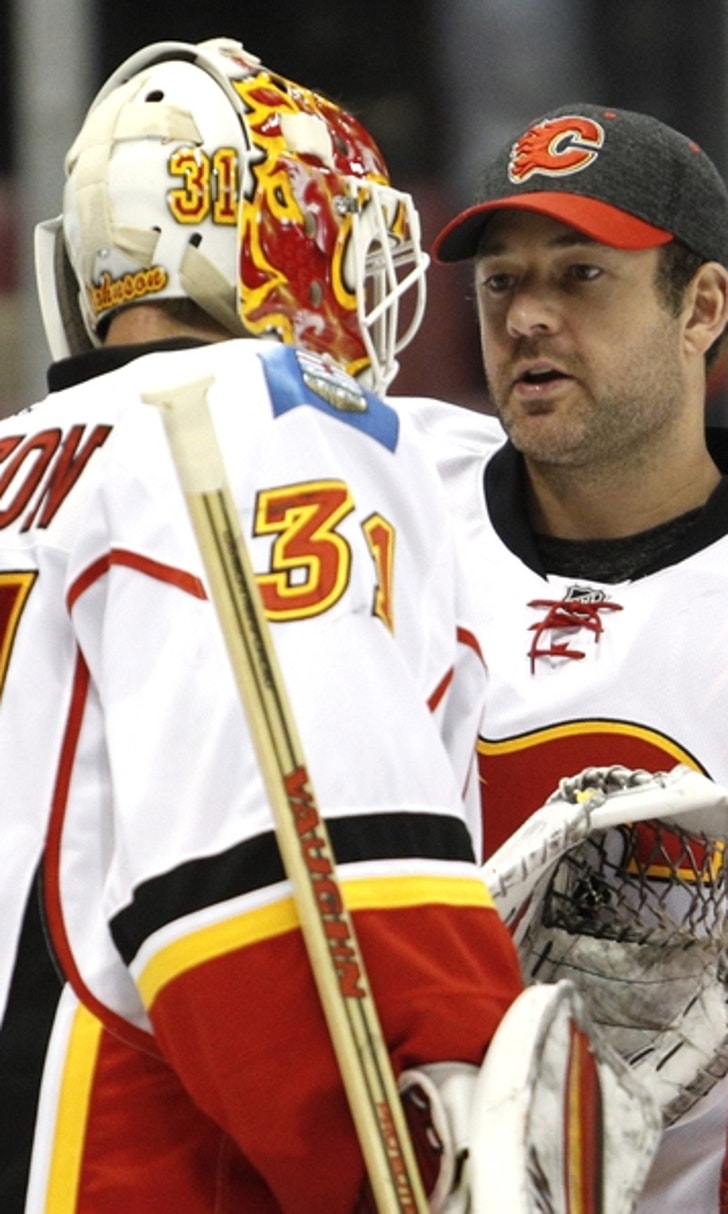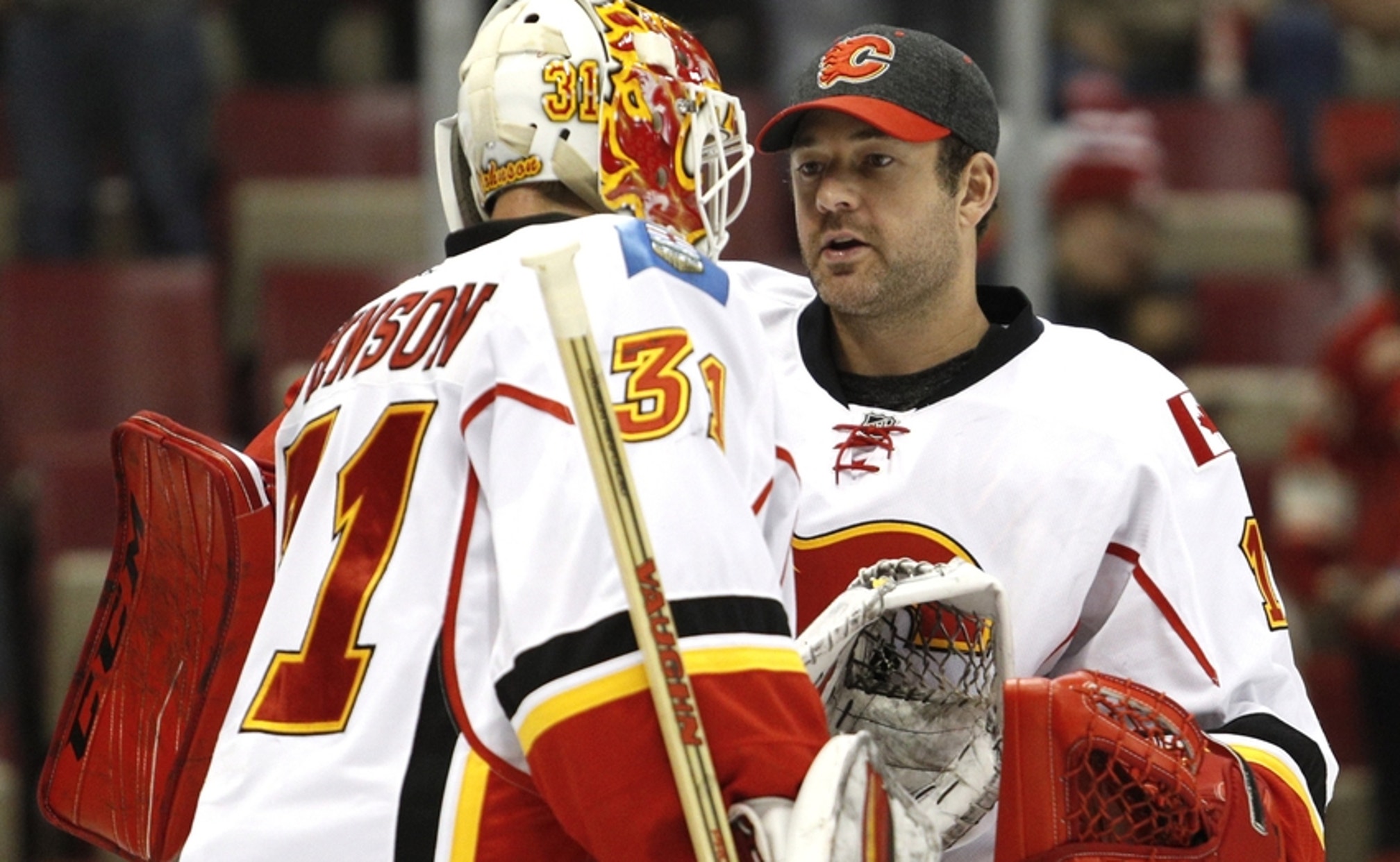 Calgary Flames: Brian Elliott vs Chad Johnson Debate
BY Fansided and Ramina Shlah/FanSided via Flame for Thought • June 30, 2017
The Calgary Flames goaltending has always been a story for the last few years. And now with this season, that hasn't changed.
The Calgary Flames seem to always have a problem with the goaltending, pretty much ever since Miikka Kiprusoff. And when Kip was actually great and one of the best goaltenders in the league, the team in front of him was never that great.
So now with this season when the Flames acquired Brian Elliott in a draft day trade, fans were ecstatic. It was no secret that a big problem for the Flames the last few seasons was their goaltending. Last season, the Flames goaltending had a collective worst GAA and second worst SV%.
So this season when they got Elliott, people were happy and excited.
Elliott wasn't all he was hyped up to be
flames
Flame for Thought 1 dCalgary Flames Daily: Elliott Looking Calm, Flashback For Johnson
More headlines around FanSided:
2d - Calgary Flames Daily: 25 Years After 10-Player Trade, Parsons Shines3d - Calgary Flames: What's Going On With Chad Johnson?4d - Calgary Flames Game Day Preview: Last Game of 20164d - Calgary Flames: Five New Years Resolutions for 20174d - Calgary Flames Will Be In An Uncomfortable Spot For Rest Of SeasonMore News at Flame for Thought

However unfortunately, Brian Elliott wasn't all that he was hyped up to be. The Calgary Flames started their season off horribly and Elliott didn't exactly help them.
In the season opener for the Flames, they lost 7-4 to the Edmonton Oilers (yikes). Elliott let in six goals on 27 shots that night (double yikes). Then in the home opener for the Flames which was their second game of the season, again against the Oilers, they lost 5-3. Elliott did slightly better. He let in four goals on 28 shots. So again, not completely horrible, but still not elite goaltender quality.
It really doesn't help that the team in front of him wasn't performing as well as they should have. Long story short, but Elliott didn't get his first win until October 24th. In the month of October, Elliott went 3-4-0 and had a 0.898 sv% and 2.99 GAA. Not exactly what you want from your primary starter. I will admit, the GAA wasn't all bad, however, it still matters when you're not winning games.
And then November came and to be fair, he didn't quite get a big chance to prove himself. And the reason for that was because Chad Johnson, who was meant to be a backup, was performing incredibly and completely beat everyone's expectations.
Who is Chad Johnson?
Chad Johnson was picked up as a free agent by the Calgary Flames. Something that he was beyond excited about. He grew up in Calgary and grew up a Flames fan. It's not everyday that players get to play for the team they grew up cheering for. Even though he was only meant to be a backup, it's still a thrill getting to play in the arena you grew up cheering your team in.
Like I said, Johnson was meant to be a backup. In his entire NHL career, he has never had a starting role. Last season, he got to start 40 games with the Buffalo Sabres (he was a relief for five games) and that was his first time playing more than 27 games in a single season. And he only got that opportunity because of injuries.
Seeing how he was meant to be a backup, he didn't do too bad. He went 22-16-4, had a 0.920 sv% and a 2.36 GAA. These numbers are actually pretty respectable, even for your average starter. But Johnson was never exactly given the chance or opportunity to show his true skills.
Until now.
November – Johnson vs Elliott
Brian Elliott's numbers in November weren't the greatest, to say the least. However, I'm completely and fully pro no-goalie-shaming. And I'm completely and fully aware of the fact that the players in front of him weren't always helping him out.
But the same could be said about Chad Johnson. And he still rose to occasion.
Chad Johnson completely backed the team up when they needed him most. Many of the players always commended him for that and mentioned how it's nice to have a goaltender to back you up when you make a mistake.
In Elliott's six games in November, he was winless. He went 0-5-1, had a 0.869 sv%, and a 3.68 GAA. So again, even if your team isn't quite supporting you, at the end of the day if you're not there to support your team either, there really is no hope.
Johnson however, was spectacular. He went 7-3-0, had a 0.939 sv%, a 1.80 GAA, and three shutouts. The Flames management made the right call in starting Johnson game after game since he was proving himself. Why not give him the chance and opportunity?
Actually in the month of November, out of goaltenders who played at least five games, Johnson had the fifth best sv% and GAA. He also had the most amount of shutouts. Suddenly, Johnson became the hometown hero he had always dreamed of being.
Nov 25, 2016; Boston, MA, USA; Calgary Flames goalie Chad Johnson (31) defenseman Mark Giordano (5) and defenseman Deryk Engelland (29) celebrate after defeating the Boston Bruins at TD Garden. Mandatory Credit: Bob DeChiara-USA TODAY Sports
December – Johnson vs Elliott
Now we get into December. And Chad Johnson again, started off the month incredibly. He helped the team to get to a six-game win streak and start the month off perfectly going 5-0-0. In those five games, Johnson had a 0.938 sv% and 1.77 GAA. So again, pretty similar to his November numbers. And that's something that the team desperately needed: a consistent goaltender. And he led them to a playoff spot (which they're still currently in).
But then we get to Johnson's next two games. And as badly as the Flames played in those two games, Johnson wasn't there for those to back them up. In those two games, he let in eight goals on 50 shots. He was even relieved in one of those games by Elliott, which is the first time that happened to him this season. He had a 0.840 sv% and 4.80 GAA. Not something the Flames were hoping to happen to Johnson.
So the Flames decided to turn to Brian Elliott. In the next game, Elliott was in net and the Flames won 4-2 against the Arizona Coyotes. That was Elliott's first win since October 28th. Then in the next five games (and their last five of the year), Brian Elliott started three of them and Johnson started two of them. Elliott won all three games while Johnson lost both. And because of this, the Flames will turn to Elliott to start in net for their first game of 2017.
In that four-game win streak for Elliott, he has a 0.918 sv% and a 2.00 GAA. Not something that's completely incredible and mind-blowing, but much better numbers for the net-minder. And something that will definitely give him the confidence boost he desperately needed.
So what happens now?
Well, we can't say for sure if there will be a number #1 goaltender for the Calgary Flames. And hey, maybe this will now give Johnson some healthy competition. To want to get back in the game and continue being that hometown hero.
But for now, Elliott will be starting in net because he's proven that he deserves it. Not that Johnson doesn't deserve it, but maybe he needs a bit of a break.
And then when Johnson comes back, the Flames can have two great goaltenders. Something they've always needed.
More from Flame for Thought
This article originally appeared on
---
---