St. Louis Blues
St. Louis Blues
Blues, Ducks heading in different directions (Jan 15, 2017)
Published
Jan. 15, 2017 3:19 a.m. ET

ANAHEIM, Calif. -- Two teams with similar records but travelling very different trajectories will meet Sunday night when the Anaheim Ducks play host to the St. Louis Blues at the Honda Center.
The Ducks have won six of their past seven to build a 24-13-8 record and move into first place in the Pacific Division. Now at 22-16-5, the Blues had lost three of four before defeating the San Jose Sharks on the road Saturday night, 4-0.
Goaltending has played a pivotal role in both teams' recent fortunes. Anaheim's John Gibson registered two shutouts and tied the Ducks' single-game saves record while winning five of six since the new year started. On Jan. 1, Gibson stopped a career-high 51 shots in a 4-3 shootout win against the Philadelphia Flyers.
The Ducks have hoped for such consistent excellence ever since Gibson made his NHL debut as a 20-year-old in the 2014 Stanley Cup playoffs, when he won his first two games, one of them by shutout, while making 67 saves.
This season, the Ducks have forced Gibson to confront the rigorous demands any first-choice goalie faces. For the past two seasons, Gibson shared the nets with Frederik Andersen. But with Andersen now in Toronto, Gibson is on a pace to play 68 regular-season games, a career high.
"He has to prepare himself differently because it's not going to be the one night and the next night off," Anaheim coach Randy Carlyle told the Los Angeles Times. "A lot of the things that we're throwing at him right now -- the schedule and this opportunity to play the number of games in a row -- all of those things are part of the maturing process and experience process every young goaltender has to go through."
The Blues' Jake Allen is experiencing a more brutal ordeal. Allen lost four of his past five decisions and allowed 17 goals in his previous six starts before being benched Saturday night for backup Carter Hutton. St. Louis coach Ken Hitchcock even pulled Allen in his last two starts and in three of his past five. During his previous two starts, Allen conceded six goals on just 26 shots.
"We've been beating the dead horse on better goaltending," Hitchcock told the St. Louis Post-Dispatch.
Allen's poor performance is merely one problem. The Blues permitted their opponents to score first in eight of their last 10 games. In six of those eight contests, opponents scored the opening goal during the first five minutes.
"I think our point total is a direct reflection of our play," Hitchcock told the Post-Dispatch before his team began its three-game road trip to California. "I think it's been inconsistent game by game. I think the five-man unit of hockey that we've become so well-known for has been the inconsistent part of the game here, and we have to find it."
The game marks the first for Blues left winger David Perron against his former teammates. Perron, who spent his first six seasons with St. Louis, came to Anaheim from the Pittsburgh Penguins last Jan. 16 in a three-player deal for left winger Carl Hagelin. The 10-year veteran rejoined the Blues as a free agent.
---
---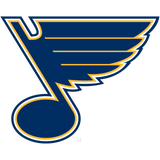 Get more from St. Louis Blues
Follow your favorites to get information about games, news and more
---