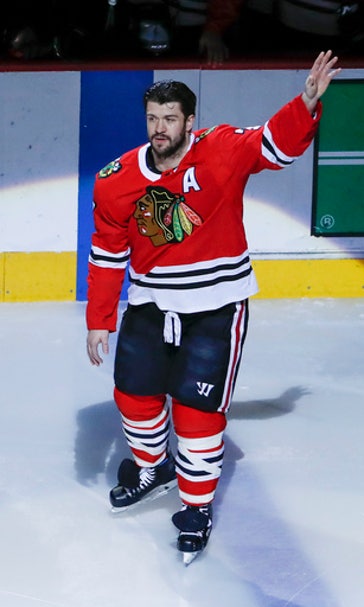 Blackhawks D Seabrook plays in 1,000th NHL game
March 30, 2018
CHICAGO (AP) Blackhawks defenseman Brent Seabrook played in his 1,000th regular-season game Thursday night, adding another accomplishment to his impressive career.
Seabrook started alongside fellow alternate captain and frequent defensive partner Duncan Keith and played almost 19 minutes in Chicago's 6-2 victory over Winnipeg. He has appeared in 77 of Chicago's 78 games this season.
Each of the Blackhawks warmed up in Seabrook's No. 7 jersey, and the franchise recognized the defenseman during a pregame ceremony. He was joined on the ice by his wife and three children and his parents and brother before he was presented with a commemorative silver stick, a painting and a family vacation to Disney World.
''It was pretty cool,'' Seabrook said. ''Special, being here for so many years since I was a 17-year-old baby. Seeing (family) out there was pretty special. They enjoyed it. I saw my daughter's face when he said the Disneyland trip. It was pretty cool. How many guys come out and present me with these gifts, and what the Blackhawks have done here.''
Seabrook, who turns 33 on April 20, was selected by Chicago in the first round of the 2003 draft. He helped the Blackhawks win the Stanley Cup in 2010, 2013 and 2015, and also played on Canada's gold medal-winning team in the 2010 Winter Olympics.
Seabrook is the fifth player in franchise history to skate in 1,000 or more games for the team, joining Stan Mikita, Bobby Hull, Eric Nesterenko and Bob Murray.
---
More NHL hockey: https://apnews.com/tag/NHLhockey
---
---