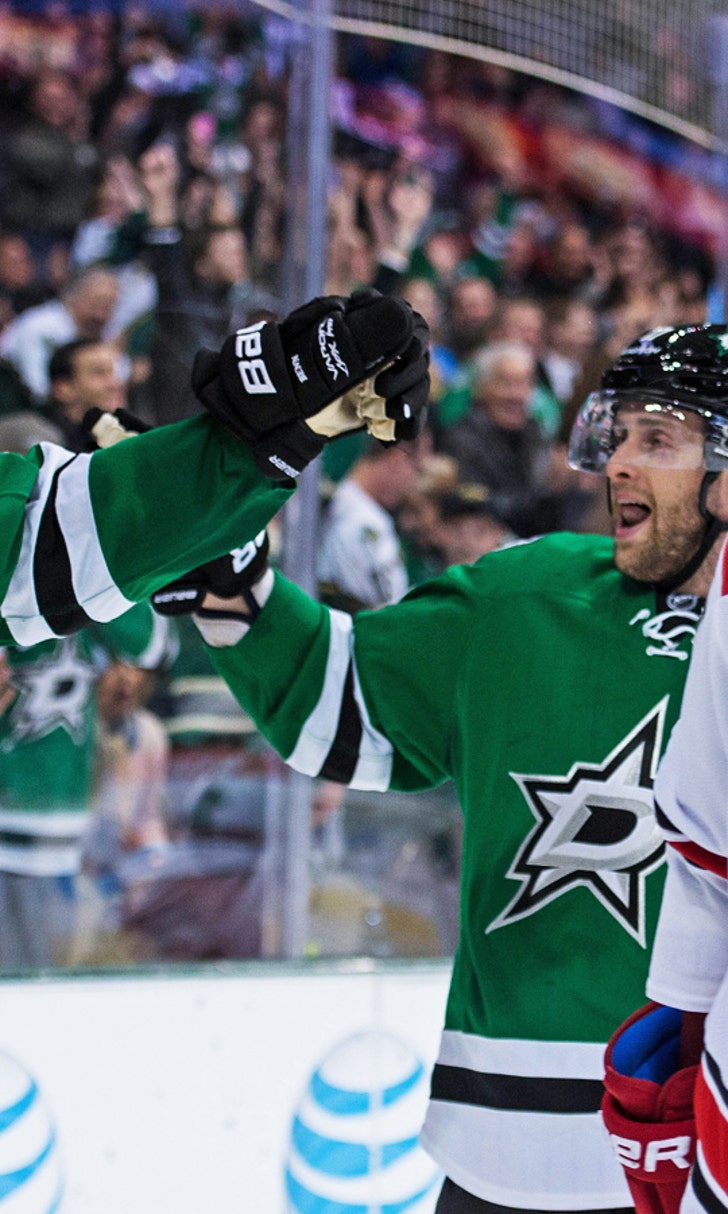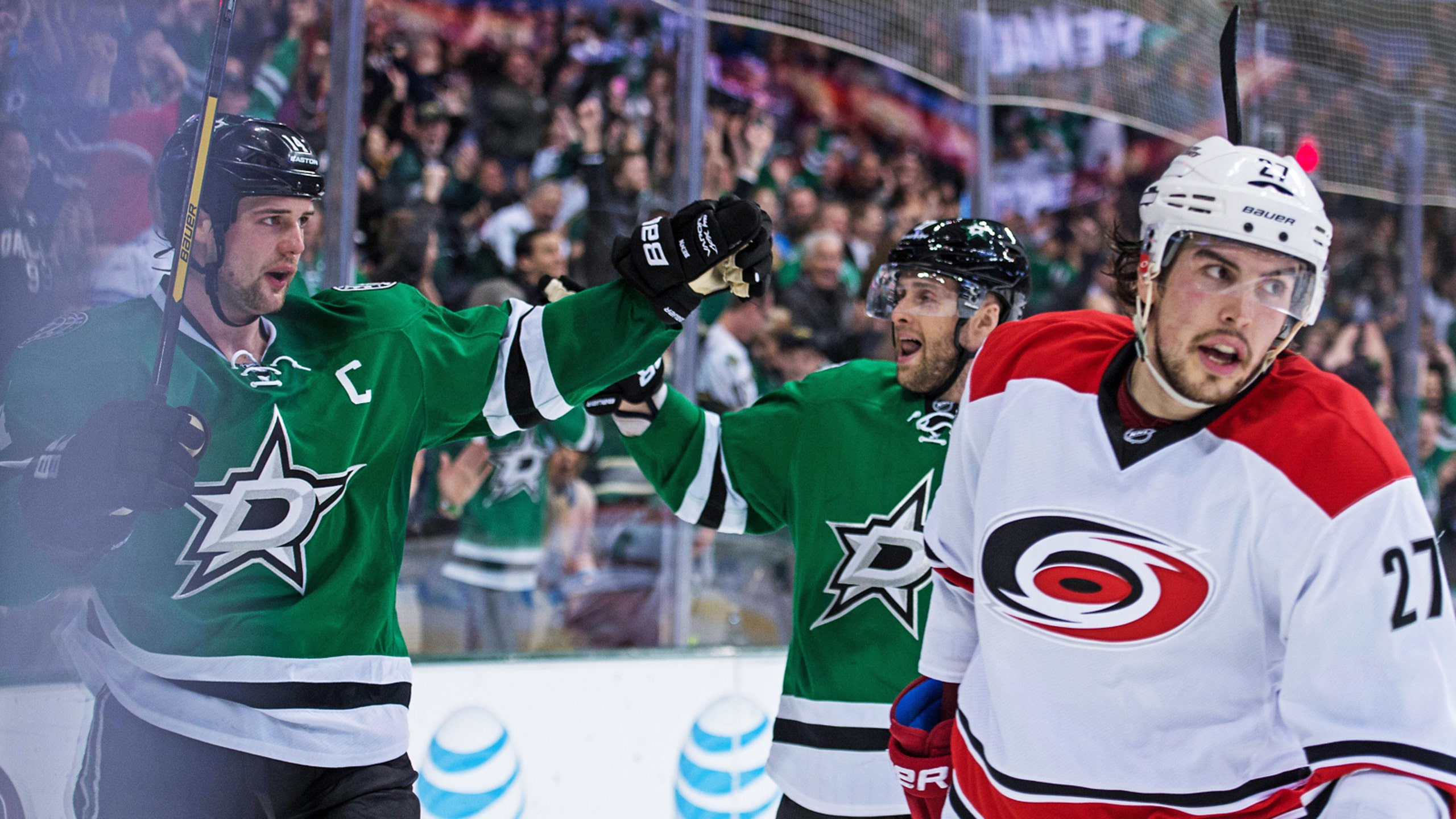 Benn's 3-point night paces Stars to win over Hurricanes
BY foxsports • February 27, 2014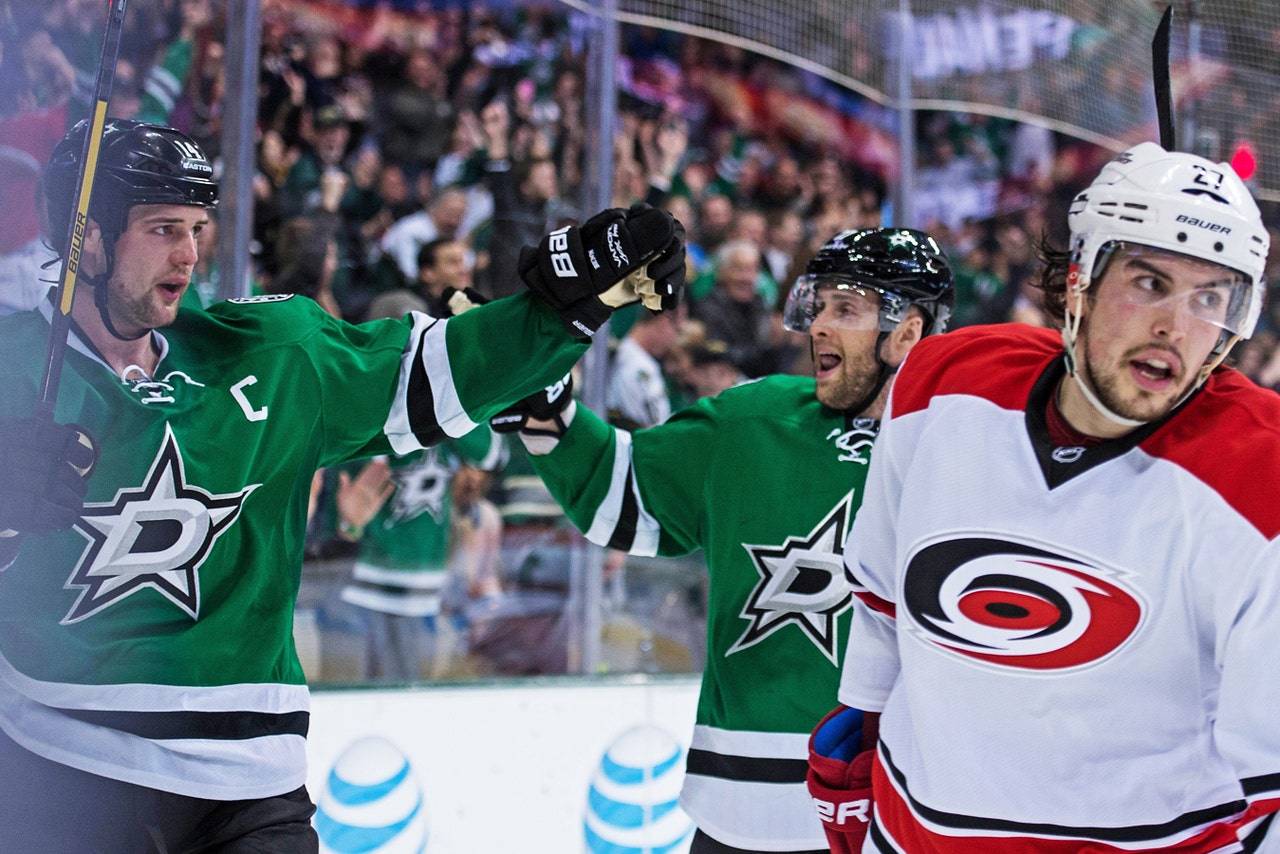 DALLAS (AP)
Jamie Benn brought his golden touch to the ice for the Dallas Stars.
The Canadian Olympian had a goal and two assists to lead Dallas to a 4-1 victory over the Carolina Hurricanes on Thursday night.
Kari Lehtonen made 29 saves for Dallas (28-21-10), which moved back into eighth place, the final playoff spot, in the Western Conference.
Tyler Seguin, Brenden Dillon and Cody Eakin also scored for the Stars.
Dallas scored two of its goals short-handed in regaining the momentum it had with a 6-1-2 record in the nine games before its 19-day Olympic break.
While most of Dallas' players hadn't been in a game for 2 weeks, Benn took on penalty-killing duties for Canada in the Olympics.
"The more you penalty kill, the more comfortable you are with it," he said. "I've got quite a bit of penalty-killing time lately and a lot more tonight, so I feel comfortable out there. I thought our group did a great job on the kill tonight and keep building off that."
Benn looked completely at home on the penalty kill late in the second period he took the puck away in the Dallas end, skated the length of the ice, faked Hurricanes goalie Anton Khudobin to his left and put the puck behind the goalie to his right.
"Every once in a while, (Benn) comes out with some magic and great skating," Kari Lehtonen said. "He makes highlight-reel goals and great passes."
Seguin scored 3:18 into the game, and Dillon gave Dallas a 2-0 lead with a short-handed goal at 6:13 of the first. Benn, who scored two game-winning goals for Canada's gold medal-winning team, assisted on both.
"Any time Jamie Benn is going up the ice, you've got to expect a goal," Dillon said. "He just keeps proving every game and every day that he's one of the best players in the world. I think after the Olympics everybody knows that. He just keeps getting better and better."
On Dillon's goal, the Stars' penalty killers skated in two-on-two, but one of the Hurricanes had broken his stick. Benn dropped a pass at the top of the slot to Dillon, who shot into the left side of the net.
Carolina coach Kirk Muller rued the Hurricane's poor start.
"We weren't happy with our first period tonight," he said. "When you give a team like that the opportunity and advantage it's hard to come back."
The Hurricanes had allowed only two short-handed goals, fourth-fewest in the league, in their first 58 games.
"We really very seldom get scored on on the power play," Muller said. "It's a couple of mistakes early on that cost us."
Lehtonen played for bronze medal-winning Finland in the Olympics. Valeri Nichushkin, whose backhand pass set up Seguin's goal, played for Russia.
"I thought (Lehtonen) gave us some real big saves, timely saves," Stars coach Lindy Ruff said. "He kept them off the board for the first 40, and in the third he made a few more quality saves."
Benn, the Stars' captain, said all of his teammates appeared ready.
"A little rusty I guess, maybe a little tired sometimes, but I thought our team came out great," he said. "They took care of their bodies over the three weeks and were ready to go tonight."
Eric Staal scored for Carolina at 2:42 of the third period. Eakin had an empty-net goal in the final minute.
Dallas had finished the first period with an 11-10 advantage in shots on goal, and had an 11-8 advantage in shots in the middle frame.
"In the third, we started playing a little bit better, but it was too late," Hurricanes center Elias Lindholm said. "I don't think we were ready to go from the beginning."
Carolina, which had returned to the ice Tuesday against Buffalo, took the first eight shots of the third period, including Staal's 16th goal.
Andrej Sekera recorded his 100th career assist on the goal.
The Stars have 66 points, one more than ninth-place Vancouver.
Carolina has lost five of its last seven games.
NOTES: Dillon's six goals this season include two of the Stars' seven short-handed scores. . The Hurricanes had allowed two short-handed goals in their first 58 games. . Carolina forward Alexander Semin, a Russian Olympian, left Thursday's game because of a lower-body injury. Muller said, "It's tough because he's been our hottest forward in the last 15-20 games." . Seguin has 12 points (four goals, eight assists) in his last nine games. . Benn's gold medal and Lehtonen's bronze from the Olympics were on display. Fans could have their pictures taken beside the medals. . Carolina was 0 for 5 with a man advantage. The Hurricanes haven't scored in their last 22 power plays (six games) on the road. . The Stars have allowed only 13 goals in their last 10 games.
---
---