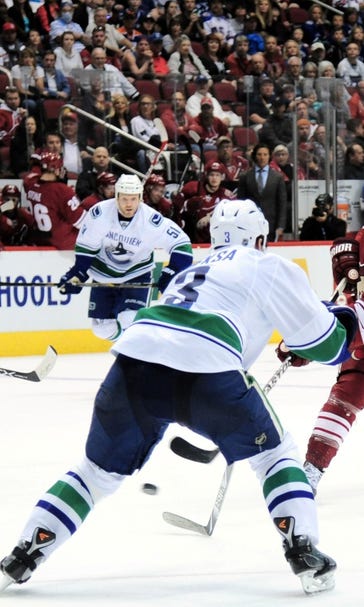 Alexander Edler scores on deflection to help Canucks beat Coyotes
March 23, 2015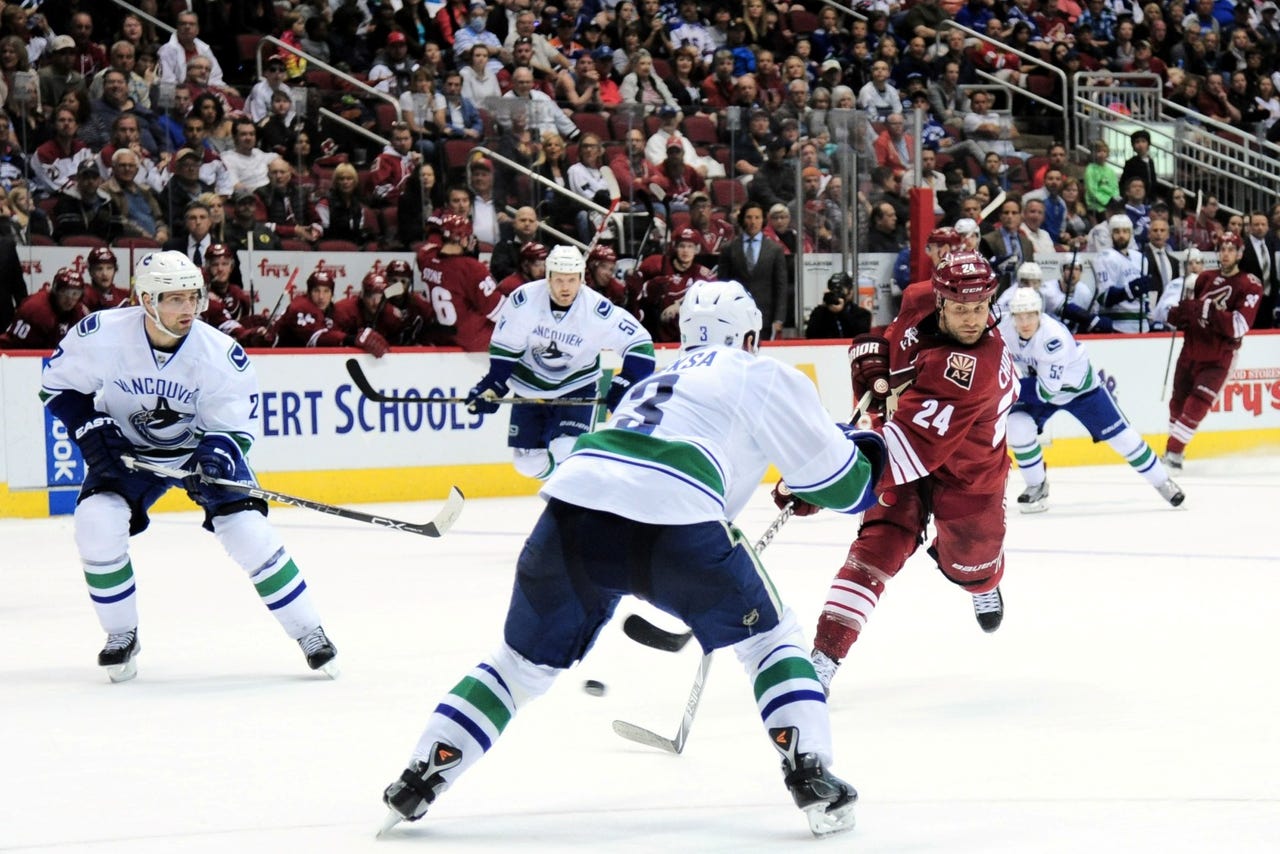 For the second straight game, Arizona Coyotes goaltender Mike Smith was the victim of a puck bouncing off the back of a player into his own net.
This time, it was his own back -- no way to celebrate his 33rd birthday -- and it allowed the Vancouver Canucks to avoid a second damaging loss to one of the NHL's worst teams.
Alexander Edler's shot glanced off the post and deflected off Smith's back and in with 3:13 left to snap a tie, and the Canucks secured a 3-1 victory Sunday.
A day after a stirring win in Los Angeles, the Canucks hit the post four previous times while Smith stopped 41 shots in a remarkable performance a day after an embarrassing gaffe in a loss to Pittsburgh.
But Edler's seventh goal of the season on the power play helped the second-place Canucks move four points ahead of idle Calgary in the Pacific Division.
''I just heard a post and waited,'' Edler said. ''It's nice that one went the right way. Points are huge at this time of year.''
Yannick Weber scored in the first period and Henrik Sedin added an empty-net goal with 1:09 left.
Backup Jacob Markstrom stopped 24 shots in his first start since he was yanked for allowing three goals on four shots March 3 against San Jose.
The best goal of the night belonged to Arizona's Oliver Ekman-Larsson. He weaved his way end-to-end play and roofed the second rebound of his own shot past Markstrom in the first period for his 20th goal for Arizona.
''I'm not surprised he has 20 goals,'' said Markstrom, a fellow Swede who was roommates with Ekman-Larsson in a world juniors tournament. ''I would like if he had 19, though.''
The Coyotes have lost 18 of 19, with their lone win a 3-2 shootout victory over Vancouver on March 5.
The Canucks had that on their minds as right wing Alexandre Burrows played, a day after he was shaken up when the Kings' Tyler Toffoli crosschecked him into the boards. The hit earned him a game misconduct.
The Canucks had 13 of the game's first 16 shots, the last one Weber's career-high seventh goal on a feed into the slot from Daniel Sedin at 14:23.
But Ekman-Larsson's remarkable play tied it barely minute later as he moved back into the lead in goals among NHL defensemen.
''He's a special player,'' Arizona coach Dave Tippett.
The Coyotes' loss came a day after Smith made blooper reels when his clearance from behind the net bounced off Brandon Sutter's backside and into an open net in a loss to Pittsburgh.
This time, he kept the Coyotes in it until he was a victim of bad luck. With Joe Vitale serving a tripping penalty, Edler's shot from the left point glanced off the left post. Smith didn't know where it was as it fluttered in off his back.
''Can't even get a win on my birthday,'' said Smith, who dropped to 11-37-5.
It was another frustrating night for a team that's focused on rebuilding. After gutting their roster at the trade deadline, the Coyotes are plummeting to the bottom of the standings. A 30th-place finish would give them the most chances in the lottery to get the No. 1 pick and likely the prized Connor McDavid.
The Coyotes (50 points) have moved below Edmonton (53) into 29th place in the past week. Arizona still has two meetings with last-place Buffalo (47).
''It would have hurt a lot if we lost this one,'' Canucks coach Willie Desjardins said. ''It wasn't that we weren't ready. They just played hard.''
NOTES: Desjardins had no opinion on the NHL's decision to not further discipline Toffoli. ''I honestly didn't see it,'' he said. ... Ekman-Larsson is the first defenseman to reach 20 goals for the Coyotes since they moved to Arizona. ... Coyotes RW Martin Erat (upper body) returned after sitting out Saturday. ... Canucks RW Radim Vrbata, who spent the previous five seasons in Arizona, earned two assists and has 25. ... Canucks C Brandon McMillan played against his former team with Ronnie Kenins scratched.
---
---