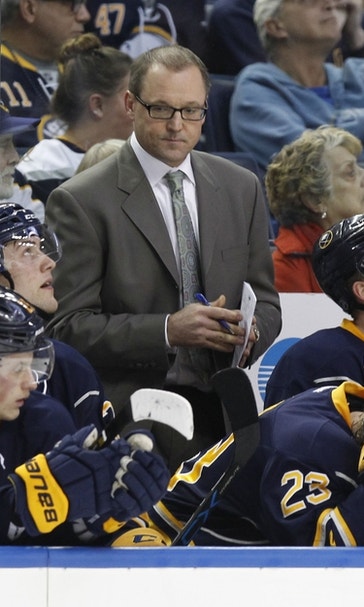 5 NHL coaches on the hot seat in 2017
December 29, 2016

Fansided, Dave Stevenson/Fansided
These five NHL coaches are going to enter 2017 on the hot seat and could be fired in 2017. 
Entering 2016, several NHL head coaches were on the hot seat. Since then, the seat has become colder for some. On the other hand, the heat is starting to turn up for quite a few coaches. The fire is starting to burn as their teams, for one reason or another, aren't living up to expectations.
That said, things can easily turn around. Remember at the start of the season when people thought John Tortorella and Michel Therrien could be on the hot seat? Winning acts as an extinguisher to the fire of many hot seats. However, losing can pour gasoline and increase the flames.
5. Paul Maurice
The Winnipeg Jets are in the midst of a rebuild. However, at some point, they're going to need to take the next step. This likely involves firing current head coach Paul Maurice. He has a recent playoff appearance (2014-15 season) on his resume, which helps his case. However, since the lone playoff appearance, the Jets have been a poor team.
Maurice has not done enough yet to get fired but his job could hinge on how he does in 2017. Maurice has a point percentage of over .500 in three of his four seasons with Winnipeg (it's at .500 as of Dec. 29, 2016). And it's not like the Jets have had high expectations under him. The front office could be the ones undergoing change but don't be surprised if they attempt to turn Maurice into a scape goat.
Hot Seat Rating: 1.5/5. You know how the inside of a Hot Pocket is boiling hot? Maurice's heat is equal to the outside of it. It's barely room temperature, but things could get ugly soon.
Mandatory Credit: Geoff Burke-USA TODAY Sports
4. Dan Bylsma
The Buffalo Sabres are suffering through another disappointing season. While they are rebuilding, the front office is expecting improvement. It isn't happening for the Sabres this season. During the 2015-16 NHL season, Buffalo finished with a .494 point percentage (35-36-11). They aren't seeing much improvement this season, with just a .500 point percentage.
Sure, Jack Eichel's injury is a reason for it, but Bylsma isn't living up to expectations. And, as the Sabres front office has proven recently, they are willing to do whatever it takes to win. Buffalo is one of the largest markets in hockey, so they certainly have the money to fire Bylsma. This is a recurring theme, but general manager Tim Murray probably deserves more criticism than his coach. As always, the front office can easily find a scapegoat to buy more time. The coach, however, cannot.
While Bylsma had success in Pittsburgh and even won a Stanley Cup, one of the criticisms of Bylsma when he got hired was his inability to win without elite talent. In order to save his job in 2017, he's got to start winning — because winning cures everything.
Hot Seat Rating: 2/5. Bylsma's seat shouldn't be hot. Want to know whose should be? Look a little bit higher in the organization. Bylsma has yet to get to coach elite talent but he's not getting results and Buffalo has a very impatient front office.
Mandatory Credit: Norm Hall/NHLI via Getty Images
3. Dave Tippett
The Arizona Coyotes made a lot of moves in the offseason to try and improve their team. Many thought they could be the next team to rise in the Western Conference. However, Arizona currently sits in last place in the Pacific Division. Only the Colorado Avalanche are keeping the Coyotes from being in last place in the NHL. The front office got an overhaul and so did the roster.
So could the head coach be next?
Here's where it gets complicated. Not only is Tippett Arizona's head coach, he's also an active member of their front office. So firing him could be a very awkward situation. It likely damages their relationship forever. Losing Tippett as head coach could mean losing him in the front office as well. And his opinion is one that general manager John Chayka values.
There is a chance he takes the firing in stride. Maybe Tippett is better suited for a front office role, and his resume suggests this might be true. The Coyotes haven't made a playoff appearance in almost five years. 2012 was their last appearance, during which they lost to the eventual Stanley Cup champion Los Angeles Kings in the Western Conference final.
Hot Seat Rating: 3/5. He's starting to feel the heat. Firing him could be painfully awkward for all parties involved.
Mandatory Credit: Brad Penner-USA TODAY Sports
2. Jack Capuano
Stop me if you've heard this one. A general manager made some pretty bad decisions and now his team is underachieving. Who gets the blame? The head coach. Such is the case with the New York Islanders and Jack Capuano. There's a lot more to the story than meets the eye, but this boils down to results.
Last season, the Islanders advanced to the second round of the Stanley Cup playoffs for the first time in a decade. After the season, New York got a new ownership group. General manager Garth Snow didn't make a very good first impression, allowing Frans Nielsen, Matt Martin and Kyle Okposo to walk. Replacing them with Andrew Ladd and Jason Chimera has proven to be a costly decision.
Snow's terrible roster management has to be taken into consideration here. It's not Capuano's fault he has one of the least talented teams in the NHL to work with. But his job has been to make a good first impression with the new big wigs. Capuano has done nothing to make the necessary good first impression.
There are far more issues with the Islanders than their head coach. But Capuano is one regardless.
Hot Seat Rating: 4/5. The temperature has gone past boiling and is rising into "Gates of Hades" territory.
Mandatory Credit: Sergei Belski-USA TODAY Sports
1. Willie Desjardins
The Vancouver Canucks are a team needing a rebuild. Here's the problem. Their front office, judging by their offseason moves, hasn't accepted it. Willie Desjardins' job has been in question for most of the year. After a very hot start, the Canucks have been one of the worst teams in the NHL.
It's not like Desjardins is a great coach. He's somewhere between "good" and "bad". In the NHL, not much separates the good coaches and the bad coaches. When local newspapers are polling fans about firing you, it's pretty easy to read the writing on the wall. It would be surprising if Desjardins lasts the 2016-17 season. Even if he does, he likely will get fired during the offseason.
This is about more than results. It's about the Canucks needing a coach to help them rebuild. This isn't one of Desjardins' fortes, so should Vancouver do what they should do and embrace a rebuild, Desjardins is as good as gone. But there needs to be more changes in Vancouver than behind the bench. However, it's a necessary change.
Hot Seat Rating: 5/5. Desjardins is sitting on the sun. It's amazing he hasn't caught on fire yet.
More from FanSided
This article originally appeared on
---
---