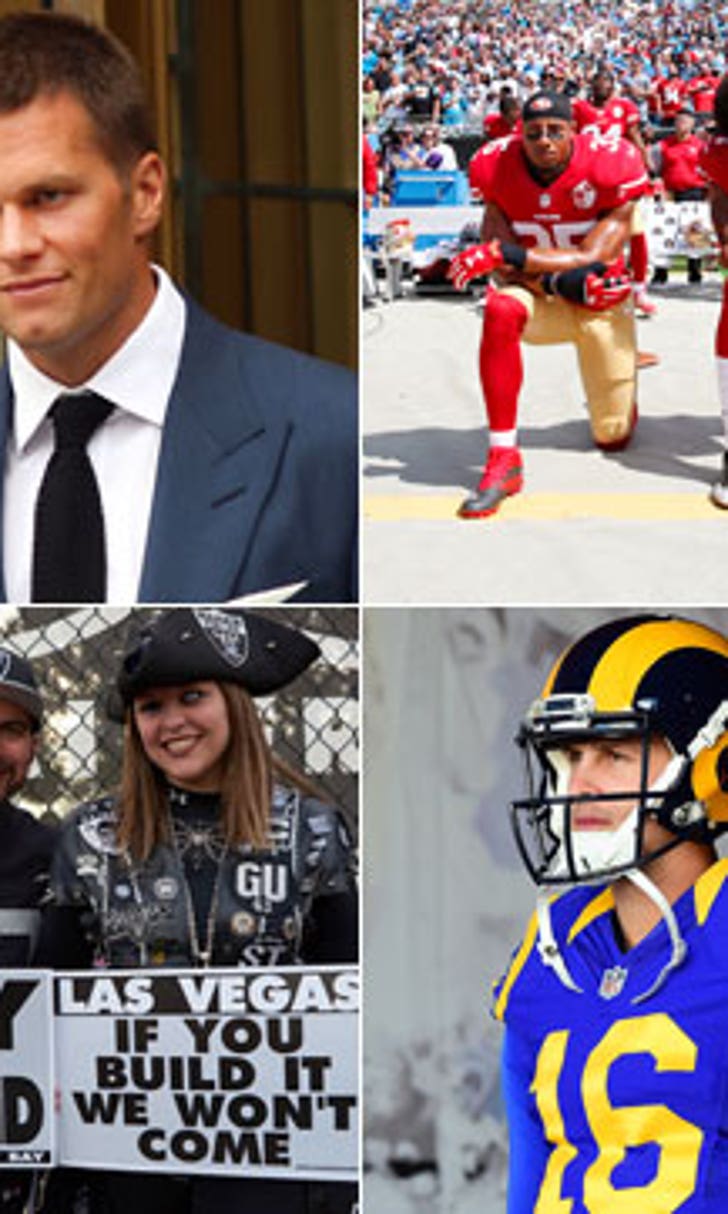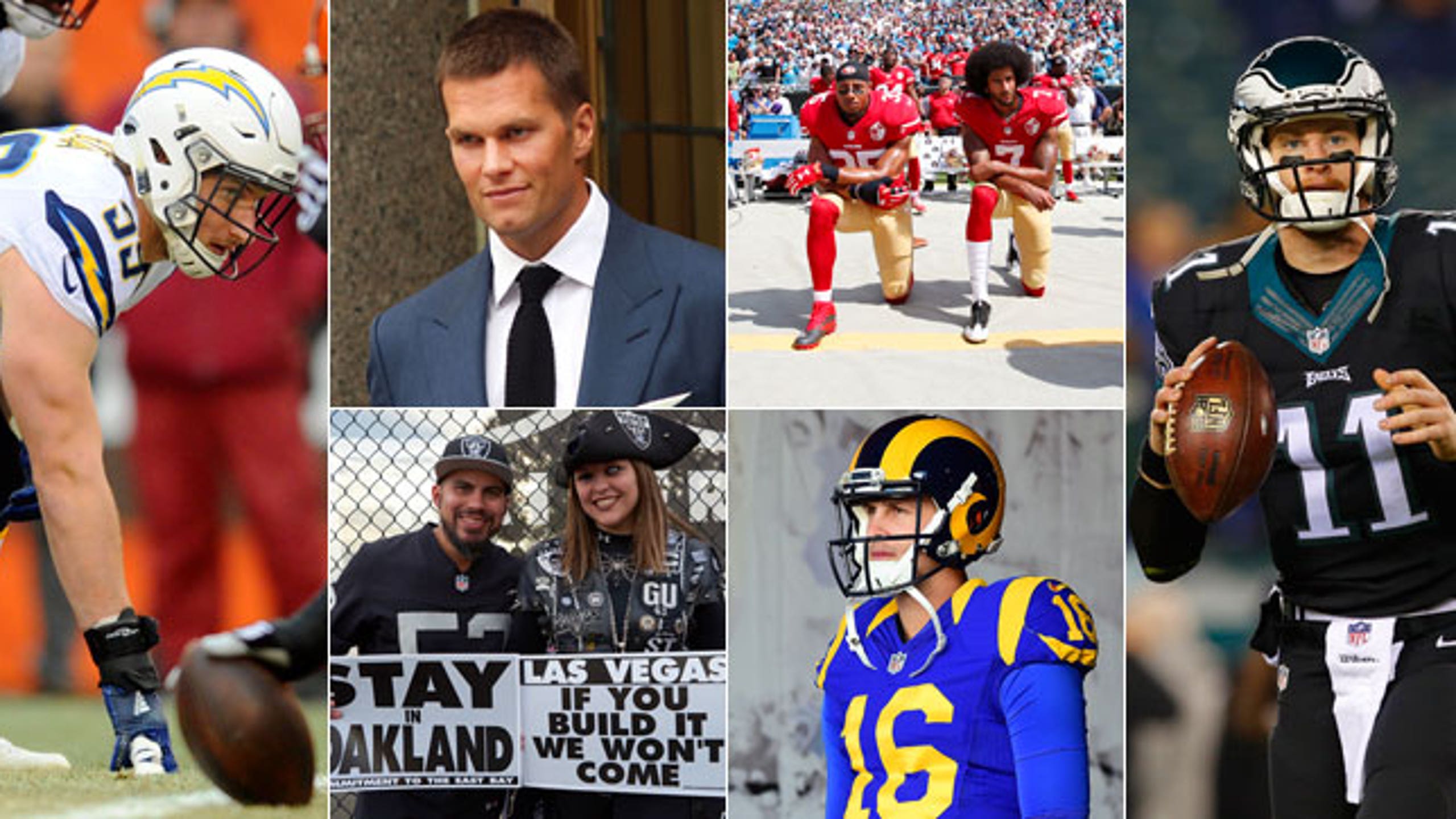 The NFL Was Hardly Business As Usual in 2016
BY Sports Illustrated and Andrew Brandt/Sports Illustrated via MMQB • December 28, 2016
As I so often say, the business of the NFL isn't football. The games, which all occur in less than half the year, are the storefronts for a year-round enterprise that is now throwing off more than $12 billion in annual revenue. With that in mind, let's look beyond the games at the top 13 NFL business stories of 2016.
The Return to Los Angeles
After two years of politicking by three teams, NFL ownership awarded the keys to Los Angeles to the Rams rather than the Chargers or Raiders. At the fateful January owners' meeting where the decision was made, the business of football ruled the day as Jerry Jones helped move the room away from the sentimental choice of longtime league loyalist Dean Spanos (Chargers) and toward Stan Kroenke's vision of an "NFL West" mega-facility that will eventually host Super Bowls, Pro Bowls, combines, and so forth. As to the perpetually underperforming Rams team, these trying years are not as important as needing an entertaining and marketable team when Kroenke's Shangri-La opens in 2019. And the Chargers, having exhausted options in San Diego, appear resigned to join the Rams in that building by that time.
• TIM ROHAN: An NFL Sunday with Benny from the Bronx
Kaepernick's Stance
Colin Kaepernick became the talk of the NFL (and beyond) by refusing to stand for the national anthem, first sitting and then kneeling to protest racial oppression in America. While no discipline was levied by the 49ers or the league—the NFL said it "encourages but does not require" standing—Kaepernick became a polarizing figure who received Ali-like praise and scorn, with little room for nuanced takes in between. Kaepernick was even blamed for the league's declining ratings early in the season, a theory that, if true, would have meant that he (not Roger Goodell) was the most powerful person in the NFL in 2016.
Speaking of those ratings…
• REPLAY REVIEW: The MMQB's Best Stories from 2016
Declining Ratings … or Not
The early season ratings tumble fueled a weekly drumbeat of hyperbole signaling the NFL's inevitable decline. But as I and many others predicted, the ratings returned close to (or above) 2015 levels after a polarizing election process that featured two NFL match-ups go head-to-head with presidential debates and the can't-look-away bluster of Donald Trump. The story of the decline of the NFL's prosperity and popularity will have to wait for another day (or election cycle).
• EMILY KAPLAN: The NFL's View on the Bowls (and Those Who Skip Them)
The NFL in Vegas … or Not
After finishing third in the three-team race for L.A. and facing roadblocks at every turn with city officials in Oakland, Raiders owner Mark Davis flirted publicly with Las Vegas and received quite an "engagement ring": a $750 million fully funded stadium deal that pushed through the legislature in record time. Now it appears that, for the second consecutive year, Davis will apply for relocation with the league. While Oakland's proposals remain deficient, Davis still has to convince his ownership brethren about the sustainability of a long-term fan base in a small market fueled primarily by tourism. And owners would also have to 1) grant a move by Davis, the son of longtime league irritant Al Davis, and 2) cross the Rubicon on the previously taboo subject of gambling.
Speaking of which…
Daily Fantasy Merger
The heavily anticipated merger between daily fantasy market share leaders FanDuel and DraftKings has now happened (subject to antitrust scrutiny)—but both companies have stayed largely out of sight to NFL viewers compared to last year's oversaturation. Amid questions about whether fantasy sports represent "gambling"—a taboo subject that strikes at the "integrity of the game"—the NFL continues to embrace the fantasy football as a strategic fan engagement tool while allowing influential owners Robert Kraft and Jerry Jones to maintain equity stakes in DraftKings.
• PETER KING: The Browns Get One to Grow On
Domestic Violence Policy … and Enforcement?
It was déjà vu all over again from 2014: a player received unqualified support from his team following a domestic-violence incident, only to be released following the release of further information. Just as with the Ravens and Ray Rice, the Giants chose to be supportive of kicker Josh Brown until the release of new information, in this case Brown's therapy journals. That's when the previously supportive Giants turned and ran. From the league's perspective, the six-game baseline suspension for first offenses of domestic violence, a policy revealed with great fanfare in 2014, was nowhere to be found with Brown.
Deflategate R.I.P
The second year of the dispute between the NFL and Tom Brady really had little to do with deflated footballs; it was a power play by the NFL to confirm the commissioner's power and prevent players from doing end-runs around the CBA. NFL lawyers, who were stunned by Judge Richard Berman's 2015 ruling that chastised Roger Goodell for his overreach, exhaled when the 2nd Circuit Court of Appeals overruled Berman and restored Goodell's cherished CBA power over player conduct. Rather than pursue a Hail Mary challenge to the Supreme Court, Brady and the NFLPA bowed out, finally submitting to the four-year suspension that had been handed down 18 months ago. As for Goodell and Patriots owner Robert Kraft, I am told that relationship remains solid—they compartmentalize well—and Kraft's anger was always directed towards the NFL legal department. When in doubt, blame the lawyers.
Luck's Loot
Andrew Luck's long-anticipated contract extension with the Colts was never going to live up to expectations, with those like myself calling it our greatest hope for the first significant NFL veteran contract to be fully guaranteed. That turned out to be unrealistic, as the Colts had the leverage of having Luck under contract with an option year. While Luck didn't break the record for money "guaranteed upon signing"—his $47 million pales in comparison to Ndamokung Suh's $60 million—Luck set new standards for total guarantee ($87 million) and three-year cash flow ($75 million). Luck's deal, burdened by great expectations, is a stunning one for a business heavily tilted toward management.
• JENNY VRENTAS: Rex Ryan's Last Rodeo?
The Bosa Boast
My prediction is that the negotiation between Joey Bosa and the Chargers will go down as the longest rookie contract dispute in this new CBA, which had been designed to prevent any holdout situations.
While the 2011 CBA "pre-negotiated" financial packages for all draft picks, it did not legislate bonus payment terms or offset language, the subjects of this drawn-out dispute. The competing precedents on both issues between the third overall pick and the Chargers' policies set up the months-long stare-down, complete with public shaming by the Chargers aimed at getting Bosa and his agents to submit. Eventually the Chargers moved some, not all, money forward and Bosa, of course, agreed.
Saying No to Josh Norman
Fresh off a Super Bowl appearance, the Panthers secured Josh Norman for the 2016 season in February by applying the franchise tag—only to shockingly rescind it in March (Norman signed quickly with Washington). Yes, Norman had oversized contract demands, but that is why you use the tag. There has to be a more interesting backstory to the Panthers' letting a Pro Bowl cornerback—a player whose rights they controlled for the upcoming season—walk out the door without getting any compensation in return.
• THE UNFAIR CATCH: How NFL Return Men Became Endangered
The Future Became Now
The Eagles committed $22 million in guaranteed money to Sam Bradford in March, securing the quarterback position for the present before securing the future by moving up in the draft to take Carson Wentz with the second overall pick. Teddy Bridgewater's injury in Minnesota allowed the Eagles to leverage a first-round pick in exchange for Bradford. And with that the Eagles' long-range strategic plan changed in a heartbeat: Carson Wentz immediately went from third-string apprentice to full-time starter. More often than people know, franchise-defining decisions by NFL teams can happen through circumstances such as this. Bradford, making $11 million from the Eagles and $7 million from the Vikings this year, has been a clear winner in the business of football.
If Only This Were the NBA
As is the case every March, NFL free agency produced a few eye-popping contracts, with this year's golden ticket winners including Malik Jackson, Janoris Jenkins, Olivier Vernon, Brock Osweiler and a few others. NFL contract gazing in March, however, turned to NBA contract envy in July when fans, media and players realized that NBA free agents will receive all of those contracts. In the NBA, $80 million means $80 million while in the NFL, $80 million means "we'll pay you about $30 million, then we'll see." A New Year's wish for NFL players is for them to have contracts start looking more like those of athletes in other (and less dangerous) professional team sports.
Speaking of danger…
CTE
A congressional fact-finding panel pressed NFL head of player safety Jeff Miller in March to elicit a "yes" response about a potential link between playing football and the debilitating disease of Chronic Traumatic Encephalopathy (CTE), though Miller qualified his answer by noting the reforms the NFL has made. Owners such as Jerry Jones and Jim Irsay soon (and clumsily) walked back Miller's comments, but the association is one the NFL fears. Meanwhile, the NFL concussion litigation settlement is finally complete (objector appeals to the Supreme Court were denied this month). While there is coverage for diagnoses such as Alzheimer's, ALS and Parkinson's, there are no direct benefits for CTE, which can only be diagnosed posthumously. The NFL will continue to wrestle with these three letters going forward.
Looking Ahead to 2017
Some of the business of football issues that we are sure to be discussing over the next 12 months:
• Potential moves by the Raiders (Vegas) and Chargers (Los Angeles) … or perhaps neither goes anywhere.
• Potential single long-term partner for Thursday Night Football (now divided between CBS, NBC, NFL Network and Twitter);
• Expanding NFL partnerships in the tech space and with Twitter, Google, Facebook, etc.
• New deals for pending star free agents—Kirk Cousins and Le'veon Bell among them—perhaps restricted by the powerful franchise tag.
• Whether skipping college Bowl games—as Leonard Fournette and Christian McCaffrey are now doing—becomes a trend as players assess risk/reward.
• Continued NFL international outreach, in constant search for new revenue streams.
Stay tuned for another busy year in the business of football, a business that never stops.
Have a safe, happy and healthy New Year; my continued thanks for reading and (hopefully) always learning.
Stay true to the good…
---
---