Baltimore Ravens
Baltimore Ravens
Steelers secondary faces challenge in rematch with Ravens
Published
Nov. 1, 2018 5:58 p.m. ET
PITTSBURGH (AP) — Joe Haden knows about losing to the Baltimore Ravens.
The Pittsburgh Steelers cornerback has been on the losing end of 11 of his 14 games against Baltimore. Ten of those 11 came when he was with the Cleveland Browns. He's only lost to the Ravens once with the Steelers, 26-14 in Week 4 of this season.
That one felt different. So will the game Sunday, where the Steelers secondary will look to take another step in a third straight game against an AFC North rival.
"I think being here and (in Cleveland), (the Steelers are) at the top of the division most of the time, seeing who can win it and fighting for the division winner," Haden said.
"So I think that's just a little different toward the end of the season, knowing these games (against Baltimore) could be big when we get to the end, determining who can get to the playoffs."
The secondary could obviously be better than it was in the previous matchup, Haden said. Defensive coordinator Keith Butler agreed.
Ravens quarterback Joe Flacco threw for 363 yards and two touchdowns against a Steelers secondary that allowed an average of 305 passing yards through its first four games.
"We have to make sure, as much as we can, that we keep the ball in front of us," Butler said. "We can't give up easy touchdowns. Teams go up, we have to make them go up by (field goals) and not let them go up by seven, if we can."
Ravens wide receiver John Brown had 116 yards and one touchdown on just three receptions in the first matchup against Pittsburgh. Haden knows that can't happen again.
"He's a small dude, obviously. He's small, really fast," Haden said. "You have to make sure you keep him in front of you. He can really beat you. ... He had those two deep balls on us, so we have to contain that."
If Pittsburgh's past three games are any indication, the defensive backs might have a better chance against Brown this time.
Atlanta Falcons wide receiver Julio Jones was held without a catch until the fourth quarter of a 41-17 loss to the Steelers in Week 5, when he had a season-low 62 yards. The following week, A.J. Green caught seven of his 12 targets for 85 yards in a 28-21 Cincinnati Bengals loss to Pittsburgh.
Browns wide receiver Jarvis Landry had 39 yards on eight receptions in the Steelers' 33-18 win last Sunday.
Haden matched up against each of those three. He wouldn't say who would be responsible for Brown from Pittsburgh's secondary, which is expected to have cornerback Artie Burns in the mix after using him exclusively on special teams against Cleveland.
Burns was disciplined after arriving late to a team walkthrough Saturday.
Cornerback Mike Hilton, whom Haden called one of the Steelers' best players, said no matter who is called upon, limiting Brown is a must for Pittsburgh.
After missing the first matchup with an elbow injury, Hilton also said he has a plan for Sunday.
"There were certain things I did see," Hilton said. "I feel like I'll be able to, I'm not going to say make every play, but help control the outcome of that play. So personally, I feel like from what I saw from the last game and what I've seen up until now, I have a solid idea what to expect."
NOTES: QB Ben Roethlisberger (left finger), LB Bud Dupree (illness) and C Maurkice Pouncey (did not practice Wednesday/coaches' decision) were full participants Thursday. ... CB Coty Sensabaugh (toe) and OL Marcus Gilbert (knee) were limited. ... OL Ramon Foster (coaches' decision) did not practice.
---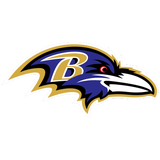 Get more from Baltimore Ravens
Follow your favorites to get information about games, news and more
---