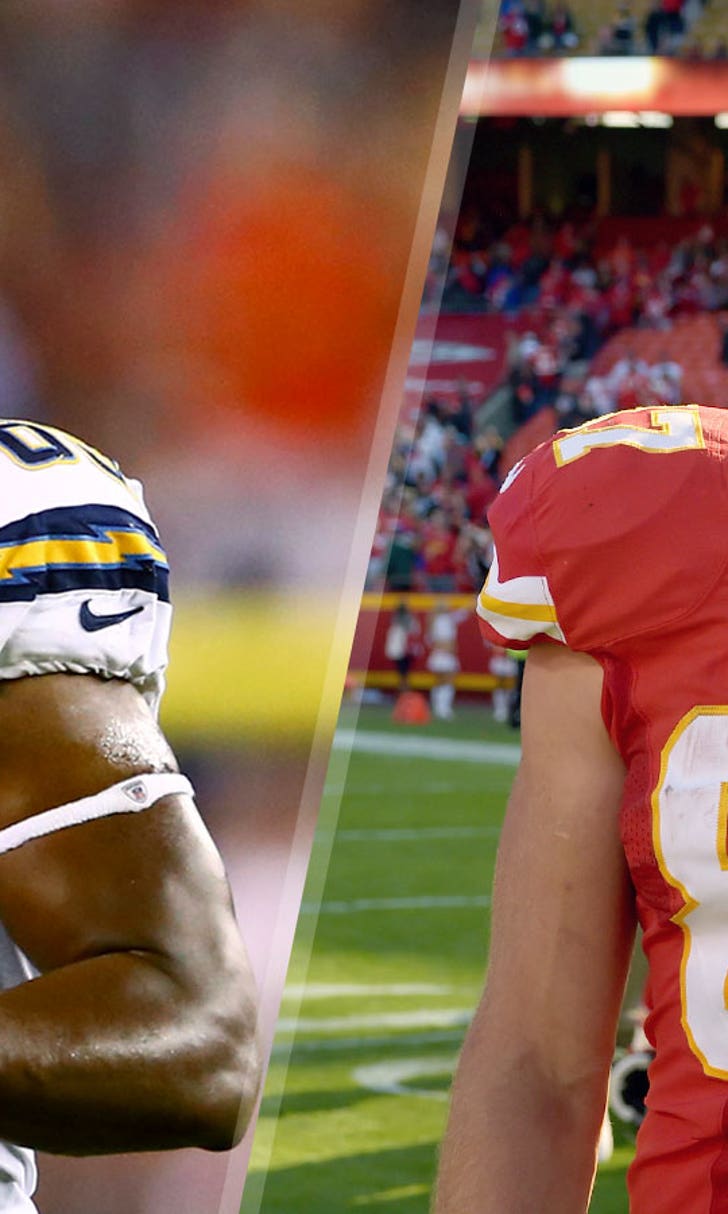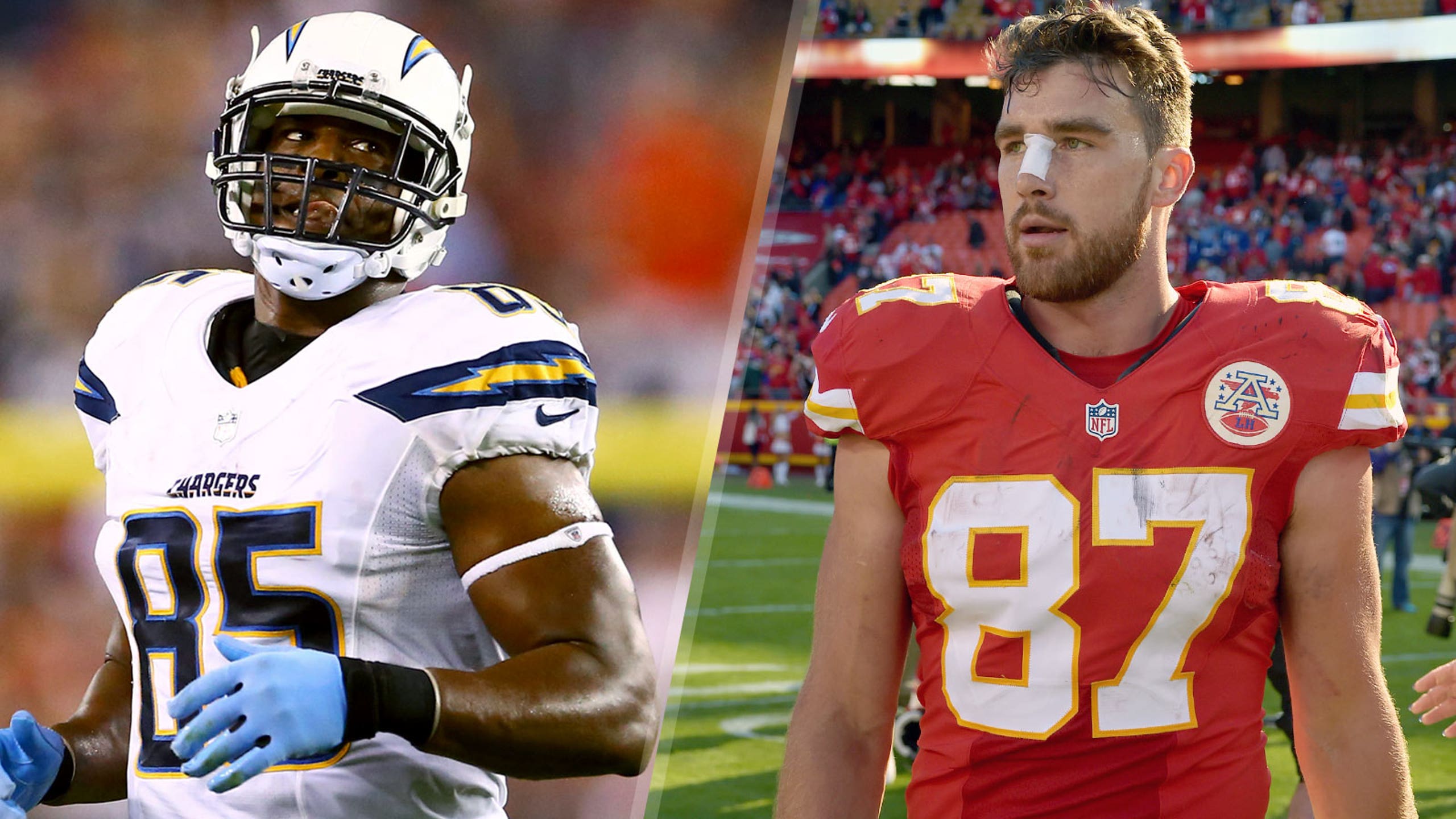 Six Points: Chiefs vs. Chargers
BY foxsports • November 20, 2015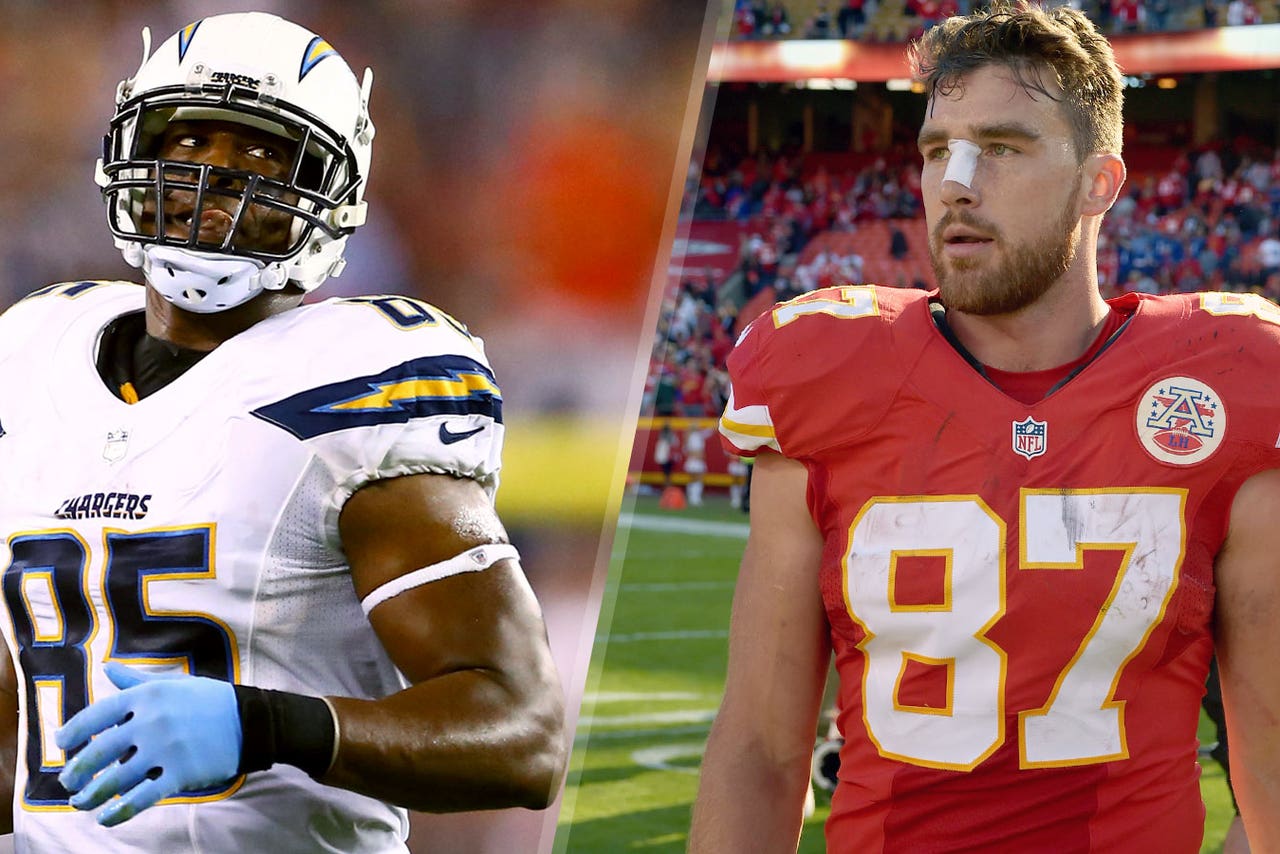 The surging Kansas City Chiefs (4-5) are in America's Finest City to take on the AFC West-rival San Diego Chargers (2-7). The game is set for 4:05 p.m. E.T. at Qualcomm Stadium.
The Chiefs haven't been road favorites in this matchup since Trent Green was their quarterback. Green left the Chiefs after 2006, but Alex Smith (228 pass attempts without an INT) has played well in his turn in Kansas City. It helps to have a breakout star to hand off to in Charcandrick West.
San Diego has lost five straight and is looking for any kind of answers. Quarterback Philip Rivers might not find relief in Kansas City's secondary, which hauled five interceptions in last week. The good news? AFC West teams are 3-0 after the bye. The Chargers hope to make it a clean sweep.
Here are three keys to the game for both the Chiefs and Chargers:
Can you beat the Crowd's Line? Submit your final score prediction below. Good luck!
CHIEFS:
1. Run, Charcandrick, run!
There's Steelers receiver Antonio Brown. And Vikings running back Adrian Peterson. And, right after them in yards from scrimmage per game, there's Charcandrick West. The Chiefs' runner has averaged about 137 yards per game since his Oct. 25 takeover. He broke free on an 80-yarder vs. Denver and should find similar success this week.
2. Get Travis Kelce involved on deep throws again
Tight end Travis Kelce's receiving stats (averaging only 7.7 yards per catch since Week 8) have unsurprisingly suffered; his team is finally playing with a lead. Still, the Chiefs are underutilizing one of the best seam threats in football. The Bolts have surrendered seven tight end touchdowns -- it's time to get back on track.
3. Unleash Justin Houston
San Diego can't catch a break with its injured big uglies this year. But that doesn't even matter when Justin Houston comes to town; the Chiefs' star rusher has had great outings against healthy Chargers blockers like Joe Barksdale and D.J. Fluker. He leads all 3-4 outside 'backers with eight sacks and he's just heating up. Moving him all around the formation will allow him more pass-rushing opportunities.
CHARGERS:
1. Use your check-downs, Philip.
No Keenan Allen. No Malcom Floyd (probably). No chance Rivers tests this ball-hawking Chiefs' secondary with any radical deep throws. Instead, expect a barrage of short and intermediate throws. Running back Danny Woodhead better buckle his chin strap; he's in for some work.
2. Use Antonio Gates as a big decoy
Rivers' most trusted target has battled a bum knee for well over a month. Still, he's the only game-breaking receiver the Bolts will field; K.C. has to account for him wherever he goes. San Diego might split him out wide to draw coverage away or set him in motion to distract from handoffs. Either option is knee-safe and should still distract the defense. 
3. Get some kind -- any kind -- of field-position advantage
San Diego is the only NFL team with a starting drive average from behind the 20-yard line. That means they'd be better off taking a knee on every single bring-back. An inept Jacoby Jones has left town, but something else has to change in that department for the Bolts to succeed at home.
---
---