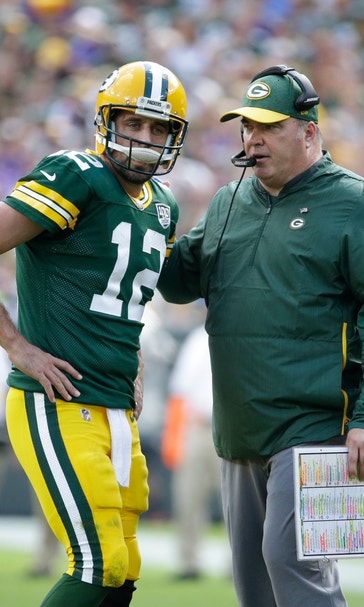 Rodgers, McCarthy moving forward to get Packers going
October 3, 2018
GREEN BAY, Wis. (AP) — Following a 22-0 victory over Buffalo last week, Green Bay Packers quarterback Aaron Rodgers called the offense "terrible" and was critical of the plan spearheaded by coach Mike McCarthy.
On Wednesday, Rodgers downplayed any rift with the man who has been his coach for his entire 13-year career.
"Mike and I talk all the time," Rodgers said. "We have a great relationship. There's always been great communication between us. Even if there (are) things that we need to talk about that are tough subjects, we've never had a problem finding time and talking," Rodgers said.
"For any relationship, it starts with good communication and being able to be honest with each other and then hug it out afterward," Rodgers added.
Against the Bills, the Packers gained 423 yards and had their best day in terms of third-down efficiency since Week 1 of 2017. Rodgers, however, was in a sour mood after the team scored only two touchdowns.
Rodgers again talked about his frustration with the state of the offense, though there was no criticism directed at McCarthy.
"Mike always says 'conflict is good,'" Rodgers said. "You've got to keep the conversation going. We've got to find ways to be more efficient on offense. The execution wasn't where it needs to be. I'm always going to hold myself and this offense to a higher standard. I've got to play better and we've got to play better, because last week was unacceptable."
McCarthy, who spoke at length about Rodgers' comments on Monday, was eager to move on, as well.
"He's super competitive," McCarthy said Wednesday. "I think we all feel the same way when you go out there and you see opportunities and sometimes emotion pushes forward. I didn't feel great about our offensive performance when I walked off the field Sunday myself, too."
After five dropped passes and two turnovers against Buffalo, the offense's performance is going to have to improve headed into Sunday at Detroit. The Lions might be 1-3, but their lone win was 26-10 over New England at Ford Field in Week 3.
Detroit also has one of the NFL's best cornerbacks in Darius Slay and the pass rush has 13 sacks.
Green Bay's offense could be short-handed if two of its starting receivers are unavailable. Randall Cobb missed last week's game against Buffalo with a hamstring injury and didn't practice on Wednesday, while Geronimo Allison remains in the concussion protocol.
That could leave only leading receiver Davante Adams and rookies Marquez Valdes-Scantling, J'Mon Moore and Equanimeous St. Brown. Of those three, Valdes-Scantling has the only production with two catches for 41 yards.
"They're getting better," Rodgers said. "But I told those guys before Week 1, 'You're all going to get an opportunity at some point. When you step in, there's an expectation you're going to make the plays.' So, we've got to keep improving in practice."
Rodgers didn't practice again on Wednesday as he recovers from the knee injury sustained in the season opener against Chicago. He intends to practice Thursday, like he did last week.
To Rodgers, the path to improvement starts with getting the ball to Adams and the continued success of the running back trio of Aaron Jones, Jamaal Williams and Ty Montgomery. Accomplishing those things should improve an offense that has been so-so on third down and awful in the red zone.
"We've got to run the ball consistently and then be able to move the ball down the field in the play-action game," Rodgers said. "We haven't been able to hit a ton of that stuff, and I think it starts with moving the sticks and giving us more run opportunities."
---
---