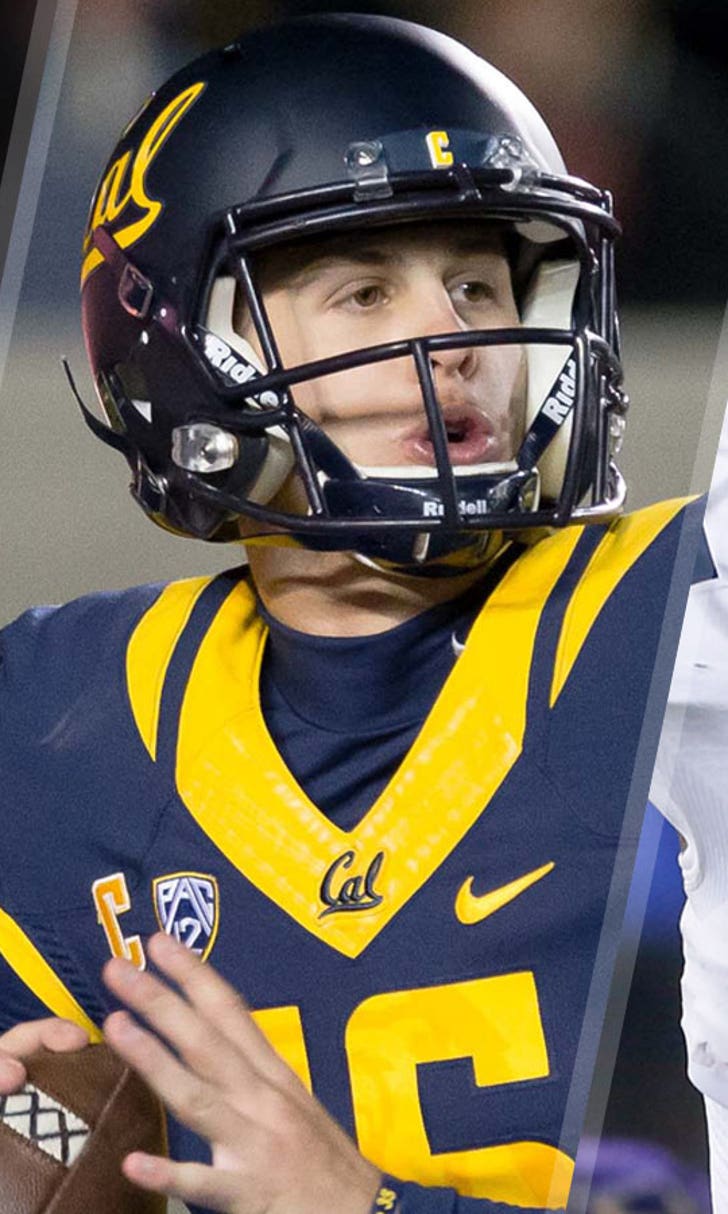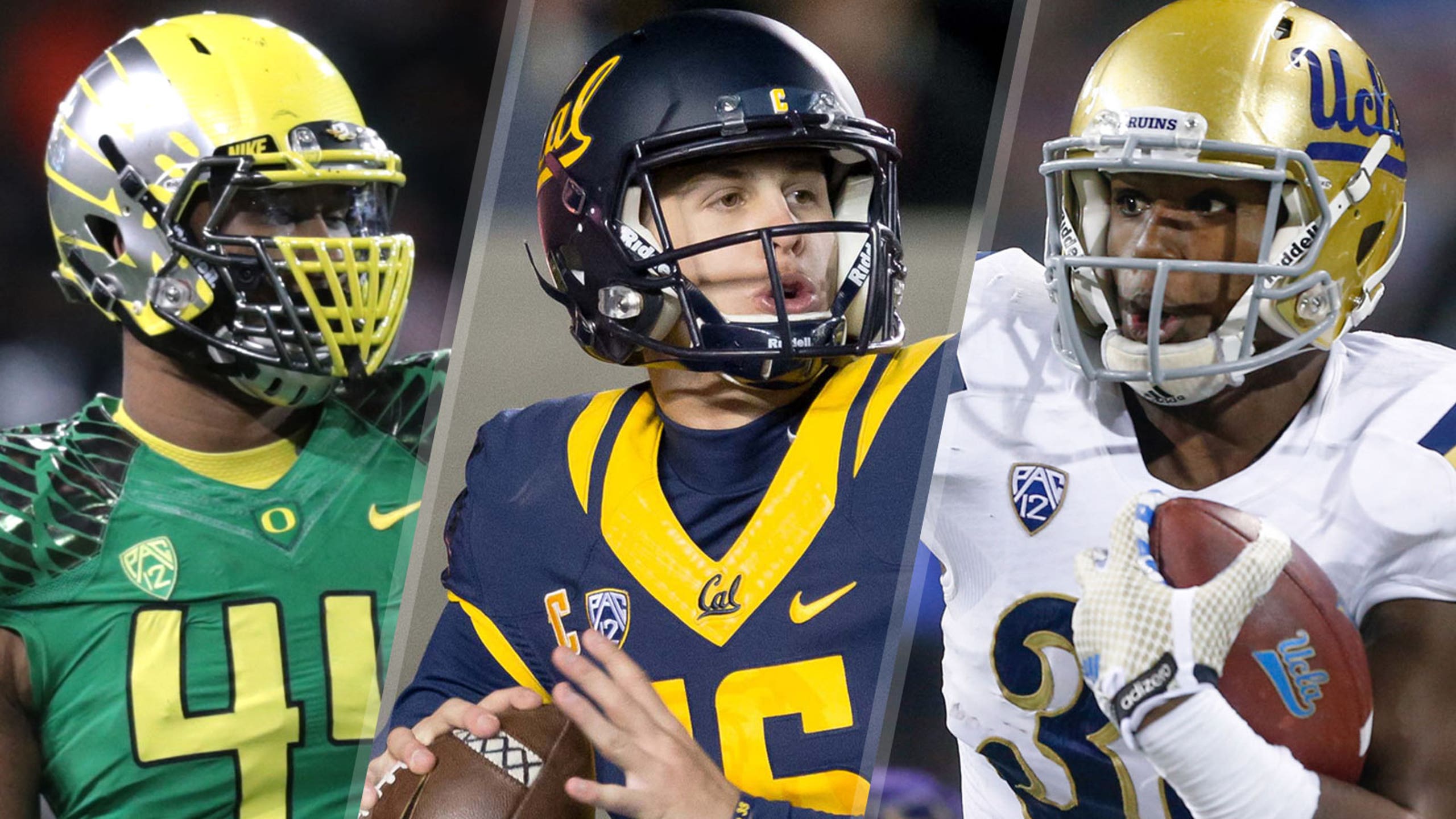 Post-Combine NFL mock draft: Who's rising and who's falling?
BY foxsports • March 3, 2016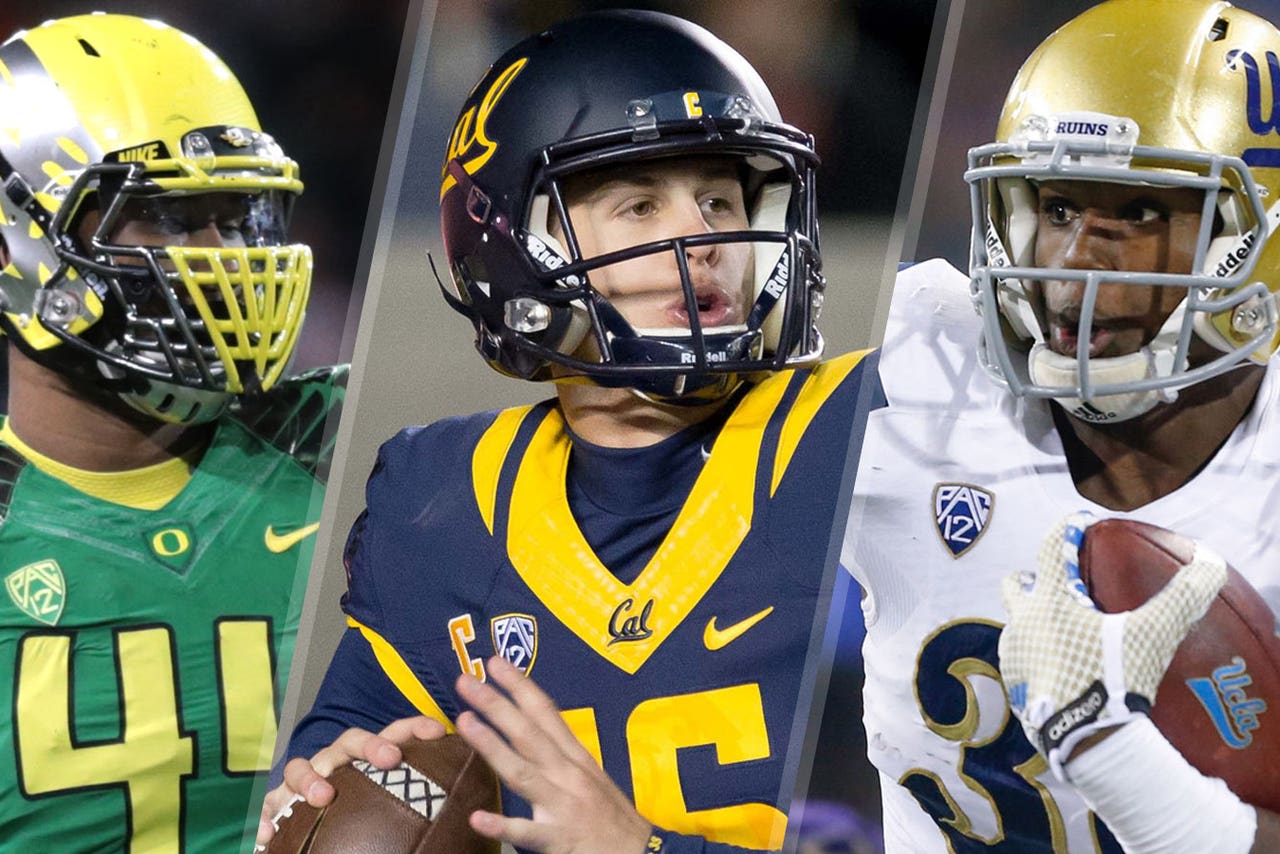 The Combine has been described as the NFL's version of Spring Break: Substitute college kids going wild for coaches and scouts running rampant, and it's pretty spot on. Beneath all the gossip and rumors is a mass football tryout for over 300 college prospects too. General managers, coaches, scouts, agents, media, and business affairs types (and hangers-on) all converged on Indianapolis for seven days and are now back in their respective cities, though many are still recovering. I've spoken to representatives from just about every team, as well as several of the agents and coaches who were in attendance. I've got a feel for many of these prospects, but also know that free agency will play a major impact on who goes where. Consider this the blueprint as of March 3. Coming out of Indianapolis, here's my latest 2016 Mock Draft.
You know the deal. This will change. Have an issue with the picks or who I have your team selecting? Hit me at PeterSchrager@gmail.com or on Twitter @Pschrags.
1. Tennessee (3-13): Laremy Tunsil, OT, Ole Miss, Jr.
If Tennessee keeps the pick, I'd see them going with Tunsil, the talented left tackle most often compared to Tyron Smith of the Cowboys. The Titans gave up 54 sacks, the most in the entire league, a season ago. Tunsil opted not to run the 40-yard dash but did compete in the offensive tackle drills. One NFC offensive coach described his workout as "an absolute show." 2014 first-round pick Taylor Lewan could shift to right tackle and Tunsil could man the left side. Marcus Mariota can breathe easy, knowing he has protection on both sides for the near future.
2. Cleveland (3-13): Carson Wentz, QB, North Dakota State, Sr.
Wentz backed up an impressive week at the Senior Bowl with an even more impressive week at the Combine. The two-year starter at NDSU measured in at 6-foot-5, 240 pounds, ran a sub-4.8 40-yard dash, and made all the throws. I'm told Wentz was most impressive in his interviews with teams. He was an ace on the whiteboard and made it known that no stage is too big, even for a straight-A student from Bismarck. New Browns head coach Hue Jackson knows his QBs. So does quarterbacks coach Pep Hamilton. If they fall in love with one of the veteran free agents or Cal's Jared Goff, I'd trust them. But I think Wentz, the anti-Johnny Manziel quarterback prospect, with Josh McCown showing him the ropes, is the pick.
3. San Diego (4-12): DeForest Buckner, DE, Oregon, Sr.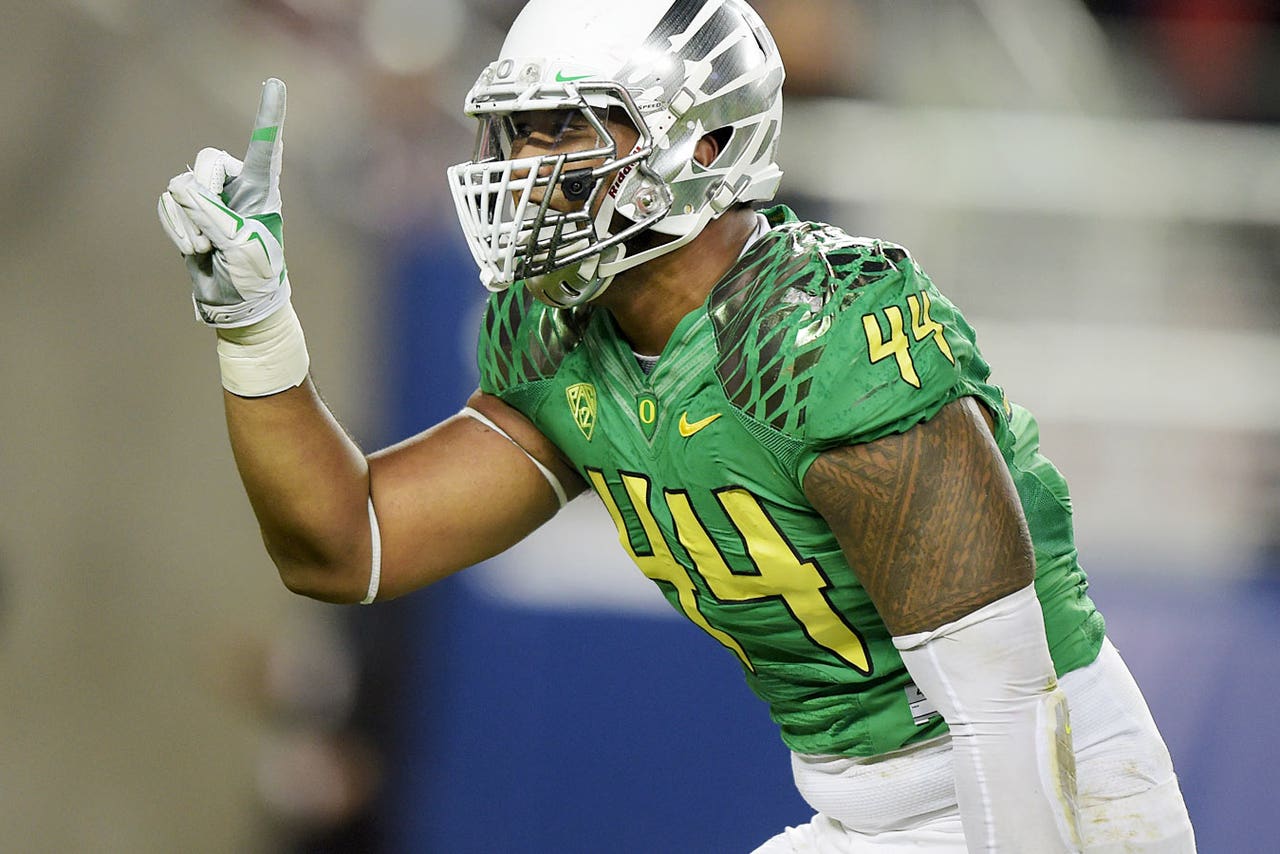 DeForest Buckner
I was hearing before the Combine that Buckner was going to wow everyone, and he didn't disappoint. He has monster 12-inch hands and moves like an NBA power forward. He is a 6-foot-7, 290-pound pure athlete who tore up the Pac-12 this season. He had 12 tackles for a loss in just a nine-game season in 2015 and is my top defensive lineman in this draft. San Diego's D-Line is desperate for a thumper up front.
4. Dallas (4-12): Jared Goff, QB, Cal, Jr.
I'm still going with Goff to the Cowboys, despite hearing everything from "They won't pass on Myles Jack" to "Jerry loves Ezekiel Elliott!" in Indianapolis. Cowboys fans got a glimpse of what life without Tony Romo could be like this season, and it wasn't pretty. Goff is a big kid, a wonderful prospect who has all the intangibles, and has all the traits that could make the next great franchise quarterback in Big D. He needs to put on a little weight (217 pounds). Let him learn under Romo, be groomed as the next guy, and the Cowboys will suffer no Quincy Carter/Chad Hutchinson-like drop-off.
5. Jacksonville (5-11): Jalen Ramsey, DB, Florida State, Jr.
Ramsey had a heck of a week in Indianapolis and checks all the boxes. He is a guy who can do it all in a defensive backfield, matching up with small, shifty slot receivers or handling the towers like Calvin Johnson or Mike Evans. He's a track-and-field star, can tackle, and has been one of the leaders on a very successful Florida State team for multiple seasons. Is he a safety or a corner? I'm not sure. But he's damn good and a great fit for whatever head coach Gus Bradley wants to do on D moving forward.
6. Baltimore (5-11): Joey Bosa, DE, Ohio State, Jr.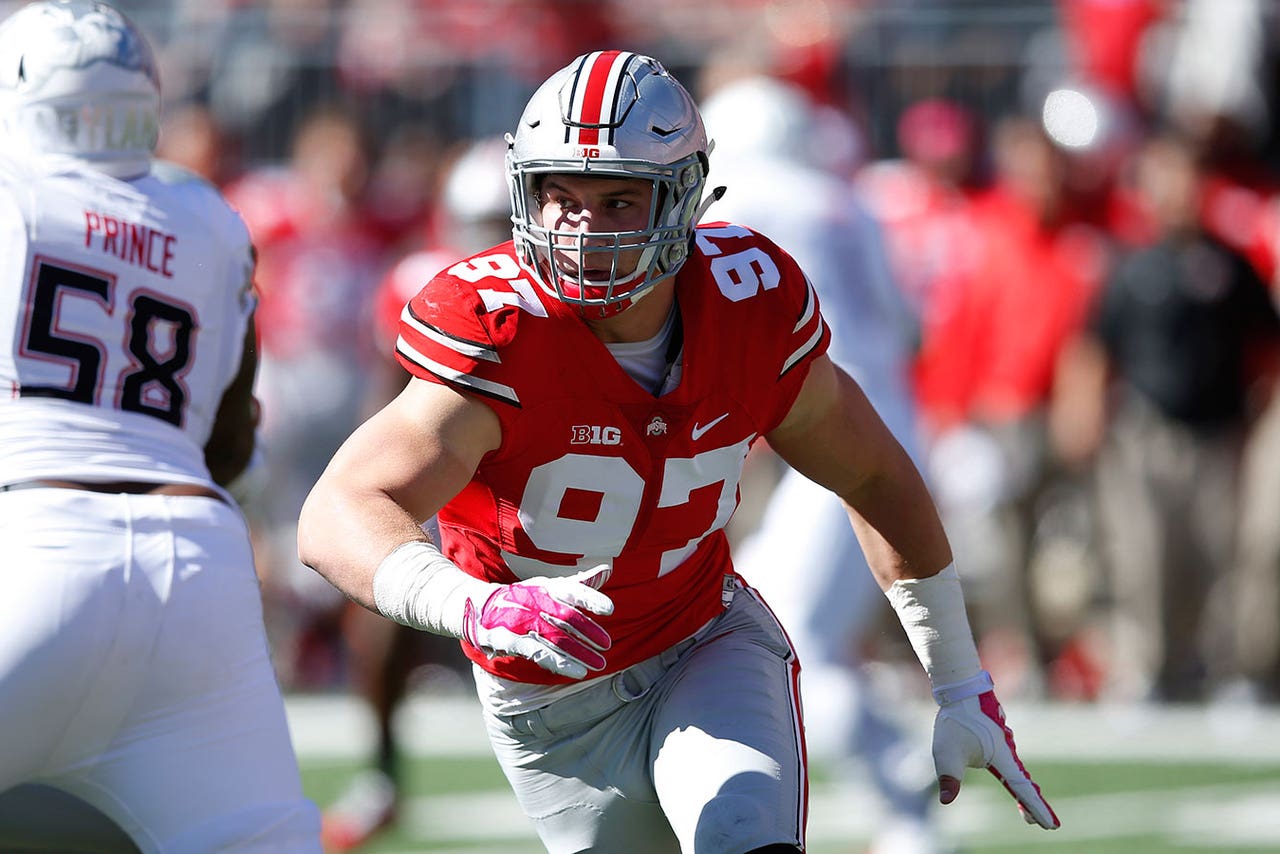 Joey Bosa
Bosa isn't the next J.J. Watt, as many hyped him to be throughout the college football season. But that's OK. He's certainly something special. He didn't blow the scouts away with his 40 time and he was a bit of a character in his interviews, but teams do love the way he gets to a quarterback. He doesn't stop, either. His dad played in the league (and still plays a major role in his life) and there's no doubt he'll be a top 10 pick. I can't say for certain that Terrell Suggs or Courtney Upshaw are back in Baltimore next season but I do know there's a desperate need for pass rush. Corner and offensive tackle may look like bigger needs on paper, but I like Baltimore going with Bosa at 6. For now.
7. San Francisco (5-11): Ronnie Stanley, OT, Notre Dame, Jr.
Offensive line is an area of need for the 49ers — it was rattled by the departures of Mike Iupati and Anthony Davis last offseason, and next year's unit still is a bit of a question mark. Right behind Tunsil on the offensive line board this year is Stanley. The Notre Dame star had a great Combine week. He's 6-foot-6, 312 pounds, dominated opponents his entire career at Notre Dame, and had an arm length and hand size longer than Tunsil.
8. Miami (6-10): Myles Jack, OLB, UCLA, Jr.
Jack is the draft's biggest wild card. If his rehab from a torn meniscus continues to progress — as I'm told it will — he'll be a top-10 selection. The Dolphins have Ndamukong Suh on the inside and Olivier Vernon next to him. That's not enough up front. Jack is truly a do-it-all talent, and I'm told he was incredible in interviews last week. Very professional, focused, and smart when asked about multiple positions and schemes. In a division owned by Tom Brady, you can never have enough top defensive talent.
9. Tampa Bay (6-10): Vernon Hargreaves III, CB, Florida, Jr.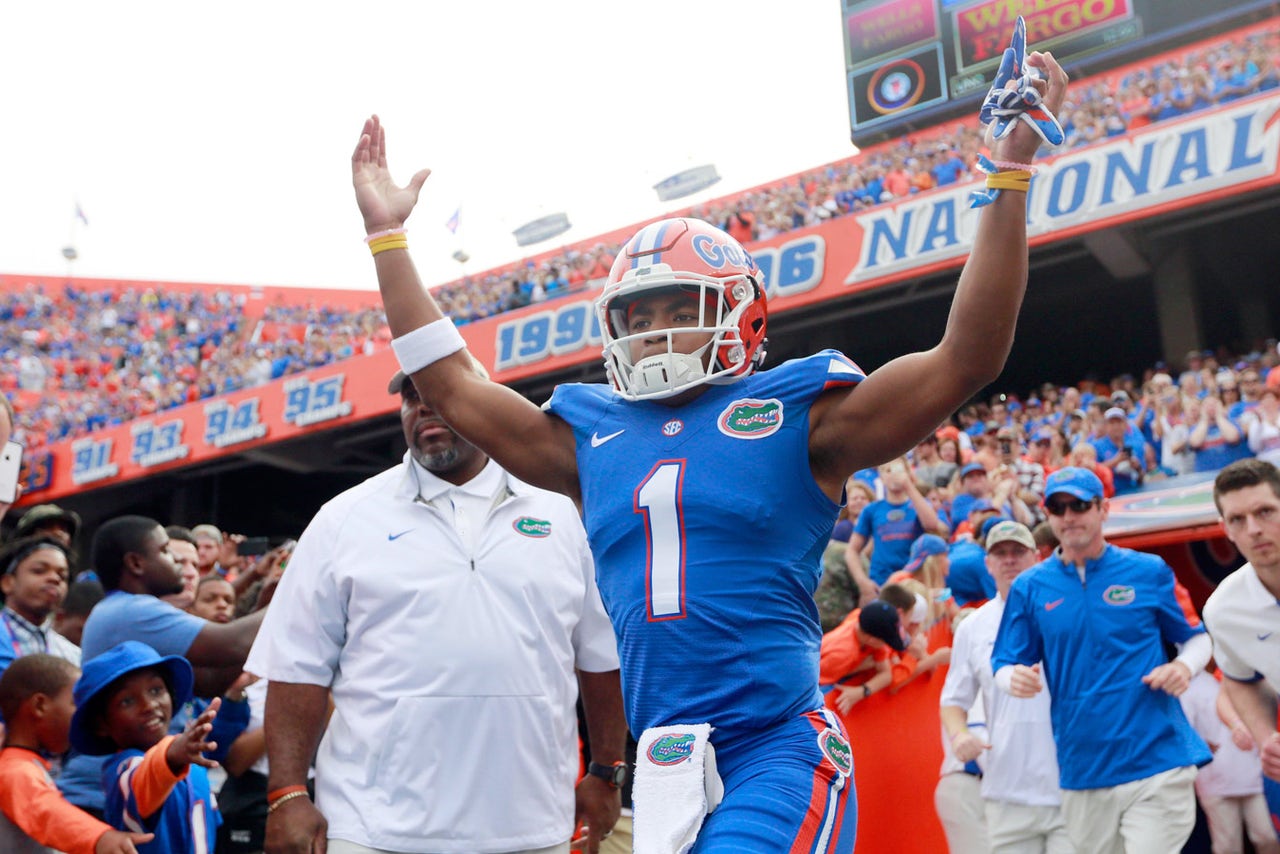 Vernon Hargreaves III
The Buccaneers got the crown jewel of their offense a season ago in quarterback Jameis Winston. Adding the No. 2 defensive back Hargreaves in this draft as the crown jewel of the defensive backfield would make sense. A local kid, Hargreaves was one of the few bright spots at Florida during his time there. He looks the part and could be a No. 1 corner from day one.  
10. New York Giants (6-10): Leonard Floyd, OLB, Georgia, Jr.
I know Floyd isn't in the top 10 of many mock drafts, and I had Darron Lee here last week before he put on an absolute show at the Combine. Asking around, I think the 6-foot-6, 240-pound Floyd is actually the better fit for New York. He checked all the boxes in his height and weight and ran a 4.6 40-yard dash before bowing out of the three-cone drill, 60-yard shuttle and bench press. Floyd is a pure pass rusher — I'm not sure how he does against the run — and I think he'll be the right piece after the Giants load up in free agency.
11. Chicago (6-10): Darron Lee, LB, Ohio State, RS Soph.
There will be nearly a dozen players out of Ohio State drafted in the first 100 picks. Lee is second on my list behind Bosa and could be the best of all of them at the next level. He's a bit small on first sight and doesn't look like a traditional NFL linebacker (235 pounds), but Lee flies all over the field and can rush the quarterback. The Bears need defensive help at all three levels, and Lee, who ran a 4.47 40-yard dash, can clean up the middle. He's been compared to Lavonte David. He could end up being better.
12. New Orleans (7-9): A'Shawn Robinson, DT, Alabama, Jr.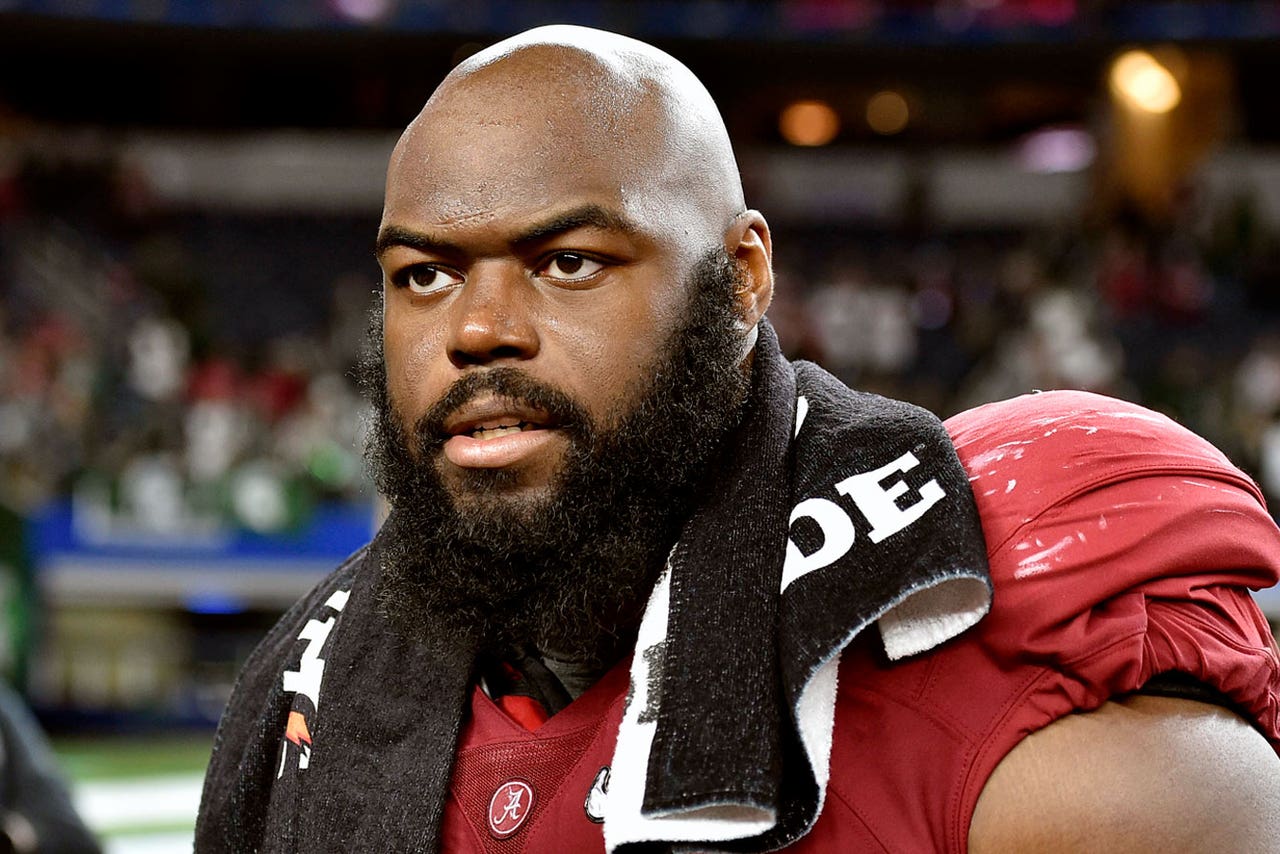 A'Shawn Robinson
The Saints are going to beef up on defense, either with a pass rusher or defensive plug up the middle. I like Robinson here. He's 6-foot-3, 320 pounds and is actually much lighter on his feet than you'd expect. Talented inside and plays angry. Perfect fit for the Saints.
13. Philadelphia (7-9): Paxton Lynch, QB, Memphis, Jr.
Don't think just because the Eagles extended Sam Bradford that they wouldn't take a quarterback in the draft. Remember, this is the team that took Kevin Kolb when they had Donovan McNabb and Nick Foles when they had Michael Vick. Lynch is 6-foot-7, can move, and has a strong arm. I'm told he interviewed well enough and has a bit of flair to him. Flamboyant and big personality isn't the worst thing. As long as he backs it up. He won't start in Year One, but that's OK. I love this pick, even if Eagles fans — and both Bradford and Mark Sanchez's agents — absolutely hate it.
14. Oakland (7-9): Shaq Lawson, DE, Clemson, Jr.
The Raiders need defense at all three levels, but they love what they got out of rookie Mario Edwards last year and believe Khalil Mack was even better in his second year than his first. Lawson tore up the Combine and put himself in top-15 contention last week. 270 pounds, a 4.7 40-yard dash, and explosive off the edge. The Raiders keep on adding young pieces. I love the thought of Lawson in silver and black.
15. Los Angeles (7-9): Laquon Treadwell, WR, Ole Miss, Jr.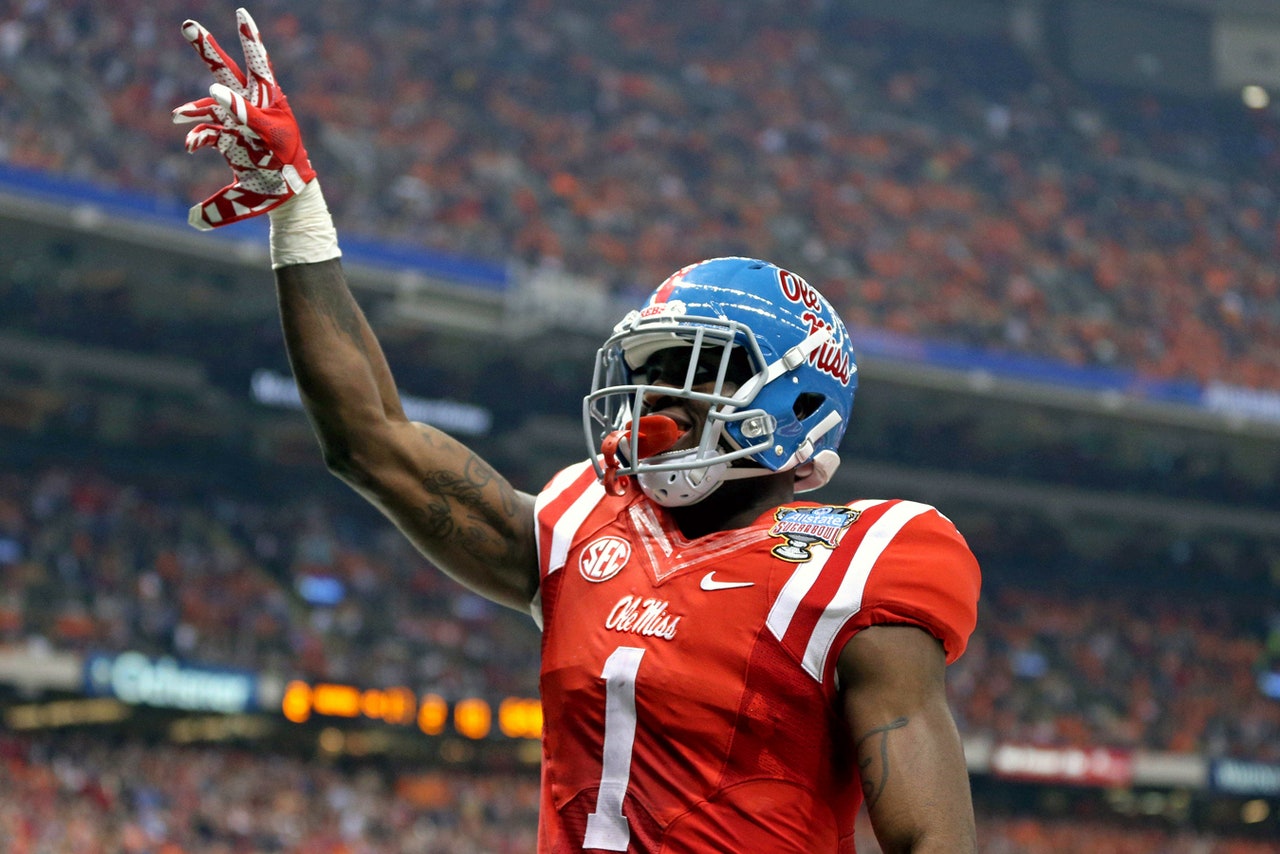 Laquon Treadwell
Treadwell is the most fascinating prospect in this entire draft class. I am downright intrigued to see where he ends up in April. He's a crisp route runner who does it all on tape. He produces. But he opted not to run a 40-yard dash at the Combine, raising some eyebrows. He could be the next Anquan Boldin. I have no idea who will be suiting up for the Rams at quarterback in Week 1 next year, but I like Treadwell in L.A.
16. Detroit (7-9): Ezekiel Elliott, RB, Ohio State, Jr.
Yes, the Lions already have a pair of running backs in Ameer Abdullah and Theo Riddick. No, neither is close to what Ezekiel Elliot is. I've had two teams tell me they believe he's a top-10 pick. That's a little too rich for my blood at the moment, but I also saw Todd Gurley skyrocket up boards the week of the draft a year ago. Elliott is the best blocking running back to enter the NFL in years, and he can run the ball too.
17. Atlanta (8-8): Reggie Ragland, ILB, Alabama, Sr.
The Jaguars coaching staff used Ragland as an outside linebacker at the Senior Bowl, but I don't think that's the right fit. The Falcons are desperate for some help up the middle on that Dan Quinn defense. If Bobby Wagner was that guy for Quinn in Seattle, there's a chance Ragland can be that dude for him in Atlanta. Ferocious player that Nick Saban loved; he'd be a great fit.
18. Indianapolis (8-8): Jack Conklin, OT, Michigan State, Jr.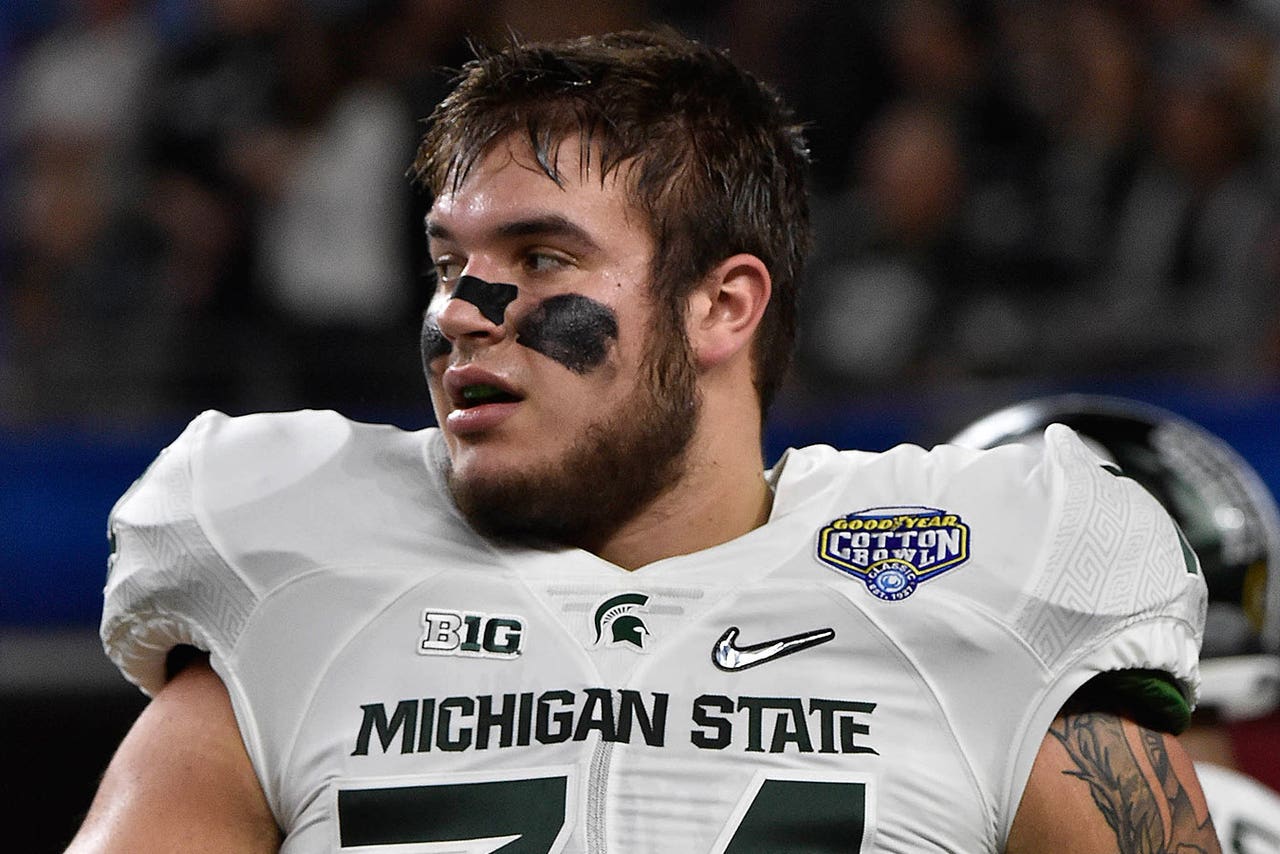 Jack Conklin

Whether he's a tackle or guard at the next level will be figured out in due time. Either way, Conklin is a gamer. Not a huge splash pick, but a solid one at 18. The Colts got a lot of great play out of guys on the O-line no one expected much from late last season. I still think it doesn't hurt to get a stud like Conklin.
19. Buffalo (8-8): Taylor Decker, OT, Ohio State, Sr.
Buffalo's offensive line could use another big, reliable body up front and Taylor's a top-20 guy. He is 6-foot-7, 315 pounds and can move. Agile and strong, he's a left or right tackle and can likely play as soon as next season.
20. New York Jets (10-6): Derrick Henry, RB, Alabama, Jr.
Chris Ivory and Bilal Powell both may be playing elsewhere next season, leaving in the next few weeks via free agency. If that's the case, Henry becomes a real possibility at 20. He could be the next Eddie George. He's 6-foot-3, 247 pounds, and ran a 4.54 40-yard dash. Henry's a beast. A Heisman Trophy winner who can carry the rock and run downhill 25 times a game — €"the Jets could be just fine without Ivory or Powell.
21. Washington (9-7): Kendall Fuller, CB, Virginia Tech, Jr.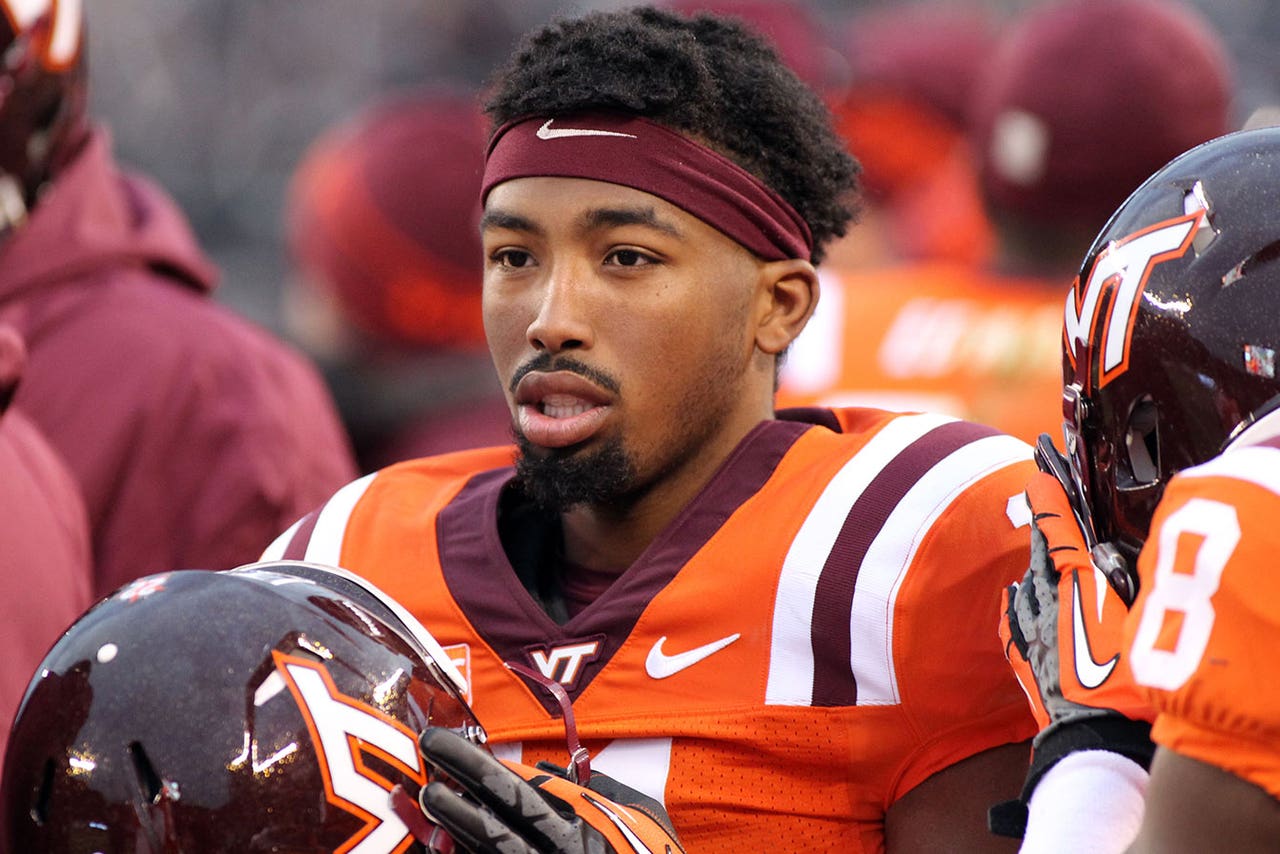 Kendall Fuller

After Ramsey and Hargreaves, there's a big gap between Nos. 2 and 3 on my cornerback list. I actually like Fuller more than both Eli Apple, Mackensie Alexander and William Jackson. Fuller comes from a long line of Fullers who have succeeded in the NFL. He's 6-foot, 190 pounds and was a stud at Virginia Tech before an injury cut his 2015 season short. Good pedigree. Strong player. A relatively local kid and a need for Washington.
22. Houston (9-7): Connor Cook, QB, Michigan State, Sr.
Everyone's going to assume Christian Hackenberg's the guy here. I think if Connor Cook and Hack both slip to 22, Bill O'Brien — a quarterback whisperer — will select Cook. He measured in at 6-foot-4, threw the ball well, and did better than expected in interviews. Connor Cook won 34 games in college, two Big Ten Championship Game MVP awards, and will be a first-round pick. O'Brien needs a young gun who can play right away. Cook's the guy.
23. Minnesota (11-5): Josh Doctson, WR, TCU, Sr.
Teams are a lot higher on Doctson than I was aware of heading into the Combine, and he really delivered on their praise in Indy. He's 6-foot-2, 220 pounds, and jumped 41 inches in the air (best of the wide receivers). Doctson had a great career at TCU, shortened by injury last season. He high-points the ball and just snags it. If Teddy Bridgewater is in need of a guy to grow old with, I could see Doctson being that guy.
24. Cincinnati (12-4): Corey Coleman, WR, Baylor, Jr.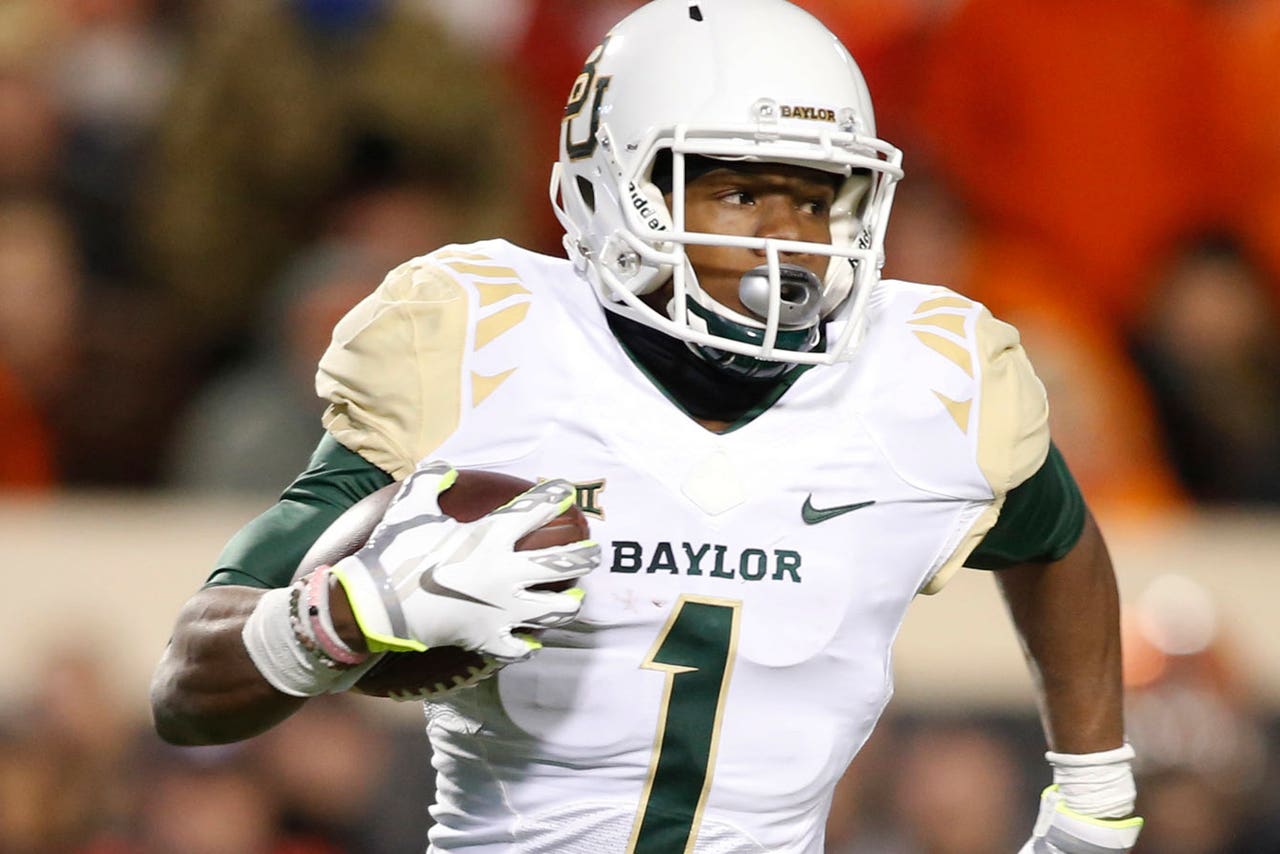 Corey Coleman

Both Mohamed Sanu and Marvin Jones are free agents, and even if one or both are back, I could see Cincinnati grabbing another impact wide receiver with this pick. Coleman had 74 receptions for 1,363 yards and 20 touchdowns last season, and will test better than Treadwell. His season was cut short with an injury, but he should be fine come Week 1.
25. Pittsburgh (10-6): Robert Nkemdiche, DT, Ole Miss, Jr.
Nkemdiche's a man. I asked nearly a dozen talent evaluators about him and there are no questions that he's a good enough player to be a star at the next level. The off-the-field concerns are real, but he won't be the first defensive lineman in NFL history with a troubled past. The truth is, he was a lot better in interviews than expected, and at 25, a stable franchise like the Steelers can take a roll of the dice on a talent that might end up being the best future pro in this draft.
26. Seattle (10-6): Emmanuel Ogbah, DE, Oklahoma State, Jr.
Ogbah had a good week in Indianapolis, running well and looking and measuring even bigger and stronger than many scouts had hoped. He had 11 sacks as a sophomore because of his freakish athleticism. He then doubled down and had 13 sacks in 2015, even though he was a focus of opposing offenses' blocking schemes. The Seahawks love Frank Clark, their second-round pick a season ago. But I'd expect Bruce Irvin to sign elsewhere as a free agent.
27. Green Bay (10-6): Eli Apple, CB, Ohio State, Soph.
The Packers took defensive backs with their first two picks a season ago and loved what they got out of both of them (Damarious Randall and Quinten Rollins). With Casey Hayward set to hit free agency and the list of top cornerbacks rather limited in this draft, don't be shocked if they go that route again. Apple is a 6-foot-1 technician who played his best against the toughest opponents. I like this fit.
28. Kansas City (11-5): Kamalei Correa, OLB, Boise State, Jr.
Here's the guy no one was talking about a few months back that could go in the first round. He clocked a 4.69 40 and showed exceptional athleticism in drills. Correa appears to be a good fit for a 3-4 team looking to beef up their outside pass rush. The Chiefs are a team looking to do just that.
29. Arizona (13-3): Noah Spence, DE, Eastern Kentucky, Jr.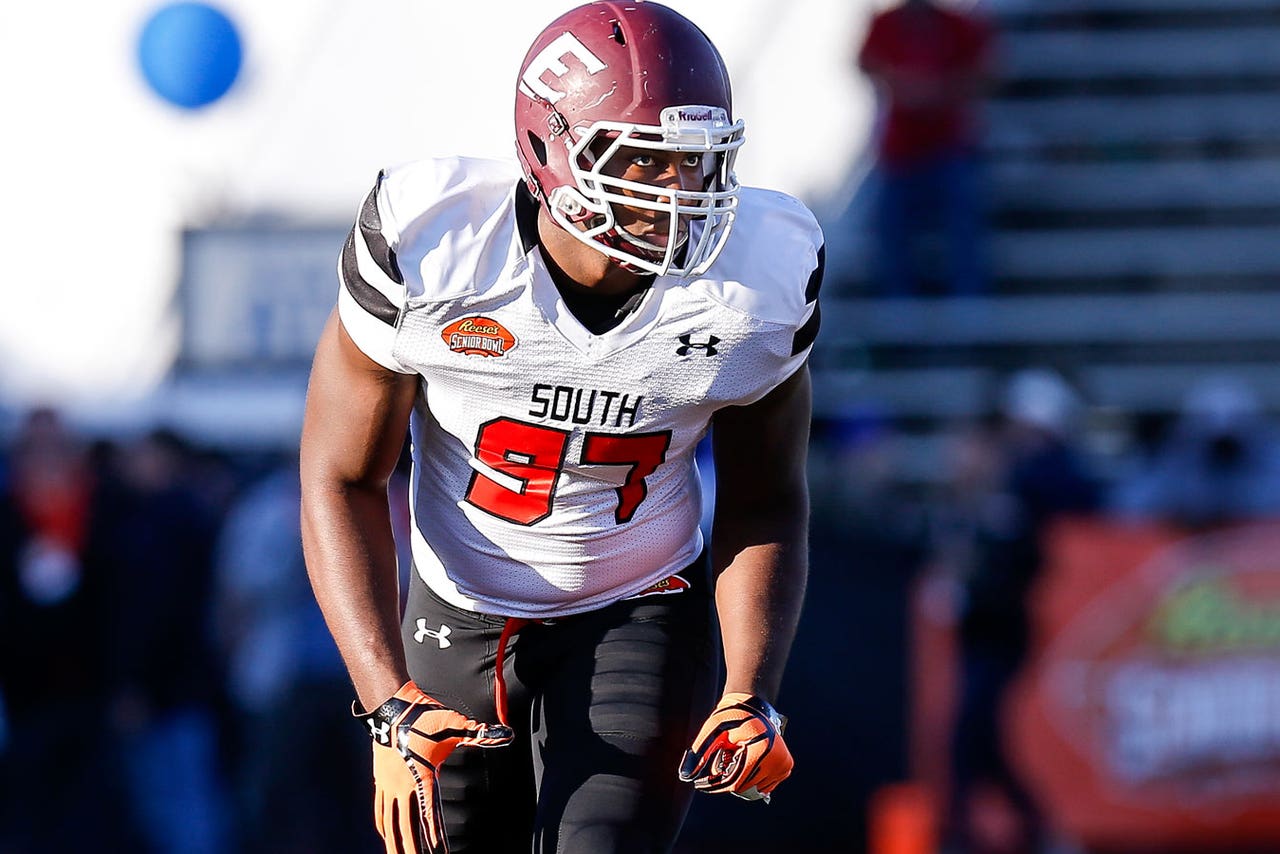 Noah Spence
Spence is one of the biggest wild cards in the draft. I know some teams had him as a hot guy entering the Combine, but he didn't run too well in the 40-yard dash and I'm told he wasn't spectacular in interviews. You know the story here. Spence was a big time recruit of Urban Meyer at Ohio State, ran into some problems with drugs, was dismissed, ended up at Eastern Kentucky, and dominated. Most importantly, he passed every drug test he took. The Cardinals sitting there at 29? Why not?  
30. Carolina (15-1): Jason Spriggs, OT, Indiana, Sr.
A high school tight end, Spriggs was a four-year starter at left tackle for Indiana and played his best against Ohio State's Joey Bosa. He scooted at the Combine and performed well enough to confirm he's a first-round pick. Mike Remmers and Michael Oher were exposed a bit in the Super Bowl. Spriggs is a solid addition.
31. Denver (12-4): Sheldon Rankins, DT, Louisville, Sr.
Rankins is a first-round pick, and without knowing what the Broncos are doing in free agency just yet, I think he'd be a steal if the draft fell this way. I love his intensity, he was the star of the Senior Bowl, and could be just another young interior defensive lineman for opponents to lose sleep over on that Denver roster.
NOTE: New England has no first-round pick.
---
---