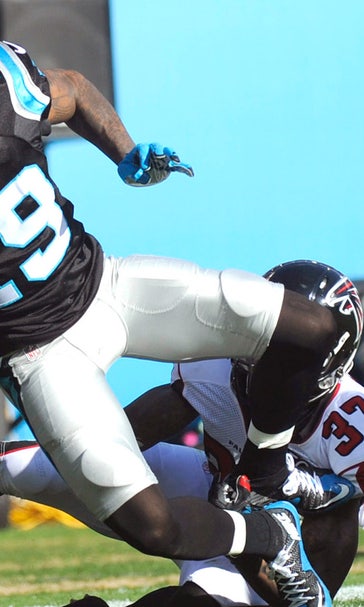 Panthers happy to take good with bad when it comes to Ginn
December 22, 2015

CHARLOTTE, N.C. (AP) Panthers wide receiver Ted Ginn Jr. originally enrolled at Ohio State on scholarship as a defensive back.
The Buckeyes quickly made him a wideout, but Ginn said he has never lost that ''defensive back mentality'' of quickly forgetting a mistake and moving on to the next play.
That has served the 30-year-old well this season with Carolina.
Ginn is enjoying the best season of his nine-year NFL career, averaging 17 yards per reception along with a career-best 10 touchdowns for the unbeaten Panthers (14-0). He has six TDs in his last three games, the type of production that allows the Panthers overlook his nine drops this season - which are tied for fourth-most in the league, according to STATS.
''We take the good with the bad,'' Panthers coach Ron Rivera said of Ginn.
But Rivera quickly points out, there has been more good than bad with 5-foot-11, 189-pound speedster.
Although he's dropped three would-be touchdowns, the Panthers are willing to live with his mistakes because of the high-end speed that Ginn brings to the offense.
Falcons coach Dan Quinn can attest to that explosiveness.
Two weeks ago Ginn torched the Falcons for TD catches of 74 and 46 yards in the first quarter, helping Carolina cruise to a 38-0 victory. The Panthers can wrap up the No. 1 seed in NFC and home-field advantage throughout the playoffs with a win Sunday at Atlanta.
''He's just blowing the top off coverages,'' Quinn said.
Ginn's resiliency has been a big reason for his success.
On four different occasions this season he's dropped a pass only to have Cam Newton go right back to him on the next play for an important completion to move the chains.
Panthers offensive coordinator Mike Shula said it is part of a trust and confidence that Newton has developed in Ginn.
''With the confidence that Cam has in me and Shula has in me, they're able to dial that play up and get me the ball again,'' after a drop, Ginn said. ''It seems like I do something better the second time around.''
Panthers wide receiver Philly Brown described Ginn as mentality tough.
He said he doesn't allow things to get to him as some other players do.
''He's the type that can shake that off quick because he knows Cam is going to come right back to him,'' Brown said.
''He goes to the next play,'' Rivera said. ''He slams his first into the grass, hops up and jogs back into the huddle and catches a slant'' on the next play.
Ginn had one of his best seasons with Carolina in 2013, catching 36 passes for 556 yards and a career-high five touchdowns. He was solid in the return game too, averaging 23.8 yards per kickoff return and 12.2 yards per punt return for the Panthers, giving them an explosive weapon they sorely lacked.
But Ginn acknowledged he ''chased a check'' in 2014 and signed a three-year deal with Arizona. It didn't take long to realize things weren't going to work out there and the Cardinals released him after one unproductive season.
Following the release he asked his agent about re-signing with Carolina, a place he said he felt ''loved and appreciated.''
Ginn seems to fit in Carolina.
He has 15 touchdown receptions in 30 career games with the Panthers, compared to just six TD catches in 104 games with Miami, San Francisco and Arizona combined.
He attributes that to the confidence the Panthers have shown in him - ''they understand me as a man, and as a football player,'' he said.
''He is playing with a purpose,'' Shula said. ''He has an edge to him and he wants to prove it to himself and everybody else.''
---
AP NFL website: www.pro32.ap.org and www.twitter.com/AP-NFL
---
---