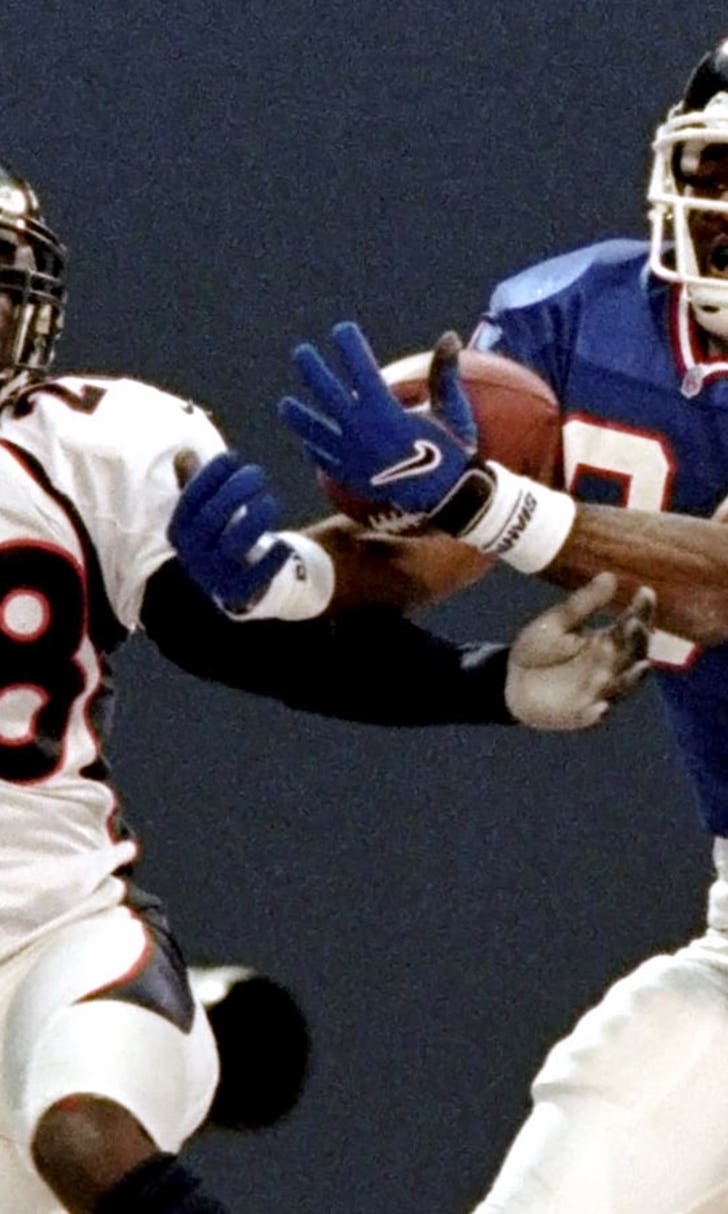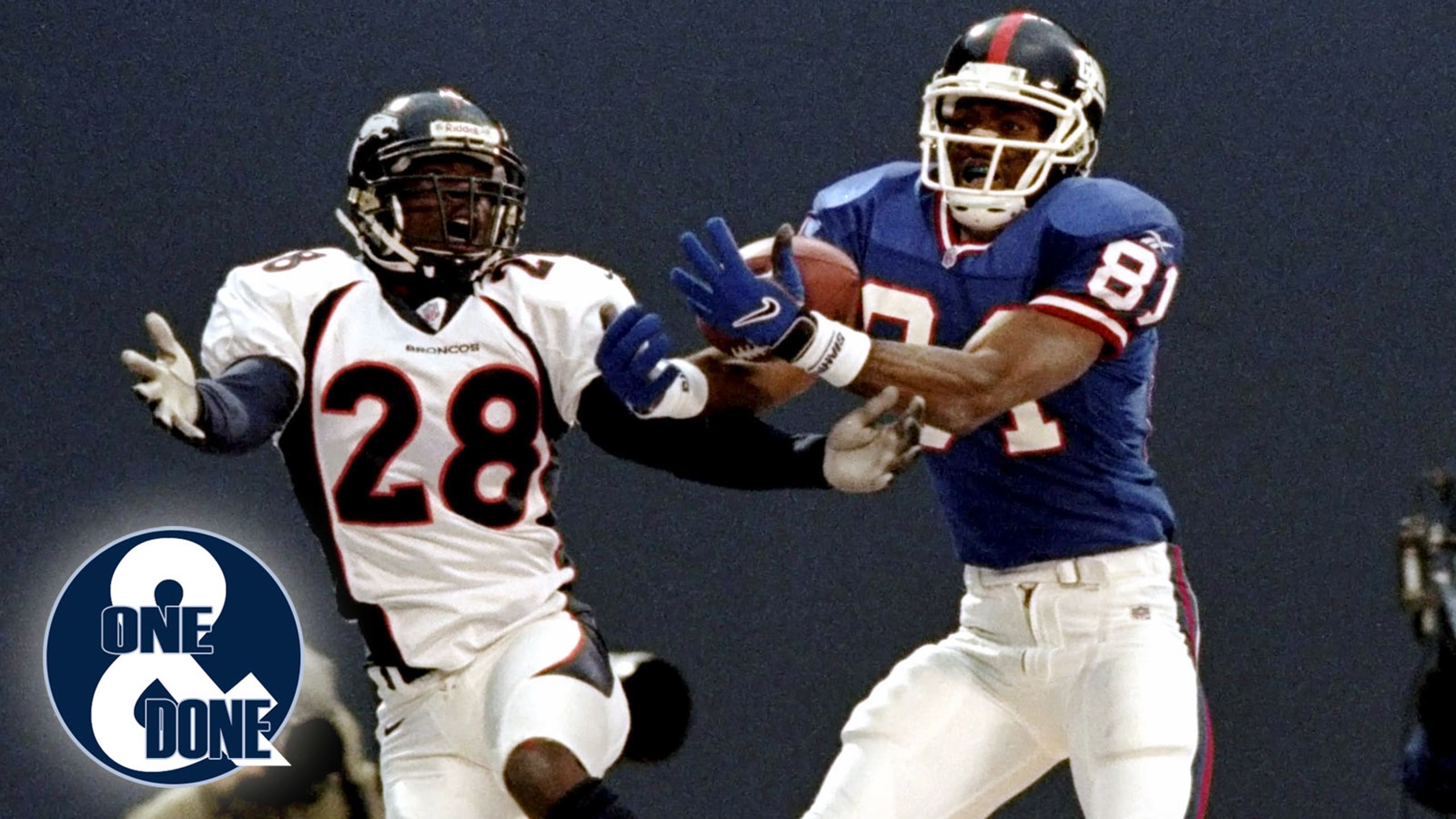 One & Done: In 1998, Kent Graham, Giants shocked undefeated Broncos
BY Sam Gardner • December 15, 2015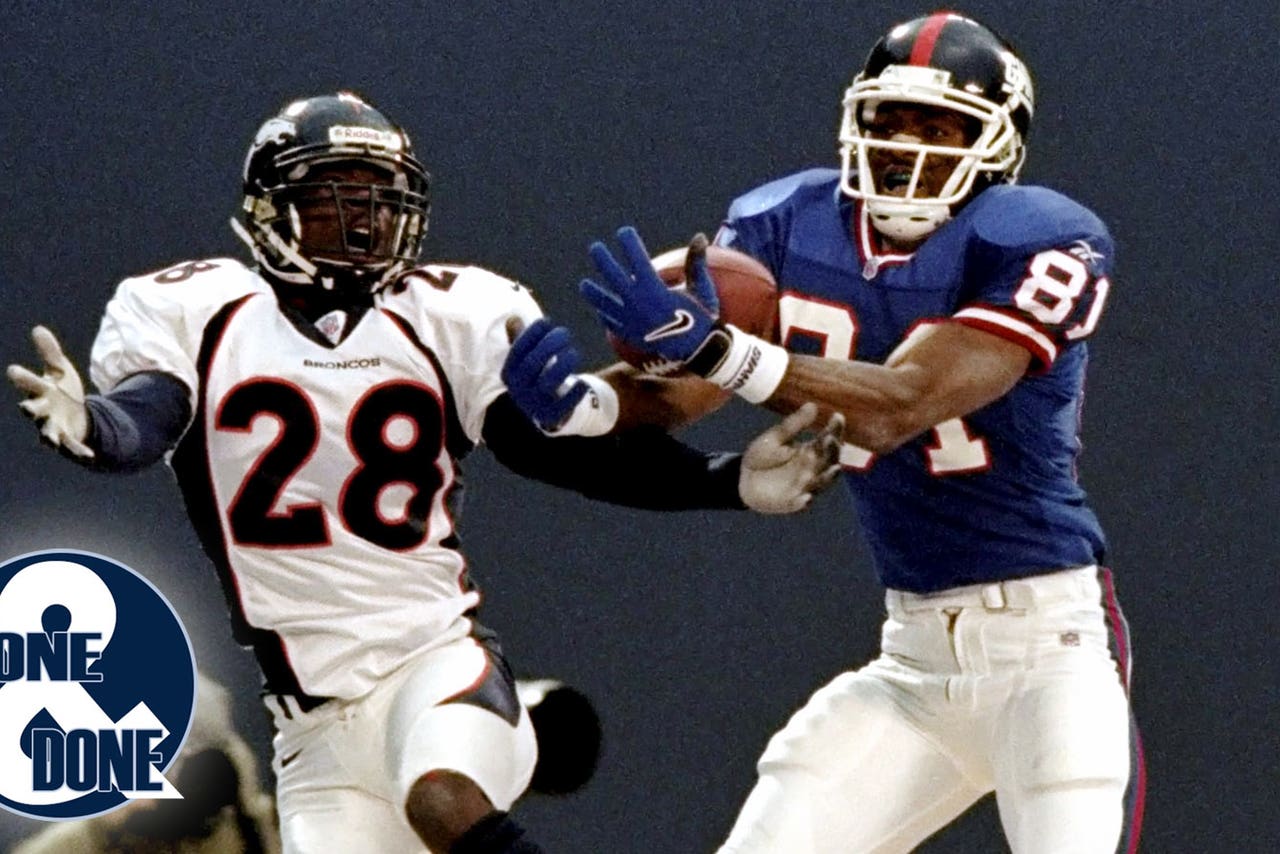 In the world of sports, athletes often dedicate their entire lives to reaching the pinnacle of their profession, but for many, life at the top can be short-lived. Sometimes all a player gets to experience at the highest level is one minute on the court, one trip to the plate, one shot on goal or one checkered flag, but more often than not, that fleeting moment in the spotlight is a story all its own. This is One and Done, a FOX Sports series profiling athletes, their paths to success and the stories behind some of sports' most ephemeral brushes with glory.
Former New York Giants quarterback Kent Graham recalls only one time in his NFL career where his father, Vic, watched him play from the sideline. When Vic Graham finally got the chance to root on his son from field level, he definitely picked the right game.
On Dec. 13, 1998, the Giants, who will face an unbeaten Carolina Panthers team Sunday, played host to 13-0 Denver in what figured to be the latest Broncos rout during a dominant title defense. At the time, the Broncos were the reigning Super Bowl champs and rode an 18-game win streak into the Meadowlands, where Graham was making his fourth start of the season after replacing Danny Kanell as the team's No. 1 quarterback.
Through 13 games, Denver was outscoring its opponents by an average of 15 points per game, and the Giants, one year removed from a division title, came in as two-touchdown underdogs. With that in mind, virtually no one was giving New York a chance to end the Broncos' streak -- not even Graham, who admits he wasn't so sure the 5-8 Giants had a chance against the league's best team.
"I remember watching film that week, and I'd never said this to my wife before, but I said, 'Babe, I don't know if we can beat them,' " Graham told FOX Sports in a phone interview Monday. "They were that good. They had eight defensive linemen that they rotated in and out, so they had a great pass rush, great defense, and you've got (John) Elway, and their offense was one of the best."
By game day, Graham was feeling more optimistic about his team's chances, even if that only meant he wasn't completely convinced the Giants would lose.
"There are only certain games in your career that are so challenging that it raises your level, and that was one of the games where it didn't matter what the records were," Graham said. "We had a really good defense that year, so I had confidence that our defense would play well, and offensively, if we just did our jobs, I thought we had a good shot at beating them. But I really didn't know."
Once the game started, the teams appeared to be on a relatively level playing field, as kickers Jason Elam and Brad Daluiso traded first-quarter field goals. Denver eventually took a 6-3 lead on another Elam field goal in the second quarter, but with 51 seconds left in the first half, Graham capped off a 15-play, 80-yard drive with a 21-yard touchdown pass to running back Tiki Barber, giving the Giants a 10-6 advantage.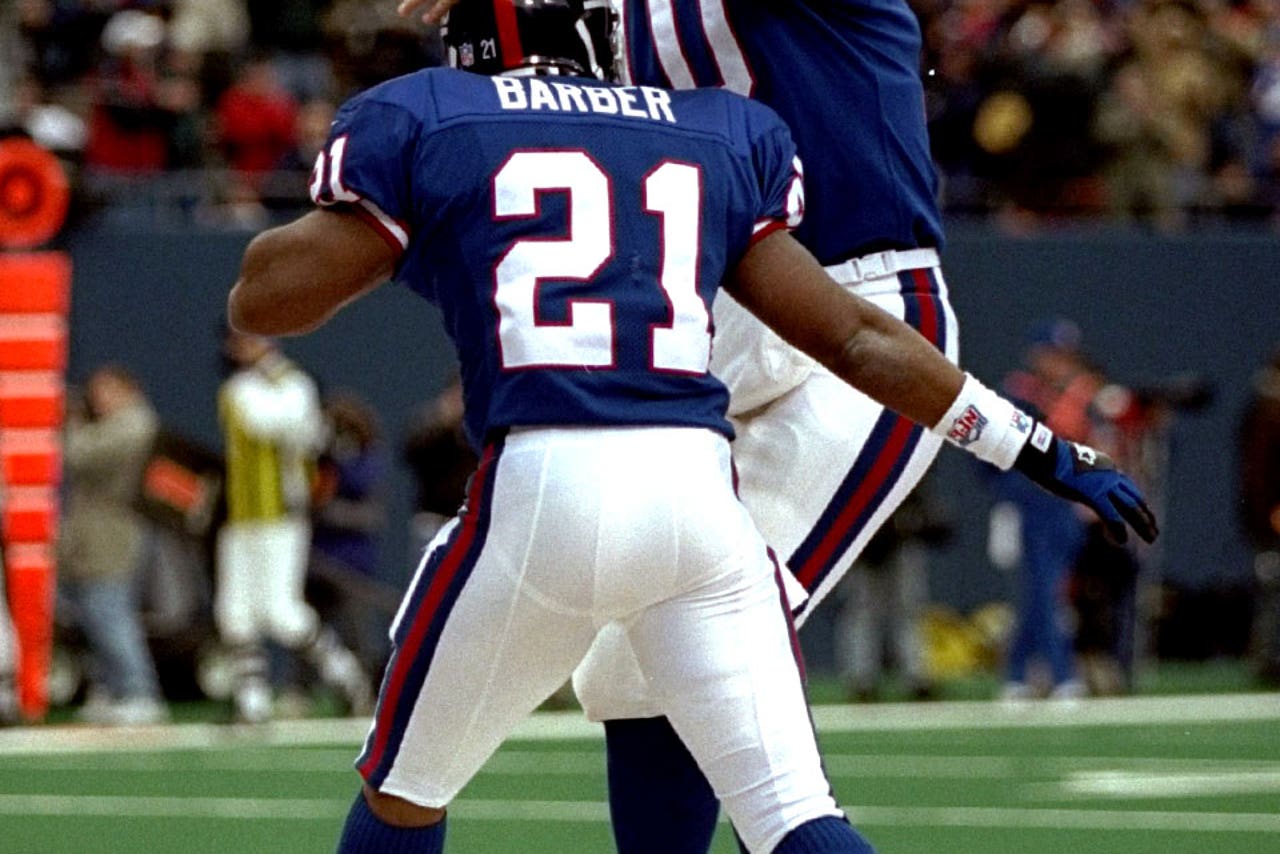 Tiki Barber and Kent Graham celebrated a TD connection.

"We went into the locker room feeling like, 'Hey we've got a shot here,' " Graham recalled. "It definitely did give a boost of confidence, just being able to execute and keep the game close until then. You just never know what can happen."
Elam's third field goal cut the New York lead to 10-9 in the third quarter, but a Shaun Williams fourth-quarter interception seemed to put the Giants in control. After the pick, the Giants drove to the Denver 1-yard line, but head coach Jim Fassel eventually settled for another field goal after running back Gary Brown was stopped on third-and-goal.
On the ensuing Denver possession, league MVP Terrell Davis finally got the Broncos in the end zone with a 27-yard touchdown to give the visitors a 16-13 lead. Later in the quarter, with 3:36 left, Brown lost a fumble, his first in 807 touches. However, the New York defense was able to get a stop, and the Giants got the ball back at their own 14 with 1:49 to play and no timeouts remaining.
With little to lose, Graham says he was confident he could at least force overtime, but the goal was always to win in regulation.
"Obviously we wanted a touchdown, so you go out and take one play at a time and see what happens," Graham said. "We were executing pretty well all day, I thought, so I had confidence that we could get it done."
On the first play of the drive, Graham found Chris Calloway over the middle for a gain of 15 yards. On the next snap, the Broncos defense forced Graham from the pocket, but Graham scrambled for 23 yards -- the longest rush of his career -- to put the Giants in Denver territory, where Graham spiked the ball to stop the clock with 1:11 to play.
"You're kind of surprised when that stuff happens," Graham said. "You go through your progression, you're looking and seeing what you think is going to happen, and then all of a sudden the waters open up, and it's like, 'Go.' It's one of those things that happens and you just react, and it got us to midfield. Now we could throw it to the end zone, which is what Jim Fassel was wanting."
The miracle drive nearly sputtered a few seconds later, though, as Denver defensive end Maa Tanuvasa hit Graham's arm as he escaped the Broncos pass rush and tried to throw downfield. The result was a wobbly pass to no one in particular that was nearly intercepted by Darrius Johnson, who wrestled for the ball with Joe Jurevicius before it fell to the turf.
"I couldn't tell what happened because I was on the ground after I got hit, but my heart was in my throat when I saw it on TV afterward," Graham said of the play. "I didn't know what happened to the ball, but it was so close to getting intercepted, and it probably should have been. We got very lucky there."
Facing a third-and-10 with 1:02 to go, the Giants' focus suddenly turned to preserving the drive with a first down, not winning the game, but Graham calmly moved the chains with a 10-yard pass to Jurevicius, who got out of bounds after the catch.
"Pre-snap, you could tell that it was there," Graham said of Jurevicius' route. "They had a soft corner over there on the left side, and I knew before we snapped the ball to just keep my eyes down the field and come over there, and it'll be open. Sure enough, it was, and I was a little surprised that they left me with a soft corner on the short side of the field."
Then with a new set of downs and 37 yards separating his team from victory, Fassel decided to shoot for the end zone with 57 seconds left. As soon as he got the play, Graham knew where he was going with the ball.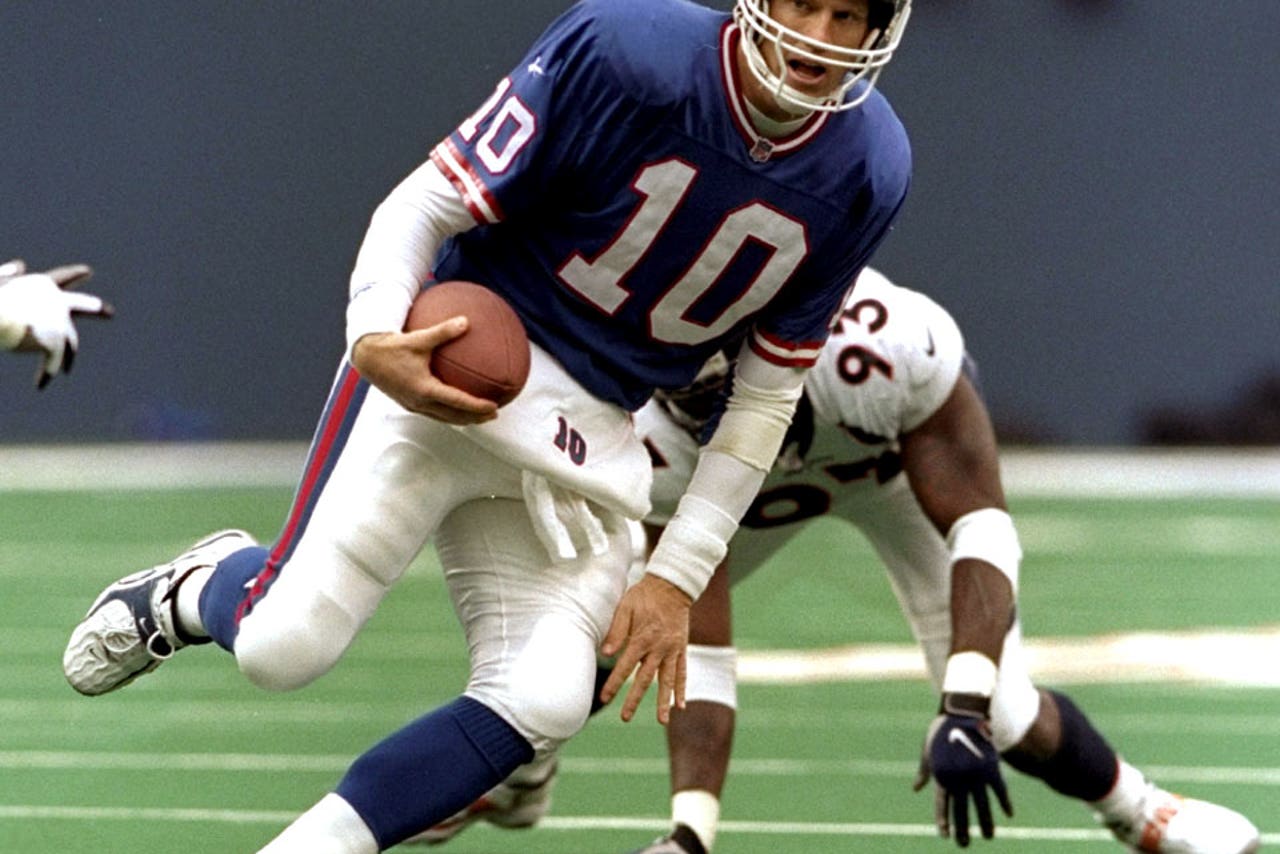 Kent Graham has great memories of the day the Giants took down the unbeaten Broncos.
"I was studying Tito Paul all week," Graham said of the Denver defensive back, a former Ohio State teammate. "I knew if I had a situation where I was going to have to throw it up, I was going to throw it on him. And sure enough, we got in that situation.
"Jim Fassel liked to take shots when we'd get to the 30-yard line, 40-yard line. He liked to go for the end zone, so I had a pretty good idea that he was going to call something like that, and Amani (Toomer), if you just put it up for him, there's a good chance he's going to come up with the ball.
"My thing was, 'Don't throw it out of the end zone," Graham added. "Just give him a jump ball, a chance to get up there and make a play. And boy, he made a great one."
The play that followed remains one of the most memorable in Giants history, as Graham threw a strike to the back of the end zone, right into Toomer's hands as the wide receiver fell to the turf. Initially, the official closest to the play ruled the pass incomplete, but another official overturned the call, and after an extra point, the Giants suddenly held a 20-16 lead.
The only problem at that point was that, after Denver returned a squib kick to the 42-yard line, Elway and the Broncos had 41 seconds and a timeout left with 58 yards separating them from a victory -- something Graham immediately made his dad aware of by the Giants bench.
"I remember he goes, 'Kent, you did it!' " Graham said. "I had to tell him, 'Don't say anything yet because they've got some time.'"
In true Elway fashion, he got the Denver offense to the Giants' 31-yard line -- a Chad Bratzke sack earlier in the drive was critical to keeping the Broncos out of the red zone -- but his last-ditch toss into the end zone fell incomplete and the Giants escaped with an improbable win. After the game, the mood in the locker room was jubilant.
"We persevered through a lot of ups and downs through the season, so it was pure celebration room after the game," said Graham, who later received a case of wine from the 1972 Dolphins team, a thank you for preserving their record as the only undefeated team in league history. "There aren't a ton of times that are like that, so it was pretty special. When you go to war with your teammates and you guys are successful in such a big game, it makes it that much sweeter, and I think it propelled us the rest of the season."
The week after ending the Broncos' streak, the Giants dismantled the Kansas City Chiefs, 28-7, then closed the year with a 20-10 win over the Eagles to move to 8-8 and 5-1 under Graham. Unfortunately, it wasn't enough to get New York into the playoffs, as the Giants finished one game behind the Arizona Cardinals, then a division rival, for the final NFC Wild-Card spot.
Meanwhile, Denver went on to lose the following week as well, on the road against the Dolphins -- but don't feel too bad for the team or its fans. The Broncos still entered the AFC playoffs 14-2 and as the conference's No. 1 seed, and three weeks later, they made quick work of the Dolphins 38-3. Denver then beat the Jets in the AFC Championship game and routed the Atlanta Falcons in Super Bowl XXXIII in Miami, further confirming that the Giants, at least for one afternoon, were better than the best team in the league.
"It's something I'll never forget for the rest of my life," Graham said of the win over the Broncos. "And to have my dad there on that occasion made it just that much better. I love my dad to death and he's always been a huge part of my life in terms of football, and everything else, so to have him be a part of it was extra-special.
"It definitely was the highlight of that year," he added. "And in terms of my career, it's probably at the top."
PREVIOUS ONE & DONES
May 5: Mario Andretti
May 12: Dean Morton
May 19: Ross Browner
May 26: Dave Salvian
June 2: Mine That Bird
June 9: Kerwin Bell
June 16: MIchael Campbell
June 23: Tyson Wheeler
June 30: Roe Skidmore
July 7: Steven Hill
July 14: LaMarr Hoyt
July 21: Bernard Quarles
July 28: Matt Tupman
August 4: Kevin Melillo
August 11: Roy Gleason
August 18: Cory Aldridge
August 25: Tom Brown
September 1: Tony Cloninger
September 8: Mike Pantazis
September 15: Wilbur Wood
September 22: Doug Clarey
September 29: Danny Young
October 6: Chad Wiseman
October 13: David Matranga
October 20: Brad Fast
October 27: Zenyatta
November 3: Ohio Northern
November 10: Dave Scholz
November 17: Matt Walsh
November 24: Clint Longley
December 1: Steve O'Neal
December 8: 1985 Miami Dolphins
You can follow Sam Gardner on Twitter or email him at samgardnerfox@gmail.com.
---
---