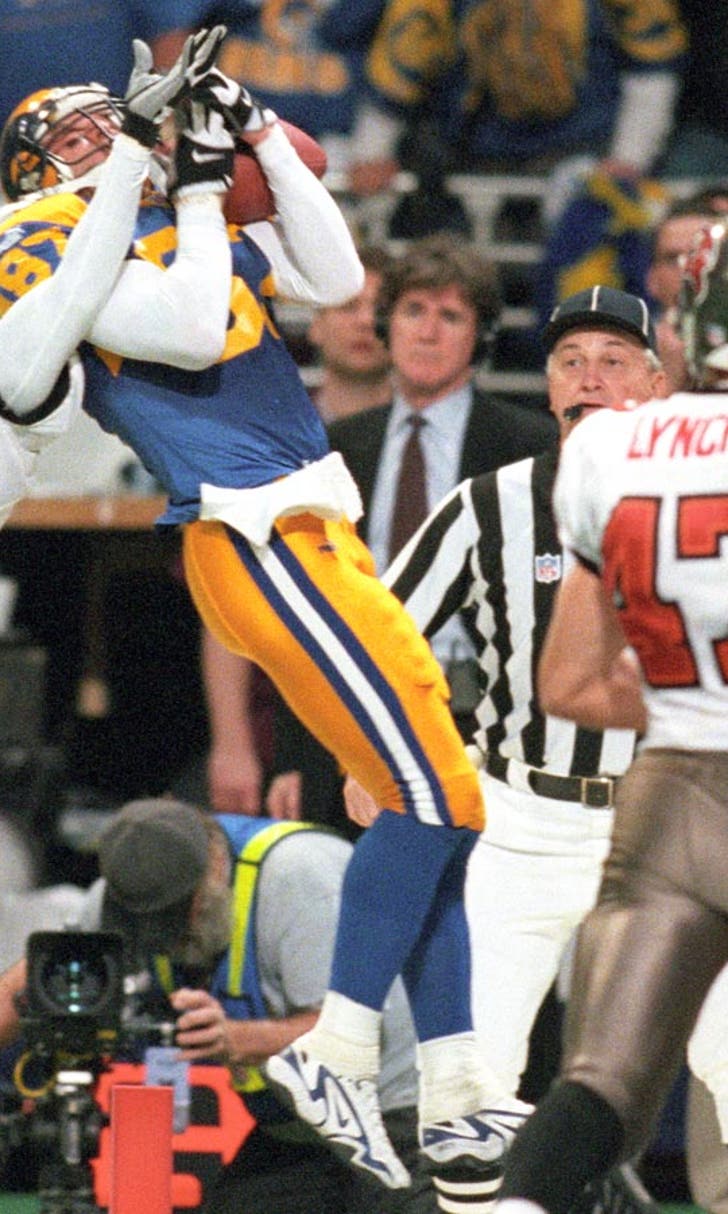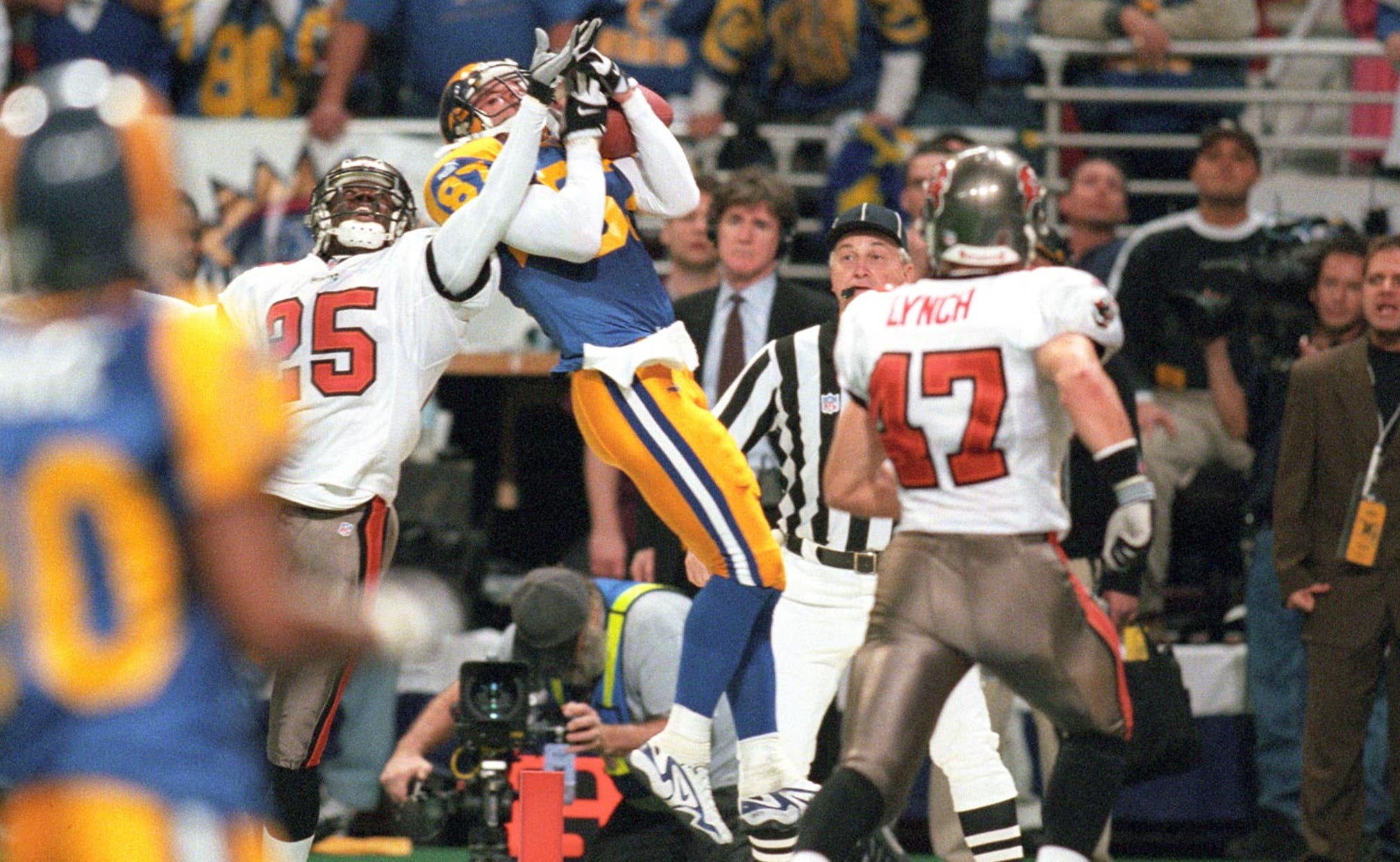 One & Done: Greatest Show on Turf and the catch that wasn't
BY Sam Gardner • January 19, 2016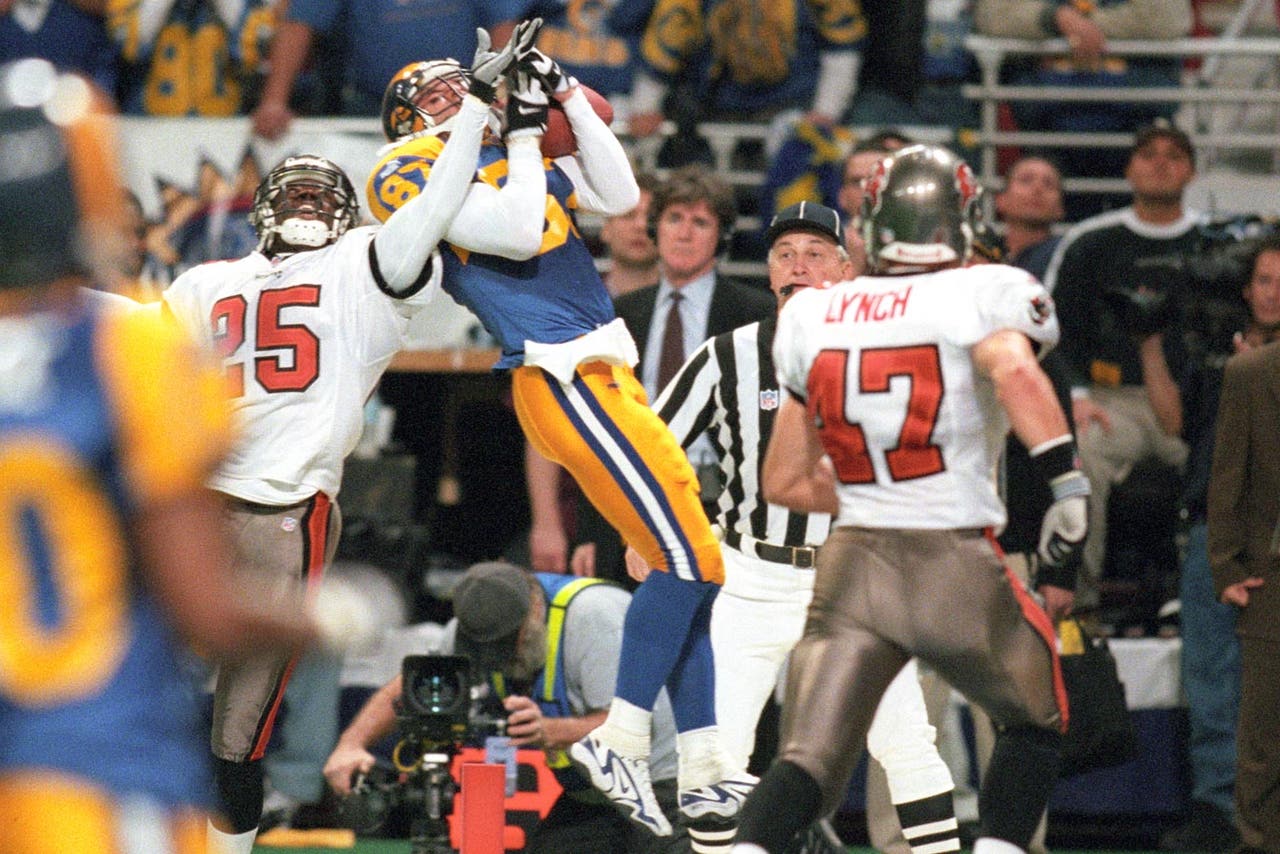 In the world of sports, athletes often dedicate their entire lives to reaching the pinnacle of their profession, but for many, life at the top can be short-lived. Sometimes all a player gets to experience at the highest level is one minute on the court, one trip to the plate, one shot on goal or one checkered flag, but more often than not, that fleeting moment in the spotlight is a story all its own. This is One and Done, a FOX Sports series profiling athletes, their paths to success and the stories behind some of sports' most ephemeral brushes with glory.
As the Rams embark on their latest move to Los Angeles, some are remembering the team's tenure in St. Louis as an abject failure, due in part to a miserable recent stretch for the franchise, which has seen one winning season in the last 14 years.
Since the start of 2002, the Rams have gone 83-140-1 in the regular season and won one playoff game, and since 2007, St. Louis has won 42 games overall, with a .347 home winning percentage that ranks dead last in the league in that span.
But there was a time not that long ago, before the downward spiral began, when the Rams were as dominant as anyone in the NFL. And during that time, St. Louis was extraordinary at home, where it lost just five total games at the then-TWA Dome during Kurt Warner and Marshall Faulk's heyday from 1999-01 -- with only one of those defeats coming by more than one score.
The greatest accomplishment of the "Greatest Show on Turf" era for Rams fans is no doubt the team's win over the Tennessee Titans in Super Bowl XXXIV -- when Titans receiver Kevin Dyson came oh-so-close to tying the score on the game's final play. But St. Louis, which two years later also lost Super Bowl XXXVI to the New England Patriots, would have never won the franchise's only Vince Lombardi trophy in Atlanta had it not been for a unique and controversial win at their own dome 16 years ago this week.
The date was Jan. 23, 2000, and the Rams, the No. 1 seed in the NFC and owners of the most electric offense in the league, were coming off of a blowout win over the Minnesota Vikings in the divisional round. The opponent was the Tampa Bay Bucs, who brought one of the league's preeminent defenses into St. Louis for the first time.
It was a classic matchup pitting strength vs. strength, and for most of the evening the Tampa D -- led by John Lynch, Ronde Barber and Hall of Famers Derrick Brooks and Warren Sapp -- held serve against a Rams offense that averaged 32 points per game.
"Obviously it was a heavyweight fight," former Rams wide receiver Ricky Proehl told FOX Sports Monday night. "You've got the No. 1 defense versus the No. 1 offense, but I think we probably went in there with maybe a little more confidence, not appreciating how good they were. We had no problem scoring on anyone, really, that season and felt like we could score at will."
One week removed from a five-touchdown performance against Minnesota, Warner struggled to find open receivers from the game's opening play, as the Bucs intercepted the league MVP's first pass, one of three picks on the day. The result was a much closer game than anyone expected -- the Rams were 14-point favorites -- and through three quarters, all the St. Louis offense could muster was a first-quarter field goal from Jeff Wilkins.
However, Tampa Bay, one of the lowest-scoring teams in the NFL at the time, regularly failed to capitalize on the defense's efforts and struggled throughout the game to get the ball into Rams territory, much less get into the end zone. At the half, the Bucs had moved the ball over the 50-yard line once, right before the half -- they also had two drives that started on St. Louis' side of the field -- and the Rams, thanks to a second-quarter safety, led 5-3.
"We had lost a couple games that year, and we got hit in the mouth a little bit, but we never had a problem scoring," Proehl said. "We were a confident football team, and there were times where we had to weather the storm and then we kind of put it together. So that was our mindset -- 'Hey, let's go in the second half and just take one play at a time and we'll make plays, get back in this thing and start doing what we do.'"
On the opening possession of the third quarter, however, Tampa Bay put together what was arguably its best drive of the game. It ended with a Martin Gramatica field goal to give the Bucs a 6-5 lead heading into the seventh-inning stretch, and the score stayed that way until midway through the fourth.
"It was definitely the elephant in the room," Proehl said of the looming thought that Tampa might actually win. "No one talks about it, but you're thinking about it.
"This is a dream season and it may come to an end right here, and it's all for nothing," he continued. "When you do what we did all year long and you get to this point, you want to say, 'Hey, it's a great season,' but the truth of the matter is that it isn't if you don't go to the Super Bowl. The self-doubt starts setting in like, 'Somebody's got to make a play; we've got to do something to win this football game.'"
Fortunately, with just under five minutes left in the game, Proehl was the guy who made that play.
Following a Rams punt out of their own end zone, Tampa had taken over at the St. Louis 49, but Dre' Bly intercepted a Shaun King pass three plays later to give St. Louis the ball at the Tampa 47 with 8:01 to play. Six plays after that, Warner connected with Proehl on a 30-yard touchdown, and after a failed two-point conversion, the Rams led 11-6 with 4:50 left on the clock.
"I've heard different stories about people saying it was kind of drawn up in the dirt, but that's not true," Proehl said of the route he ran on the touchdown catch.
Instead, it was a plan carefully crafted by Proehl and Warner during the week and then executed to perfection.
"When teams tried to blitz us, we wanted to make them pay," Proehl said. "We ran a lot of slants, a lot of flat routes, and we had some big plays with Isaac (Bruce), Torry (Holt), Az (-Zahir Hakim). A lot of teams started catching on to what our sight adjustments were, especially the slants, so with Az being hurt, I was playing the F, and we had a play where if I'm the single receiver and the safety is blitzing, I'm running a slant.
"Well, during the week we had worked on running a slant-pump or just going a nine-route, where Kurt would try to pump the slant to get the corner to settle his feet and we'd just run by him," Proehl continued. "So there was a time out, and I just reassured Kurt that, 'Hey, if that safety blitzes, I'm going deep,' and that's what happened."
The pandemonium that followed was a moment that Proehl called a dream come true.
"When I scored, I didn't hear the noise, but I remember Isaac coming over to me, dapping me up, and then Roland Williams coming up and jumping over top of me and Isaac," Proehl said. "We were doing our little touchdown deal, the bob and weave. Then I remember running across the field looking for my family in the stands, but when I got to the sideline, I saw Coach Vermeil and it was like someone hit the switch.
"It was so loud," he continued. "I mean, that place was deafening. It was crazy how loud that place was, and for me, it was one of the most memorable experiences of my career."
At that point, it was probably fair to consider the game over. Tampa Bay needed a touchdown and had only been in the St. Louis red zone twice all game -- and one of them was on a drive that started at the Rams' 20. The Bucs weren't moving the ball well and had only 161 yards of offense all night when they took over at their own 23 for their final possession of the game.
But then fullback Mike Alstott picked up 17 yards on two key carries and King started slinging the ball like Warner, completing four straight passes for 43 yards, and suddenly Tampa Bay was on the St. Louis 22-yard line with 1:25 to go. A Grant Wistrom sack backed the visitors up to the 35, and if you ask any Bucs fan, they'll insist the next play cost them a Super Bowl.
They call it "the Bert Emanuel catch," because virtually any reasonable person would tell you he caught the ball. With 51 seconds left, King dropped back on second-and-23 and hit a diving Emmanuel 12 yards downfield. The 1999 season was the first for instant replay in the NFL, however, and the referees decided to give the play a second look.
At the time, the rules for what did and did not constitute a catch were at times unclear -- some things never change -- and because the ball made contact with the turf, referee Bill Carollo overturned the catch, even though Emanuel never appeared to lose possession of the football.
"It was apparent that the player, as he was catching the ball, he used the ground and the tip of the ball hit the ground," Carollo told a pool reporter after the game. "By rule, you cannot use the ground, or have assistance from the ground to make a catch."
To this day, there's still doubt as to whether the catch should have counted, and even Proehl admits the call was iffy. The following season, the NFL changed the rule to allow for apparent catches like Emanuel's. But that was of no use to Tampa Bay that night in St. Louis.
"Probably in today's game it probably would have been a catch, but I don't know," Proehl said. "It's so hard to go back and say what-if. It's like Tom Brady -- that's a fumble against the Raiders (in January 2002's "Tuck Rule" game). … Sometimes I hate the fact that it's even a question. It's like, 'Hey, just give him the catch and then go from there.' They still had to score a touchdown."
Instead of a third-and-11 from the 23, Tampa Bay faced a third-and-23 situation from the 35. After two consecutive incomplete passes, the Rams took over, and Warner took a knee to run out the rest of the clock. The only 11-6 final score in NFL history was in the books, and St. Louis was on its way to its first Super Bowl.
It was a win that didn't go at all like expected for the Rams, but it's a lesson Proehl, now the wide receivers coach for the Carolina Panthers, used to motivate his players as they embarked on their own Super Bowl quest this season.
"When Kelvin Benjamin went down, it was doom and gloom for a day or two," Proehl recalled of the mood after Benjamin, a 1,000-yard receiver as a rookie last season, tore his ACL during an August preseason game. "Kelvin was having a great camp, he's our No. 1 receiver … and that night I saw Cam (Newton) and how he was devastated.
"So I sent him a text," Proehl continued. "It was just saying, 'Cam, we went through this in the '99 season when Trent Green went down and no one had heard about Kurt Warner.' But Dick Vermeil stood at that podium and said we would rally around Kurt and play good football, so I told (Newton), 'These receivers are going to play their asses off, and we're going to be fine.'
So far that's played out exactly like Proehl told Newton it would, thanks in large part to a heroic effort by Newton this season. But now the pressure is on for the one-loss Panthers as they prepare to face the No. 2 Arizona Cardinals on Sunday, and for his part, Proehl says he hopes this NFC Championship Game goes smoother than the Rams' did 16 years ago.
"I was blessed to play for some great coaches, with some great teammates and to play on some awful teams and some great teams," Proehl said. "Those are the experiences you pull from when you try to put stuff in perspective for your players, to help them understand the opportunity and the moment they're in right now. … (The '99 season) was my 10th year in the league and I'd had a lot of individual success, but when you win a game like that to help your team go to the Super Bowl, that's the ultimate feeling."
PREVIOUS ONE & DONES:
May 5: Mario Andretti
May 12: Dean Morton
May 19: Ross Browner
May 26: Dave Salvian
June 2: Mine That Bird
June 9: Kerwin Bell
June 16: MIchael Campbell
June 23: Tyson Wheeler
June 30: Roe Skidmore
July 7: Steven Hill
July 14: LaMarr Hoyt
July 21: Bernard Quarles
July 28: Matt Tupman
August 4: Kevin Melillo
August 11: Roy Gleason
August 18: Cory Aldridge
August 25: Tom Brown
September 1: Tony Cloninger
September 8: Mike Pantazis
September 15: Wilbur Wood
September 22: Doug Clarey
September 29: Danny Young
October 6: Chad Wiseman
October 13: David Matranga
October 20: Brad Fast
October 27: Zenyatta
November 3: Ohio Northern
November 10: Dave Scholz
November 17: Matt Walsh
November 24: Clint Longley
December 1: Steve O'Neal
December 8: 1985 Miami Dolphins
December 15: 1998 New York Giants
December 22: Ed Podolak
December 29: Scott Skiles
January 5: Bram Kohlhausen
January 12: 1968 New York Jets
You can follow Sam Gardner on Twitter or email him at samgardnerfox@gmail.com.
---
---